Roasted carrot and fennel soup – a simple, vegan soup.
If I send my kids off to college with any cooking ability, I hope it will be the skill to be able to put soups together without opening a can.
I get the convenience of the can, but I can't get past the overwhelming taste of salt and tin. I'm going to let you in on a little secret the canned soup people don't want you to know. Soup is easy to make.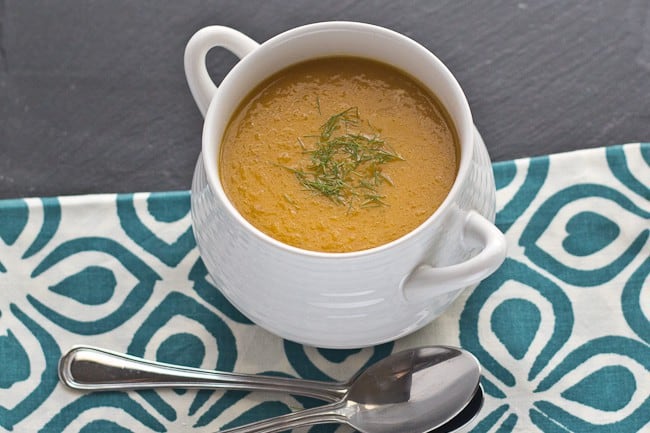 Let's ignore the broth/stock for now, because I know that is often the sticking point for people. Before you ask, I buy organic, low-sodium boxed broths, because I am frankly too lazy to remember I need it until right before it's time to make dinner.
I make homemade stocks when I can (and some day I'll stop being afraid of my pressure canner and can it) but I don't worry too much when I can't get to it.
Anyway, the soup. Generally, soup is just veggies, meat, beans, noodles, or any combination thereof, simmered in liquid. Easy-peasy. Puree the soup and you've got an instant potion to dip your toasts into, or a new sauce for this week's pasta.
Plus, you can put practically anything into soup. Root vegetables are often the go-to because they hold up well in liquid, but don't forget that tomatoes aren't just for chili, and that greens can add bursts of color to otherwise dreary bowls.
And, by the way, you can use less desirable cuts of meat in soups and the result will almost always be a good dish. (I can't be held responsible for your experiments with hoof stew.)
My sons aren't that interested in cooking yet — well, the baby is, but mostly in an I-want-to-grab-everything way — but I make soups almost weekly in an attempt to get them to see how easy it can be to make dinner.
While I enjoy more complex meals, they just don't work for our life most days of the week, and I want the boys (including my husband) to know it's possible to make dinner from scratch quickly and easily.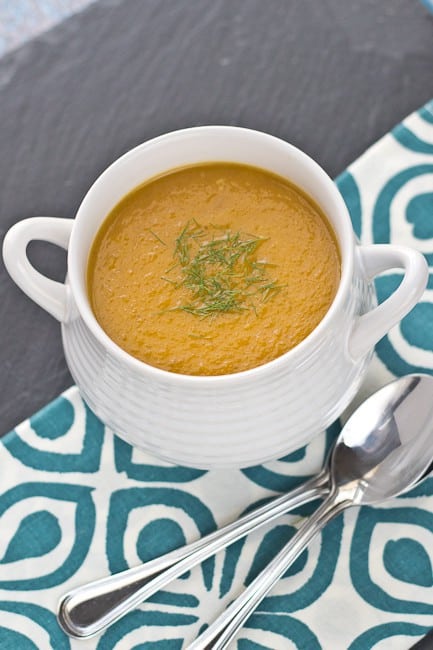 We are carrotaholics in our house, so it is only fitting that I have a carrot soup recipe in my back pocket. Roasting the carrots makes them even sweeter and practically irresistible (I regretted not having more on hand to roast when I caught myself snacking off the tray before I added them to the soup), but you can skip that step and just dice and cook the carrots with the fennel instead, if you want to be weird about it.
Kidding. Sort of.
Caramelizing the fennel helps reduce its strong anise flavor, so if you're not a fennel fan don't worry. If you are a fennel fan, save some of the fronds to sprinkle over the top of the soup.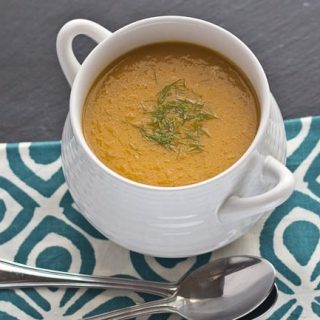 Roasted Carrot & Fennel Soup
Yield: 4 servings
Prep Time: 10 minutes
Cook Time: 30 minutes
Total Time: 40 minutes
This simple vegan soup can be prepared quickly on a weeknight. Roast the carrots in advance for and even faster meal.
Ingredients
1 pound carrots
Olive oil
1 bulb fennel
1/2 cup sliced onion
2 teaspoons ground ginger
1 teaspoon ground coriander
1/2 teaspoon salt
1/4 teaspoon pepper
4 cups vegetable broth
Instructions
Preheat oven to 400°F.
Slice carrots lengthwise into planks and toss with olive oil. Roast for about 20 minutes.
Meanwhile, heat 1 tablespoon olive oil in a stockpot set over medium.
Trim fronds from fennel and save for another use (I like to use it as a bed for baking fish). Slice fennel bulb thinly.
Add fennel and onion to the pot and stir to coat with oil. Cook, stirring occasionally, until quite soft and starting to caramelize.
Stir in ginger, coriander, salt, and pepper.
When the carrots have roasted, add them to the pot, then add the vegetable broth. Bring everything to a boil then reduce to a simmer for 10 minutes.
Using a blender, puree soup until smooth. Serve, with sriracha or cream, if desired.
Recommended Products
As an Amazon Associate and member of other affiliate programs, I earn from qualifying purchases.
Nutrition Information:
Yield: 4
Amount Per Serving:
Calories: 106
Total Fat: 4g
Saturated Fat: 1g
Trans Fat: 0g
Unsaturated Fat: 3g
Cholesterol: 0mg
Sodium: 1009mg
Carbohydrates: 17g
Fiber: 5g
Sugar: 7g
Protein: 2g


More soup recipes you might like:
Easy Chicken and Dumpling Soup – Melanie Makes
Hearty Cauliflower and Chickpea Soup – Fork and Flower
Homemade Alphabet Chicken Soup – Stetted
Lighter Loaded Baked Potato Soup – Food Fanatic
White Bean Sausage Soup – Stetted