I know. Another chocolate chip cookie recipe? Does the Internet really need that?
Well, yes. My extensive research shows that people never tire of chocolate chip cookie recipes. After all, we're all trying to find our favorite, the elusive recipe that connects us to that one cookie we had that one time in a place we can't remember.
This cookie might not be my be-all end-all chocolate chip cookie, but it's really good. Normally I'm a fan of the soft, almost unbaked kind. Crispy cookies? Puh-leese! Might as just well buy a bag of Chips Ahoy.
But these have the whole crispy edge, chewy inner that really makes a cookie great. And they're sorta healthy. Y'know, for a cookie.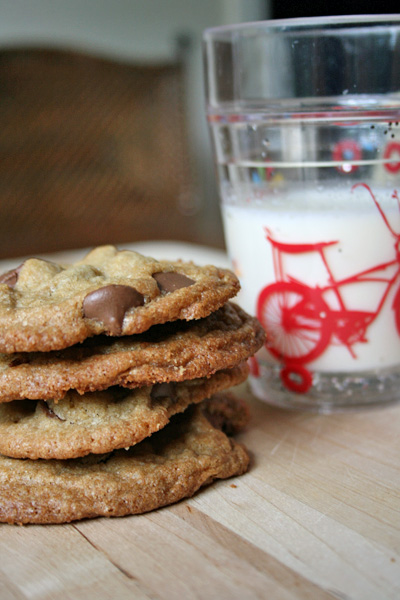 Using whole wheat pastry flour and coconut oil for butter help make this cookie a little different from your standard Tollhouse. The coconut flavor is very faint, and the whole wheat flavor goes completely unnoticed by the picky members of the family. The cookies do spread more because of the oil, but that helps make them what they are. Don't be afraid of cookie spread! No one cares if you have to cut them apart if they taste good.
Crispy Chewy Chocolate Chip Cookie
Servings: 2 dozen cookies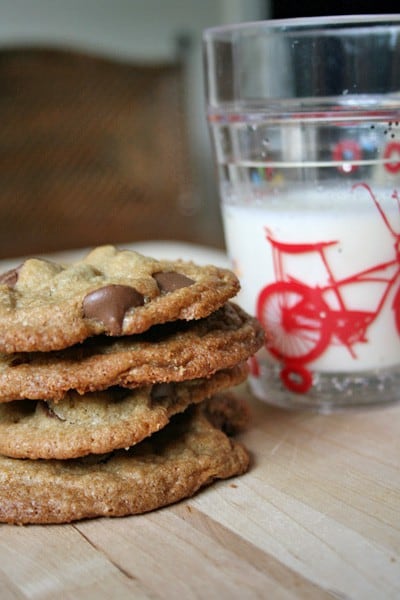 Instructions
Preheat oven to 375.

Mix together flour, baking soda, and salt in a medium bowl and set aside.

In a large bowl whisk together coconut oil and sugar, then beat in egg and vanilla. Add flour mixture. Stir in chocolate chips. If dough is looking too runny, add a little more flour until it resembles standard cookie dough.

Drop by spoonfuls onto cookie sheets and bake approximately 10 minutes. They spread a lot, so be careful to not put the cookies too close together on the pan.
---
P.S. Today is the last day to vote in round 1 of Project Food Blog. Please take a moment to head over here and vote! Thank you!
For more sweet inspiration, check out my Cookies board on Pinterest!
Follow Megan Myers | Stetted's board Cookies on Pinterest.