Thanksgiving is kind of a funny holiday, foodie-wise. Every year we seem to look for the next new and great recipe, not really letting ourselves recognize that all we want is those mashed potatoes Grandma made in 1986.
I think we're trying to figure out how to create our legacy menu. We love Grandma's potatoes because those are the same potatoes she makes every year without fail. But those are her potatoes, not your potatoes. Now that your family includes your partner, your friends, your step-siblings, there are other expectations to be met. Grandma's potatoes are not their grandma's potatoes. You can serve what you want at Thanksgiving dinner, but your guests will be quietly sitting there, wishing they had some macaroni and cheese or collard greens.
There's no rhyme or reason to why our food memories become those memories – I have food memories of rutabagas even though I never ate them as a child – but they are things to be cherished, because they're a part of who we are, no matter how our actions reflect them.
We're subconsciously working to create new food memories, and Thanksgiving is the numero uno event in that regard. Luckily for me, I think I've found my legacy stuffing.
In our meals I like to make nods to both our northern roots and our new Texan life. This stuffing is firmly in the Texan category, in my mind. Sweet corn bread dances with spicy chorizo, married together by the vegetables and sage.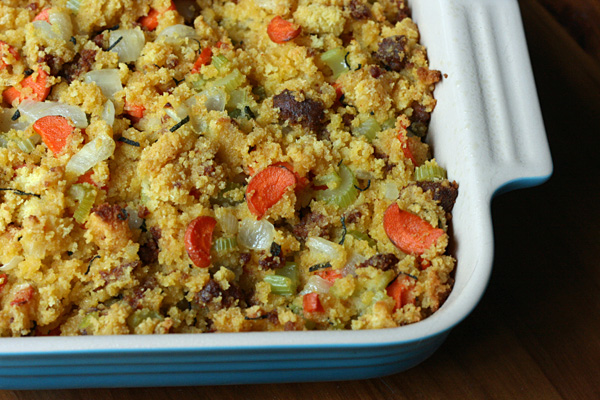 This stuff is good enough to eat on its own, which I do often. It's not fussy or pretentious; it's just plain good.
I actually don't toast my cornbread for this recipe. Cooking it in a large shallow pan or in muffin cups allows for more outer edges to crisp up. This saves time, and reduces the amount of liquid you need to add later.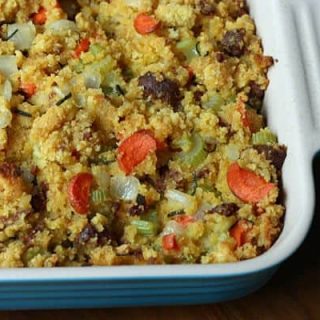 Chorizo Cornbread Stuffing
Yield: 8 servings
Prep Time: 10 minutes
Cook Time: 1 hour 50 minutes
Total Time: 2 hours
Be sure to use fresh chorizo in this recipe, not the dried Spanish variety.
Ingredients
1 pound bulk chorizo
3 tablespoons butter
1 cup chopped onion
1 cup chopped carrots
1 cup chopped celery
1 batch cornbread, baked in a large pan
1 to 2 cups vegetable broth
2 tablespoons fresh chopped sage
Instructions
Preheat oven to 350°F.
Brown chorizo over medium-high heat, breaking into small crumbles. Reserve drippings to add to stuffing or discard.
In a medium saucepan melt butter, then add carrots, onion, and celery. Cook until vegetables are soft and onions are translucent.
Break up cornbread into small pieces in a large bowl. Add chorizo, fat (if using), and vegetables. Mix so that everything is distributed evenly. Stir in broth a little at a time until you get consistency you desire - be careful to not turn everything to mush. Add chopped sage.
Spoon into a large baking dish and cook for about 45 minutes, until top is browned and starting to get crisp.
Recommended Products
As an Amazon Associate and member of other affiliate programs, I earn from qualifying purchases.
Nutrition Information:
Yield: 8
Amount Per Serving:
Calories: 345
Total Fat: 27g
Saturated Fat: 11g
Trans Fat: 0g
Unsaturated Fat: 14g
Cholesterol: 65mg
Sodium: 984mg
Carbohydrates: 11g
Fiber: 1g
Sugar: 3g
Protein: 15g