This post contains affiliate links. As an Amazon Associate, I earn from qualifying purchases.
For a different option on pizza night, try making this easy BBQ pulled pork pizza at home!
How is your new year going so far? Hitting all your goals?
This year I've decided to focus on spending less frivolous money so that we can travel more while also putting extra on our mortgage. Going out to eat was a big category for our budget in 2019, so I'm working on cooking more at home again.
One thing I really love to do to save time and money is to make a big batch of something we can use in multiple meals. Roast chicken is a really great example of this, but we also like to do it with chili and pulled pork.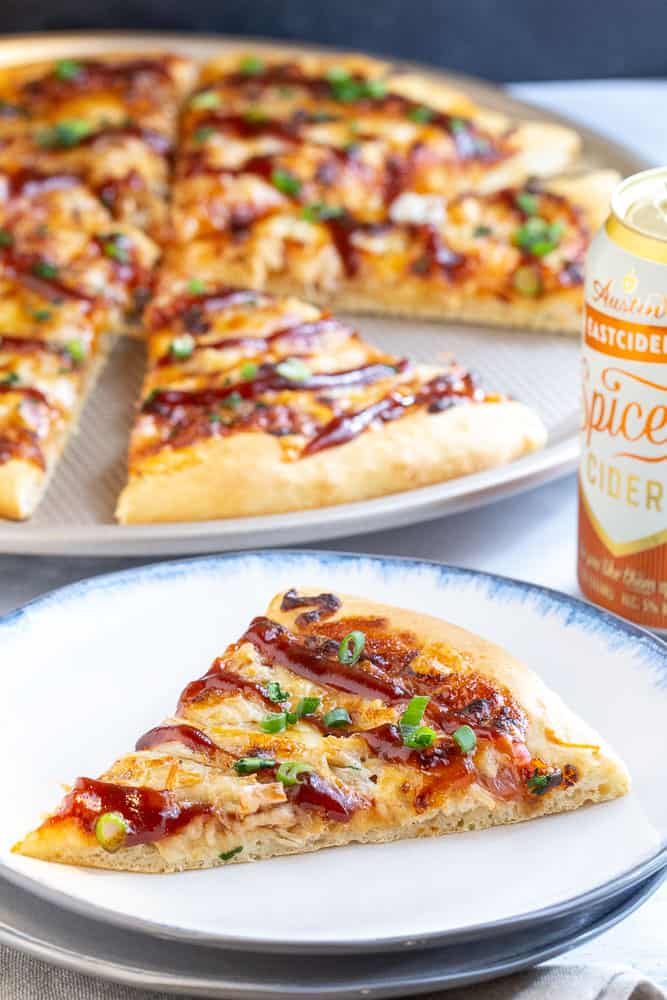 I had plenty of leftover pork from when I made pork tamales in December, so I froze the remainder for more meals. This BBQ pulled pork pizza is one of our favorites for using leftover meat.
We started making this pizza because a few of our local restaurants offer a BBQ pizza option. While pizza itself isn't extremely expensive, I know how cheap it can be to make at home, even if you buy premade pizza dough. Dining out definitely adds up!
When making this pizza, I use my herb pizza dough recipe, but leave out the herbs. This is my favorite dough because it comes out perfectly every time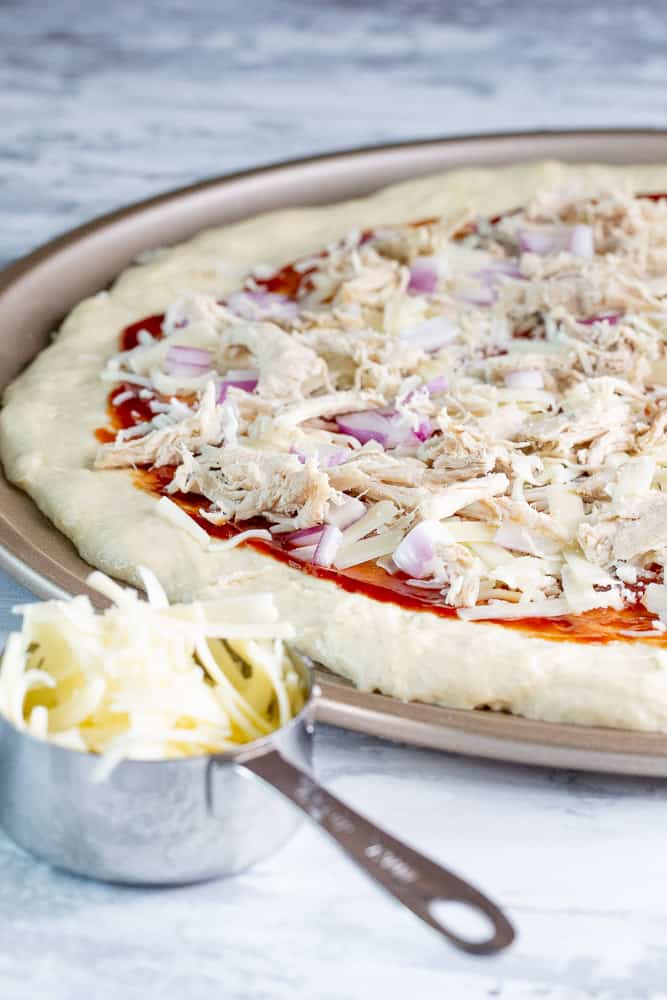 Because this is a BBQ pizza, you'll be using barbecue sauce instead of a traditional pizza sauce. I also drizzle it on top before serving, but you can toss your pork in it instead or skip that extra sauce entirely if you prefer.
There are many different varieties of BBQ sauce, so I recommend whatever flavor you would normally use on meats. I personally prefer a more smoky flavor on this pizza, but if you like sweeter, you could try my homemade cherry BBQ sauce.
I also use a mix of cheeses here, with half mozzarella and half sharp cheddar. The cheese is added in layers, both below and on top of the pork.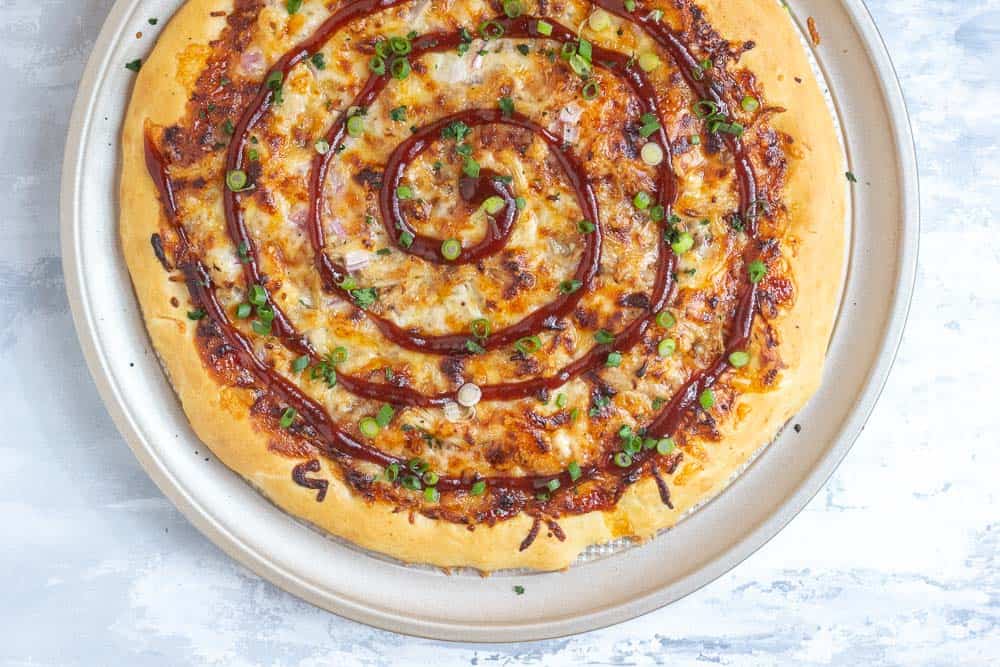 Red onions also get added for sharpness and bite, though sometimes I like to add pickled onions on after cooking instead. The tang of the pickle is a great complement to any spice in the sauce.
This makes one 14-inch pizza, which is enough for a family of four (provided you don't have any teenagers!). Serve it with green salad and fruit on the side for a complete meal.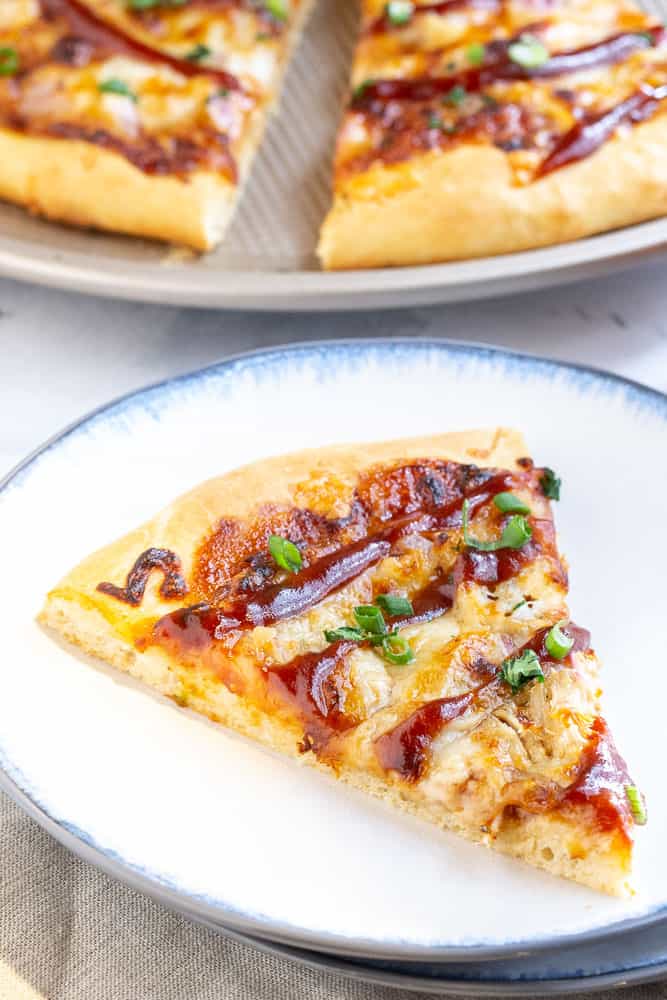 I've included the recipe for the herb pizza dough below, but don't forget to skip adding the herbs!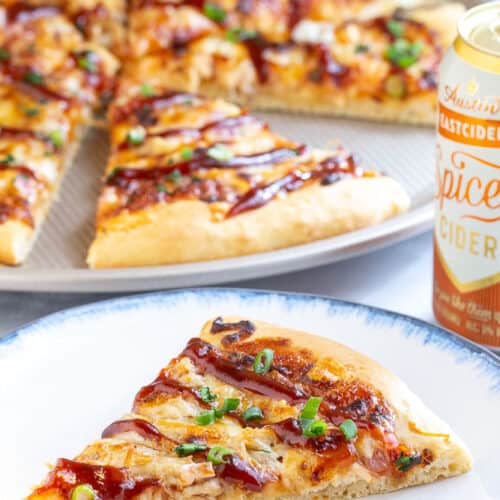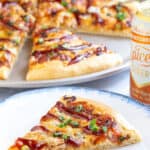 BBQ Pulled Pork Pizza
Skip the delivery and make this easy BBQ pulled pork pizza at home!
Print
Pin
Save
Saved!
Ingredients
3/4

cup

BBQ sauce

,

divided

1

cup

shredded mozzarella cheese

1

cup

shredded sharp cheddar cheese

1

cup

pulled pork

1/4

cup

diced red onion

Chopped green onion or cilantro to garnish
Instructions
Prepare pizza dough and let rise. Once risen, preheat oven to 450°F.

Take dough and roll/stretch to fit a large pizza pan. Spread on 1/2 cup of the BBQ sauce, reserving the remainder.

Scatter on half of the mozzarella and half of the cheddar, then add pulled pork. Top with remaining cheeses and red onion.

Bake pizza for about 15 minutes, until dough is browned and cheese is melted completely. Drizzle with remaining BBQ sauce and green onion or cilantro before serving.
Nutrition
Serving:
1
g
Calories:
572
kcal
Carbohydrates:
47
g
Protein:
31
g
Fat:
29
g
Saturated Fat:
16
g
Cholesterol:
96
mg
Sodium:
1632
mg
Fiber:
2
g
Sugar:
29
g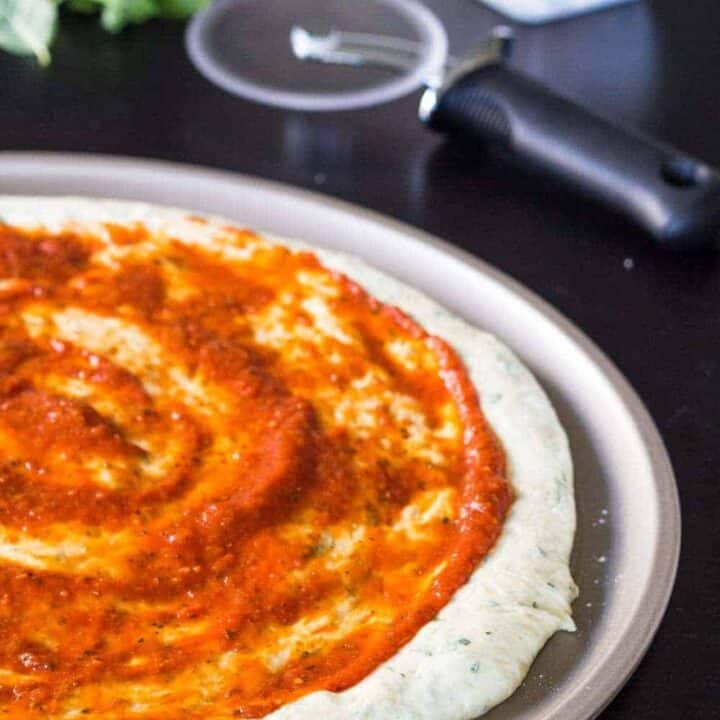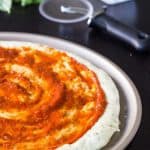 Herb Pizza Dough
Homemade herb pizza dough adds tons of flavor to your pizza night! You'll love this easy-to-make dough.
Print
Pin
Save
Saved!
Ingredients
1

cup

warm water

,

divided

2 1/4

teaspoons

active dry yeast

2 1/2

cups

all-purpose flour

,

divided, plus more as needed

1/4

cup

chopped fresh mixed herbs

,

such as oregano, basil, and parsley

2

tablespoons

olive oil

1/2

teaspoon

fine sea salt
Instructions
Pour 1/4 cup warm water into a large bowl and sprinkle active yeast over the top. Let sit while it dissolves.

Once dissolved, add 2 cups flour, the herbs, olive oil, salt, and remaining water. Mix together to form a cohesive dough, adding remaining 1/2 cup flour as you go.

Knead dough by hand or with a stand mixer, adding just enough flour to prevent sticking to surface, until dough is smooth. (This should take about 5 minutes by hand.)

Cover and let rise 30-60 minutes, until doubled.

Prepare your toppings while the dough rises. Roll out dough onto pan, top, and bake pizza at 450°F for 15-20 minutes.
Nutrition
Calories:
368
kcal
Carbohydrates:
62
g
Protein:
10
g
Saturated Fat:
1
g
Sodium:
295
mg
Fiber:
3
g