Let me just say this: I can't stand Sandra Lee, but I'm amused she devotes part of every show to making a cocktail. She just needs to move it to the start of the show, so I can make it to get through the rest.
However, I did find a good pulled pork recipe because of her. Using a lovely pork shoulder I got at Yonder Way Farm, I had my CrockPot cooking away during yet another day full of rain. I tweaked the recipe of course (she had a little too much going on), and I'm very pleased with the results – especially as I always have the ingredients on hand. I'm obsessed with the sweet-spicy combination, and this fits that beautifully. It doesn't hurt that I can also use the leftovers to create at least three more, different, meals.
Pulled Pork
Adapted from Sandra Lee (gasp!)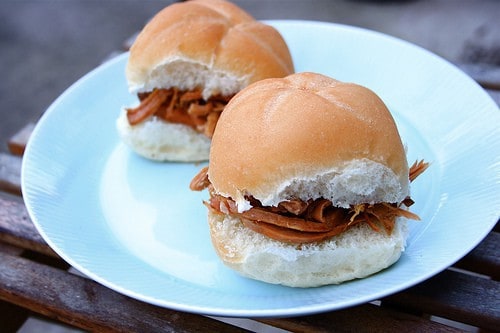 Ingredients
1 onion , chopped
2 carrots , chopped
3 pounds pork shoulder , or whatever you can cram into your CrockPot
1/2 cup vegetable broth
1/2 cup brown sugar
1/4 cup soy sauce
1/2 cup chili sauce
1 cup apple juice
Instructions
Drop onion and carrots into the CrockPot, then put your big honkin' piece of meat on top.

Whisk together rest of ingredients and pour about half on top of the pork. Pop the rest into the fridge for later.

Turn CrockPot on Low and go do something else for 8 hours.

Warm sauce on the stove. Or the microwave. I don't care.

Remove pork and shred. If you can manage to not eat it all with your fingers, put it on your bread of choice, drizzle on the sauce, and stuff it in your maw.
For more pork inspiration, check out my Pork Recipes board on Pinterest!
Follow Megan Myers | Stetted's board Pork Recipes on Pinterest.