After making last month's marmalade, I was already looking forward to whatever would be chosen for February. I was pleasantly surprised when it was revealed we needed to work with carrots.
Carrots are trickier to can using the water bath method because you have to worry about the acidity levels and the danger of botulism. Eep.
But who am I to skip a month of a challenge just because of some possible bacteria? Especially when we've been getting such gorgeous carrots in our CSA share.
Chutney mixes well with yogurt or cottage cheese, or mix with cream cheese to eat with crackers. Also try it with pork tenderloin for a twist on a classic roast.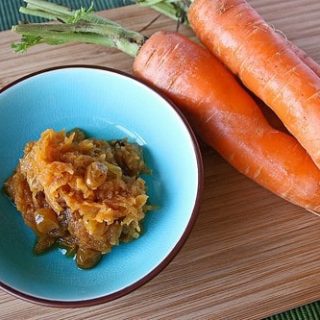 Carrot Chutney
Yield: 6 half-pint jars
Prep Time: 10 minutes
Cook Time: 45 minutes
Total Time: 55 minutes
Ingredients
5 1/3 cups grated carrot
1 cup brown sugar
2/3 cup golden raisins
3 3/4 cups vinegar
2 teaspoon ground ginger
2 teaspoon pumpkin pie spice
12 peppercorns
Instructions
Heat all ingredients over medium-high until carrots are tender and the mixture is thickened. Pack into jars. Process in a water bath canner for 15 minutes.
Recommended Products
As an Amazon Associate and member of other affiliate programs, I earn from qualifying purchases.
Nutrition Information:
Yield: 24
Amount Per Serving:
Calories: 63
Total Fat: 0g
Saturated Fat: 0g
Trans Fat: 0g
Unsaturated Fat: 0g
Cholesterol: 0mg
Sodium: 21mg
Carbohydrates: 14g
Fiber: 1g
Sugar: 11g
Protein: 1g