We're only on our third month, but so far each month I've been surprised and delighted by what our challenge ingredient is for the Tigress Can Jam. This month? Alliums. In other words, onions, garlic, and the like.
Ode To The Onion by Pablo Neruda

Onion,
luminous flask,
your beauty formed
petal by petal,
crystal scales expanded you
and in the secrecy of the dark earth
your belly grew round with dew.
Under the earth
the miracle
happened
and when your clumsy
green stem appeared,
and your leaves were born
like swords
in the garden,
the earth heaped up her power
showing your naked transparency,
and as the remote sea
in lifting the breasts of Aphrodite
duplicating the magnolia,
so did the earth
make you,
onion
clear as a planet
and destined
to shine,
constant constellation,
round rose of water,
upon
the table
of the poor.

You make us cry without hurting us.
I have praised everything that exists,
but to me, onion, you are
more beautiful than a bird
of dazzling feathers,
heavenly globe, platinum goblet,
unmoving dance
of the snowy anemone

and the fragrance of the earth lives
in your crystalline nature.
How could anyone not like onions after reading that?
I was hoping the garlic in my garden would have produced scapes in time, but we seem to be in a weird place for alliums in Austin – we've been getting green garlic and scallions since January, but not much else. That's why I almost squealed with delight when I saw bags of red onions at the Hill Country Farms stand at the Sunset Valley Farmer's market. Melted down and combined with figs and balsamic, it becomes a flavorful conserve that goes fantastically with just about any cheese (in my opinion).
Fig Onion Conserve
EDIT: Please don't trying water-bath canning this recipe without reading all the comments. I definitely do not want anyone to get sick using a recipe I posted. I will be trying it again using the recommended levels of vinegar/lemon juice, and let you know how it tastes.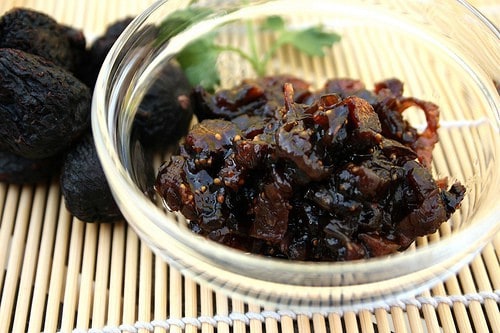 Ingredients
3 cups red onion , sliced very thin
3 tbsp olive oil
1/2 cup diced dried figs
1/4 cup sugar
1/4 cup balsamic vinegar
Instructions
In a saucepan, heat the olive oil over medium. Add the onions and stir to coat. Cover, turn heat down to medium-low, and cook the onions until caramelized.

Remove the lid and stir in the figs, sugar, and balsamic. Cook until the liquid is almost completely evaporated. Adjust to your taste with a little more sugar or vinegar, pack into jars, and - SEE EDIT ABOVE - process in a water-bath canner for about 15 minutes - SEE EDIT ABOVE.
For more condiment inspiration, check out my Canning, Preserves and Pickles board on Pinterest.
Follow Megan Myers | Stetted's board Canning, Preserves, & Pickles on Pinterest.