I've been a bit behind in my posting because I've been slammed with a few different illnesses. But you can't keep a good woman down, right?
Last week I was extremely lucky to get a big sample of POM juice in the mail, to use in various recipes. Pomegranate (or at least the juice) is widely available now, but it still is kind of expensive, especially for playing around with.
Now, I love winter squash. Love love. It probably stems from my pumpkin addiction (on Monday I bought 4 cans of pumpkin JUST IN CASE because apparently there has been a pumpkin apocalypse and I've only been able to find it at one store), but I'll gladly eat butternut and acorn squash any day of the week.
Actually, a few months ago I ate butternut squash every day in some tacos. I could never eat meat tacos every day. And every day means 8 days in a row, by the way. That's how much I love winter squash.
This stuff is sticky sweet with just a hint of heat. Nom.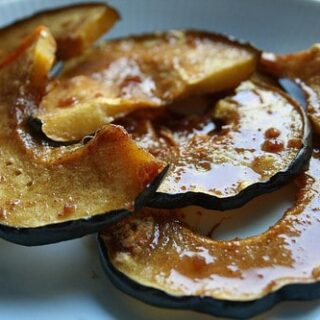 Acorn Squash with Pomegranate Glaze
Ingredients
1 acorn squash, or small butternut
1 teaspoon olive oil
1 garlic clove, minced
1/3 cup honey
1/4 teaspoon ground cinnamon
1/8 teaspoon chipotle pepper powder
Instructions
Preheat oven to 375°F. Cut the squash in half and discard seeds. Slice squash, about 1/2 inch thick, and arrange on a baking sheet. Stick that in the oven while you do the next step.
In a small saucepan, heat olive oil. Add garlic and sauté until golden brown. Add the rest of the ingredients and stir to fully incorporate. Simmer until liquid reduces and becomes syrupy, about 10 minutes.
Take out the squash and brush a generous portion of glaze over each piece. Put back in the oven and cook another 20 minutes or so, until squash is soft. Eat with your fingers if you don't put on airs.
Recommended Products
As an Amazon Associate and member of other affiliate programs, I earn from qualifying purchases.
Nutrition Information:
Yield: 2
Serving Size: 1 Servings
Amount Per Serving:
Calories: 273
Total Fat: 3g
Saturated Fat: 0g
Trans Fat: 0g
Unsaturated Fat: 2g
Cholesterol: 0mg
Sodium: 10mg
Carbohydrates: 67g
Fiber: 5g
Sugar: 51g
Protein: 2g