We love carrots around here. Even though they're a root vegetable and therefore meant for colder times of the year, we are lucky to be able to get fresh local carrots practically year-round.
The sweet carrots we get from the farmers market can't be beat, especially if you enjoy the varieties that come in hues other than orange — white, yellow, and purple frequently make appearances at the farm stand.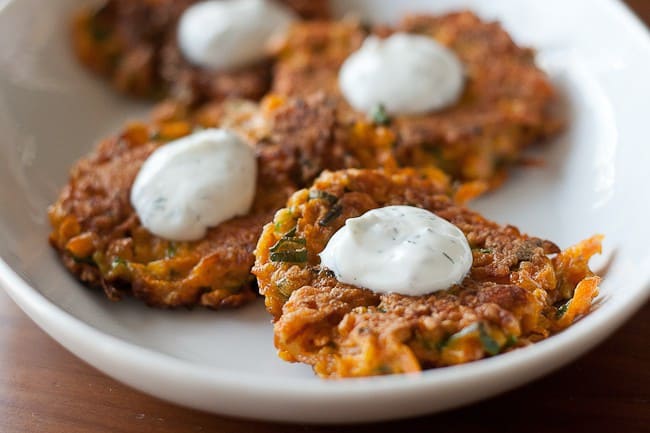 I don't fry foods much at home, mostly because I make a terrible mess and invariably end up burning myself with hot oil. If I'm going to the trouble of it, I want the end result to be tasty, but also have a layer of nutrition to it to (so I don't feel quite so bad about the oil).
When it comes to fritters, carrots are a natural fit because they're easy to shred and crisp up easily.
These are also easier than potato fritters, since you don't need to worry about removing the excess liquid and starch that potatoes contain.
I like to make 'em simple with green onions, salt, and pepper, and then make different dipping sauces to dress them up, but you can easily add herbs and spices to change up the flavor. As carrots are naturally sweet, spicy peppers or tangy yogurt-based sauces are a good match.
We enjoy these as a side dish or appetizer (they're great to eat right out of the pan as the rest of your dinner cooks), but they also make a good light lunch when paired with a salad. Or enjoy for breakfast with a fried egg on top, because why not?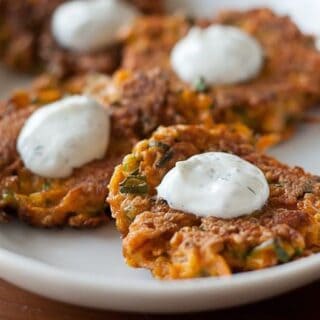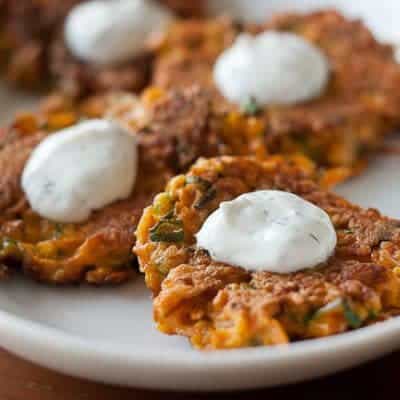 Carrot Fritters
Yield: 4
Prep Time: 15 minutes
Cook Time: 10 minutes
Total Time: 25 minutes
These tasty carrot fritters are a great starter or side dish for a spring meal.
Ingredients
3 cups grated carrot
2 green onions, sliced into thin rounds
1/2 teaspoon salt
1/4 teaspoon pepper
2 tablespoons flour
1 large egg
2 tablespoons grapeseed or olive oil
For the sauce
6 ounces plain yogurt
2 teaspoons chopped fresh dill
1 tablespoon lemon juice
Salt and pepper to taste
Instructions
Mix together carrot, onion, salt, pepper, flour, and egg. If necessary, add more flour a little at a time, until a cohesive, but not overly wet batter is formed.
Heat oil in a frying pan with deep sides over medium-high heat. Once oil is heated through, carefully drop fritter batter by the 1/4-cup full into the pan, and fry on each side for approximately 4 minutes per side, turning down the heat as necessary to maintain oil temperature. Remove cooked fritters to a paper-towel lined tray and repeat until all batter is used.
To make the sauce, whisk together remaining ingredients. Serve with fritters.
Recommended Products
As an Amazon Associate and member of other affiliate programs, I earn from qualifying purchases.
Nutrition Information:
Yield: 4
Serving Size: 1 Servings
Amount Per Serving:
Calories: 186
Total Fat: 12g
Saturated Fat: 2g
Trans Fat: 0g
Unsaturated Fat: 10g
Cholesterol: 49mg
Sodium: 445mg
Carbohydrates: 15g
Fiber: 3g
Sugar: 7g
Protein: 5g
More carrot recipes you might like:
Carrot Rose Tart – Stetted
Carrot Salad with Tahini and Crisped Chickpeas – Smitten Kitchen
Moroccan Spiced Roasted Sweet Potatoes and Carrots – Gourmande in the Kitchen
Roasted Carrot & Fennel Soup – Stetted
Spicy Garlic Carrot Pickles – Savvy Eats
This recipe originally appeared in the May-June 2013 issue of Hobby Farms.