As I write this, the last of the strawberries are attempting to grow and ripen before being withered by 90-degree days. At least down here. Elsewhere, you're just about to dive into strawberry season! And if you're like me, you won't be able to help yourself when you see those juicy beauties looking up at you, begging to be turned into a million delicious things. You might buy, oh, 16 pounds and wonder why you didn't get more.
Seriously. I am lamenting that I didn't get enough strawberries to have some on hand in my freezer. But at least I have jam. And now you can too.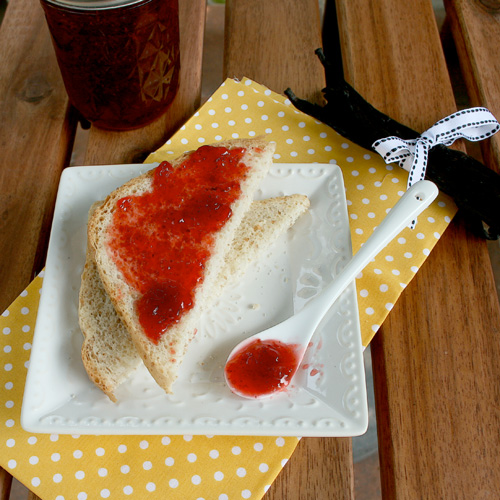 Jam is actually really easy to make. It doesn't even take that much time – maybe an hour, tops, from cutting the berries to hearing the ping of the lids. Your life will be made easier if you have a canning kit but you can improvise if you don't. Please remember to have closed-toe shoes and oven mitts if you are improvising!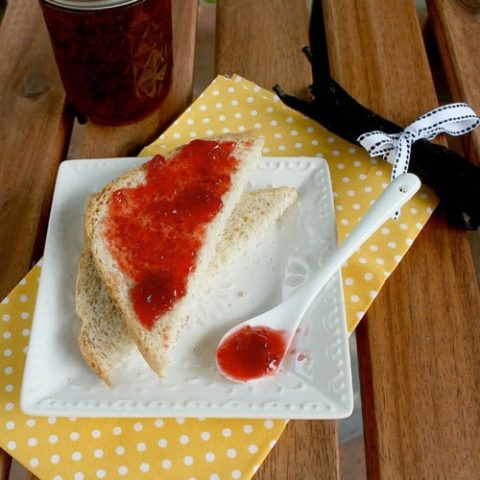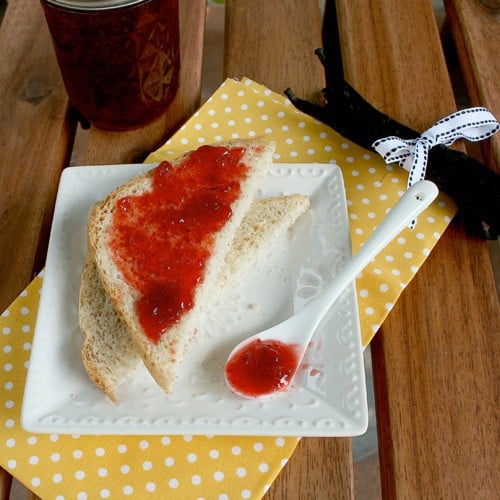 Strawberry Vanilla Jam
Yield: About 8 half pint jars
Prep Time: 20 minutes
Cook Time: 1 hour
Total Time: 1 hour 20 minutes
Ingredients
Approximately 4 pints strawberries, to make 4 cups crushed
1 box pectin*
7 cups sugar
Instructions
Fill a large pot with water and start heating to a boil. Separate jar lids, screw bands, and jars. Place lids gum-side up in a shallow bowl or plate and set aside.
Measure exact amount of sugar into a large bowl and set aside. You need to add it all at once later on, so you don't want to fiddle with measuring later!
Wash and hull strawberries, then in a large bowl crush one layer at a time using a potato masher. Don't get too crazy with the masher - you still want chunks. Pour berries, juice and all, into a 6-quart dutch oven or stockpot.
At this point, put the empty jars into the pot of water to sterilize and heat up.
Begin heating berries over medium-high heat, then stir in pectin. Continue heating until it reaches a rapid boil, then add sugar all at once, stirring to dissolve.
Split the vanilla beans and scrap out as much caviar as possible into pot, then toss entire bean in too.
Continue heating and stirring jam until sugar is completely dissolved. Remove from heat.
Take some of the hot water and pour it over the lids in the shallow bowl, making sure they are completely covered. Using tongs, remove jars from pot and place on a towel-covered countertop.
Carefully pour jam into jars, leaving about 1/2 inch headspace. Wipe edges clean and place lids on top, securing with screw bands. Gently lower jars into hot-water bath and process (let boil) for 10 minutes.
Remove and set on toweled counter. Go do the dishes. At some point you should hear the jars "ping" - this means the seal was properly made and it's safe to leave in your cupboard. If a jar doesn't ping, you can either re-process or store the jar in the fridge. Properly processed jars should keep for a year, and jars in the fridge keep for about two weeks.
Notes
*If using low/no-sugar pectin, please follow the box directions for ingredients and sugar levels.
Recommended Products
As an Amazon Associate and member of other affiliate programs, I earn from qualifying purchases.
Nutrition Information:
Yield: 64
Amount Per Serving:
Calories: 91
Total Fat: 0g
Saturated Fat: 0g
Trans Fat: 0g
Unsaturated Fat: 0g
Cholesterol: 0mg
Sodium: 2mg
Carbohydrates: 23g
Fiber: 0g
Sugar: 22g
Protein: 0g