This post contains affiliate links. As an Amazon Associate, I earn from qualifying purchases.
Homemade strawberry vanilla jam is one of the best ways to savor the sweet fruit all year long. Slather it on toast, dollop on ice cream, or make the best PB&J ever.
I can never resist strawberry season.
Each year we head to the U-pick farm and basically challenge ourselves to see how quickly we can fill our baskets full of berries.
If you're like me, you won't be able to help yourself when you see those juicy beauties looking up at you, begging to be turned into a million delicious things. You might buy, oh, 16 pounds and wonder why you didn't get more.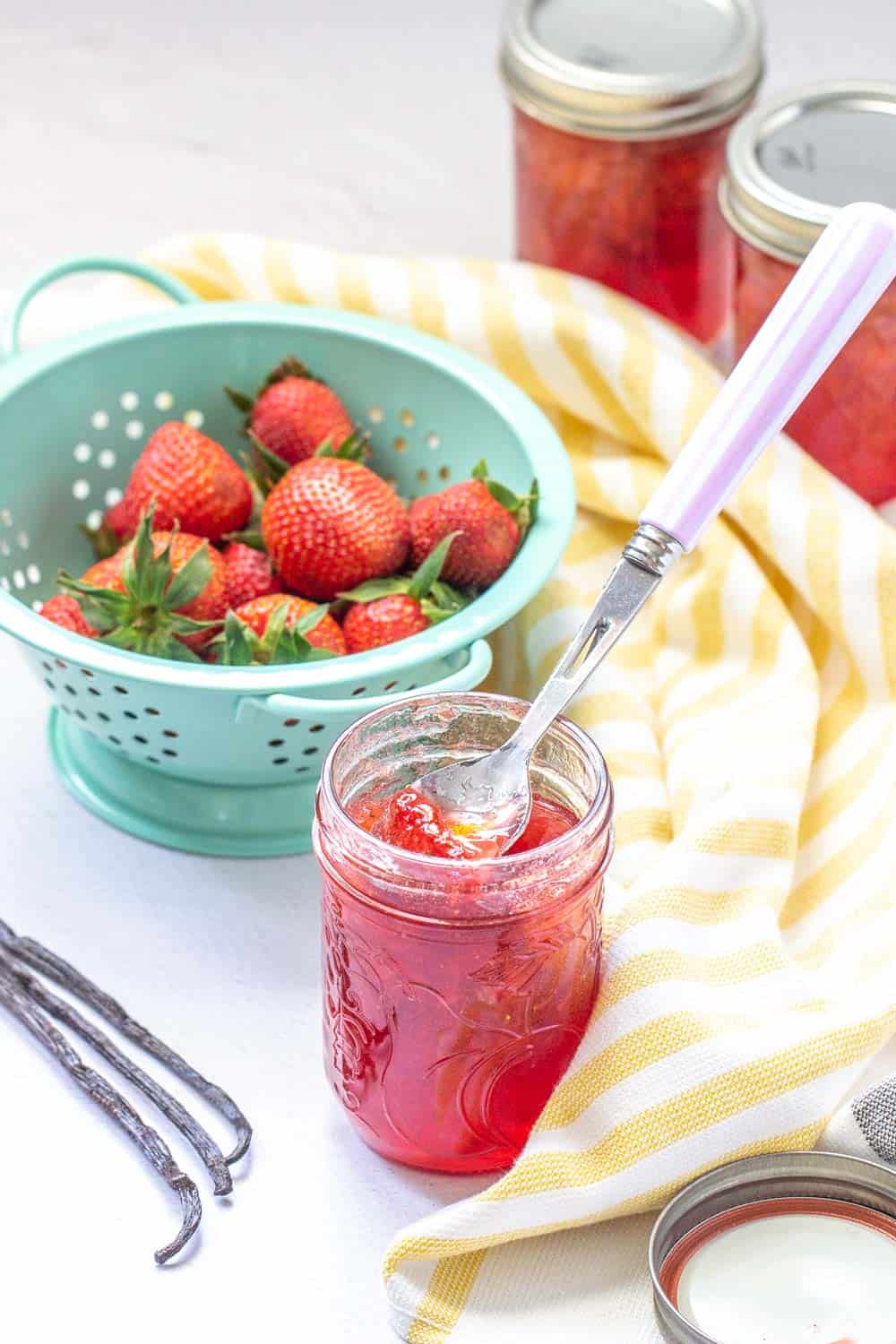 Seriously. We go crazy over fresh strawberries in my house and I am always lamenting that I didn't get enough strawberries to have some on hand in my freezer.
But at least I have jam. And you can too.
Jam is actually really easy to make. It doesn't even take that much time — maybe an hour, tops, from cutting the berries to hearing the ping of the lids.
Your life will be made easier if you have a canning kit but you can improvise if you don't. Please remember to have closed-toe shoes and oven mitts if you are improvising!
If you're new to canning, I highly recommend all of the books by Marisa McClellen, and her website Food in Jars. Most of her recipes make a smaller amount, so they're perfect for dipping your toes in preserving waters.
For my go-to strawberry jam, I add vanilla bean. It makes the jam a little extra special and gives it an almost rich flavor.
To use vanilla bean, slice it down the middle, flatten as best you can, and carefully scrape out the seeds with a sharp knife.
You can also use 3 teaspoons of vanilla bean paste or vanilla bean powder if you have that instead.
I also add a bit of lemon, which helps make the berries really pop, and ensures the vanilla doesn't get too overpowering.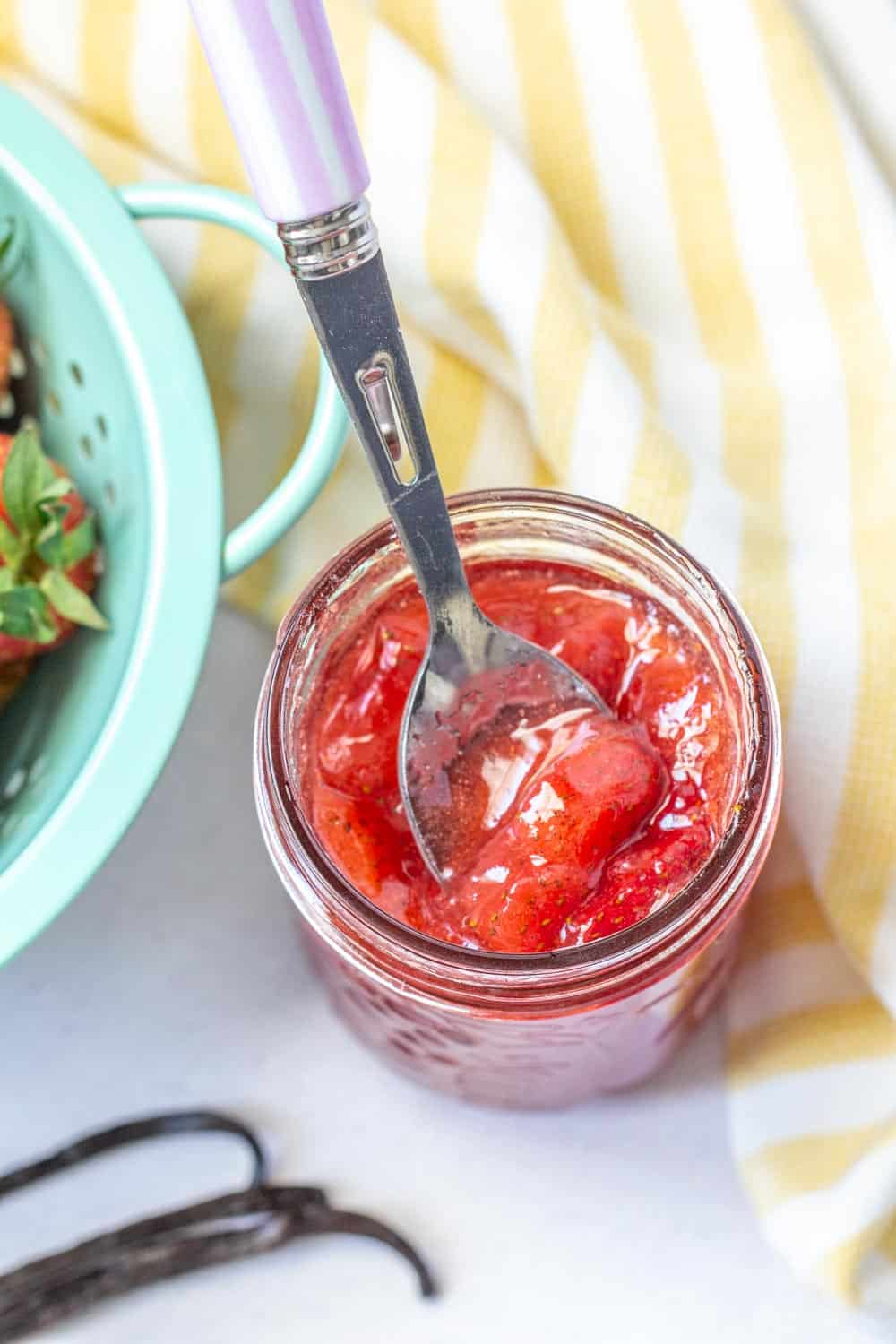 Preparing strawberries for jam
Because you are cooking the strawberries and mashing them as you go, you don't need to chop the fruit very small.
Slice off the tops and quarter the berries, or halve if they are on the smaller side.
Don't worry if some of your berries are a little extra ripe. These are still perfect for jam!
Do make sure to wash the fruit, but only just before preparing. Washing berries too far ahead of time (and not properly drying) can make them rot faster.
How to thicken strawberry jam
Jam is thickened during the cooking process and as it cools and sets.
For most jams and jellies, pectin is needed to ensure a good product. Pectin is a naturally occurring starch that helps bind cells together in fruits.
Sugar also helps for the thickening process, so unless you are an experienced home preserver, it's not recommended to reduce the amount of sugar called for in a recipe. Lowering the sugar content tends to reduce the shelf life and quality of your jam.
You can test for a good set by putting a small plate and spoon in the freezer while you cook your jam. When you think it is thick enough, spoon out a little bit onto the cold plate, let cool, and touch gently with your finger. If a skin is forming and it feels somewhat solid, it should be ready!
If you've canned your jam, let it sit 24-48 hours, and it is still runny, you can open the jars and re-cook the jam in a low, wide pot. Add ¼ cup sugar and 1 tablespoon powdered pectin for every 4 cups of jam and cook on high heat for 5-10 minutes, stirring, before re-canning.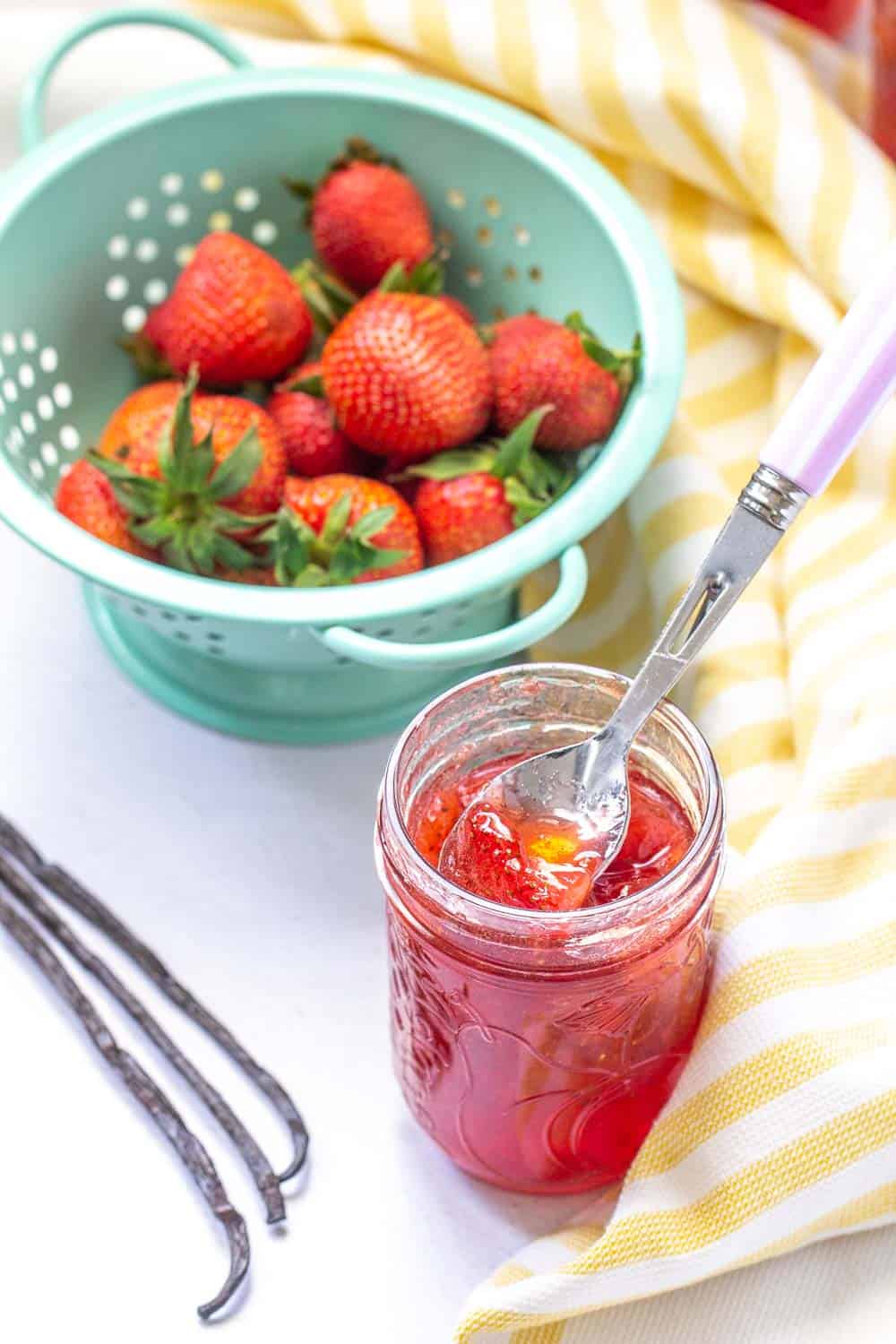 Can I make jam without pectin?
It is not recommended for a larger batch of canned jam like this to be made without pectin.
If you plan to freeze your jam or are making a smaller batch for the refrigerator, pectin can be skipped. Make sure to cook the jam long enough and do the plate test to ensure a good set before pouring into jars.
If freezing, leave enough headroom at the top of the jar to allow for expansion, or your jars might break!
How long does canned jam last?
Canned jam will last 18 months in the pantry if properly sealed.
Once your jars are cooled and have rested for 24-48 hours, remove the rings, test that the lids have sealed, and store them in a single layer in your pantry or cupboard.
Storing them in this fashion will allow you to easily see if a jar has gone bad from an open seal, whereas leaving the rings on can hide an open seal!
Don't forget to wash and save the rings to use for another batch of preserving. They can be used multiple times, until you start to see wear or rust on the inside rims.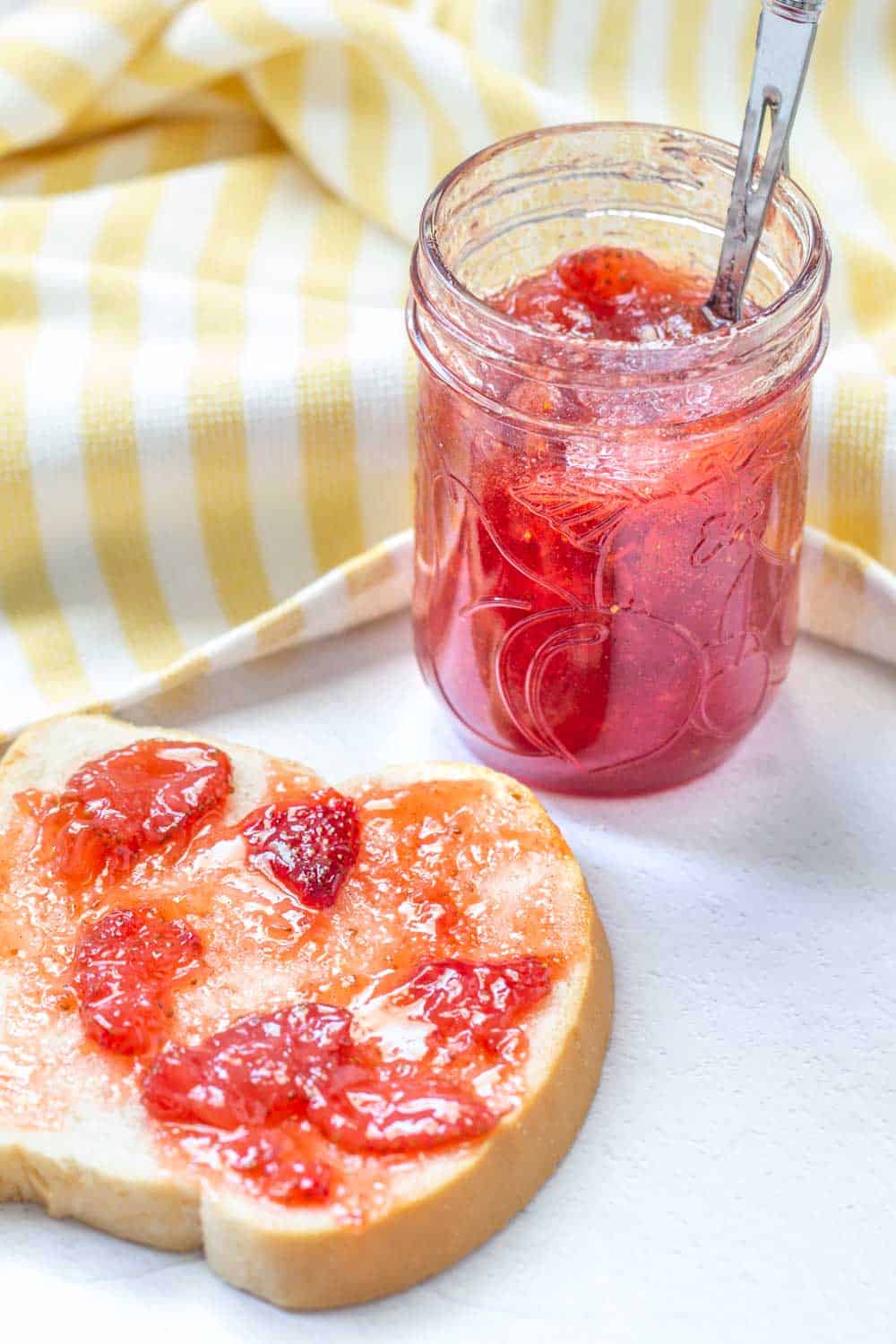 Once jam is opened, store it in the refrigerator for 2-3 months.
Love this recipe? Please leave a 5-star review below! It means so much when you enjoy my recipes, so let me know how it goes and leave a comment if you have any questions.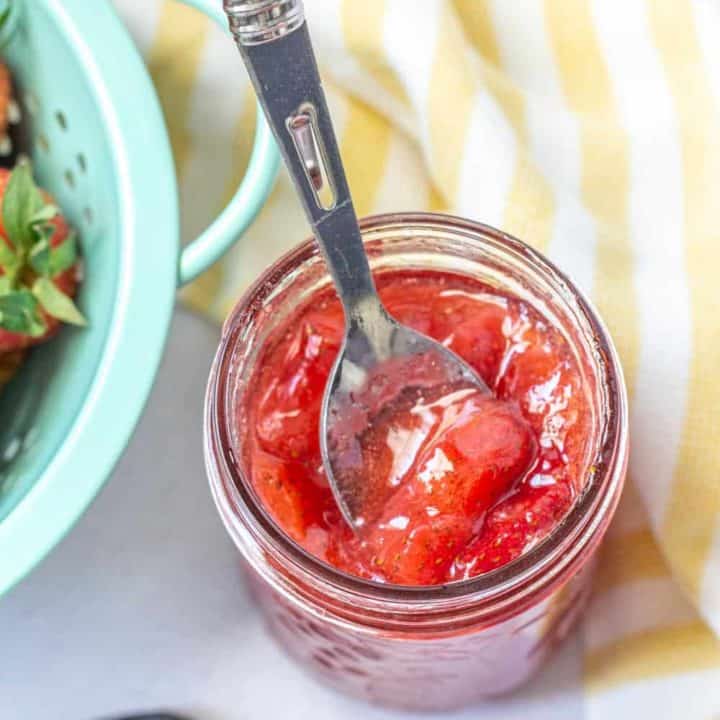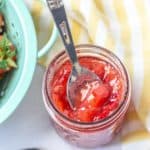 Strawberry Vanilla Jam
Homemade strawberry vanilla jam is one of the best ways to savor the sweet fruit all year long.
Print
Pin
Save
Saved!
Ingredients
8

cups

whole strawberries

¼

cup

lemon juice

1

box powdered pectin

7

cups

sugar
Instructions
Fill a canning pot with water and start heating to a boil. Separate jar lids, screw bands, and jars.

Measure exact amount of sugar into a large bowl and set aside.

Wash and hull strawberries, then in a large bowl crush one layer at a time using a potato masher, leaving some chunks. Pour berries, juice and all, into a 6-quart dutch oven or nonreactive stockpot and add lemon juice.

At this point, put the empty jars into the pot of water to heat and sterilize.

Begin heating berries over medium-high heat, then stir in pectin. Continue heating until it reaches a rapid boil, then add sugar all at once, stirring to dissolve.

Split the vanilla beans and scrap out as much caviar as possible into pot, then toss entire bean in too.

Continue heating and stirring until sugar is completely dissolved. Cook until mixture is thickened and jammy. Test for doneness by spooning some jam onto a chilled plate and letting cool. Touch to see if a skin is forming and feels gel-like; if so, jam is ready. Remove from heat.

Using tongs, remove jars from pot and place on a towel-covered countertop.

Carefully pour jam into jars, leaving about 1/2 inch headspace. Wipe edges clean and place lids on top, securing with screw bands. Gently lower jars into hot-water bath and process (let boil) for 10 minutes.

Remove and set on toweled counter. Let rest for 24-48 hours before moving. At some point you should hear the jars "ping" — this means the seal was properly made and it's safe to leave in your cupboard. If a jar doesn't ping, you can either re-process or store the jar in the fridge.
Notes
If using low-sugar pectin, please follow the box directions for ingredients and sugar levels.
Makes about 8 half-pint jars
Nutrition
Calories:
90
kcal
Carbohydrates:
23
g
Protein:
0.1
g
Fat:
0.1
g
Saturated Fat:
0.003
g
Sodium:
0.4
mg
Potassium:
29
mg
Fiber:
0.4
g
Sugar:
23
g
Iron:
0.1
mg
Nutrition information is provided as a courtesy and is an estimate based on online calculators. Any nutritional information found on Stetted should be used as a general guideline only.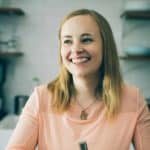 About Megan
I focus on fresh ingredients and easy methods, with spins that keep meals interesting. Dinnertime shouldn't be stressful or complicated, and I'm here to help you enjoy the time spent in the kitchen. Read more…