This post contains affiliate links. As an Amazon Associate, I earn from qualifying purchases.
Fragrant and sweet, this small-batch peach jam is perfect for beginner jam-makers or anyone who only has a few peaches on hand. It's ready in just minutes and makes 2 jars.
There are a few foods that really capture summer for me. Right at the top of the list is peaches, with their almost-excessive fragrance and juicy sweet flavor.
Depending on where you live, peach season can be pretty short, so one of the best ways to hold on to those flavors a little longer is to make peach jam.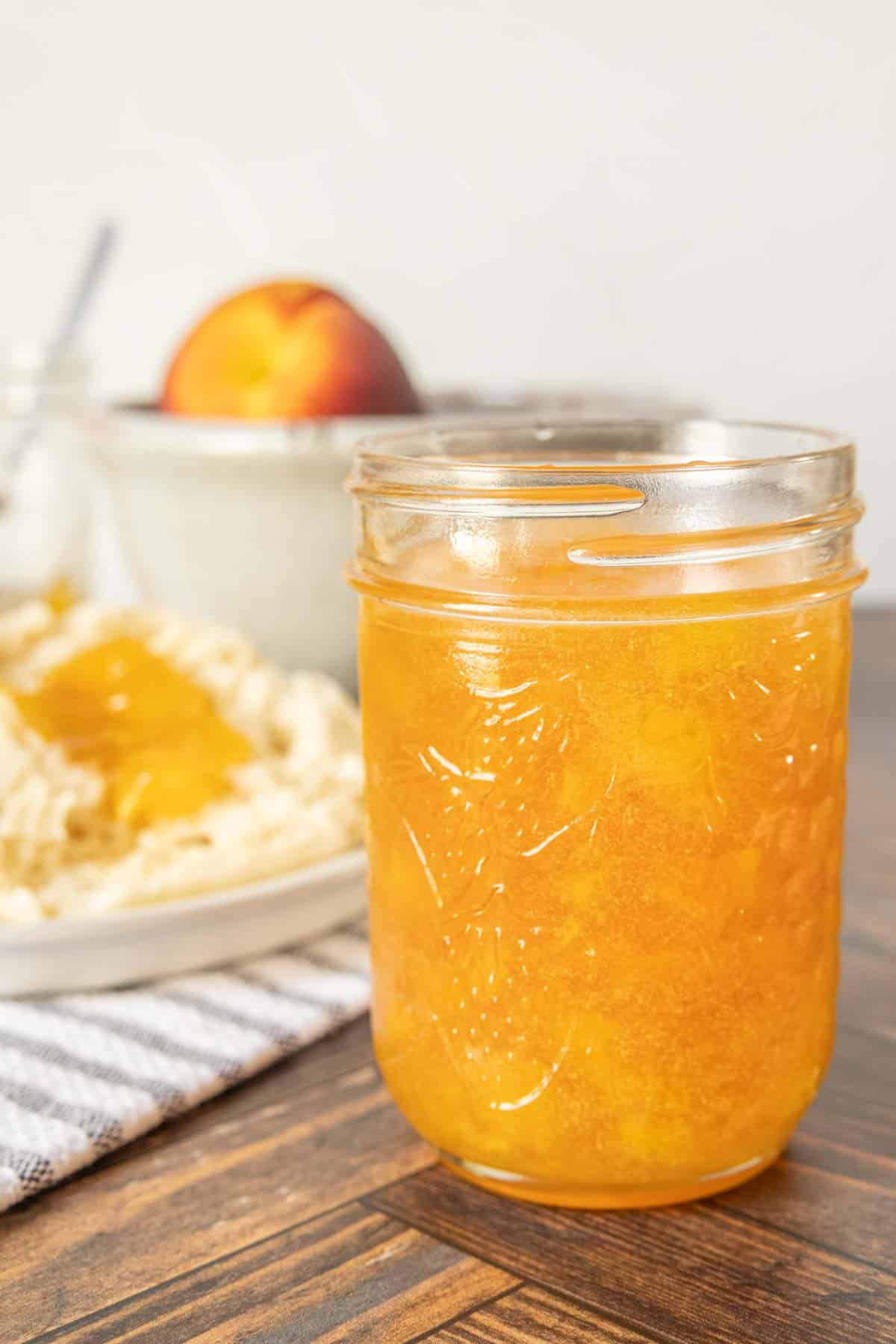 Small-batch jams like this and my strawberry rhubarb jam are perfect for savoring all sorts of fruits without having to reserve half your pantry to rows of jars. They're also a great option for anyone who isn't quite ready to dive into the world of water bath canning.
All you need for this simple peach jam is 4 ingredients and about 20 minutes!
Ingredients for peach jam
You'll need: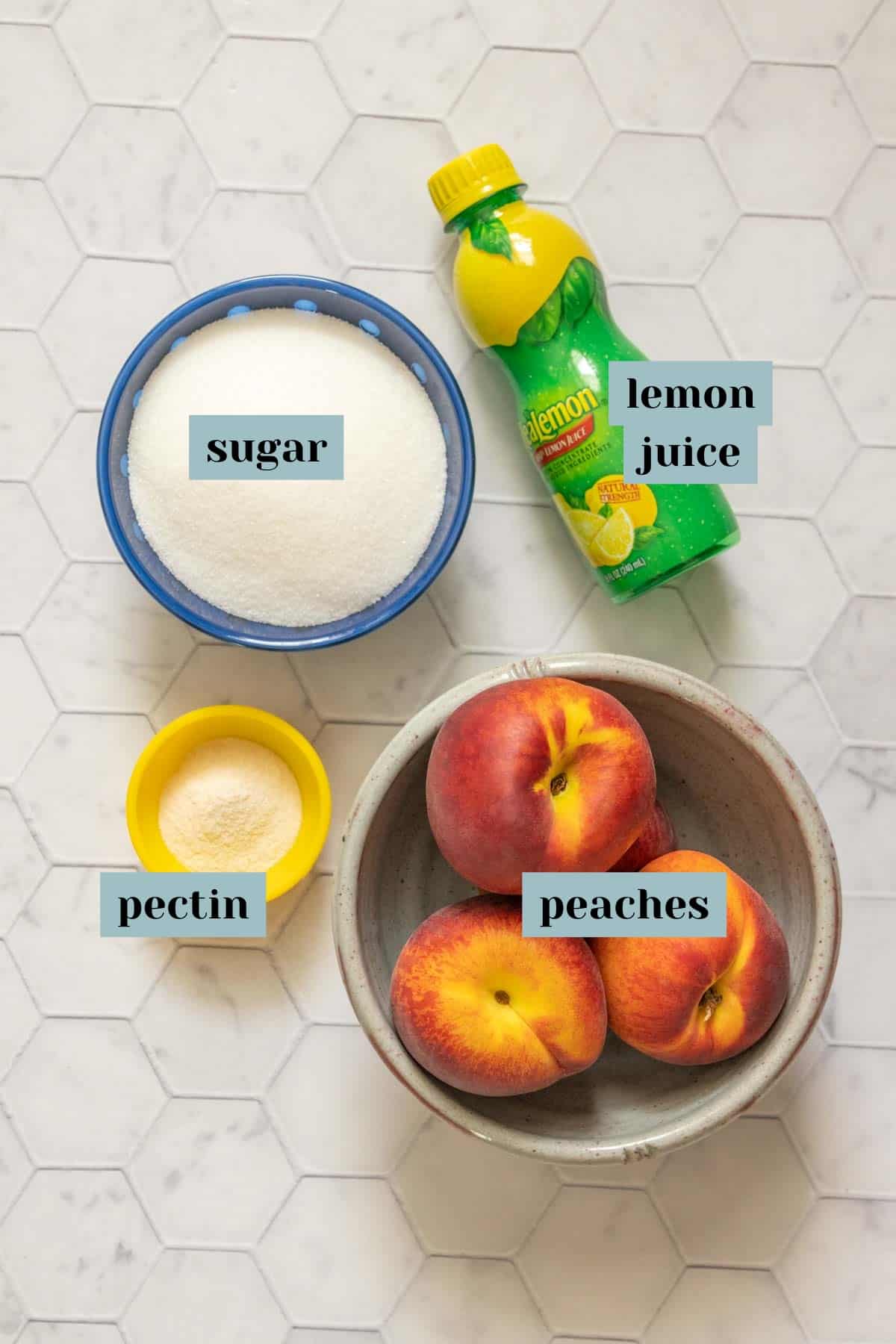 Sugar – I use granulated sugar in this recipe for the best results.
I have not tried this recipe with sugar alternatives. If you do, let me know how it works!
Pectin – Powdered pectin helps set the jam and prevents the need for cooking the jam a long time.
Pectin is derived from fruit, so don't fret about using it!
Lemon juice – Lemon juice adds fresh flavor to the jam and tampers the sweetness a bit.
I recommend using bottled lemon juice for jams if you are processing in a canner.
Peaches – You will need about 3 medium peaches for this recipe, to yield 1 1/3 cups of diced fruit.
Any variety of peach will do. Look for peaches that have a slight give to the flesh when gently squeezed.
Overripe peaches that are extra soft are great for jam as well, since they generally do not need much dicing. Make sure there are no moldy spots!
What's the difference between clingstone and freestone peaches?
The difference is in the name: clingstone peaches have pits that "cling" to the flesh, while freestone peaches have more easily removed pits.
Generally, clingstone peaches are ready earlier in the season. If using clingstone, simply cut the peach flesh away from the pit.
Freestone peaches can be halved vertically and carefully twisted to open and remove the pit.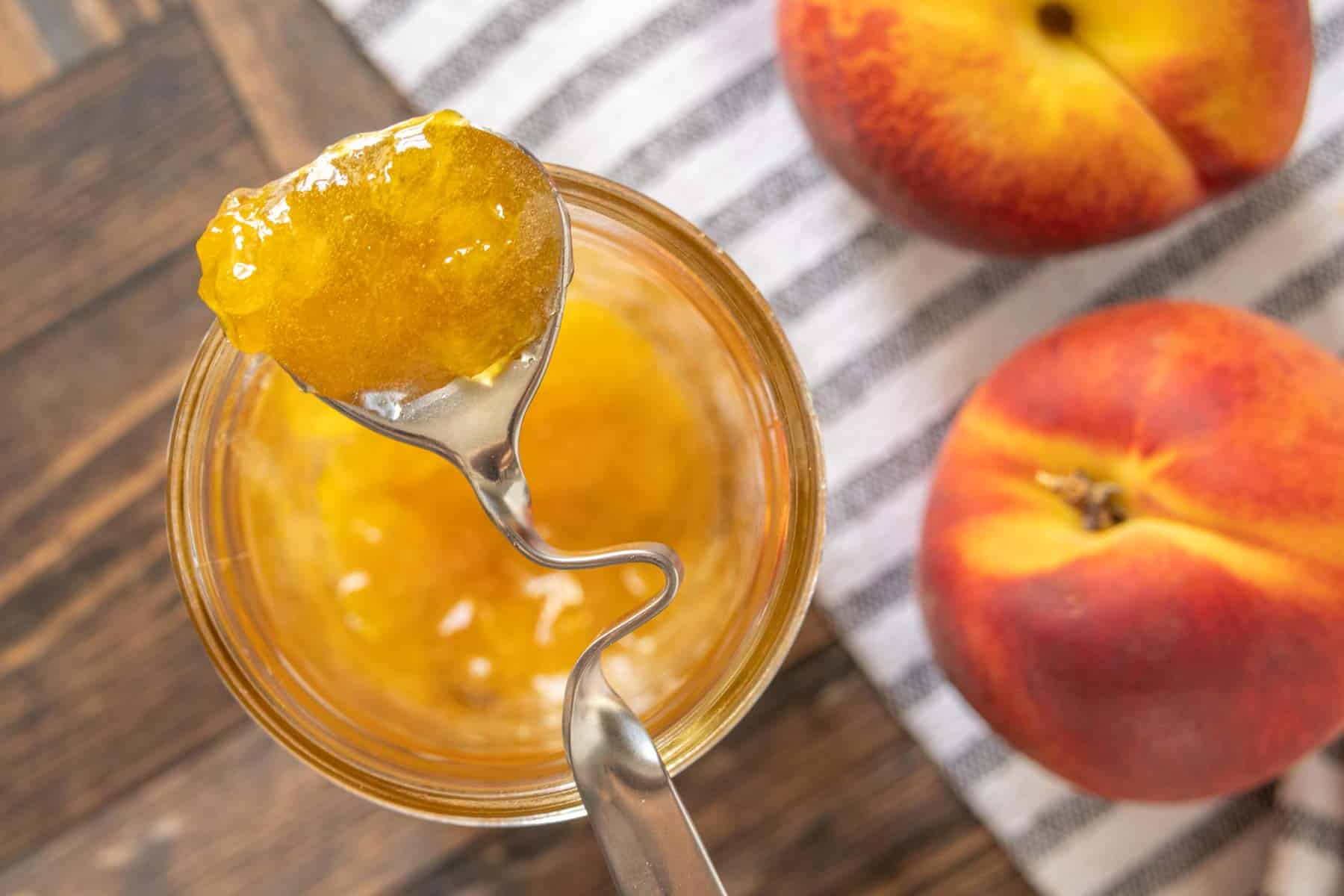 How to make peach jam
Set aside two 8-ounce jars or 1 16-ounce jar. If you don't have mason jars, you can also use deli containers or other reusable container with a well-fitting lid.
Peel, pit, and dice the peaches.
To peel, you can either use my blanching method for peeling tomatoes, or use a paring knife to cut off the peel. Cutting the peaches into quarters first will make it easier to peel.
Set a saucepan over medium heat. Add diced peaches, pectin, and lemon juice and stir to combine.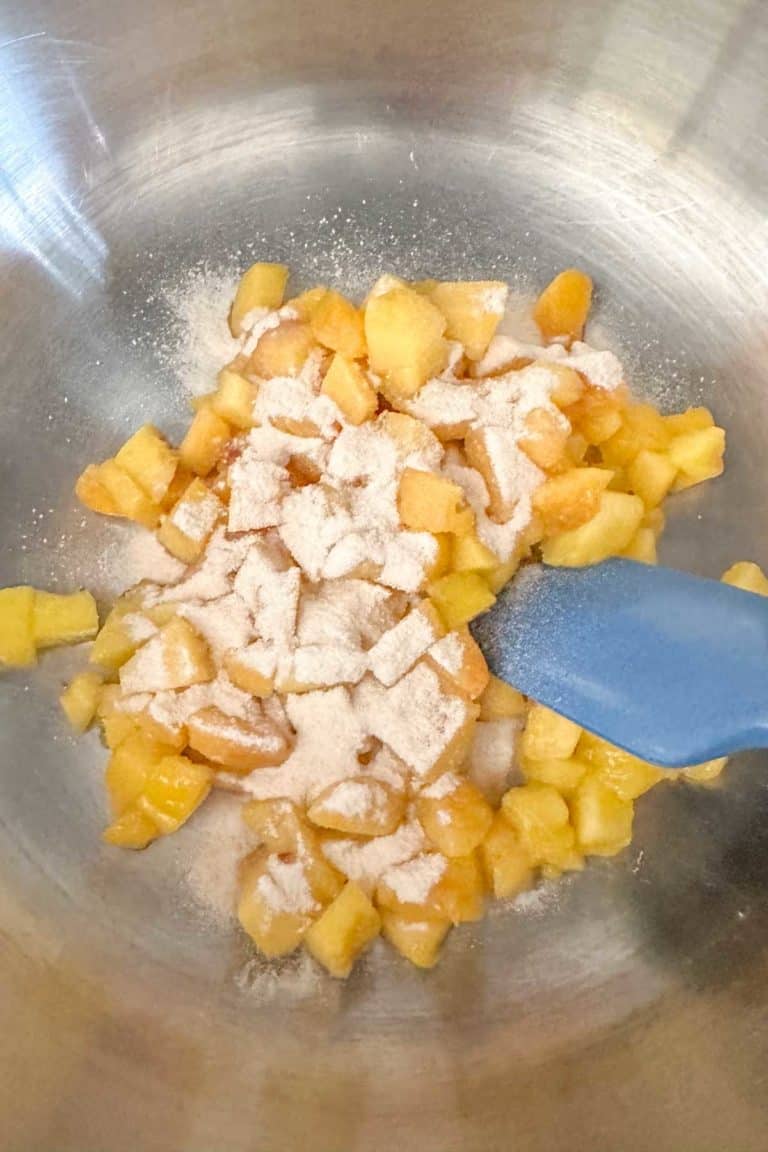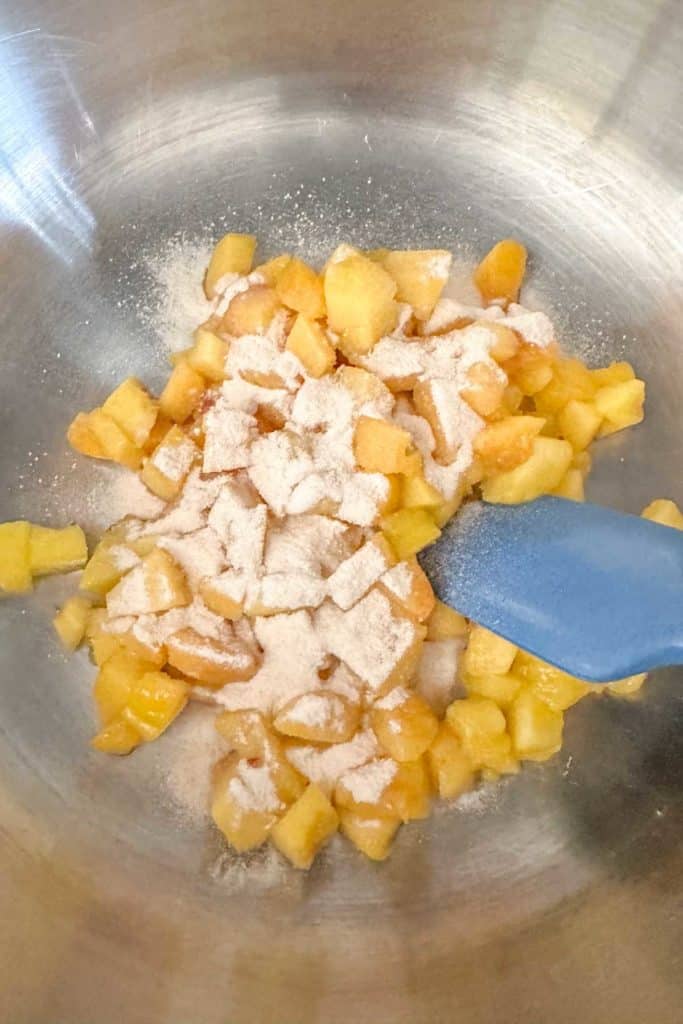 Bring to a boil, using a potato masher to break down the peaches further as they soften, if you like.
Once boiling, add the sugar all at once and stir well. Bring back to a boil, stirring to prevent scorching.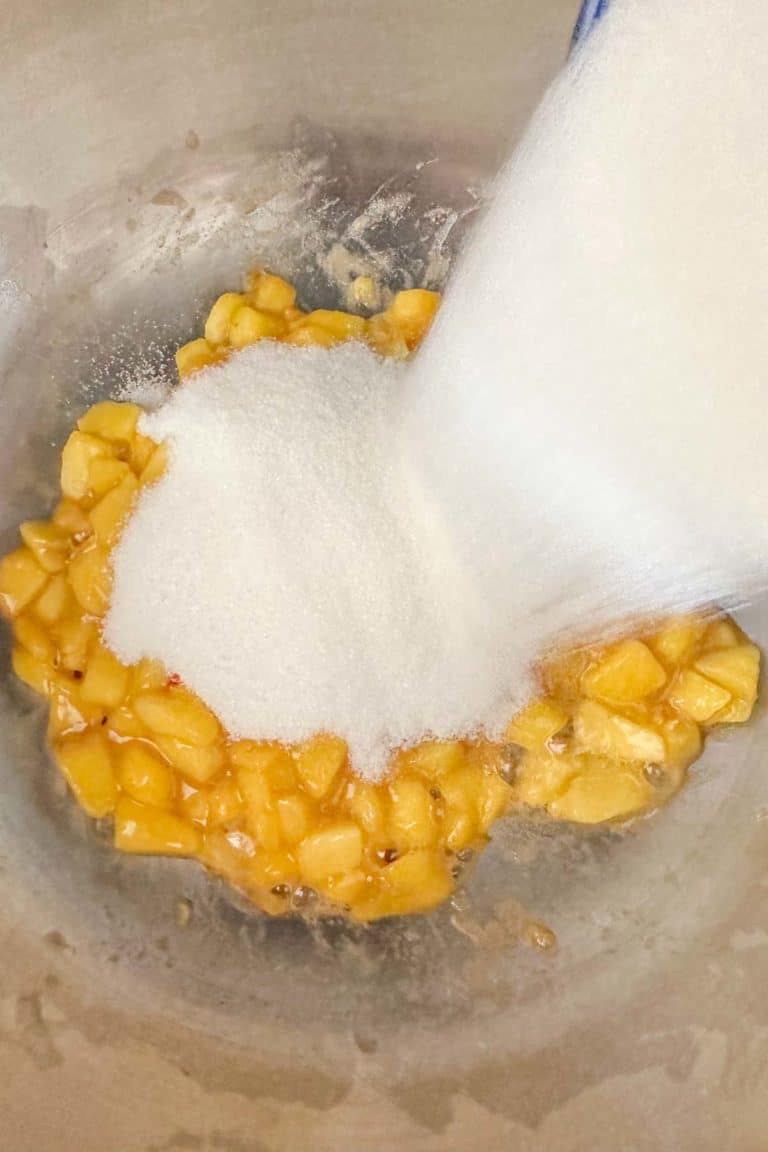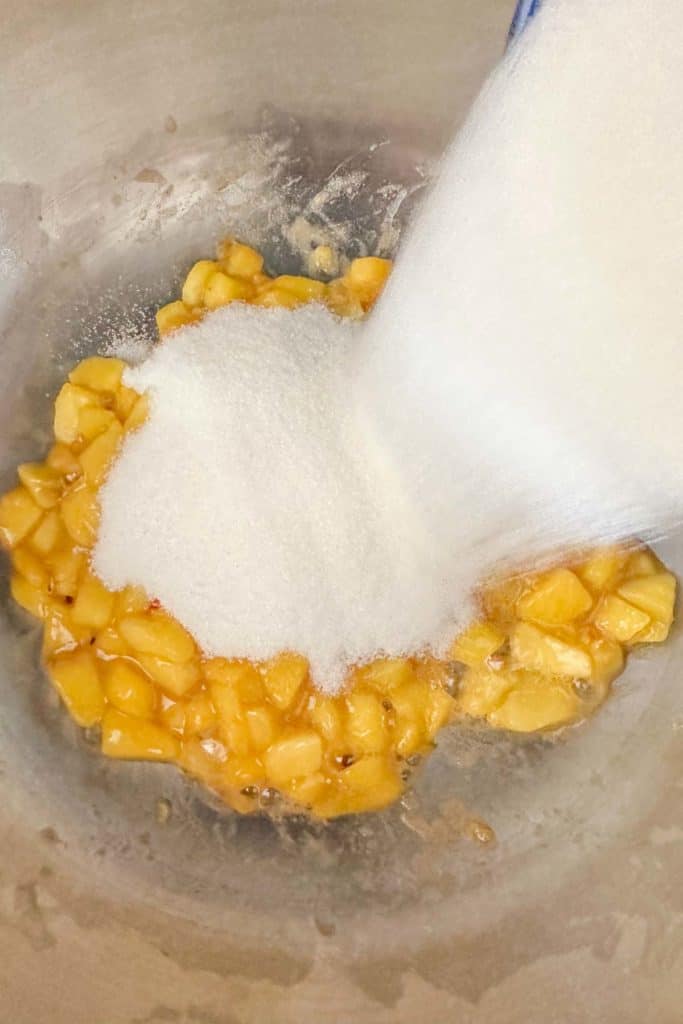 When the jam is at a boil that cannot be stirred down, let boil for 1 minute.
Remove from heat. The jam should be thickened, but still pourable. It will thicken more as it cools.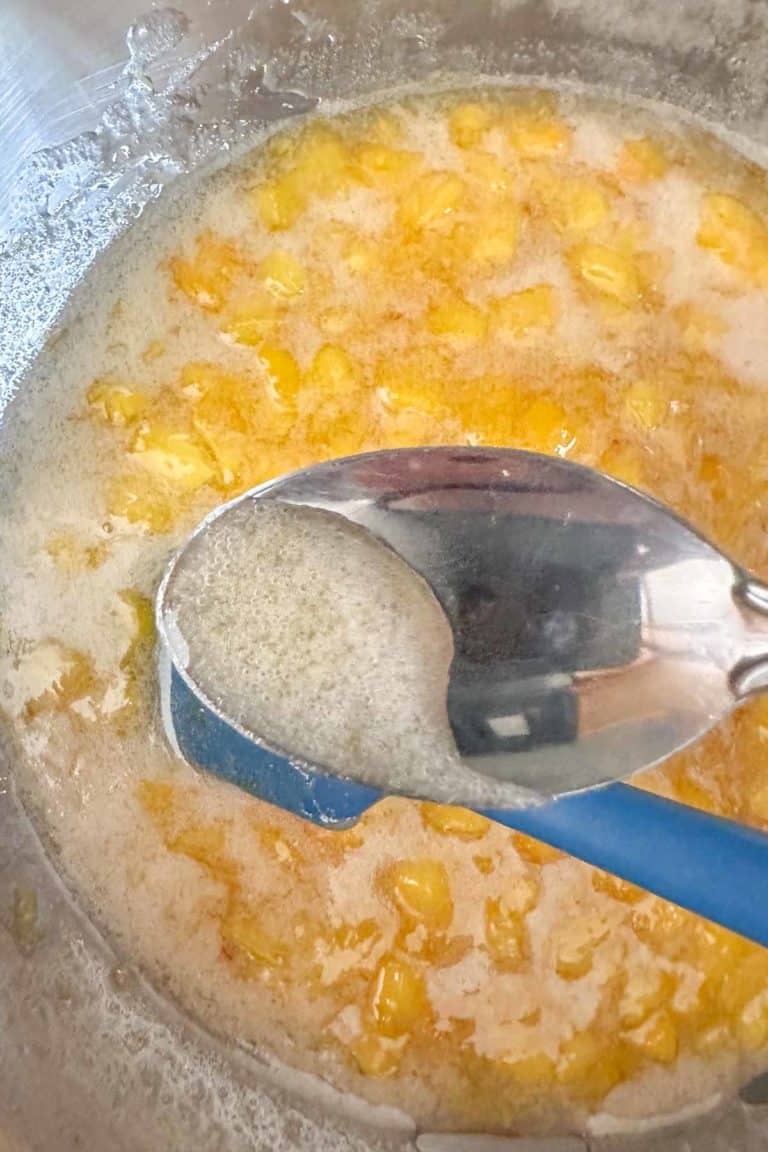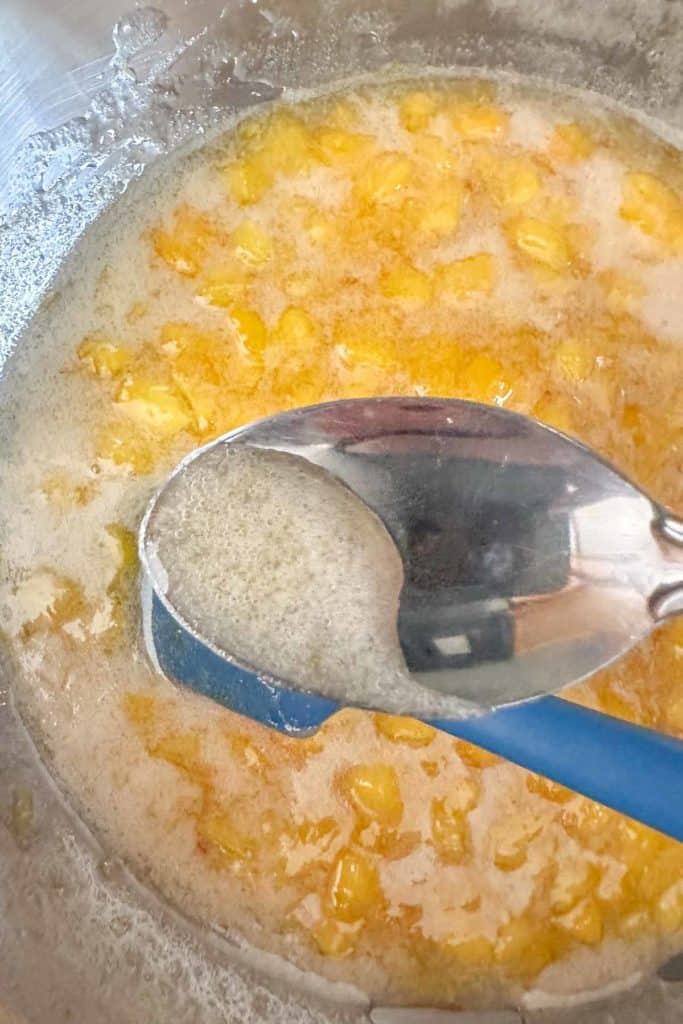 If desired, skim off the foam on top of the jam. This will give you a prettier, clearer jam.
Pour into jars. Wipe any spilled jam off the rims with a wet towel, then screw on lids.
Let cool to room temperature, then transfer to the refrigerator.
Canning peach jam
If you want your jam to last longer and be shelf-stable, you need to process it in a water bath canner.
Fill a canner with water and set to boil before starting the jam. Set aside 2 sterilized jars, lids, and rings.
Make the recipe as directed, then place on lids and screw rings on fingertip tight.
Use a jar lifter to lower the jars into the boiling water. Place the lid on the canner and bring back to a boil.
Process the jars for 10 minutes, then use the jar lifter to carefully remove the jars. Place on a towel-lined countertop.
Let the jars rest for 24 hours before checking for seals and labeling. If any jars did not seal, store them in the refrigerator.
Label sealed jars and store in a cool, dry place such as a pantry for up to 24 months.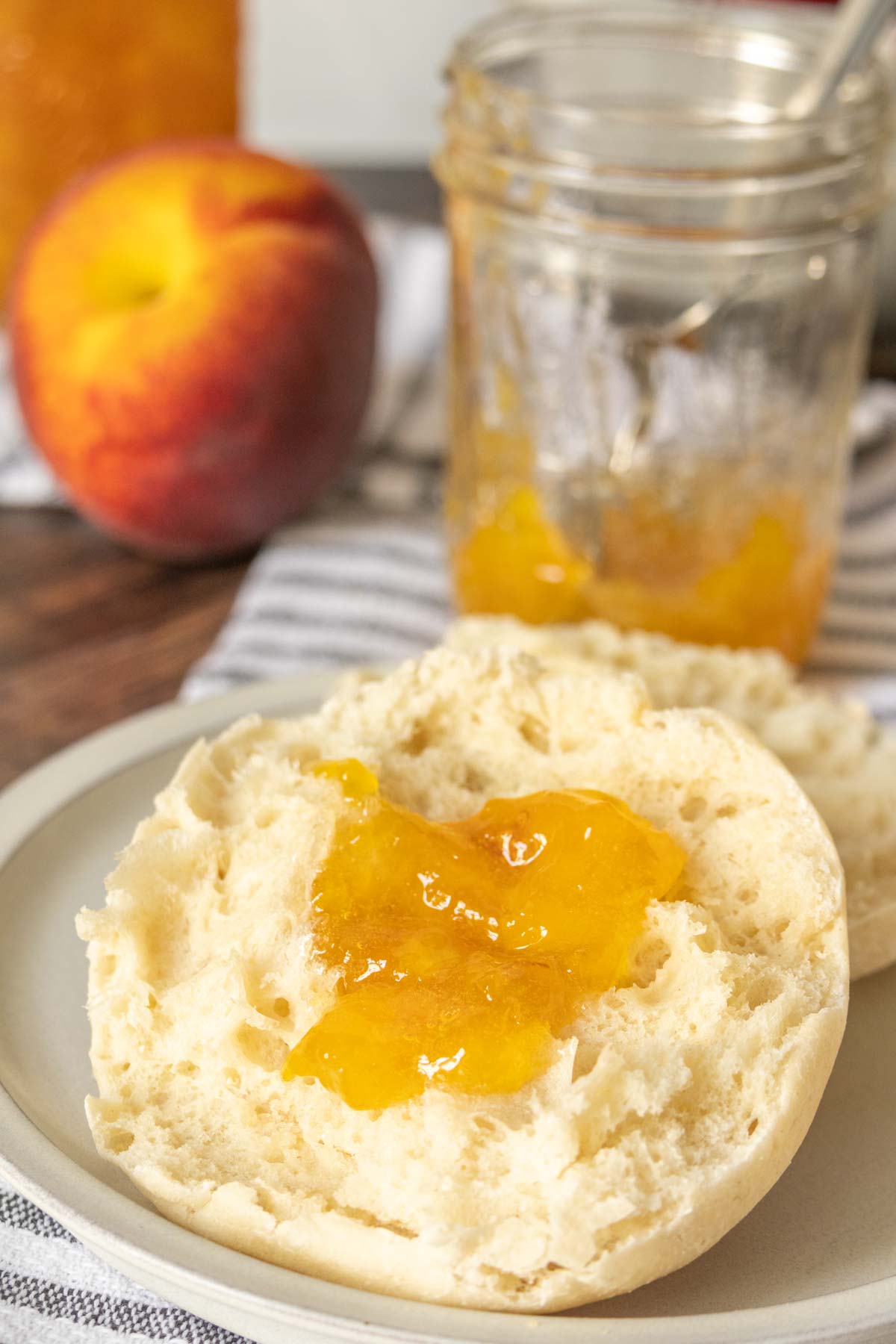 FAQ and Troubleshooting
Why is my jam too thick or too thin?
If your jam is too thick, you might have cooked it too long, or used too much pectin.
This recipe uses only 1 ½ tablespoons of powdered pectin, not a whole box. I recommend buying the pectin in a jar so you can use just what you need.
When cooking the jam make sure to not have the heat too high, stir often, and only boil hard for 1 minute once adding the sugar. It should be easily pourable; the jam will thicken further as it cools.
If your jam is too thin, you likely did not cook it long enough. You can recook the jam to thicken, or use as a delicious peach sauce for ice cream or pancakes!
Can I use frozen peaches to make jam?
If you don't have fresh peaches on hand or want to make this jam out of season, frozen peaches are a great option.
Thaw the peaches completely and drain well. Frozen peaches are already peeled and sliced, saving you a few steps!
Dice the peaches and proceed with the recipe as written.
Can I reduce the sugar in this jam? What about sugar substitute?
You can reduce the sugar in this recipe to 1 cup.
I have not tried this recipe using sugar substitutes. Note that your jam may not set the same way as when using granulated sugar.
What can I add to peach jam?
There are so many options for adding flavors to peach jam!
Try using brown sugar instead of granulated sugar for a rich flavor.
Add grated fresh ginger for zing.
Love peach pie? Add a bit of ground cinnamon and ground nutmeg.
Add a splash of bourbon or whiskey.
Try with fresh herbs like basil or mint.
How long does peach jam last?
Kept in the refrigerator, peach jam will last for 1-2 months.
Store the jam in the coldest part of the refrigerator to help it last longer.
If you process the jars in a canner, the jars will keep for about 18 months.
Do not store unprocessed or opened jars in the pantry.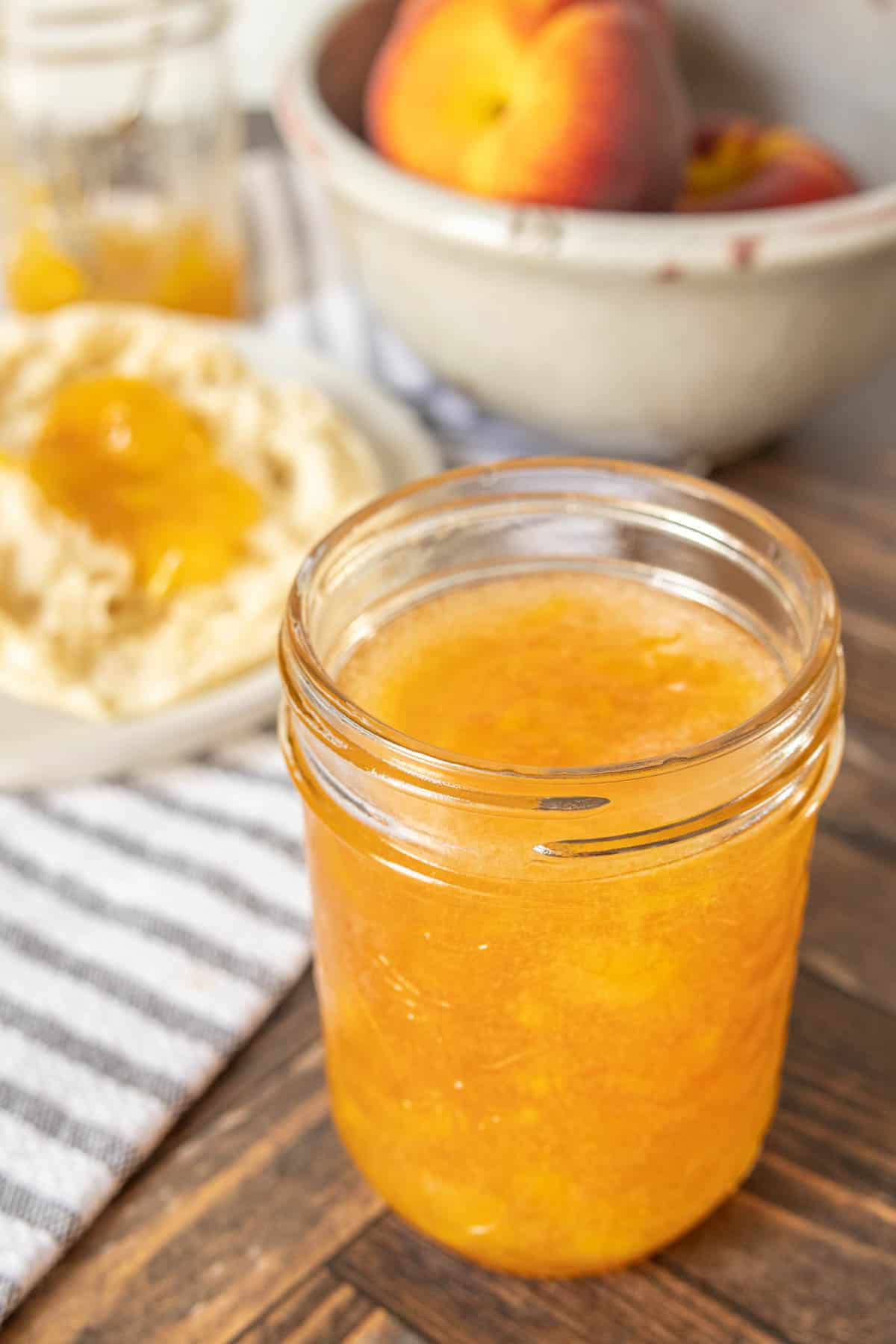 What to serve with peach jam
I love peach jam on top of English muffins and bagels with cream cheese. Honey oatmeal bread is also excellent with peach jam when toasted!
Try it warm with buttermilk waffles or on vanilla ice cream.
Peach jam can also be used for savory dishes like grilled chicken or pork chops.
Have just a little bit of jam left in the jar? Add your favorite spirits or Prosecco and make a sweet, peachy cocktail!
Love this recipe? Please leave a 5-star review below! It means so much when you enjoy my recipes, so let me know how it goes and leave a comment if you have any questions.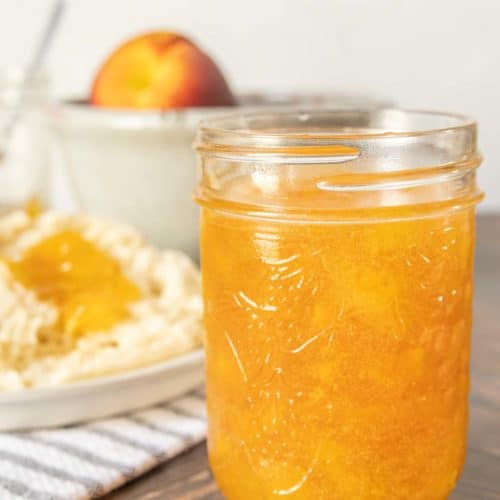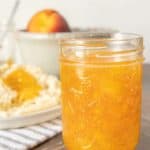 Peach Jam
Savor summer with this easy peach jam. No canning equipment or experience needed!
Print
Pin
Save
Saved!
Ingredients
1 1/3

cup

diced peaches

,

about 3 medium peaches

1 1/2

tablespoons

powdered pectin

1

tablespoon

lemon juice

1 2/3

cup

granulated sugar
Instructions
Set 1 16-ounce mason jar or 2 8-ounce jars on a clean kitchen towel next to the stove, along with jar lids and a ladle.

In a saucepan over medium heat, combine peaches, lemon juice, and pectin. Bring to a boil, stirring often to mix and break up the peaches further. (You can also use a potato masher to mash the fruit.)

Once boiling, add the sugar all at once and stir well. Bring back to a boil, stirring to dissolve the sugar fully. When the mixture is at a boil that cannot be stirred away, boil for 1 minute.

Remove from heat. The mixture should be thickened and sticky, but still pourable. If you like, use a spoon to skim off the foam and discard.

Pour the jam into your jar(s), leaving ¼ inch of headspace. Use a wet towel to wipe the outside of the jar, then loosely place on lid. Let cool to room temperature, then store in the refrigerator.
For canning
If processing in a water bath canner, prepare the canner by filling with water and heating to boiling before cooking the jam. Let the water simmer while preparing the jam. Set aside two-piece jar lids.

Cook jam and fill jars as above, then place the lids and screw on bands just to fingertip tight. Carefully lower into water bath, place lid on the canning pot, and boil for 10 minutes.

Turn off heat, remove lid, and carefully remove jars, placing on a kitchen towel. Let rest undisturbed for 24 hours, then check for seal, label, and store in a cool, dry place.
Notes
Makes about 2 cups/16 ounces.
Sugar can be reduced to 1 cup if desired.
Nutrition
Serving:
2
tablespoons
Calories:
48
kcal
Carbohydrates:
12
g
Protein:
0.1
g
Fat:
0.1
g
Saturated Fat:
0.003
g
Sodium:
3
mg
Potassium:
18
mg
Fiber:
0.3
g
Sugar:
12
g
Iron:
0.1
mg
Nutrition information is provided as a courtesy and is an estimate based on online calculators. Any nutritional information found on Stetted should be used as a general guideline only.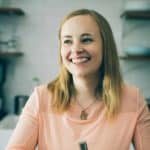 About Megan
I focus on fresh ingredients and easy methods, with spins that keep meals interesting. Dinnertime shouldn't be stressful or complicated, and I'm here to help you enjoy the time spent in the kitchen. Read more…