This post contains affiliate links. As an Amazon Associate, I earn from qualifying purchases.
My aunt got me hooked on English muffins.
As a grade schooler I spent a week with my aunt up in Rhinelander, in northern Wisconsin. I had no idea what I thought we would do, with me being so young and her being a teacher and no doubt tired of spending day in and day out with kids my age. Because I have an older brother, the idea of a vacation where I would be by myself with my aunt sounded like the ultimate experience.
I don't recall doing anything remarkable, although at the time we had a fondness for the gem and mineral shows that would come around, and I of course was usually found with my nose stuck in a Babysitters Club book or other preteen serial. (Anyone else remember the Sleepover Friends series? I was *obsessed* with Stephanie, the "cool" one who only dressed in black, white, and red. Oddly, those books are where I first encountered edible violets. I was pretty confused about it.)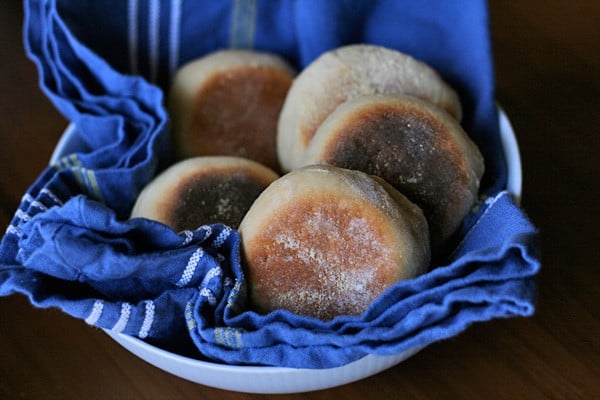 When we would come around just for weekend visits my aunt would often buy the old-fashioned sour cream doughnuts, but eventually they gave way to English muffins. We only ever had toast at home, so the bubbled texture of the English muffin was exotic to me. Toast it and slather it with peanut butter and you have my go-to breakfast.
Until a few months ago it never occurred to me to attempt making my own version. Having never had homemade English muffins before, I wasn't sure what to expect. Sure, nooks and crannies are the selling point but beyond that there seemed to be a great number of methods out there. I had to try a couple different recipes before I was satisfied enough with the result. The first go resulted in muffins that were tall and doughy, more like dinner rolls than English muffins. All in all not too bad if you like bread, but I kept searching.
I think the second recipe might be what I'll keep using. They still were quite tall but the final taste test revealed what I was looking for. I'm really quite a novice when it comes to baking bread, but I'll continue to learn and perfect my methods in the year to come.
Check out my recipe for cinnamon raisin English muffins too!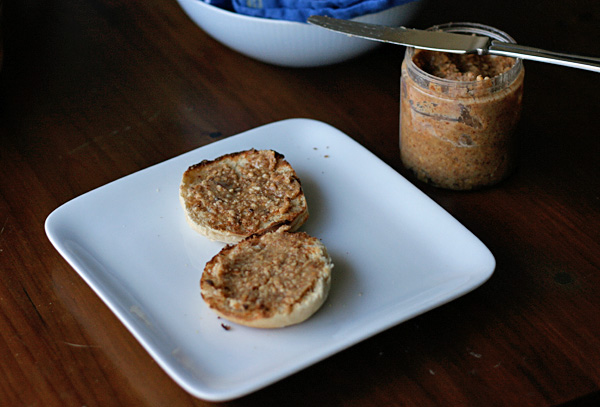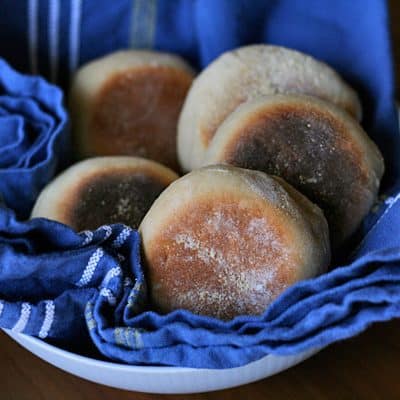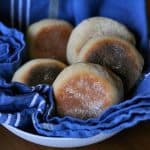 Ingredients
2 1/4

teaspoons

active dry yeast

1

tablespoon

sugar

1/4

cup

warm water

1

cup

warm milk

3

tablespoons

softened butter

3/4

teaspoon

salt

1

cup

whole wheat flour

3

cups

all-purpose flour

,

divided

1

egg

,

beaten

2

tablespoons

honey

Cornmeal
Instructions
Dissolve yeast and sugar in water and set aside until frothy.

Combine milk, butter, salt, whole wheat flour and 1 cup all-purpose flour. Mix in egg, honey, and yeast mixture.

Stir in remaining flour, a little at a time, until you have a soft dough. Knead on a lightly floured surface until smooth and elastic, about 8 minutes. Place in a greased bowl; cover and let rise in a warm place until doubled, about 1 hour.

Punch dough down and roll out on a floured surface to about 1/2-inch thick. Using a round cutter or large glass, cut out muffin shapes, reform dough, and repeat until all dough is used. Set rounds on a baking pan dusted with cornmeal, and let rise until doubled. Meanwhile, heat a large skillet over low heat.

Working in batches, bake muffins for about 10 minutes on each side, until nicely browned.
Nutrition
Calories:
244
kcal
Carbohydrates:
44
g
Protein:
7
g
Fat:
5
g
Saturated Fat:
2
g
Cholesterol:
25
mg
Sodium:
177
mg
Fiber:
3
g
Sugar:
4
g