This post contains affiliate links. As an Amazon Associate, I earn from qualifying purchases.
Love English muffins? Learn how to make homemade English muffins and enjoy this breakfast staple any time!
My aunt got me hooked on English muffins when I was a kid.
We only ever had cereal or toast at home, so the bubbled texture of the muffins was foreign to me. Toast an English muffin and slather it with peanut butter and you have my go-to breakfast all these years later.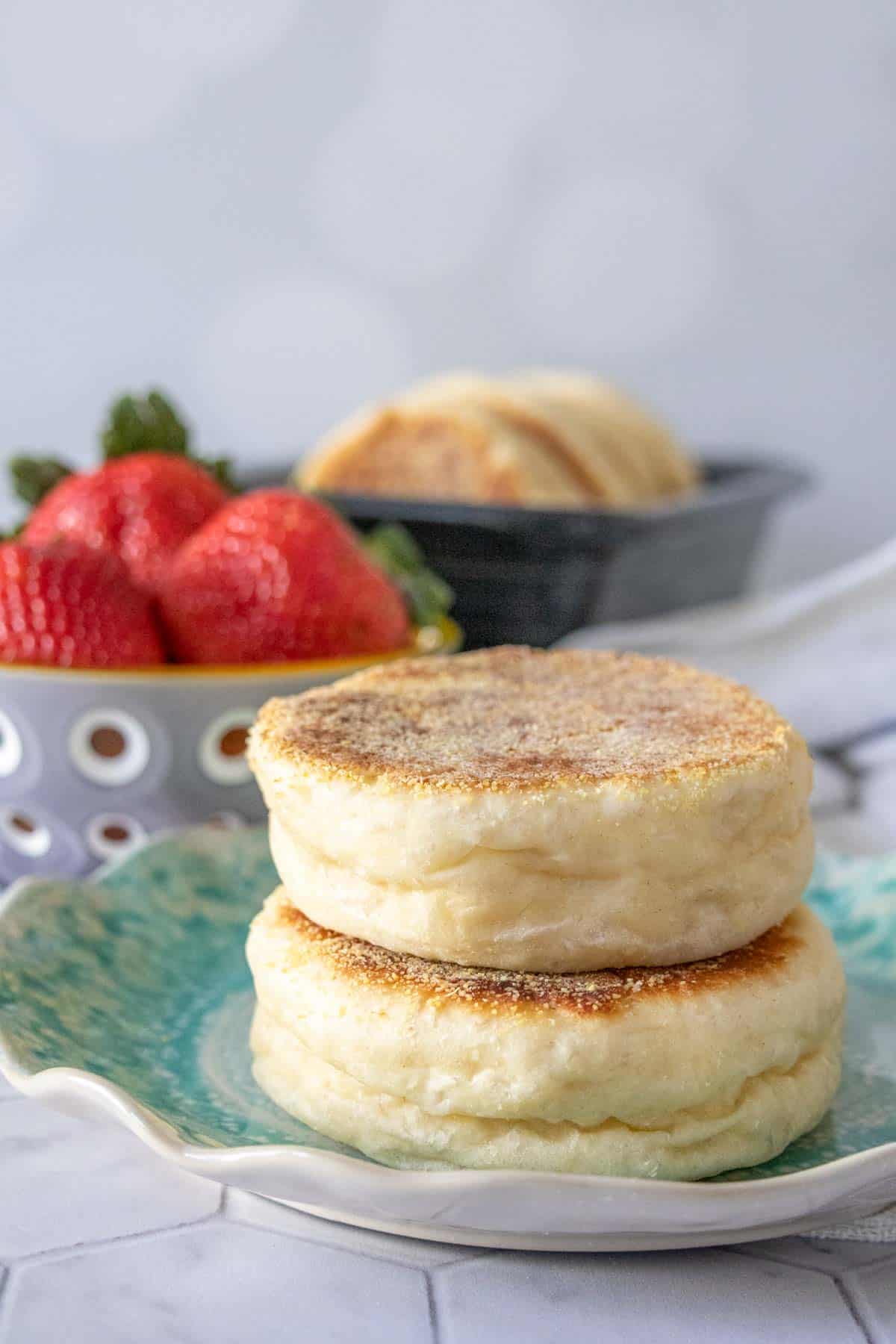 My younger son is a fan as well, and while we often buy our English muffins at the store (Bays is the best brand) we also like to make them at home.
English muffins can seem tricky to make, but if you have made bread such as my honey oatmeal bread, you can make these.
You don't need any special equipment, either, so you can make them today!
Ingredients for this English muffins recipe
English muffins use the same ingredients as many breads, with a couple of additions for a richer dough.
All-purpose flour – I use AP flour to make the fluffiest muffins. If you swap in another flour, keep in mind that the hydration needs will be different.
As with all bread recipes, the exact amount of flour needed depends on the brand you use, the humidity levels in your kitchen, and how you measure the flour. Add additional flour sparingly, as it is easier to add more flour than more hydration!
Sugar – To sweeten the muffins just a bit, I add a small amount of sugar. The sugar also helps the yeast activate and rise the muffins.
You can use honey if you prefer, but make sure it is warmed just slightly so it will blend better into the dough.
Yeast – To make the English muffins rise, we'll need some yeast. If you buy yeast in packets, you'll need 1 packet, which is equal to 2 ¼ teaspoons.
tip
Instant or "rapid rise" yeast does not need to be proofed, and can be added directly to the dry ingredients. For active dry yeast, dissolve in warm water for 5 minutes before using. It should foam; if it doesn't, you need new yeast.
Warm milk – I use milk for hydration in enriched doughs like this. You don't want to heat it too much; it should only be 100°F to 110°F. If using the microwave, this will take 30-40 seconds.
Softened butter – Butter adds richness to this dough and keeps it soft even after baking.
Egg – One egg is added for even more richness.
Salt – Salt boosts the flavors in the dough and also slows down the yeast, preventing it from making your breads rise too much.
Cornmeal – Cornmeal is not added to the dough, but is used on the outside to prevent sticking as the dough pieces rise and cook. You can also use semolina flour.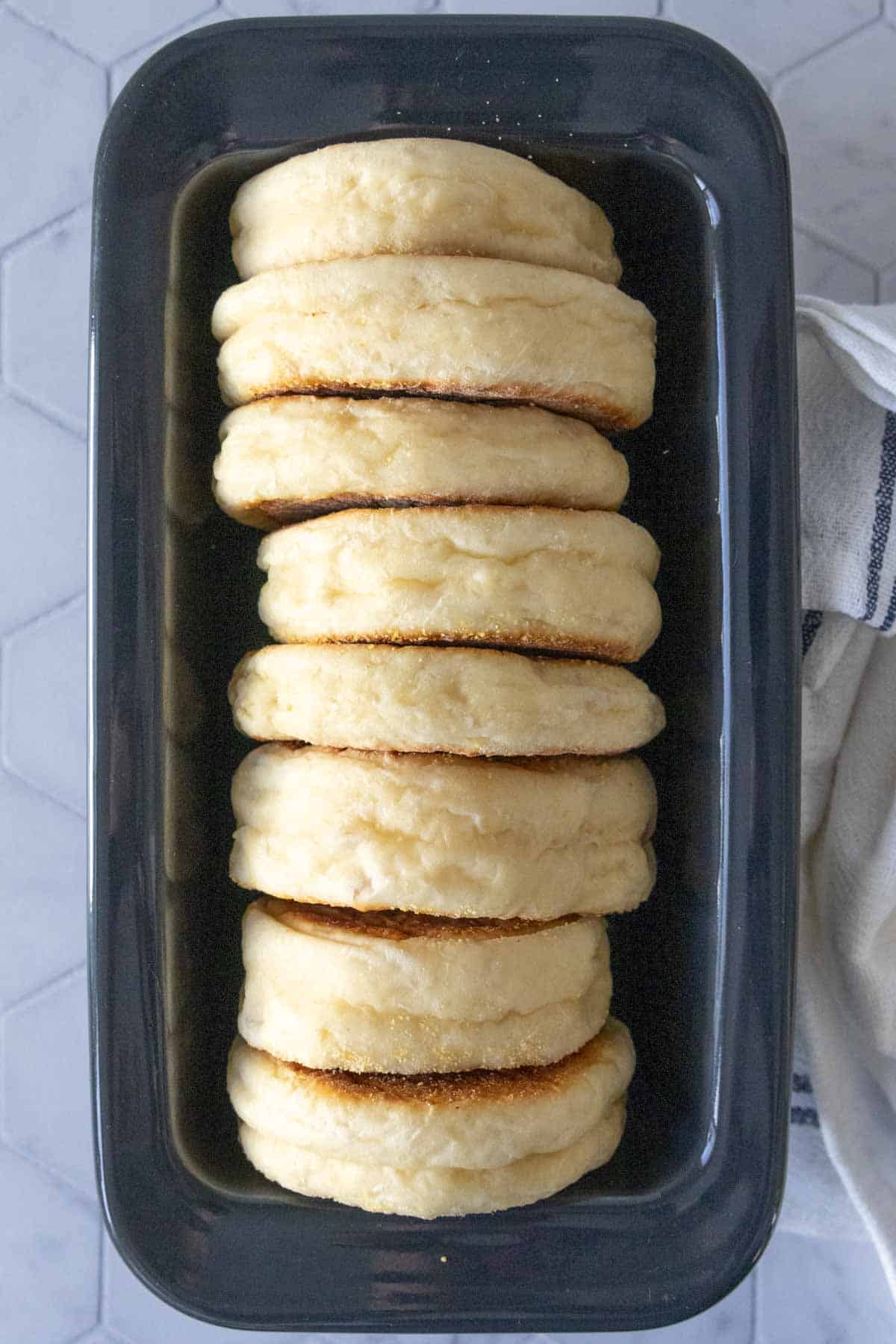 How to make English muffins
The main thing to keep in mind when making English muffins is that the dough will be much more wet than a sandwich loaf or dinner rolls.
That means it is somewhat trickier (and stickier) to work with when mixing. If you have a stand mixer, this is a great opportunity to let it do the work for you.
However, you can also mix by hand, which is what I've done in this post's photos.
First, warm the milk and set aside.
If you are using active dry yeast, dissolve it in ¼ cup of the warm milk, letting it stand until frothy. For instant yeast, skip this step.
In a large mixing bowl, combine 2 cups flour, (instant) yeast, sugar, and salt.
Add softened butter and pour in warm milk. Mix a few times, then add in beaten egg.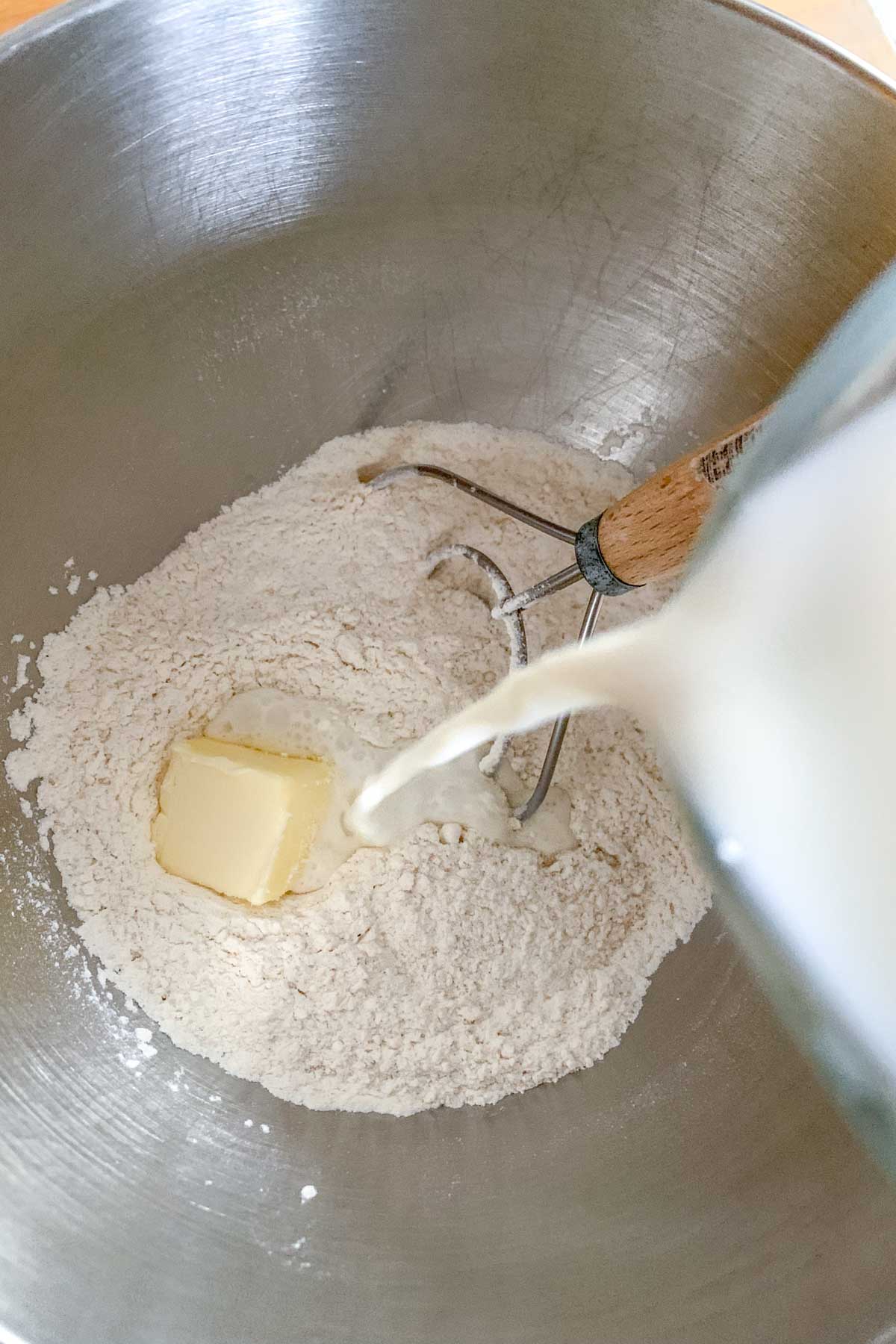 Continue mixing, adding small amounts of flour, until the dough is coming away from the sides of the bowl but is still fairly wet.
You can knead it a few times to bring it together if you like, but this isn't necessary (especially as you'll need to add more flour to prevent a mess).
Use a silicone spatula or dough scraper to shape the dough into a loose ball, then cover the bowl with a kitchen towel or plastic wrap and place in a warm area of the kitchen to rise for 1 hour.
tip
Use plastic shower caps to cover rising dough. The stretchy bands form the perfect fit around bowls, and they can be washed and reused.
Grab a baking sheet, line it with parchment paper, and spread a light even layer of cornmeal on top. Set aside.
Once the dough has risen, divide it into 12 pieces.
You can use a kitchen scale to make them exactly even, or just eyeball it. Try to not make any excessively large, however, as they won't cook through in the middle.
Pinch the edges under to form a ball, then roll on the countertop to even up the shape.
I do this by cupping my thumb and middle finger around the ball and roll it while keeping my thumb touching the counter.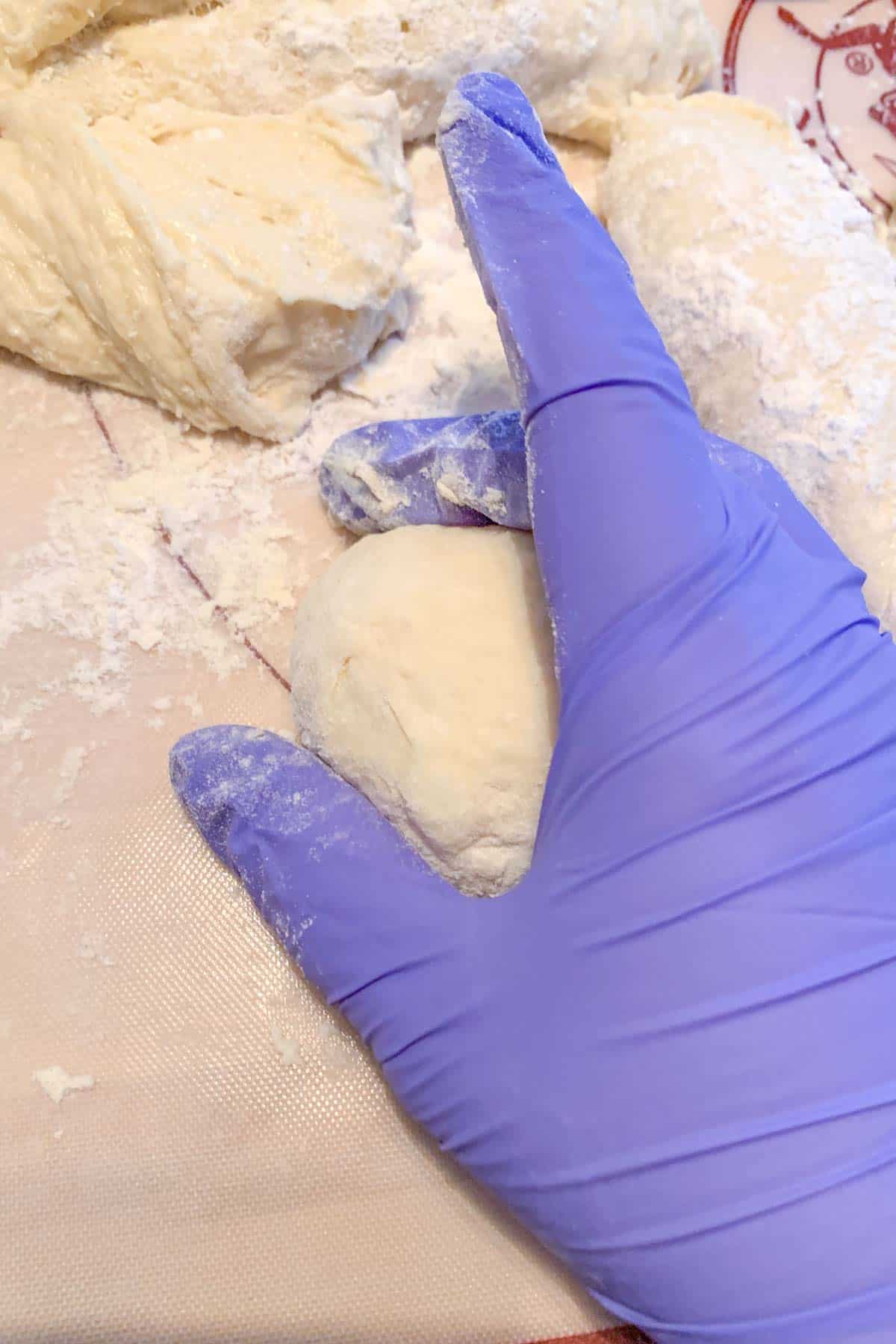 Set each dough ball onto the prepared baking sheet and gently flatten with your hand.
Cover with a kitchen towel to rest while you heat the pan.
English muffins are different in that they are cooked on a griddle or frying pan rather than baked in the oven.
A flat top griddle is ideal because you'll be able to cook many at once, but if you don't have one, a frying pan is fine.
Heat the griddle or pan over medium low (300°F to 325°F). The lower heat helps ensure the interior gets cooked without burning the exterior.
Once the pan is heated and the muffins have puffed slightly, place them on the pan in batches. An electric griddle pan will be able to fit about 8.
Cook for 8-10 minutes per side. If the bottom is browning too quickly, reduce the heat slightly.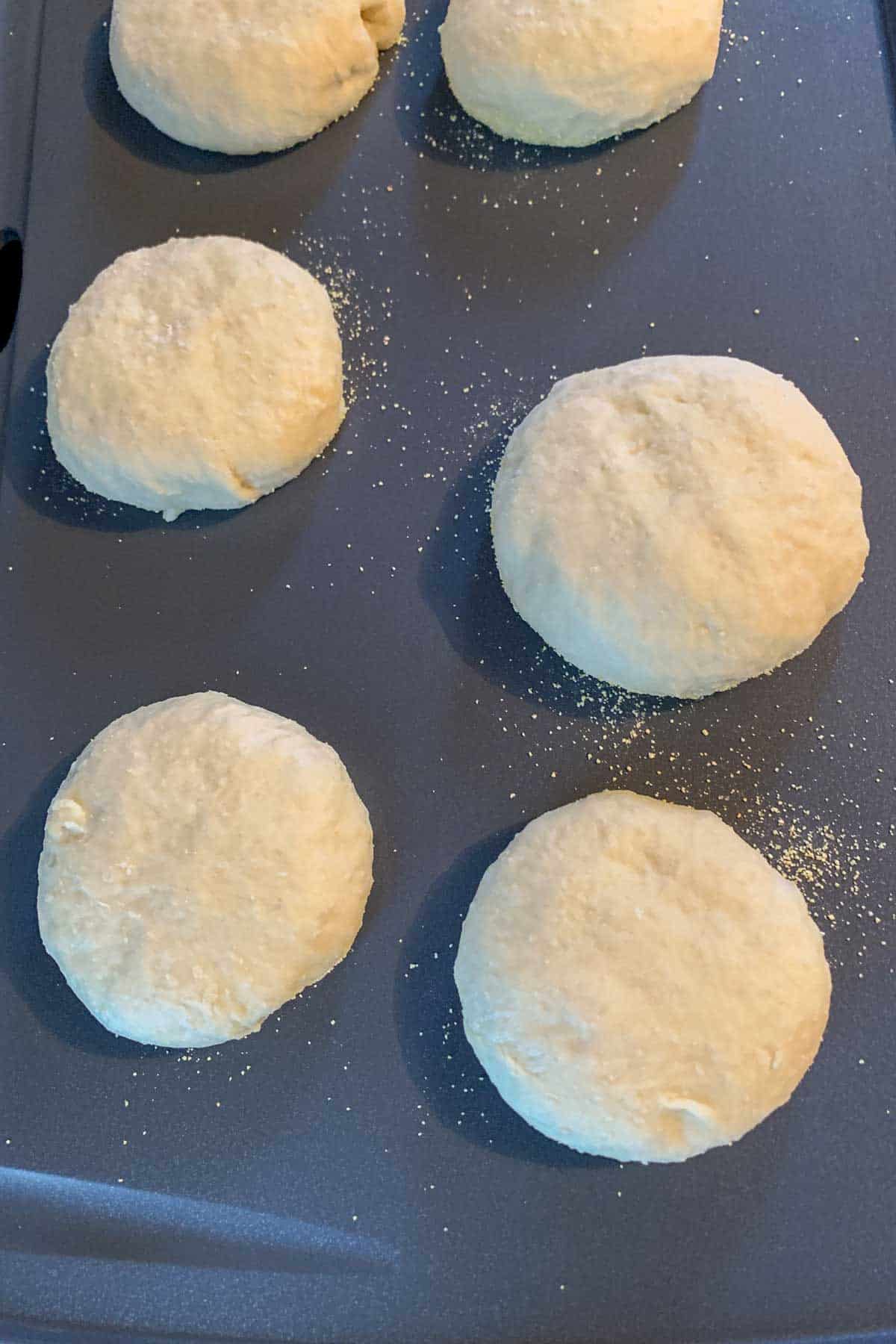 The English muffins will have a nice brown crust on both sides. If you have an instant thermometer, you can insert it into the center (from the side) to check the internal temperature. It should be around 200°F.
If your English muffins need more time to fully bake the center, place them in a 350°F oven for 7-10 minutes.
Let the muffins cool completely on a wire rack before splitting and toasting. As they cool, they will flatten somewhat, giving you a double-layered look, which is a handy way to know where to split them!
Don't forget – split open your English muffins using a fork, not a knife, so you preserve all of the nooks and crannies.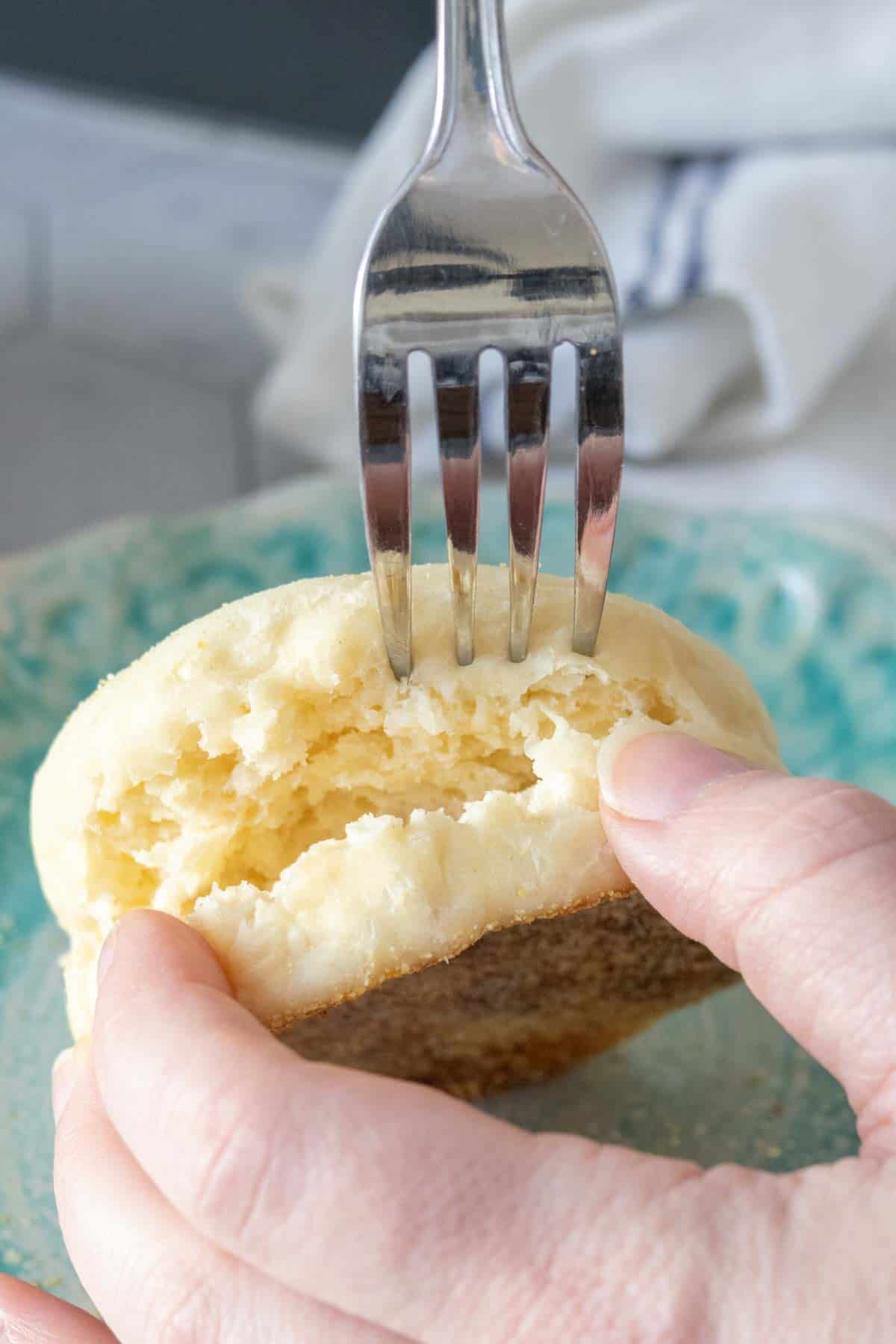 How long do English muffins last?
Homemade English muffins don't last as long as the store-bought ones. If you don't plan to eat them within a few days, I recommend storing them in the refrigerator or the freezer.
They will keep at room temperature, in a tightly sealed container or bread bag, for 3-4 days.
Store in the refrigerator for 1-2 weeks. Make sure the container is airtight, as refrigeration can cause the English muffins to dry out over time.
Can you freeze English muffins?
English muffins are great for freezing and enjoying later.
To freeze, let them cool completely after cooking, then store in an airtight container or freezer-safe plastic bag.
You can place pieces of parchment paper or waxed paper between the muffins to prevent any sticking.
Thaw the English muffins in the refrigerator, then enjoy as desired. English muffins will last about 3 months properly stored in the freezer.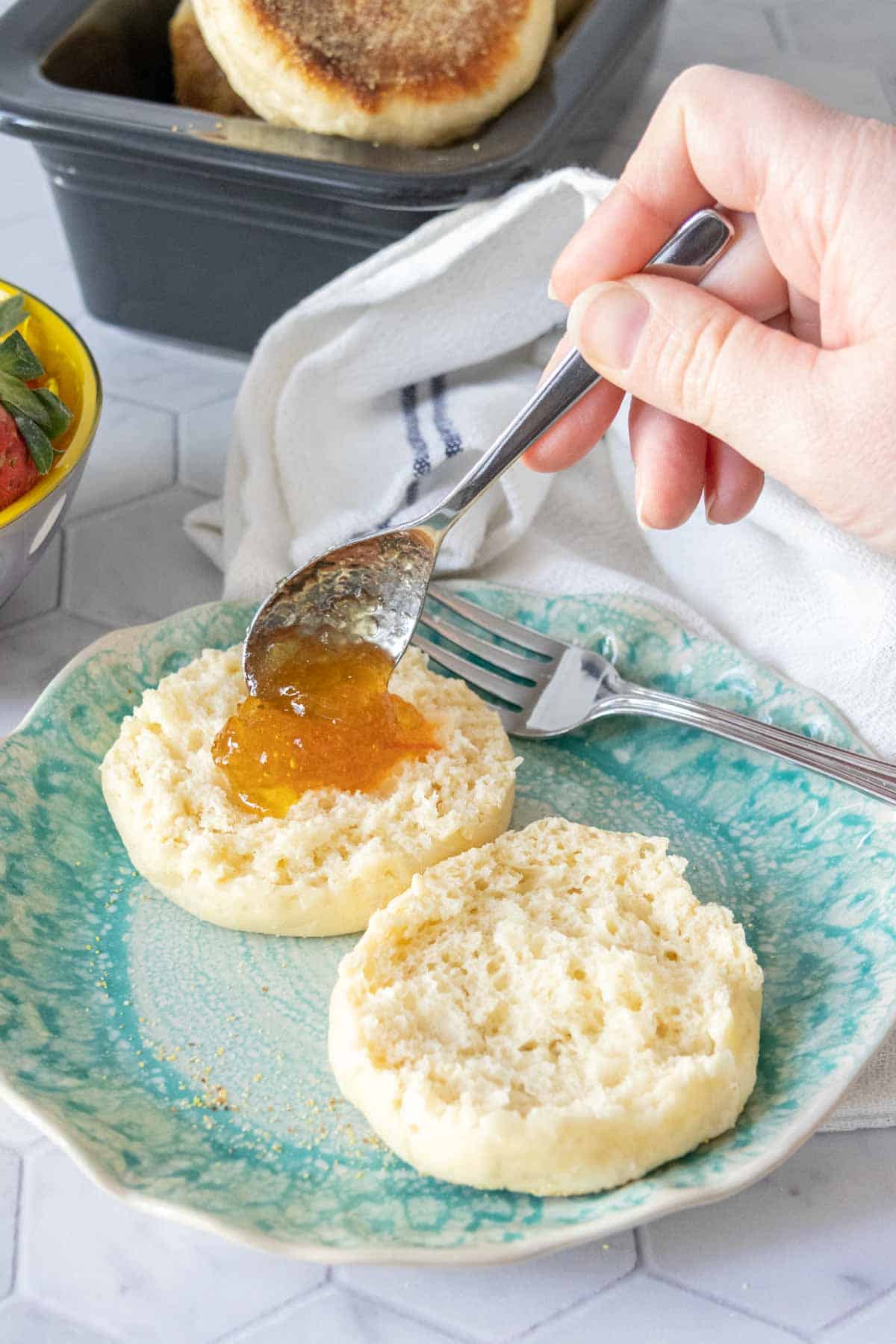 How to serve English muffins
I love to eat these just with peanut butter or strawberry jam, but there are so many other ways to enjoy them!
Use them to make a delicious BLAT eggs benedict. Or try this option for a mock eggs benedict, made in the oven!
Grab your favorite toppings and create a fantastic English muffin breakfast sandwich, or use it in place of bread for avocado toast.
You can expand upon this recipe and make cinnamon raisin English muffins!
Or, gather your favorite pizza toppings for quick mini pizzas.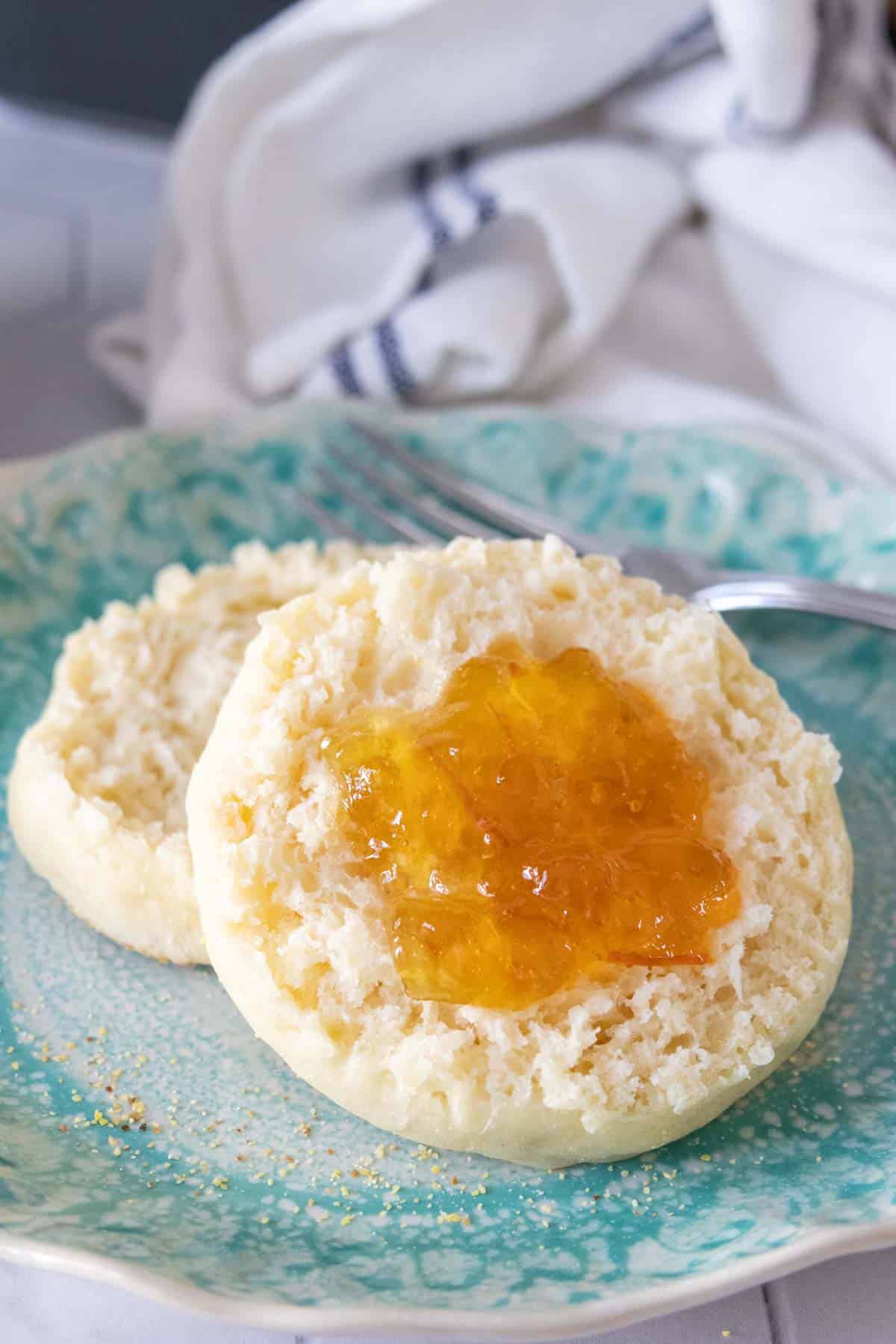 English muffins are for more than just breakfast, so make a batch and get creative in the kitchen!
Love this recipe? Please leave a 5-star review below! It means so much when you enjoy my recipes, so let me know how it goes and leave a comment if you have any questions.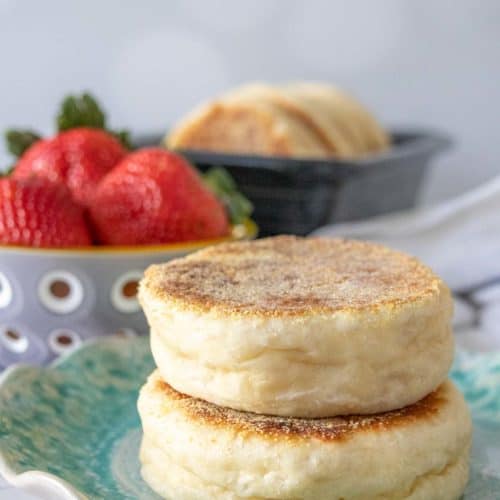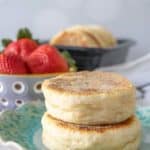 Homemade English Muffins
Love English muffins? Learn how to make homemade English muffins and enjoy this breakfast staple any time!
Print
Pin
Save
Saved!
Ingredients
3 to 4

cups

all-purpose flour

,

divided

2

tablespoons

sugar

2 1/4

teaspoons

instant yeast

3/4

teaspoon

salt

3

tablespoons

softened butter

1 ¼

cup

warm milk

1

egg

,

beaten

Cornmeal
Instructions
Combine 2 cups flour, sugar, yeast, and salt. Add softened butter and pour in milk, stirring to mix. Stir in the beaten egg.

Stir in remaining flour, a little at a time, until you have a soft but sticky dough.

Shape into a rough ball, cover, and let rise in a warm place for 1 hour.

Once risen, line a baking sheet with parchment paper and spread an even layer of cornmeal on top. Set aside.

Divide dough into 12 pieces. Pull the ends to the bottom and pinch together to form a ball, then roll on the counter or between your hands to even out. Place on the prepared baking sheet and cover with a kitchen towel. Let rest about 10 minutes.

Meanwhile, heat a large skillet or griddle over low to medium-low heat (around 300°F).

Working in batches, place the muffins on the pan and bake for 8-10 minutes per side. If bottoms are browning too quickly, reduce the heat.

Let muffins cool completely on a wire rack before splitting open and toasting. Store in an airtight container.
Notes
If using active dry yeast, dissolve it in ¼ cup warm milk for 5-10 minutes, until foamy. Make sure to use only 1 cup milk later on in the recipe.
If interior needs to be cooked longer, bake in a 350°F oven for 8-10 minutes.
Nutrition
Calories:
174
kcal
Carbohydrates:
28
g
Protein:
5
g
Fat:
4
g
Saturated Fat:
2
g
Cholesterol:
24
mg
Sodium:
185
mg
Potassium:
99
mg
Fiber:
1
g
Sugar:
3
g
Iron:
2
mg
Nutrition information is provided as a courtesy and is an estimate based on online calculators. Any nutritional information found on Stetted should be used as a general guideline only.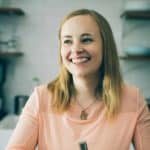 About Megan
I focus on fresh ingredients and easy methods, with spins that keep meals interesting. Dinnertime shouldn't be stressful or complicated, and I'm here to help you enjoy the time spent in the kitchen. Read more…