I'm sorry to do this to you. Really. I know you were doing so well on your diet. But certain things can't be helped. Especially not when my sister-in-law sends us a big ol' bag of pecans fresh from her South Carolina trees, and definitely not when I have a jar of butterscotch sauce just wasting time in my refrigerator.
Let's just get right to these turtle brownies, shall we?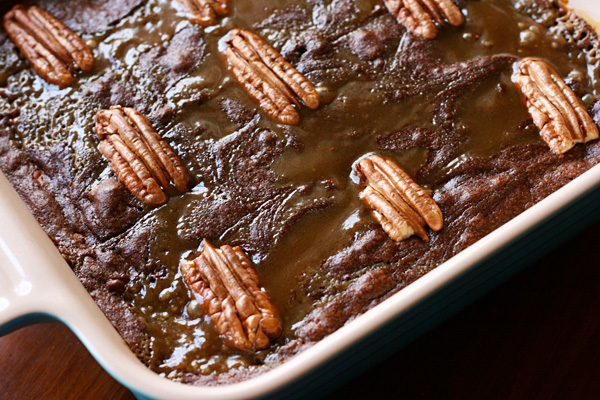 Now, I'm usually not one for nuts in my brownies. But I think I'm coming around.
You can either do how I did in my first try at the recipe and add the butterscotch sauce right at the start of baking, or do what I instruct here (and what I did on the second baking) and bake halfway before adding. Either way, the addition of the butterscotch results in ultra-rich turtle browniex, the kind you just want to stick a spoon in and lick up.
This would be an excellent bed for a scoop of ice cream, but I won't tell anyone if you decide it goes with your morning coffee better.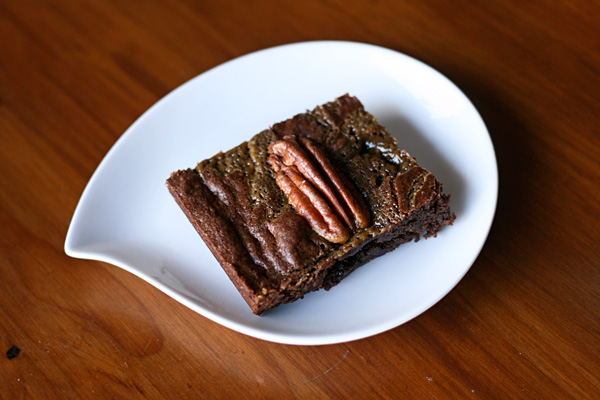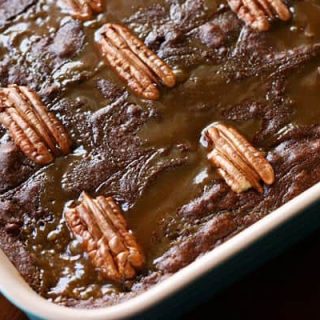 Turtle Brownies
Yield: 16 servings
Prep Time: 10 minutes
Cook Time: 45 minutes
Total Time: 55 minutes
Ingredients
8 tablespoons unsalted butter
3 ounces unsweetened chocolate
1 cup sugar
2 eggs
1/4 teaspoon salt
1/2 cup pecan pieces
9 pecan halves
Instructions
First, make the butterscotch sauce. The recipe will yield more than you need, so reserve the 1/4 cup and set the rest aside in a jar to cool while you work on the brownies.
Preheat the oven to 350°F. Grease a 8x8 square pan.
Over low heat, melt the butter and chocolate. Remove from heat when just about melted and whisk until smooth.
In a large bowl, combine chocolate mixture and sugar. Add eggs, one at a time, then stir in salt and vanilla. Stir in flour until well incorporated and add pecan pieces.
Pour into prepared pan and smooth with a spatula if necessary. Arrange pecan halves on top.
Bake for 20 minutes.
Remove from oven and poke all over with a toothpick. Drizzle butterscotch sauce over the top, and return to oven for another 15-25 minutes, depending on how gooey you like your brownies. Let cool before serving.
Recommended Products
As an Amazon Associate and member of other affiliate programs, I earn from qualifying purchases.
Nutrition Information:
Yield: 16
Amount Per Serving:
Calories: 322
Total Fat: 14g
Saturated Fat: 6g
Trans Fat: 0g
Unsaturated Fat: 6g
Cholesterol: 41mg
Sodium: 80mg
Carbohydrates: 44g
Fiber: 6g
Sugar: 17g
Protein: 8g