Bourbon brownies make the classic treat even more festive for the holidays.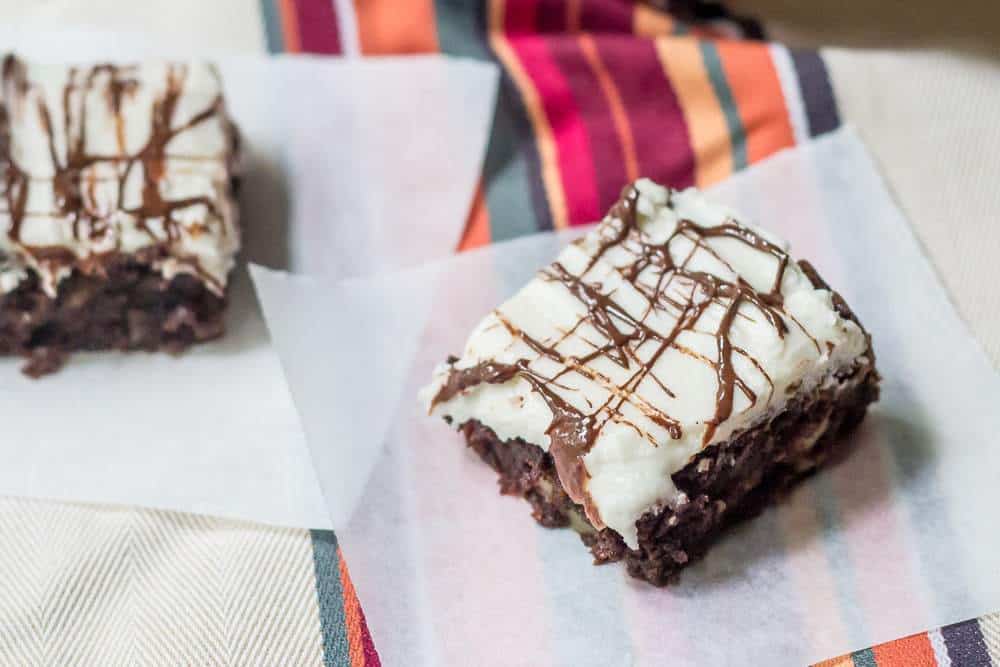 One of the first things I learned how to make was brownies. Our family's favorite recipe came from the back of the cocoa can (double of course for a big pan of extra-thick brownies) and it served me well until I moved out of my parents' house. We made brownies often, possibly even more than cookies, because they required less preparation. The rewards of our baking time disappeared quickly, thanks to our collective sweet tooths and my sports-playing brother. Still, I have fond memories of heading to the kitchen for "just one more piece".
These days brownies are more for special occasions than the everyday, so I like to pump them up a bit. Whether I'm going for strawberry cheesecake swirl brownies or the crazy-good turtle brownies, adding something special makes brownies even better.
During the holiday baking season bourbon comes into play a lot — or maybe that's just among my circle of friends? Last year I helped a friend make a batch of fantastic bourbon balls, and the taste memory of those bites convinced me to make these fantastic bourbon brownies.
While the recipe doesn't call for a lot of bourbon, I'd still save these for the adults among you and out of reach of the kiddos. That's assuming you can keep your own hands off them to be able to share with a group. Remember that sweet tooth I mentioned? No matter how many salads I eat, you can't keep me from slicing up more brownie bites.
If you're heading to a party this season, consider making these bourbon brownies. Bake them up in a round pan and serve on a pretty plate if you want to pretend they're fancier than they really are. Or just let your friends dive in with forks.
Get the recipe for Bourbon Brownies over on my post at Recipe.com!
For more sweet inspiration, check out my Chocolate Desserts board on Pinterest!
Follow Megan Myers | Stetted's board Chocolate Desserts on Pinterest.