Dessert gets a dose of fruit jam in these strawberry cheesecake swirl brownies.
Sometimes I feel like I'm in too much of a rut. Living in a house with children is akin to taking on multiple Sisyphean tasks each week.
By the time I eat breakfast, exercise, and shower, it feels like half the day is gone and I only have three solid hours to work before school is over and I need to retrieve my older son.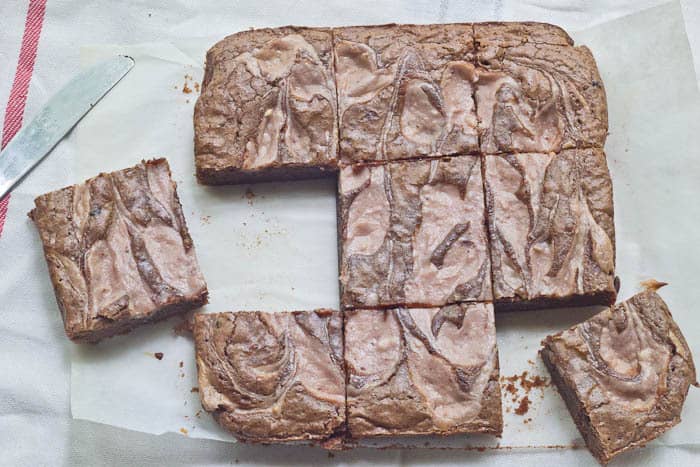 That's not even including the days I head to the grocery store (which feels like every day), the time I spend on doing laundry, washing dishes, or picking up random things from the floor.
I know the floor is the closest surface for my toddler, but why does everything need to be on the floor?
When you're the lead parent, you're always on. I'm not limiting this to moms, because there are plenty of stay-at-home dads, including my brother, but there is always one parent who is the default home- and child-tender.
Being always on means cleaning the things everyone else ignores, remembering to refill the hand soap, and knowing that your kid only likes whole apples right now, not slices, thank-you-very-much.
All of this is to say that being on, especially if you are attempting to have a for-cash-monies type of job as well, is exhausting. And I don't swear much on this blog, but when you're an introvert like me, "being on" is fucking exhausting.
I tried to alleviate some of that by hiring a cleaning service, but as it turns out, since I pretty much wasn't doing that cleaning anyway, I'm still exhausted. Just slightly less stressed with a lighter wallet.
At that point, I figured there was only one thing left to do.
Make brownies.
strawberry cheesecake brownies
Now, I know I just posted a brownie recipe a couple of weeks ago, but these strawberry cheesecake brownies are worth a look.
Since it's strawberry season, jam making isn't far off in the future, and I wanted to try to use up some of my last jam batch. Mixed with cream cheese and added to brownies was the only logical conclusion in my mind.
These strawberry cheesecake swirl brownies are the perfect texture for me, smack in the middle between cakey and fudgey, with the lovely tang from cream cheese playing off the chocolate. I also added espresso powder for an extra boost to the chocolate, but you can skip it if you like.
Try these strawberry cheesecake brownies out with other flavors of jam if you don't have (or don't like) strawberry. Raspberry would be particularly delicious.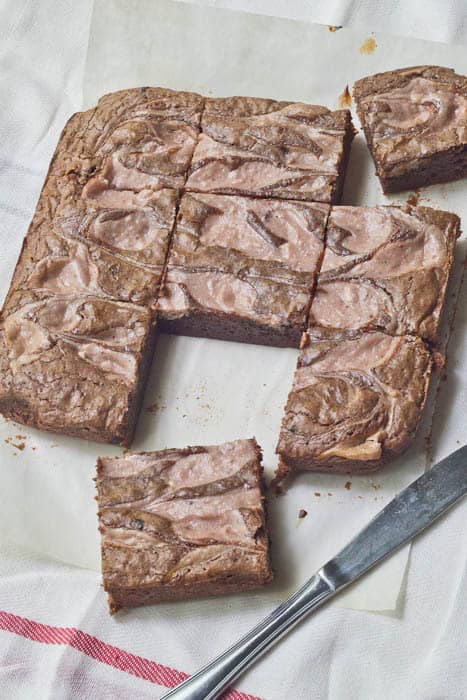 how to make a cheesecake swirl
The "hardest" part of making strawberry cheesecake brownies is making a perfect swirl with the jammy cream cheese.
I say "hardest" because it is actually really easy.
Once the brownie batter is in the pan, smooth it out to the edges. Use a spoon to dollop spoonfuls of the jam-cream cheese mixture evenly across the top of the batter.
Grab a butter knife and run it back and forth through the batter and the dollops of cream cheese. This will create those lovely swirls of strawberry cream cheese across the brownies.
Thanks to the cheesecake swirl, these strawberry cheesecake brownies look fancy enough to share but are simple enough you could bake them up weekly so you can hide in your bedroom with a big slice and HBO Now. Or, um, share them with friends. Whichever.
If you're still craving brownies after making my strawberry cheesecake brownies, go ahead and try turtle brownies, peppermint brownies, beet brownies, salted caramel brownies or s'mores brownies.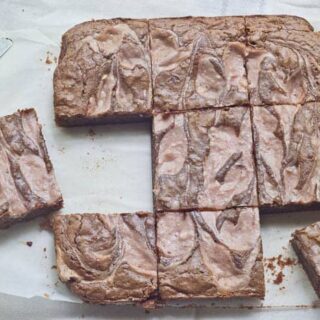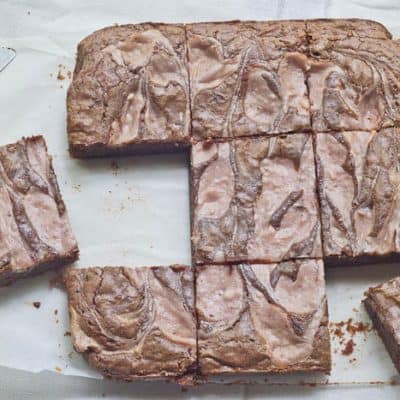 Strawberry Cheesecake Swirl Brownies
Yield: 9 large brownies
Prep Time: 10 minutes
Cook Time: 30 minutes
Total Time: 40 minutes
Dessert gets a dose of fruit jam in these strawberry cheesecake swirl brownies.
Ingredients
8 tablespoons butter
4 ounces semi-sweet or bittersweet chocolate, chopped
1 teaspoon espresso powder
2/3 cup granulated sugar
2 large eggs
1/4 teaspoon salt
1 cup all-purpose flour
4 ounces cream cheese, softened
1/4 cup strawberry jam
Instructions
Preheat oven to 375°F and grease a square baking pan, or line with parchment, leaving an overhang on both sides for easy removal.
In a small saucepan, melt butter over medium-low heat. Remove pan from heat and whisk in chocolate until melted and mixture is smooth.
Pour chocolate mixture into a large bowl and mix in espresso powder and sugar.
Beat eggs in a small bowl and then slowly whisk in to ensure the mixture (which might be still warm from the stove) does not cook the eggs. Whisk in vanilla.
Stir in salt and flour until well-blended.
In a small bowl, mix together cream cheese and jam until smooth.
Pour the brownie batter into the prepared pan and smooth to the edges. Dollop the cream cheese mixture on top, then, using a butter knife, gently swirl by moving the knife back and forth across the batter.
Baked for 25-30 minutes. Let cool completely before cutting.
Recommended Products
As an Amazon Associate and member of other affiliate programs, I earn from qualifying purchases.
Nutrition Information:
Yield: 9
Serving Size: 1 large brownie
Amount Per Serving:
Calories: 366
Total Fat: 22g
Saturated Fat: 13g
Trans Fat: 0g
Unsaturated Fat: 7g
Cholesterol: 81mg
Sodium: 202mg
Carbohydrates: 36g
Fiber: 3g
Sugar: 20g
Protein: 6g