Eggplant chips baked with spices are an unexpected, healthier way to snack.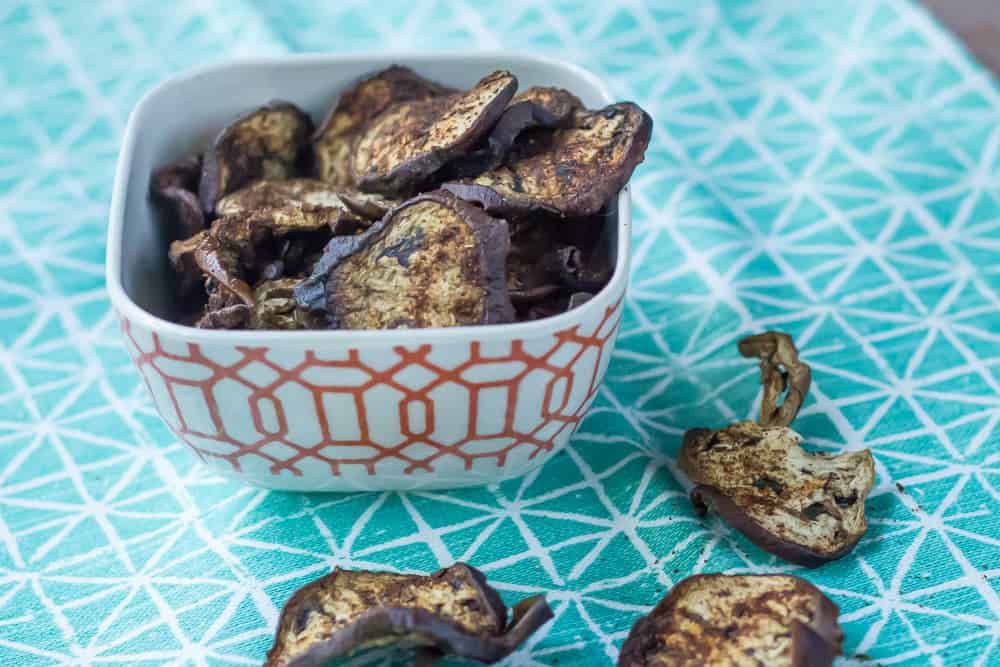 I come from snackers. No matter what, we always had a selection of snacks on hand — and usually not the healthy kind. I'm talking cheese puffs, flavored chips, dips for the chips, cookies, and more. It's a habit I'm still trying hard to break. Of course, keeping the packaged snacks out of the house just means I make my own, like these eggplant chips.
Eggplant usually gets the dinner treatment, like in eggplant parmesan subs or this lamb, eggplant, and fig skillet, but I've found it works well for snacking too. Most people would automatically turn eggplants into baba ganoush if they want a snack, but baking up slices just like potato chips creates an utterly satisfying snack.
You do have to slice the eggplant thinly, which is the hardest part of the recipe. If you're using a mandoline, BE CAREFUL. Always use the guard it comes with and don't force anything through. Your food should glide through easily, and if you try too hard the eggplant or your fingers can slip right into that sharp blade. If you prefer to avoid the situation, just slice the eggplant as thin as you can with a knife, and increase baking time as needed.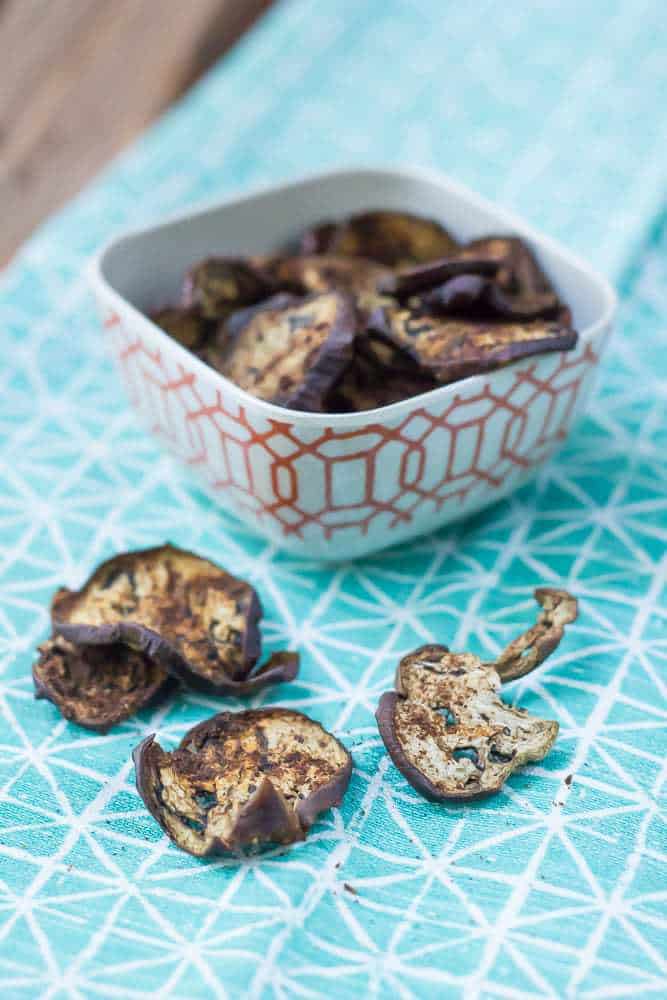 I seasoned these with a simple barbecue-style spice blend, but you can use any spice blend you like. The next time I make these I'll be using herbes de provence, or maybe a curry flavor! Be sure to use salt in the mix, because the salt will help draw out the bitter juices as the eggplant bakes.
Although these do take a while to bake, it will be worth it in the end, especially when you keep coming back to the pan and popping them into your mouth! I confess I ate the entire batch myself. Guess I'd better make more…
Eggplant Chips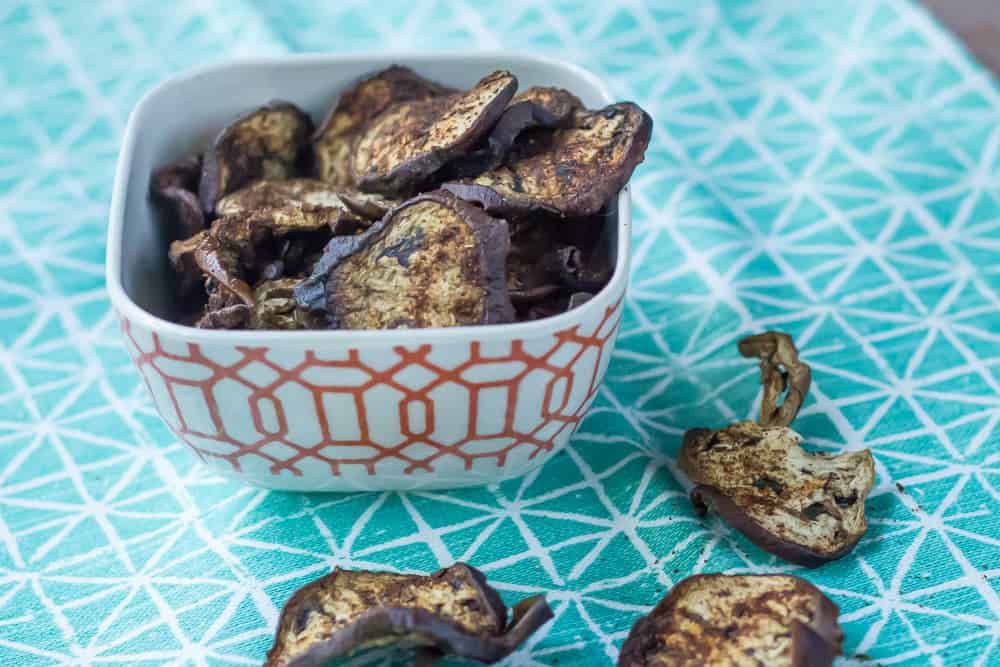 Ingredients
1 pound eggplant
Olive oil spray
1 tablespoon chili powder
2 teaspoons cumin
1 teaspoon garlic powder
1 teaspoon dried oregano
1/2 teaspoon paprika
1 teaspoon salt
Instructions
Preheat oven to 275°F. Line 2 baking sheets with parchment paper or Silpat.

Slice eggplant very thinly using a mandoline or knife. Arrange eggplant on baking sheets. Spray eggplant with olive oil.

Mix together chili powder, cumin, garlic powder, oregano, paprika, and salt. Sprinkle over the eggplant.

Flip slices, and spray with olive oil, then sprinkle on seasoning. You may have leftover seasoning, depending on the size of your eggplant.

Bake for 40 minutes to 1 hour, depending on the thickness of your eggplant. Be sure to flip the eggplant halfway through baking time.

Let cool and enjoy!
For more tasty inspiration, check out my Recipes from Stetted board on Pinterest!
Follow Megan Myers | Stetted's board House and Home on Pinterest.