Hey, Peach. You're looking mighty fine this summer day. Why don't you and some of your gorgeous friends come on over?
No no, don't worry. We'll just take a little dip, bathe in some sugar and maybe some spices to tingle the senses. It won't hurt a bit. Trust me. Oh, these jars here? They're nothing. Just hanging out. Now, let yourself melt in that heat…
So maybe sometimes I talk to my produce before smooshing the heck out of it for jam. Come on, it's summer. The heat might be getting to my head. Or I'm just smitten with these juicy globes.
How have you not made peach jam yet? Here in Texas, the harvest has been amazing thanks to all the extra rain we've had. People always talk about Georgia peaches, but we have some damn fine peaches too! And freezer jam – it's absolutely the easiest jam you'll make. You don't have to worry about pectin or jar lid sealing or vats of hot water. Just cook, cool, and freeze. Simply summer all year long. It'll remind you of that time you went skinny dipping in the moonlight. Or not. It might just be jam.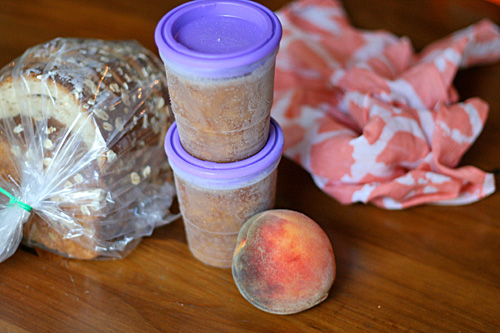 Easiest Peach Pie Freezer Jam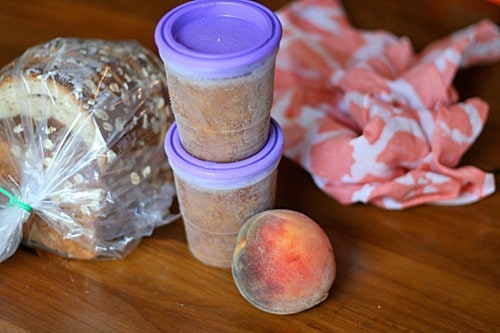 Ingredients
2 pounds peaches
1/4 to 1/2 cup sugar
1 tablespoon pumpkin pie spice
Instructions
Pit and dice peaches (peel if you want; this can be quickly done by submerging the peaches in boiling water for a minute or two, then dunking in ice water and the peels will slip right off) and toss them along with sugar and spice into a large pot, such as a dutch oven.

Heat until the peaches start to break down a little, then get out a potato masher and mash up the peaches a bit.

Continue to cook (and mash, if desired) until jam reaches desired consistency.

Pour into freezer jars and screw on lids. When cool, label and stick in the freezer until ready to use.
For more preserving inspiration, check out my Canning, Preserves, & Pickles board on Pinterest!
Follow Megan Myers | Stetted's board Canning, Preserves, & Pickles on Pinterest.