This post contains affiliate links. As an Amazon Associate, I earn from qualifying purchases.
The perfect blend of sweet and tart, this easy strawberry rhubarb jam is a great topping for toast, biscuits, and more. This small-batch recipe makes just two jars to keep or share.
One thing I love about eating seasonal and local foods is that I'm still discovering new-to-me foods.
While it might seem odd, I only just started eating rhubarb, because it wasn't really available at the farmers markets back in Texas.
Now that I live back in the Midwest where rhubarb flourishes, I finally get what everyone has been saying about it.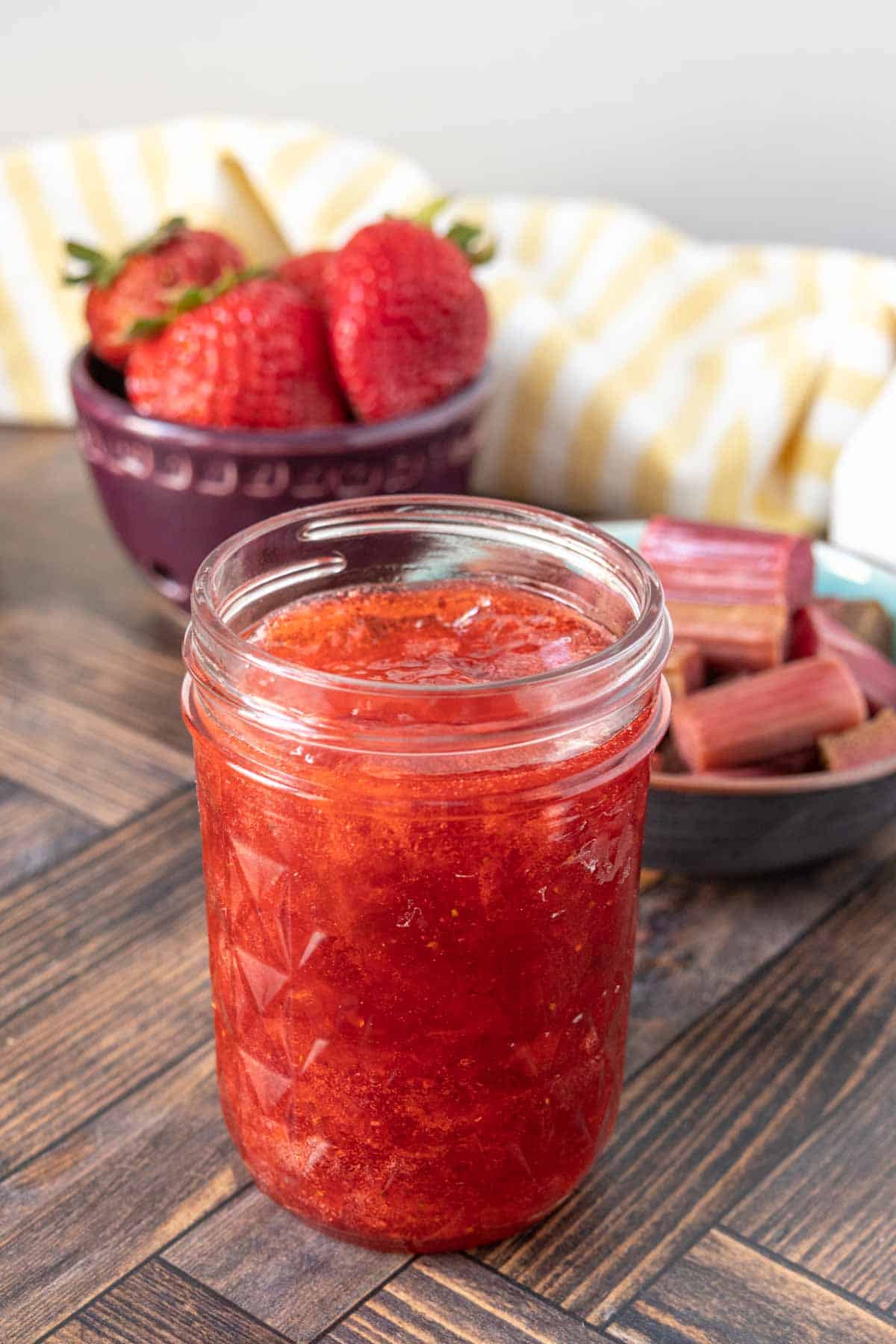 Strawberries are the natural pairing for tart rhubarb, and this jam is a great way to savor those flavors while also dipping your toes into jam-making.
I love making homemade jams like my strawberry vanilla jam, and this small batch is perfect for beginners or those who just don't want to have a lot of jars to go through.
If you love strawberries but are intimidated by making jam at home, you need to try this easy strawberry-rhubarb jam recipe!
Ingredients for strawberry rhubarb jam
You'll need: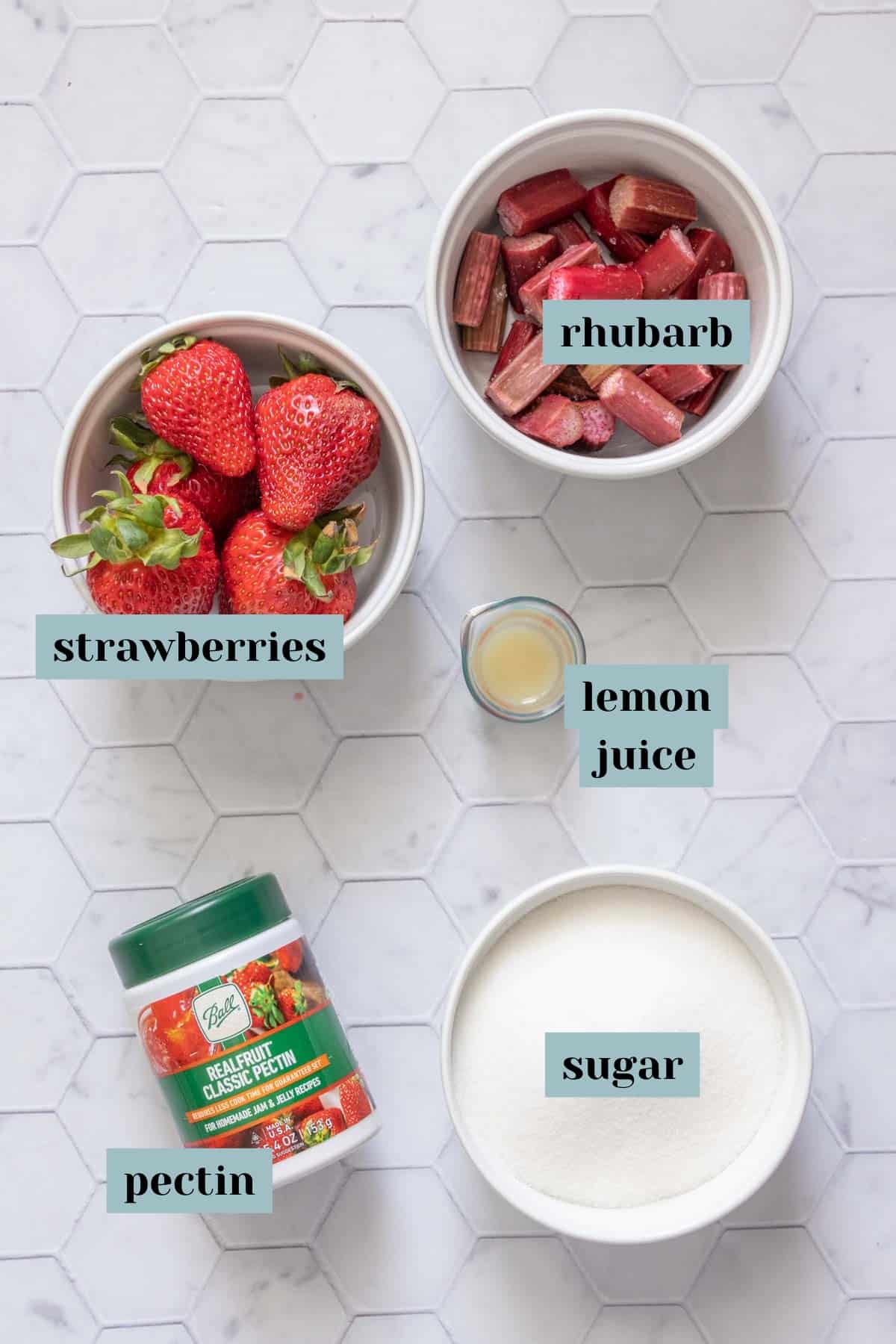 Strawberries – You will need about 8 large strawberries to get 2/3 cup of crushed berries. Make sure you taste the strawberries before using for jam, as the flavor can vary from bland to tart to sweet.
Rhubarb – You'll want to cut your rhubarb into small pieces, though it will break down further when you cook the jam. Don't worry about the color of your particular rhubarb, as the juices and the strawberries will keep the jam red.
If you have leftover rhubarb, you can use it to make an easy rhubarb sauce.
Lemon juice – Both fresh and bottled lemon juice works great in jams. I usually use bottled lemon juice for canning because it is easy to measure and there's no prep involved!
Powdered pectin – For small batches of jam like this, I keep a jar of powdered pectin on hand.
Instead of buying the packets in boxes, the jar makes it easy to measure out exactly the amount of pectin you need with no concern about open packages.
If you can only find pectin in boxes, I recommend transferring any leftover pectin into another container for easier measuring.
tip
Pectin occurs naturally in fruit and helps set jams and jellies. Using pectin means you can cook the jam in less time, resulting in a more vibrant fruit flavor.
Granulated sugar – Sugar works with the pectin to create a jelled set in the jam in addition to sweetening.
I have not tested using alternative sugars or sweeteners in this jam. If you substitute the sugar, keep in mind that your jam might not set properly.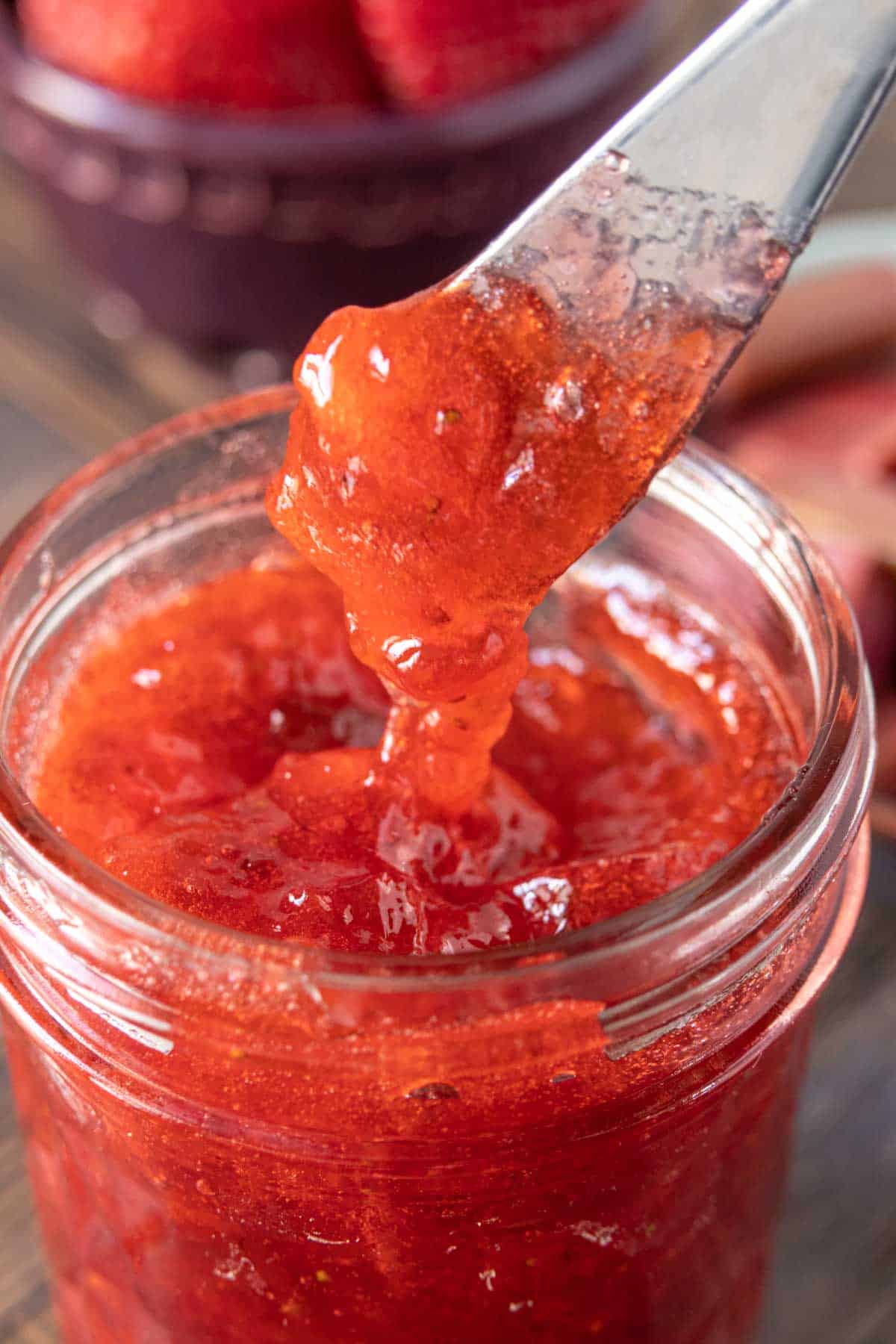 How to make this recipe
First, grab some containers to put the jam into. I use two 8-ounce mason jars, but one larger pint jar will also work.
You can also put the jam into any other heat-safe container with a lid, such as a restaurant deli container or a lidded Pyrex bowl.
Make sure to set the jars onto a kitchen towel to catch any spills while portioning later.
Measure the sugar into a bowl and set aside.
Cut 8 large strawberries into quarters and put in a bowl. Mash using a potato masher or fork, breaking up the fruit and releasing juices.
Measure 2/3 cup of strawberries, including the juices, and add to a shallow saucepan.
Dice the rhubarb. Measure 2/3 cup and add to the strawberries.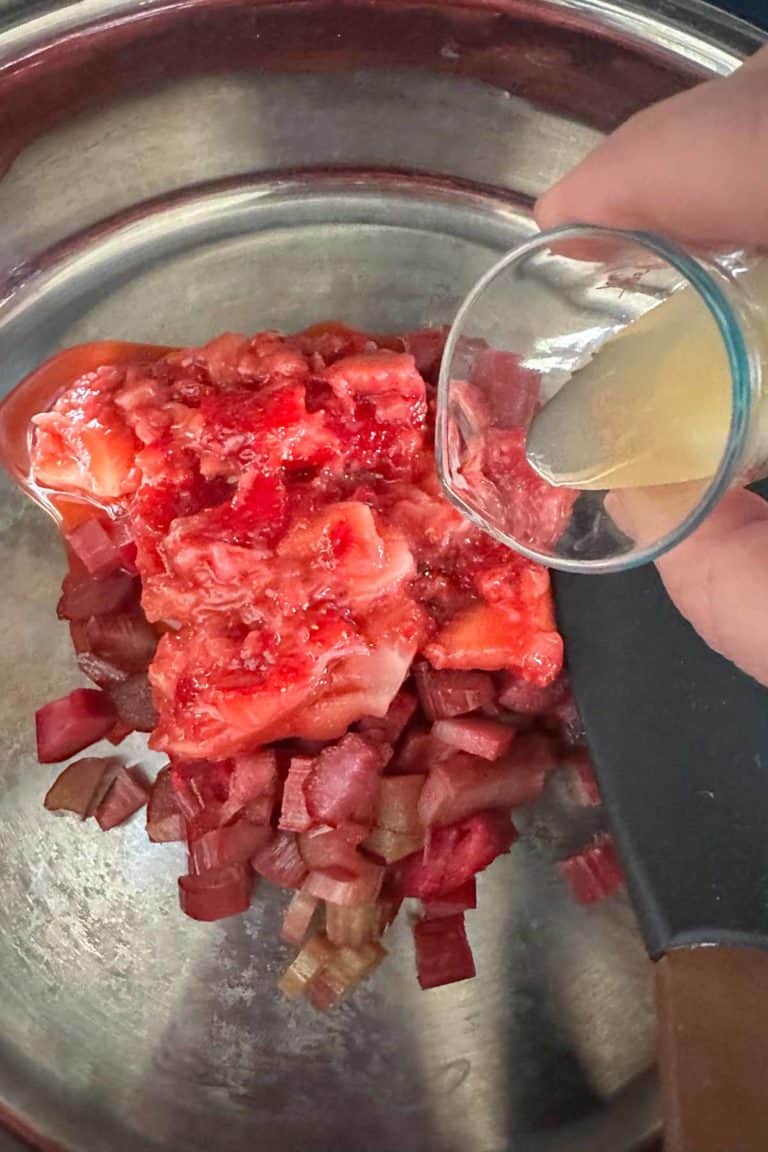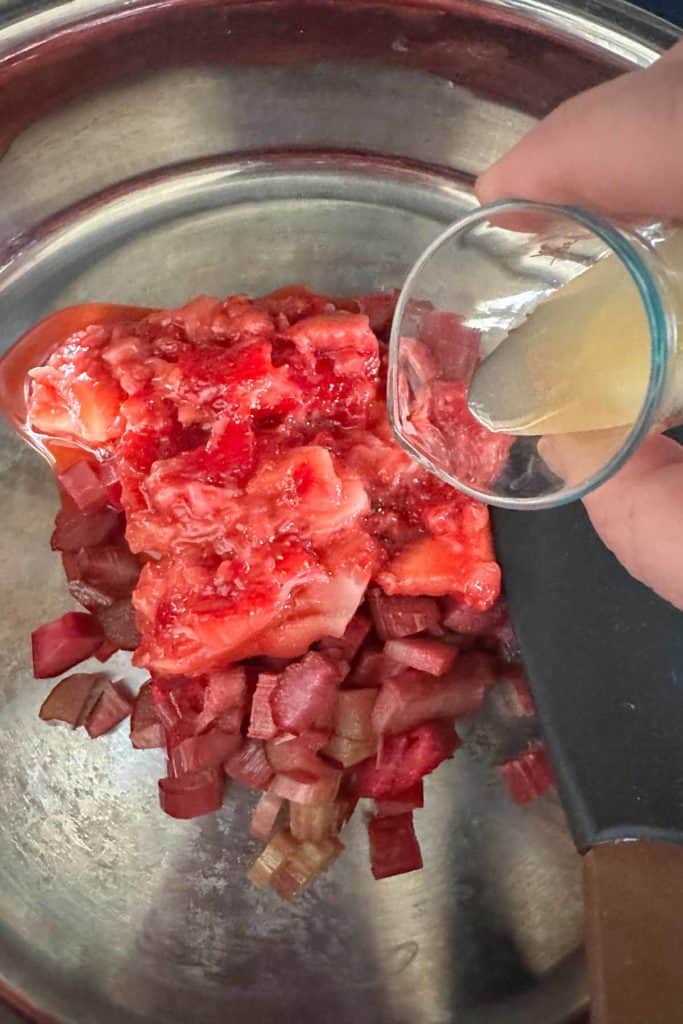 Set the pan over medium heat and stir in the lemon juice. Sprinkle over the powdered pectin and stir.
Cook, stirring to dissolve the pectin, until the fruit is broken down and juicy, and liquid is bubbling.
tip
A flat silicone spatula is great for making jam and makes it easy to scrape the pan as needed.
Add the sugar all at once and stir well to mix and dissolve the sugar.
Bring the mixture back to a boil, stirring often, making sure to stir up any stuck sugar granules on the bottom so that they dissolve into the jam.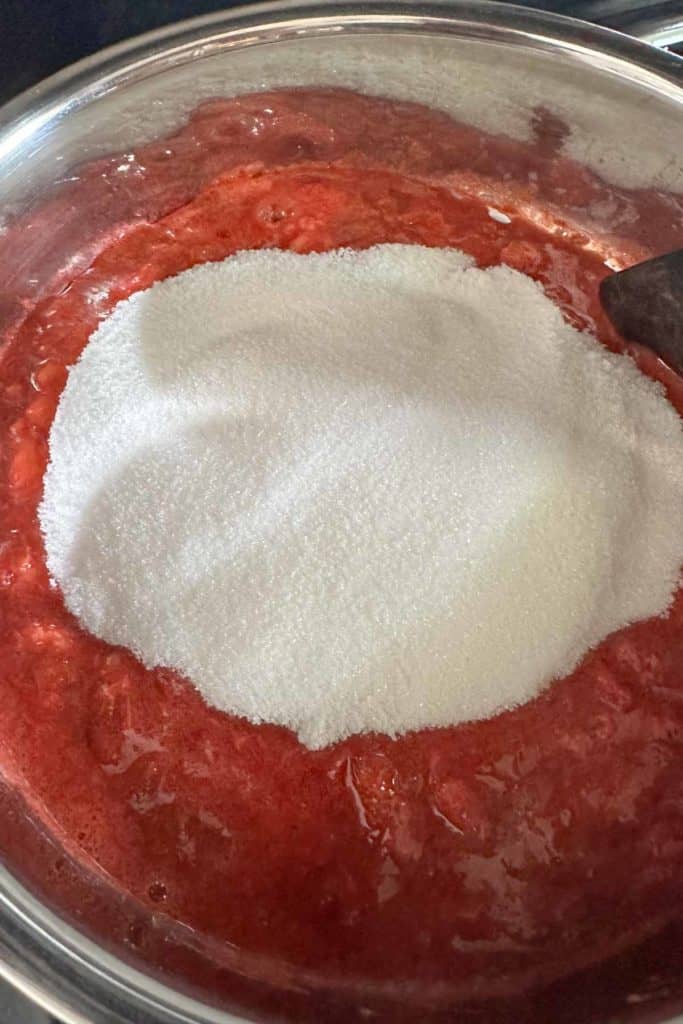 Once the jam is at a rolling boil that cannot be stirred down, let boil for 1 minute, stirring constantly.
Remove from heat.
Skim off foam if desired. This is not necessary, but helps create a clearer, more vibrant jam.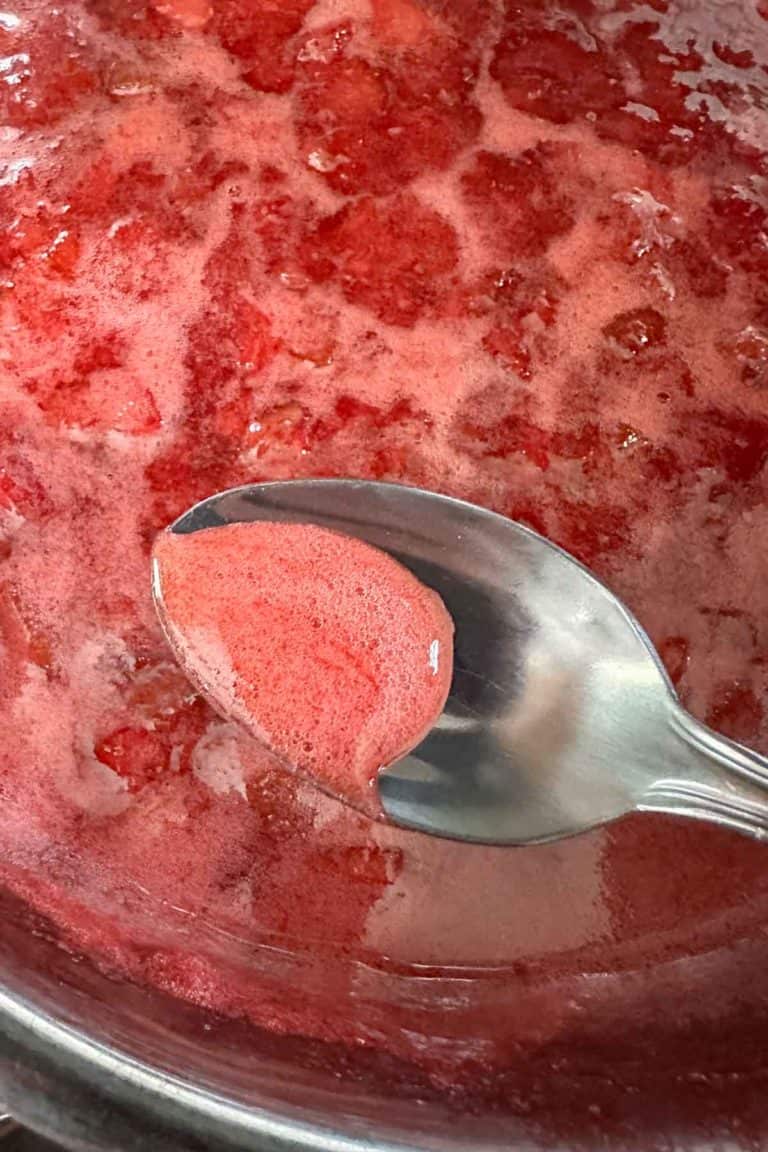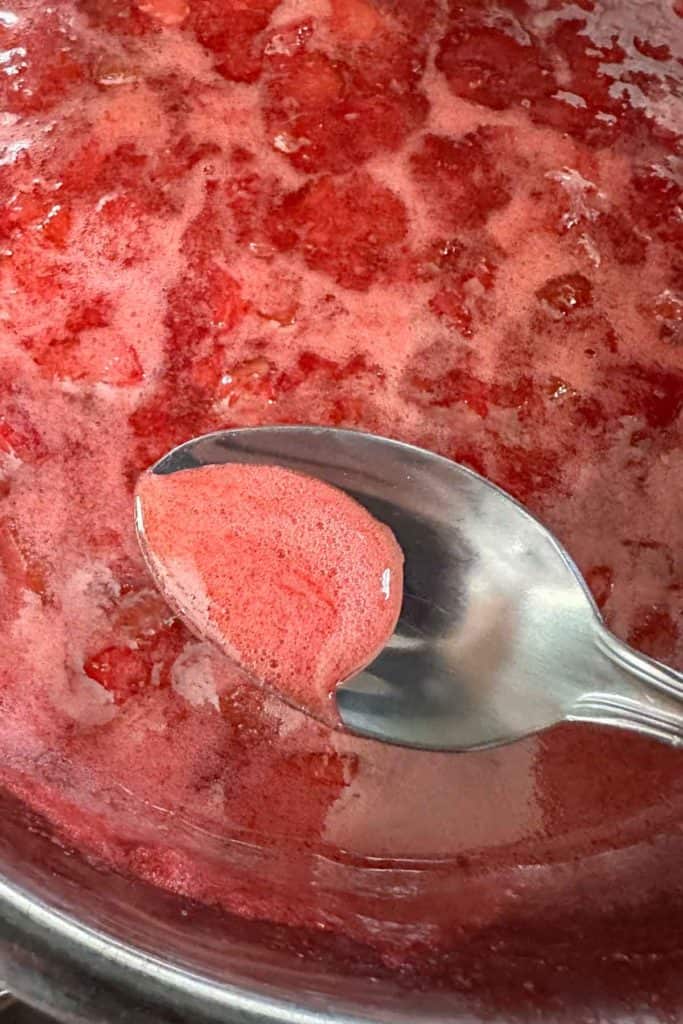 Carefully ladle the hot jam into the jars, leaving ¼ inch of space at the top. Wipe the outside of the jars with a wet towel to remove any jam.
If storing in the refrigerator, loosely place lids on jars and let cool to room temperature. Then, store in the refrigerator for 1-2 months.
Using a water bath canner
To preserve this jam for pantry storage, fill a water bath canner with water and set to a boil before making the jam. Set aside metal lids and bands.
Make the recipe as directed, then place on lids and screw on bands just to fingertip tight.
Use a jar lifter to carefully lower jars into boiling water bath. Place the lid on the canner and boil for 10 minutes.
Turn off heat, remove lid, and carefully remove jars to towel-lined countertop.
Let rest, undisturbed, for 24 hours. You might hear the jar lids "ping" as they seal.
After 24 hours, check to make sure the seal is set by gently pressing down on the center of the lid or looking for the divot in the center.
Label the jars and store in the pantry for up to 18 months.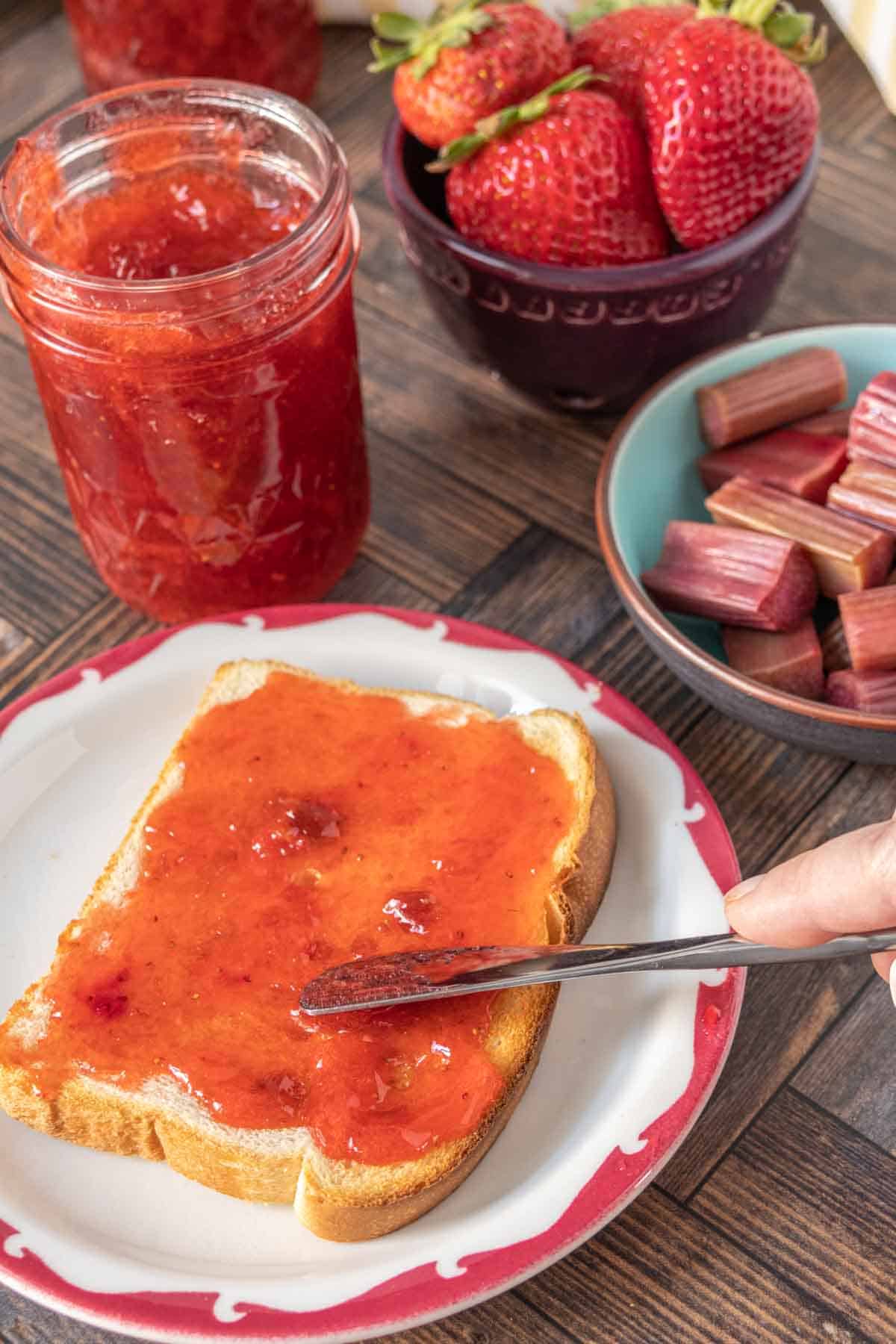 Recipe suggestions
You can add other flavors to this jam to make it customized to your tastes.
Increase or decrease the amount of rhubarb and strawberry used, making sure to keep the total amount to 1 1/3 cups.
Black pepper is an unexpected but delicious addition to strawberry-based jams. Use a few cracks from a pepper mill, or 1/4 teaspoon of ground black pepper. Start with small amounts so you don't overpower the fruit, and add more to taste.
Add a dash of balsamic vinegar, which brings out the flavor of the strawberries. If you don't want the vinegar darkening the jam, try a white balsamic.
Use fresh lemon zest in addition to the lemon juice for a burst of citrus.
Add fresh finely chopped herbs like basil or thyme.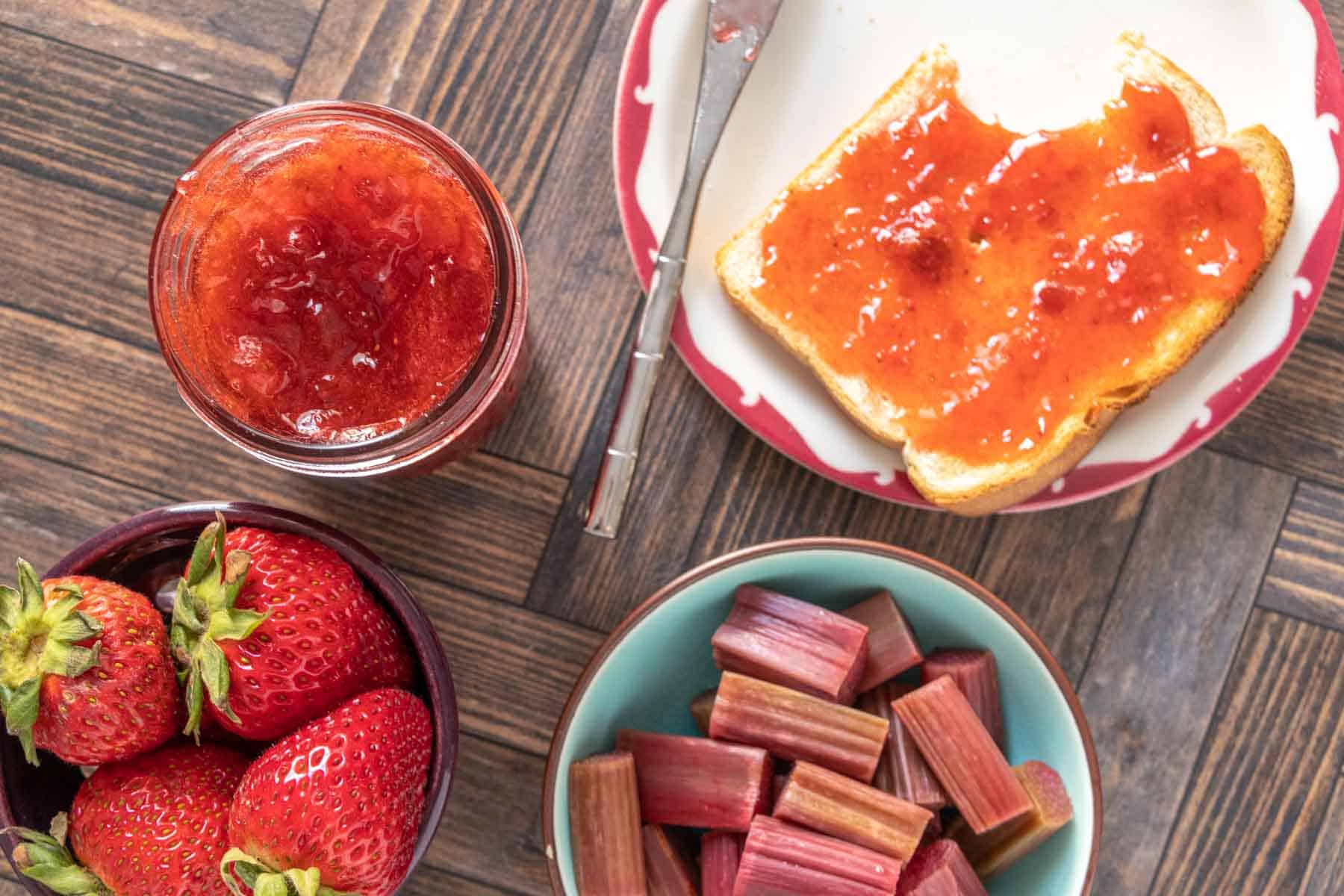 FAQ and Troubleshooting
Can I use less sugar in this recipe?
If you want a less sweet jam, you can reduce the amount of sugar in this recipe down to 1 cup.
Can I use frozen fruit to make jam?
Frozen fruit is a great option when making jam at home.
Because rhubarb season is so short, I often freeze rhubarb to use for the months ahead.
When using frozen strawberries or rhubarb for jam, make sure to thaw it completely and drain well to remove any excess water.
Can I store strawberry rhubarb jam in the pantry?
This jam can only be stored in the pantry if it has been processed in a water bath canner.
If it has not been processed or the seal has been broken, store it in the refrigerator.
How long does homemade strawberry rhubarb jam keep?
Jam stored in the refrigerator will last for 1-2 months. Make sure to keep in a cold part of the fridge (not the door) and seal the lid well after using each time to make it last longer.
Jars processed in a canner with a proper seal will keep for 18 months stored in a cool, dry place.
Discard jam if there are any signs of mold.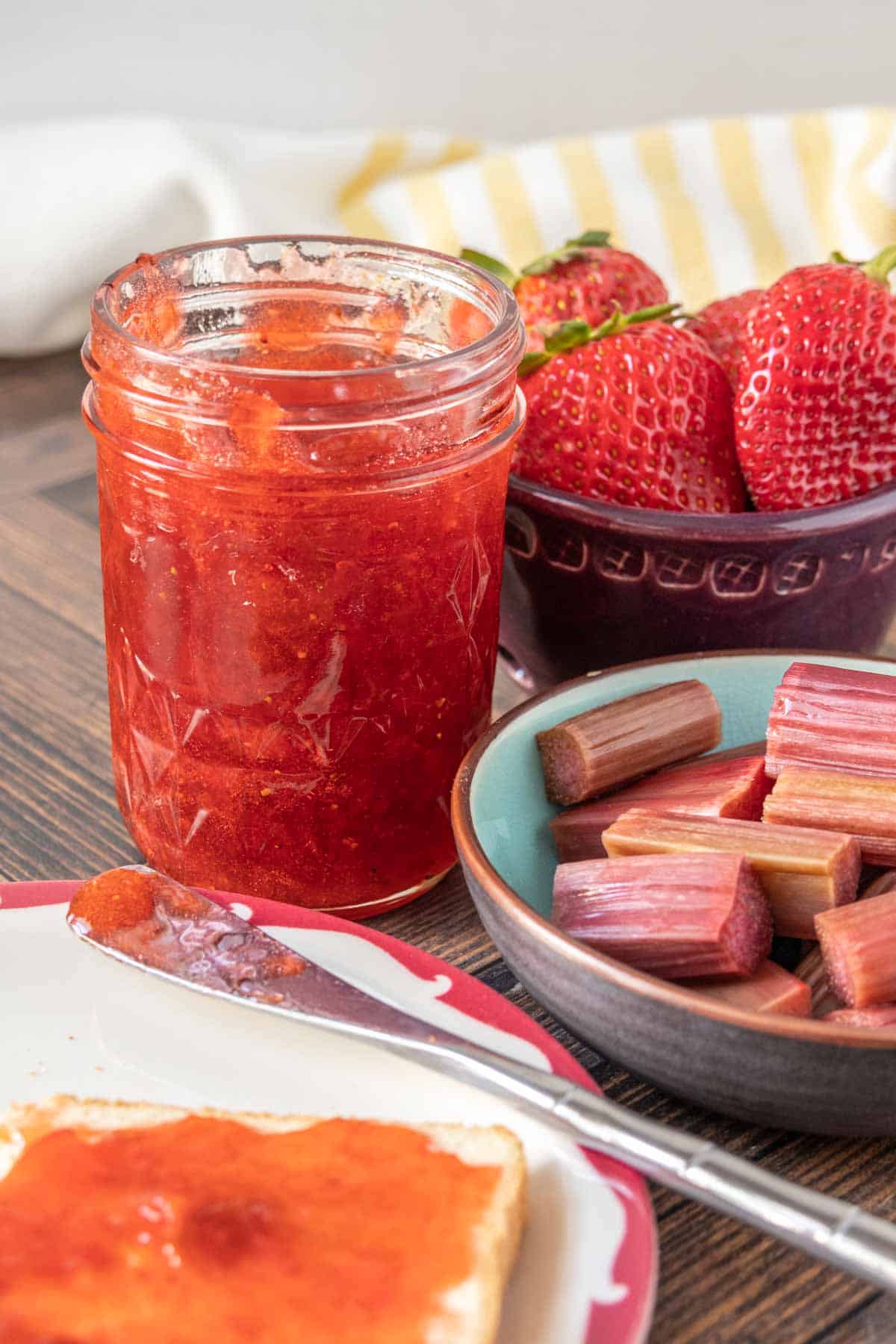 My jam didn't set, what do I do?
It can take up to 24 hours for jam to fully set.
You can pour the jam back into a pan and cook it more, adding just a ¼ teaspoon of pectin if your jam is excessively runny.
Re-cooked jam is best stored in the refrigerator instead of processing again.
You can also use the runny jam as a sauce to pour over vanilla ice cream or buttermilk pancakes!
My jam is too thick, how can I fix it?
You might have added too much pectin or cooked the jam too long.
This recipe uses only 1 ½ tablespoons of powdered pectin, not a whole packet. Be sure to measure it out before starting the recipe to ensure you have the right amount.
This jam does not need to be cooked long in order to set. If you are using a wide, shallow sauté pan, it will cook even faster.
Before adding the sugar, cook just until the fruit is juicy and bubbly.
Once the sugar is added, bring the mixture back to a boil that cannot be stirred down. At that point, only boil for 1 minute before removing from heat.
The jam will thicken as it sets, so don't be tempted to cook it to the final consistency you want.
Love this recipe? Please leave a 5-star review below! It means so much when you enjoy my recipes, so let me know how it goes and leave a comment if you have any questions.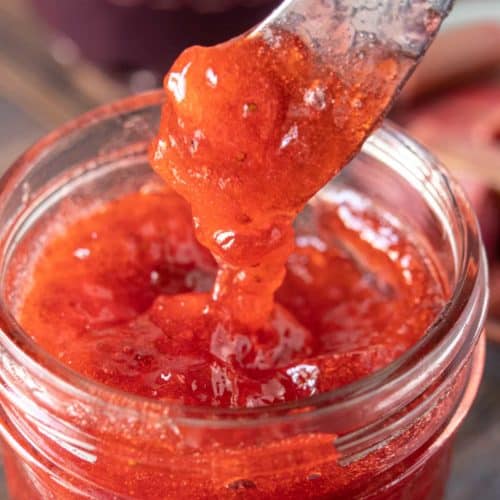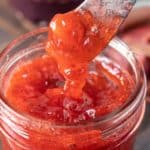 Strawberry Rhubarb Jam
This small batch of jam makes just two cups, perfect for storing in the fridge or sharing a jar with a friend.
Print
Pin
Save
Saved!
Ingredients
2/3

cup

crushed strawberries with juices

,

about 8 large strawberries

2/3

cup

diced rhubarb

1

tablespoon

lemon juice

1 1/2

tablespoons

powdered pectin

1 2/3

cup

granulated sugar
Instructions
Set 1 16-ounce mason jar or 2 8-ounce jars on a clean kitchen towel next to the stove, along with jar lids and a ladle.

In a saucepan over medium heat, combine strawberries, rhubarb, and lemon juice. Stir in the pectin and bring to a boil, stirring often to mix and break up the strawberries and rhubarb further.

Once boiling, add the sugar all at once and stir well. Bring back to a boil, stirring to dissolve the sugar fully. When the mixture is at a boil that cannot be stirred away, boil for 1 minute.

Remove from heat. The mixture should be thickened and sticky, but still pourable. If you like, use a spoon to skim off the foam and discard.

Pour the jam into your jar(s), leaving ¼ inch of headspace. Use a wet towel to wipe the outside of the jar, then loosely place on lid. Let cool to room temperature, then store in the refrigerator.
For canning
If processing in a water bath canner, prepare the canner by filling with water and heating to boiling before cooking the jam. Let the water simmer while preparing the jam. Set aside two-piece jar lids.

Cook jam and fill jars as above, then place the lids and screw on bands just to fingertip tight. Carefully lower into water bath, place lid on the canning pot, and boil for 10 minutes.

Turn off heat, remove lid, and carefully remove jars, placing on a kitchen towel. Let rest undisturbed for 24 hours, then check for seal, label, and store in a cool, dry place.
Notes
Makes about 2 cups/16 ounces.
Nutrition
Serving:
2
tablespoons
Calories:
45
kcal
Carbohydrates:
12
g
Protein:
0.1
g
Fat:
0.1
g
Saturated Fat:
0.004
g
Sodium:
2
mg
Potassium:
20
mg
Fiber:
0.2
g
Sugar:
11
g
Iron:
0.1
mg
Nutrition information is provided as a courtesy and is an estimate based on online calculators. Any nutritional information found on Stetted should be used as a general guideline only.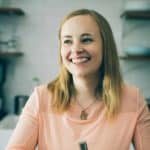 About Megan
I focus on fresh ingredients and easy methods, with spins that keep meals interesting. Dinnertime shouldn't be stressful or complicated, and I'm here to help you enjoy the time spent in the kitchen. Read more…