This post contains affiliate links. As an Amazon Associate, I earn from qualifying purchases.
Rhubarb season is short, but you can extend it by learning how to freeze rhubarb! This simple method will have you enjoying rhubarb all year long.
The rosy color of rhubarb makes it incredibly tempting whenever I'm roaming the farmers market stands, but I don't always have immediate plans for it.
That doesn't stop me from buying all of my favorite seasonal items, though.
I love to freeze excess fruits and vegetables to enjoy later. If you're wondering how to store rhubarb and take advantage of its season, freezing rhubarb is the way to go!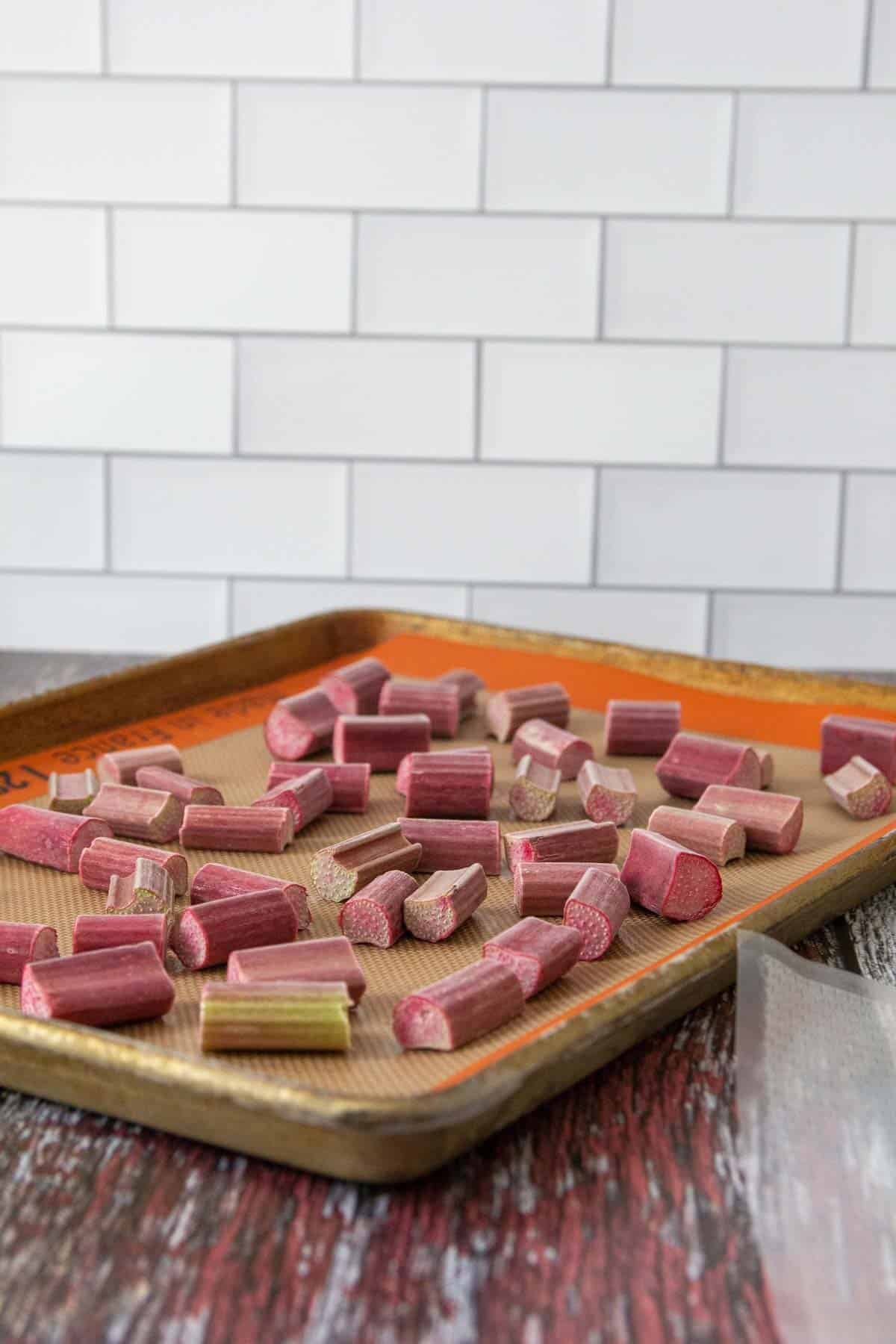 Choosing rhubarb for freezing
If you're lucky, you can harvest rhubarb from your own backyard or purchase it at the farmers market.
Look for stalks that are crisp and firm, and avoid any that are wilted or very thick.
The color of rhubarb stalks can vary from deep, dark pink to pale green with a light pink blush. Rhubarb's color does not affect how it tastes, so don't worry if yours isn't brightly hued!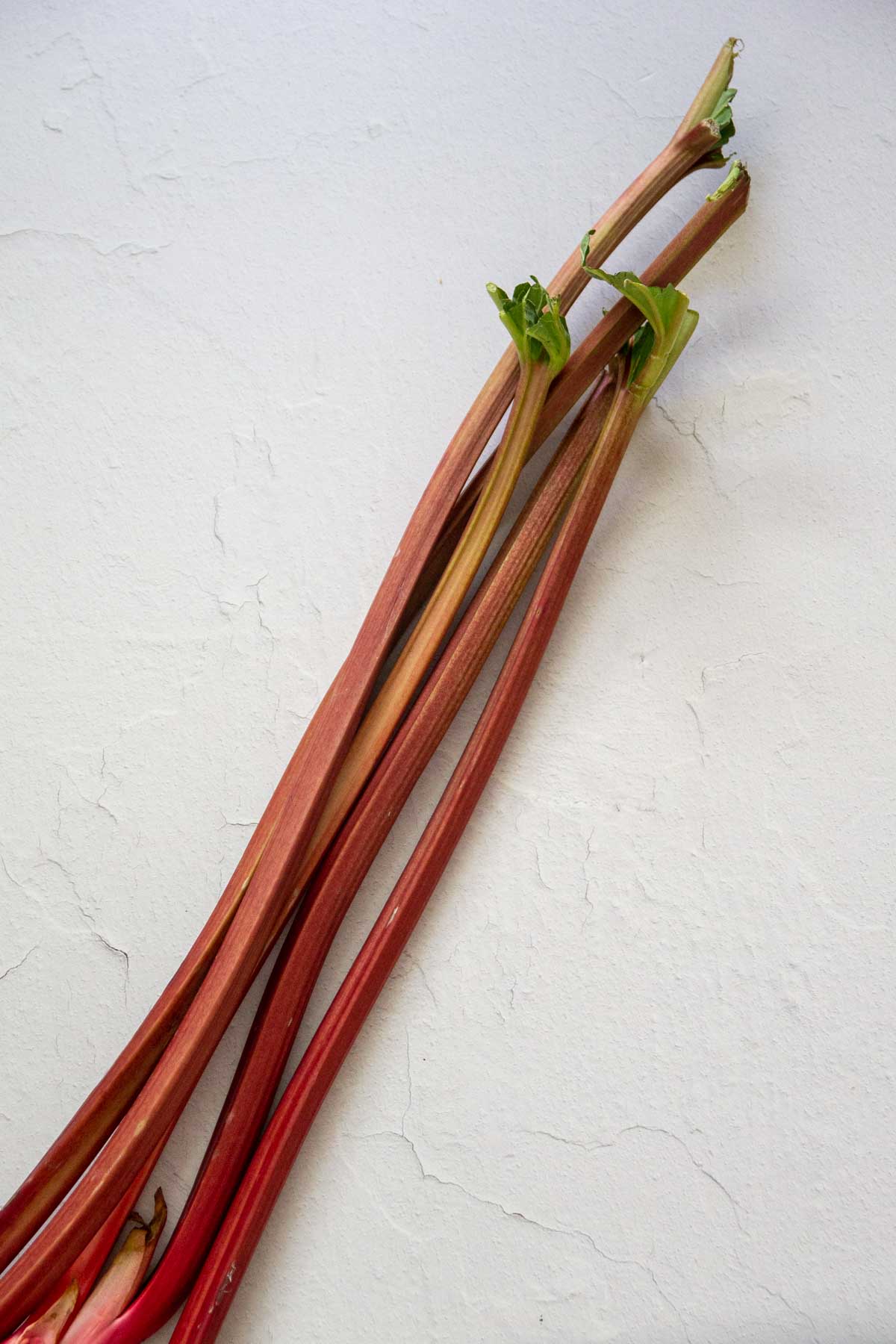 Do you need to peel rhubarb?
Generally, you do not need to peel rhubarb.
As the season goes on, the outer layer of the rhubarb stalks gets thicker, and more fibrous. This can cause "strings" to separate from the stalks a little, similar to what happens to celery stalks.
You can still eat it without peeling, but some choose to remove these fibers.
Keep in mind that if you peel your rhubarb, it will lose some of the classic pink color.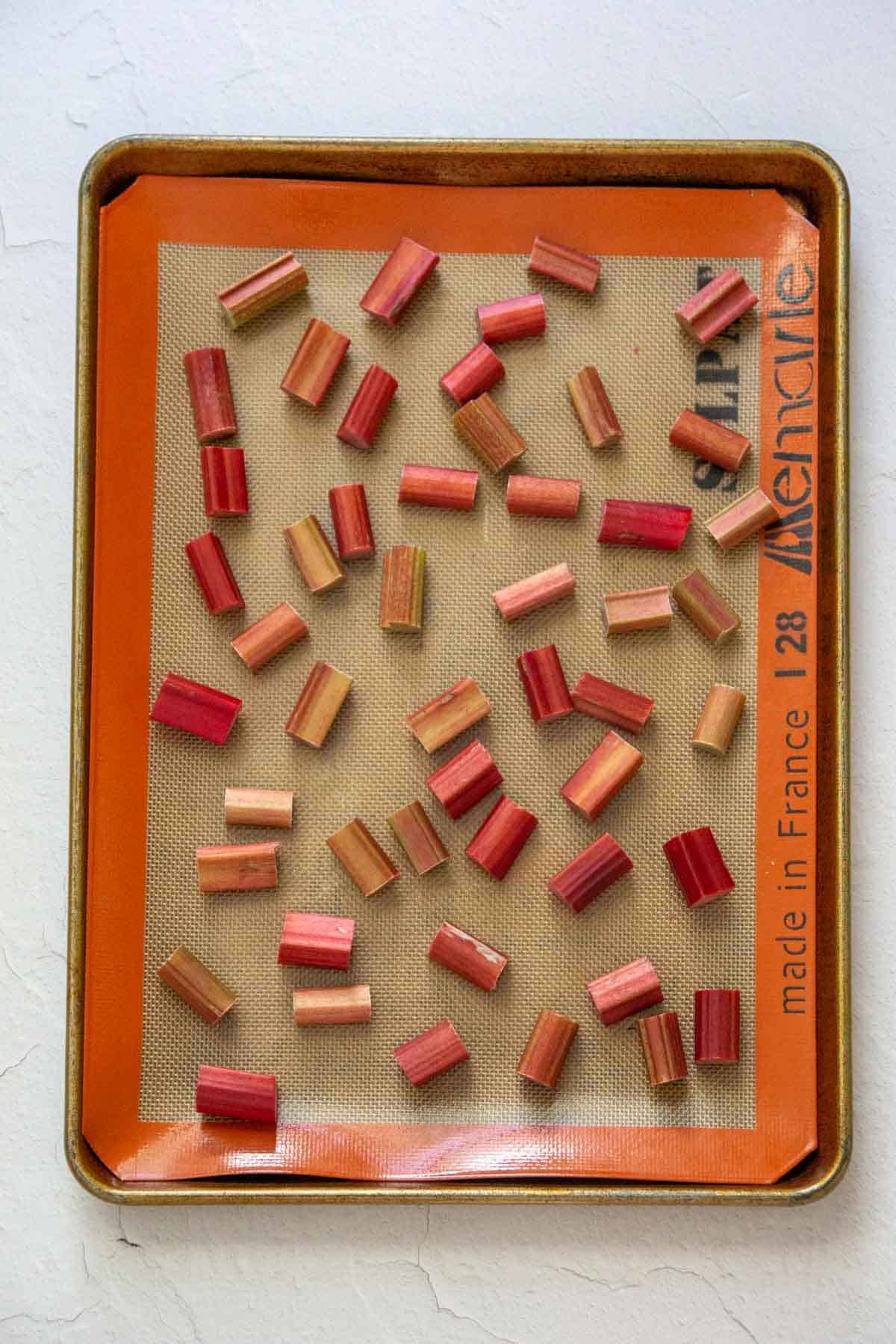 How to freeze rhubarb
Wash the rhubarb and pat dry with a towel. You want the pieces to be completely dry before freezing to prevent ice crystals from forming.
remember!
You can't eat the leaves of rhubarb! They are poisonous, so remove them from the stalks and dispose. 
Cut the rhubarb into small chunks and place in a single layer on a lined baking sheet. You can line the baking sheet with parchment paper or a reusable silicone liner.
Pop the pan into the freezer and freeze until completely frozen and firm. This will take about 2 hours.
Then, remove the pan and transfer the frozen rhubarb into freezer bags.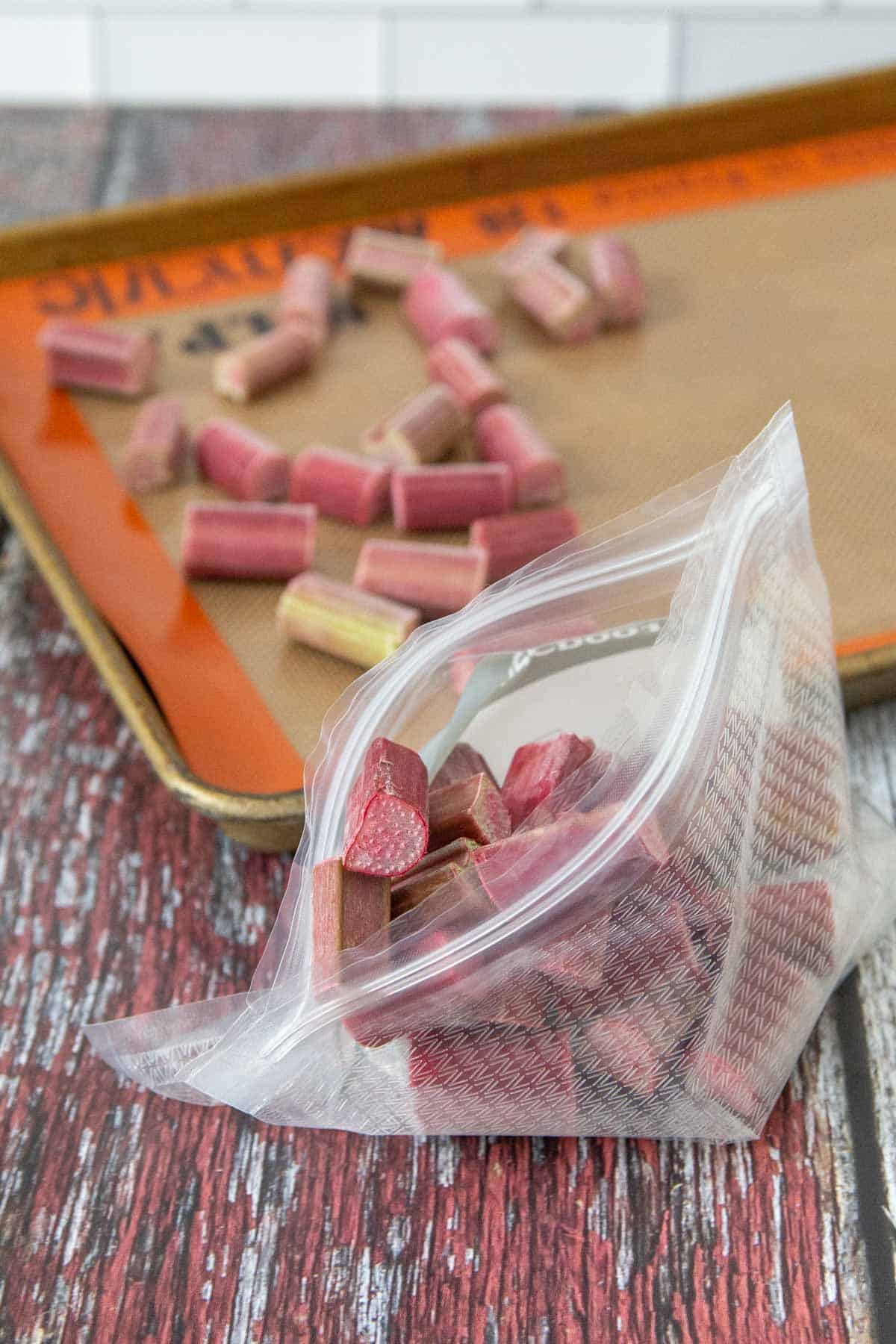 Remove as much air as possible from the bag, seal, and label. If you have a vacuum sealer, you can remove the excess air that way, or use a straw to suck out the air and quickly seal.
I recommend storing the frozen rhubarb in easily measured amounts, such as 1 pound or ½ pound increments. This will make it a lot easier to measure for recipes later on!
The frozen rhubarb will last for 3-6 months.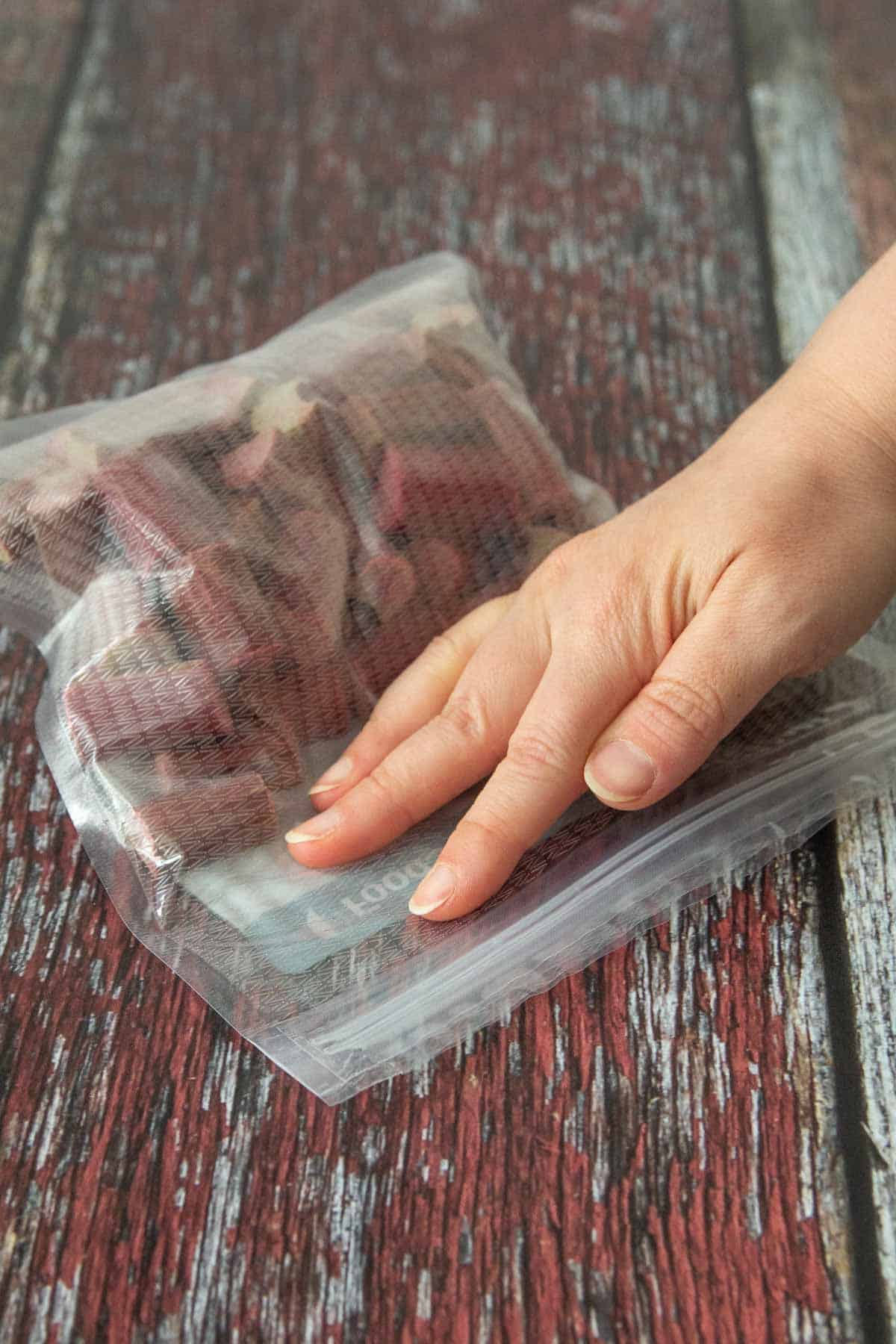 How to use frozen rhubarb
You can use frozen rhubarb anywhere you use fresh. It's great for rhubarb sauce, rhubarb pie, or even rhubarb cookies. 
As with any other frozen vegetable or fruit, the rhubarb pieces will break down somewhat as it thaws, so it's best used in recipes where you don't need neat pieces.
Depending on the recipe, you might not need to thaw the rhubarb before using, but if you need to cut it into smaller pieces, I recommend it.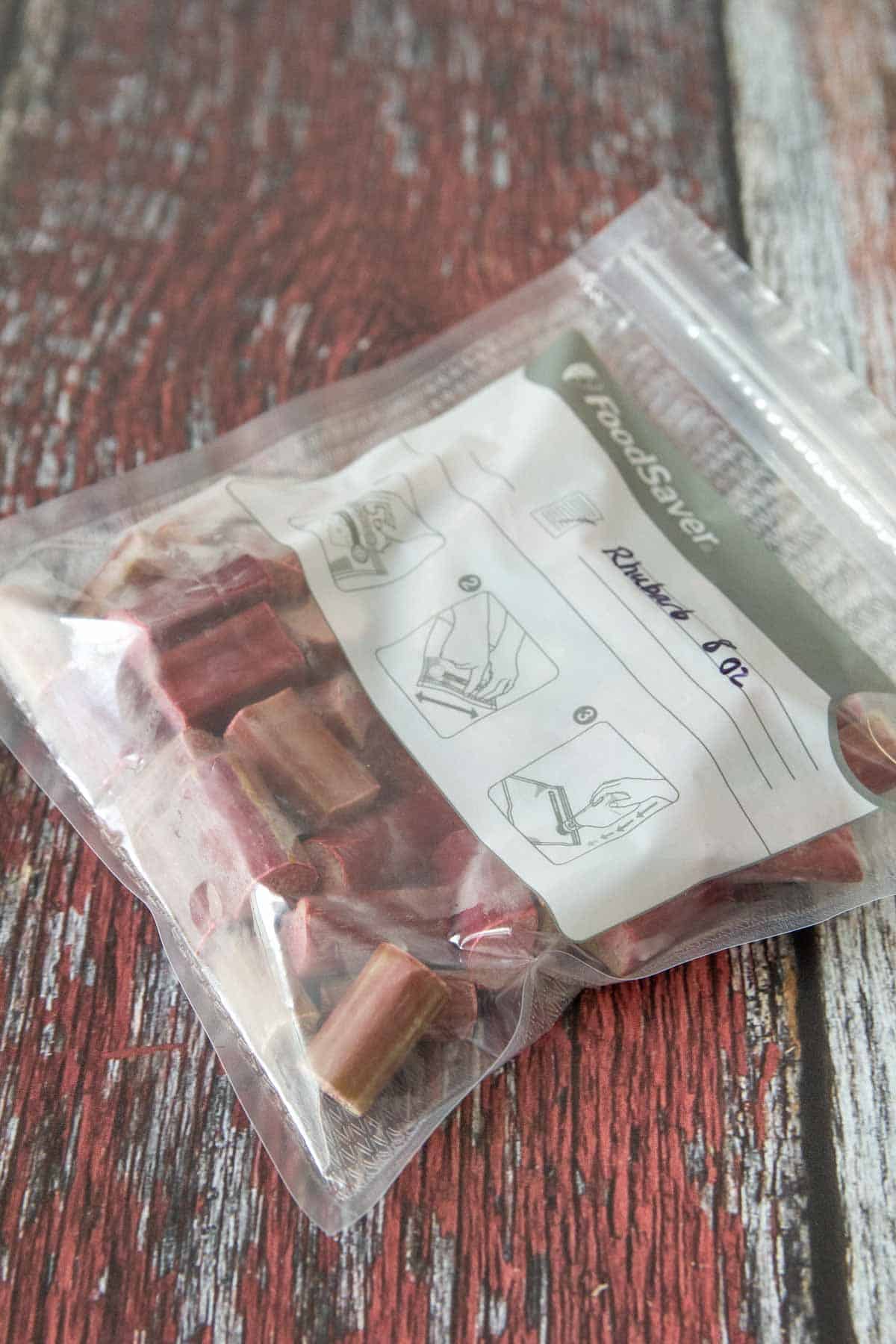 Thaw overnight in the refrigerator for best results. Make sure to place the bag in a shallow bowl to collect any water or juices that escape.
You can also thaw rhubarb quickly by placing it in a colander and running warm water over it. A sprayer nozzle will work best, or you can move the colander around to ensure the water gets on all the pieces.
If you have more time, you can submerge the sealed bag in a bowl of warm water and let it sit until thawed.
Whether you grow your own rhubarb or buy it, you'll definitely want to freeze rhubarb for enjoying later!
Love this recipe? Please leave a 5-star review below! It means so much when you enjoy my recipes, so let me know how it goes and leave a comment if you have any questions.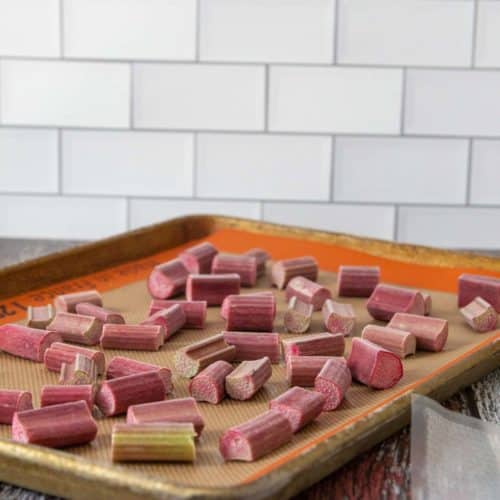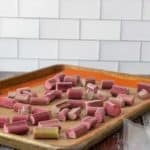 How to Freeze Rhubarb
Rhubarb season is short, but you can extend it by learning how to freeze rhubarb! This simple method will have you enjoying rhubarb all year long.
Print
Pin
Save
Saved!
Instructions
Cut rhubarb into small chunks. Arrange in a single layer on a baking sheet lined with parchment paper or silicone liner.

Place baking sheet in the freezer and chill until rhubarb is frozen, about 2 hours.

Transfer frozen rhubarb to freezer bags. Label and store in the freezer for 3-6 months.
Nutrition
Calories:
12
kcal
Carbohydrates:
3
g
Protein:
1
g
Fat:
0.1
g
Saturated Fat:
0.03
g
Sodium:
2
mg
Potassium:
163
mg
Fiber:
1
g
Sugar:
1
g
Iron:
0.1
mg
Nutrition information is provided as a courtesy and is an estimate based on online calculators. Any nutritional information found on Stetted should be used as a general guideline only.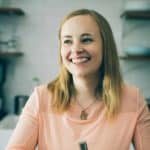 About Megan
I focus on fresh ingredients and easy methods, with spins that keep meals interesting. Dinnertime shouldn't be stressful or complicated, and I'm here to help you enjoy the time spent in the kitchen. Read more…