Yesterday we spent a few hours out at Sweet Berry Farm, having a picnic lunch and picking a bazillion strawberries. Let me tell you, if you live within driving distance of a pick-your-own berry farm, go. Go now (or as soon as the berries are ripe, of course). There is nothing like eating a strawberry fresh off the bush. Fair warning though – you'll never want to eat those store-bought things again.
We always pick more than we'll ever eat. Partly because I'm crazy and think we will eat them, and partly because I never can tell just how much a box equals when you're thinking of those jars of jam you're planning to tuck away into the pantry or freezer.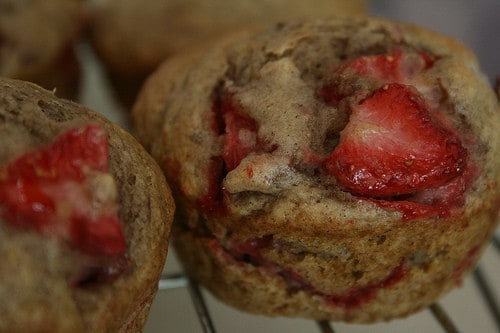 Good Morning Muffins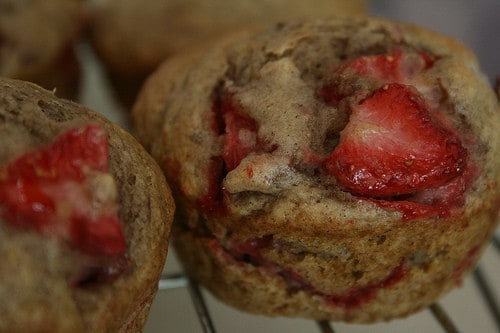 Ingredients
1/3 cup plus 1 1/2 tablespoons sugar
1 1/2 cup diced fresh strawberries
1 1/2 teaspoon lemon juice
2 eggs
2 tablespoon canola oil
2 tablespoon applesauce
1 teaspoon pure vanilla extract
1 cup flour
1 teaspoon baking powder
1/2 teaspoon baking soda
1 teaspoon cinnamon
Instructions
Preheat oven to 350°F and grease or line muffin pan.

Stir together berries, 1 1/2 tbsp sugar, and lemon juice in a bowl and let sit at least 10 minutes. In another bowl, mix remaining sugar, eggs, oil, applesauce, and vanilla. Using a slotted spoon, remove berries from bowl and add to sugar/egg mixture. Mix well. Add rest of ingredients and mix thoroughly. Fill muffin cups about 2/3 full.

Bake for 15-20 minutes, until golden brown.
For more carb inspiration, check out my Muffins board on Pinterest!
Follow Megan Myers | Stetted's board Muffins on Pinterest.