Get a jump start on the day by preparing breakfast the night before with this Overnight Berry French Toast.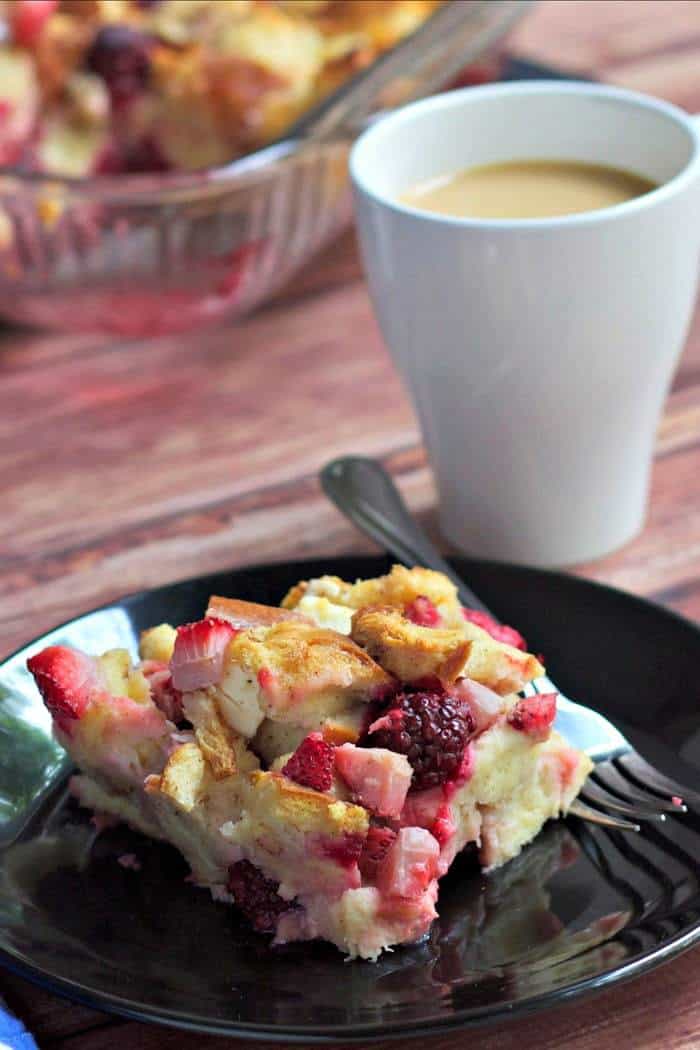 Despite my obsession with breakfast, I am not a morning person.
Being in the workforce and then having children means getting up early is a given, but if I had my druthers I'd be sleeping until 9 every morning, stretching and waking slowly like a cat rather than with an alarm clock, a screaming baby, or a bounding 6-year-old. (Isn't it funny how 9 a.m. seems so luxurious after you've had kids?)
Not wanting to get up in the morning means not wanting to make the breakfasts I long to eat. The whole family loves muffins, pancakes, breakfast tacos, waffles, and the rest of the classics. It's not that these take a lot of time to make, it's just that they take longer than toast, and when tummies are grumbling, other kinds of grumbling is sure to follow.
That's why this overnight berry French toast is such a winner. All the grunt work is done the night before when you're still brimming with thoughts from the day — I don't know about anyone else, but I'm at my most optimistic right before bed — and then is popped into the oven when you wake up.
I actually like this casserole French toast version better than the standard French toast. Every bit of bread gets coated while it sleeps in the fridge, and the crisp edges of the cubes on top give way to tender custarded bread underneath. If you enjoy stuffed French toast, this casserole is ideal because it's studded with not just two kinds of fruit, but cubes of cream cheese for a burst of tang among the sweet.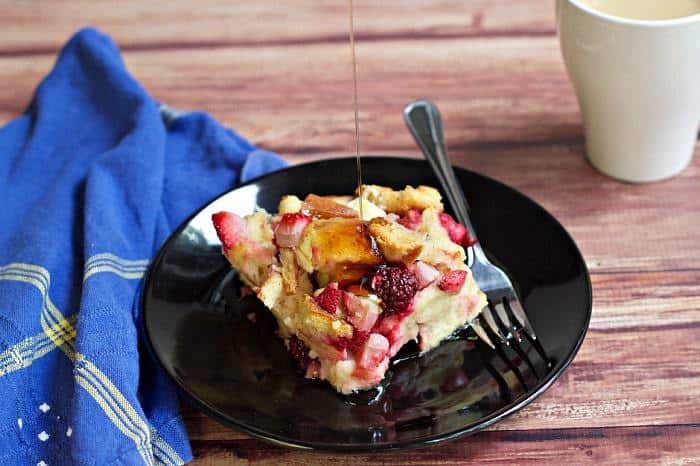 All in all, it's a pretty fantastic breakfast, but you wouldn't be remiss to serve it for dessert with a dollop of whipped cream and a few blueberries. Skip the pie this year and get your red, white, and blue with breakfast!
More make-ahead breakfast recipes you might like:
Blueberry Breakfast Bars – Stetted
Make-Ahead Breakfast Quesadillas – Oh My Veggies
Overnight Fireman's Breakfast Casserole – Garnish with Lemon
Overnight Marmalade French Toast Casserole – The Wanderlust Kitchen
Tortilla Breakfast Casserole – Stetted
For more morning inspiration, check out my Breakfast board on Pinterest!
Follow Megan Myers | Stetted's board Breakfast on Pinterest.