Strawberry spinach salad features fresh strawberry dressing to make the most out of the season.
I think I get more excited for strawberry season than any other time of year. Luckily for me, strawberry season in Texas often starts in February, thanks to hydroponics, and lasts just until my birthday in May.
As soon as a fresh pint makes it to the house, the berries only have enough time to be washed before we gobble them up. I'd say it was a problem, if you can consider the voracious eating of berries to be an issue.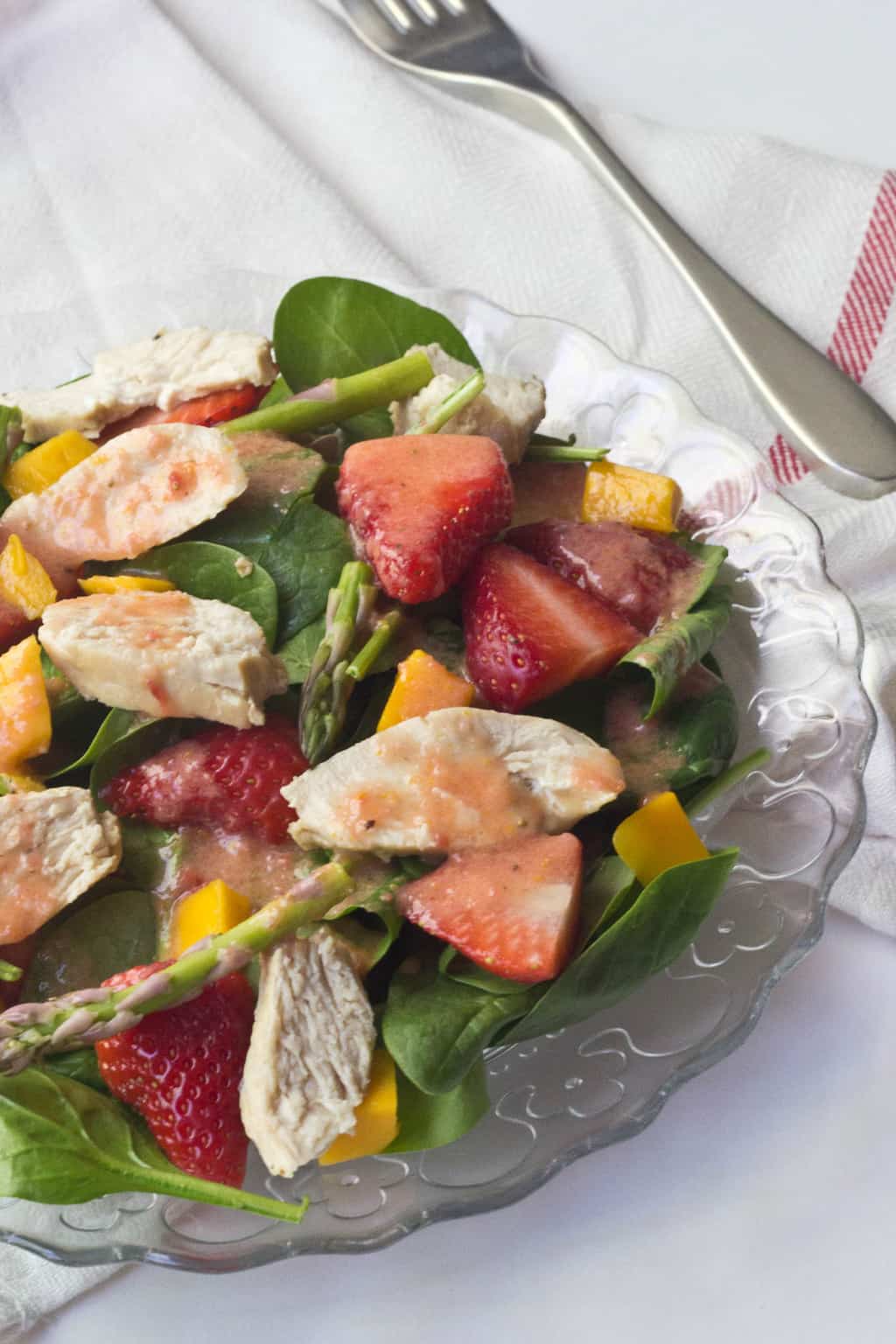 Of course, now I've caught on and buy at least twice as many berries as we need, just to ensure we have enough for more than one day.
This means I get to make one of my favorite salads, a spinach salad with warm chicken, fresh strawberries, and a light and tart dressing made with more berries and orange juice.
Adding strawberries to salads, especially those featuring heartier greens, adds a layer of sweetness that stands up well against the bitter flavors of many greens.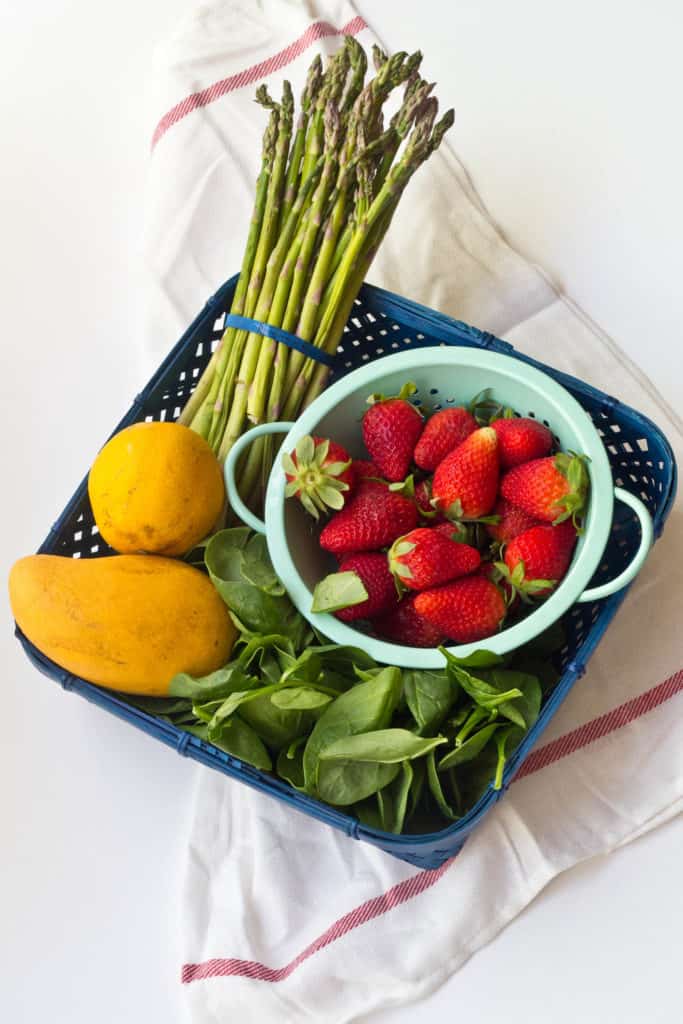 What can I add to strawberry spinach salad?
Depending on what else we have in the house, I add various other toppings. Fresh ataulfo mango chunks add a lovely creamy sweetness that compliments the strawberries.
Cherry tomatoes, goat or feta cheese crumbles, bell pepper strips, sliced cucumber, broccoli florets, or asparagus are all good choices as well.
Broccoli and asparagus, if you have the thinner asparagus stalks, don't actually need to be cooked before being added to a salad.
However, you can lightly steam them while you cook your chicken. Or plan ahead the day before by cooking a little extra with your dinner, so that salad prep is a snap!
If you don't like pecans, any other nut will go well in this salad. I'm partial to sliced almonds, but crunchy walnuts or pistachios are always a nice addition.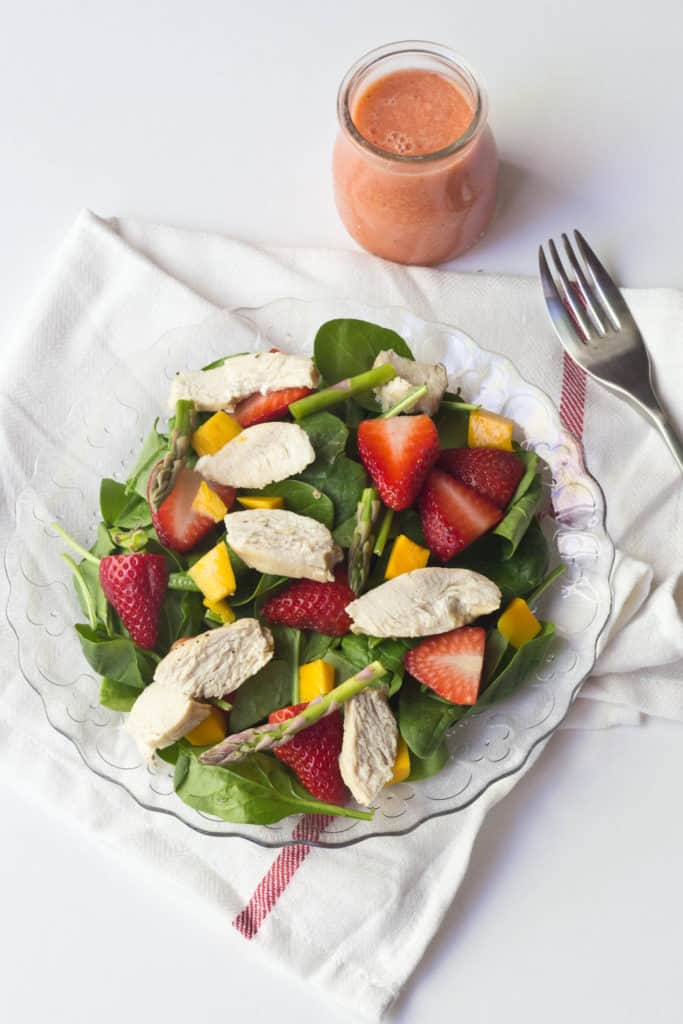 Citrus dressing
The incredibly simple citrus dressing adds even more strawberry flavor. It comes together really quickly as well, especially if you have an immersion blender.
Prep the dressing while you're cooking the chicken, or you can make it in advance and store in the fridge. All it needs is a quick shake to mix the ingredients again and you're good to go.
The directions call for it to be warmed, but it is delicious cold as well — and so refreshing!
If you want to go even further with strawberry flavor, try my strawberry poppy seed dressing on this salad instead!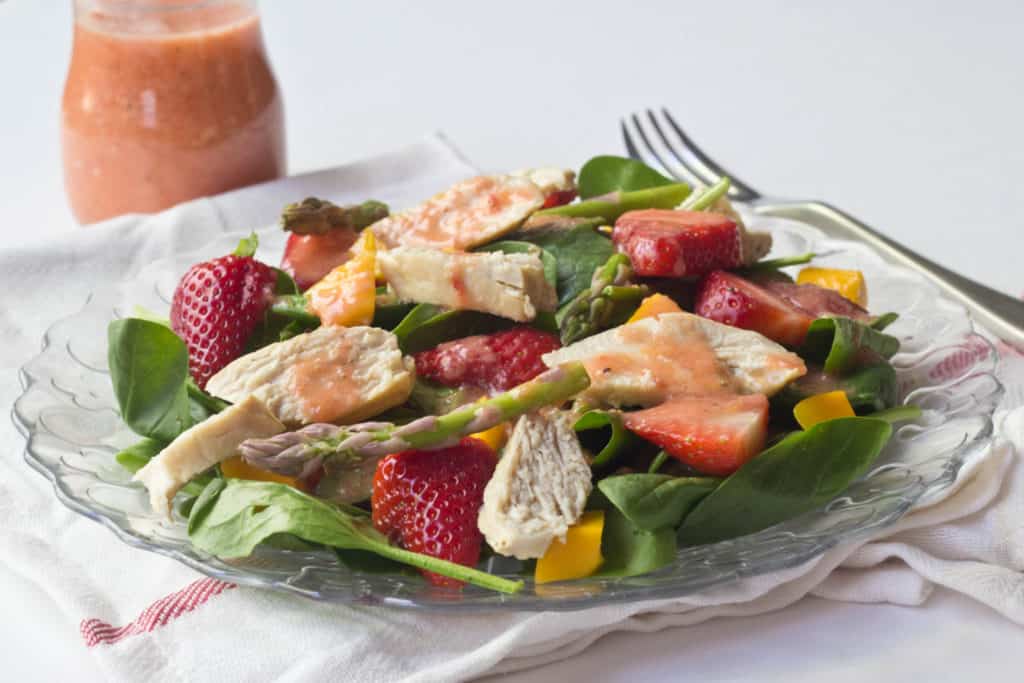 Try this dish for your next brunch, or layer it into individual containers (such as mason jars) to enjoy a refreshing lunch all week long.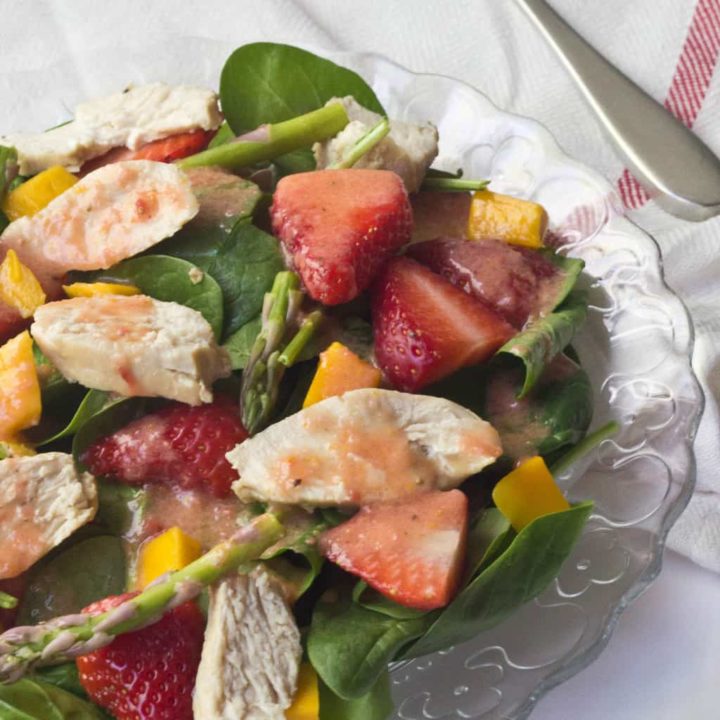 Strawberry Spinach Salad with Chicken
Yield: 4 servings
Prep Time: 15 minutes
Cook Time: 15 minutes
Total Time: 30 minutes
Strawberry spinach salad features fresh strawberry dressing to make the most out of the season.
Ingredients
4 boneless skinless chicken breasts (about 20 ounces)
1/4 teaspoon black pepper
1/8 teaspoon salt
1 cup reduced-sodium chicken broth
1 cup diced asparagus spears
6 cups torn fresh spinach
2 cups sliced strawberries
1/4 cup chopped pecans, toasted
1 diced mango
Citrus Dressing
1/2 cup sliced strawberries
1/3 cup orange juice
2 tablespoons canola oil
1 tablespoon lemon juice
2 teaspoons lemon zest
1 teaspoon sugar
1/2 teaspoon chili powder, optional
1/4 teaspoon freshly ground black pepper
1/8 teaspoon salt
Instructions
Sprinkle the chicken with pepper and salt. Pour chicken broth into a large skillet and bring to a boil.
Add chicken; reduce heat. Cover and simmer chicken for 12 to 14 minutes or until chicken is tender and fully cooked, turning once halfway through cooking time.
If steaming asparagus, do so while chicken is cooking. Steam 5-10 minutes, depending on thickness, until tender.
Meanwhile make the dressing. In a blender or food processor combine strawberries, orange juice, canola oil, lemon peel, lemon juice, sugar, chili powder (if using), freshly ground black pepper, and salt. Cover; blend or process until smooth. Taste and adjust seasoning, if needed.
Transfer mixture to a small saucepan and bring just to a boil. Reduce heat and simmer uncovered for 5 minutes, stirring occasionally. Keep warm until needed.
Once chicken is cooked, remove from broth and let cool slightly, then slice thinly. In a large bowl, toss together the spinach, strawberries, mango, asparagus, and chicken.
Drizzle warm dressing over salad. Sprinkle with nuts. Serve immediately.
Recommended Products
As an Amazon Associate and member of other affiliate programs, I earn from qualifying purchases.
Nutrition Information:
Yield: 4
Amount Per Serving:
Calories: 431
Total Fat: 17g
Saturated Fat: 2g
Trans Fat: 0g
Unsaturated Fat: 14g
Cholesterol: 102mg
Sodium: 409mg
Carbohydrates: 29g
Fiber: 6g
Sugar: 21g
Protein: 43g