Strawberry-spinach salad features fresh strawberry dressing to make the most out of the season.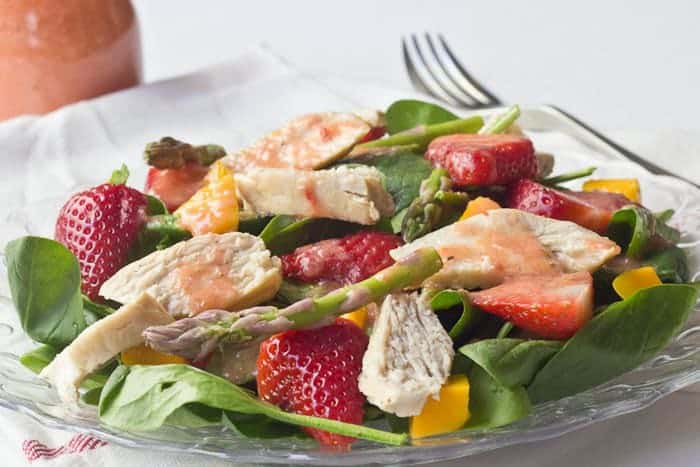 I think I get more excited for strawberry season than any other time of year. Luckily for me, strawberry season in Texas often starts in February, thanks to hydroponics, and lasts just until my birthday in May. As soon as a fresh pint makes it to the house from the market or via Farmhouse Delivery, the berries only have enough time to be washed before we gobble them up. I'd say it was a problem, if you can consider the voracious eating of berries to be an issue.
Of course, now I've caught on and buy at least twice as many berries as we need, just to ensure we have enough for more than one day. This means I get to make one of my favorite salads, a spinach salad with warm chicken, fresh strawberries, and a light and tart dressing made with more berries and orange juice.
Depending on what else we have in the house, I add various other toppings to this strawberry-spinach salad, like fresh atualfo mango chunks, cherry tomatoes, goat or feta cheese crumbles, bell pepper strips, sliced cucumber, broccoli florets, or asparagus.
Broccoli and asparagus, if you have the thinner asparagus stalks, don't actually need to be cooked before being added to a salad, but if you like you can lightly steam them while you cook your chicken. Or plan ahead the day before by cooking a little extra with your dinner, so that salad prep is a snap!
The dressing for this salad comes together really quickly as well, especially if you have an immersion blender. You can serve it warmed or at room temperature, or make it in advance and store in the fridge in a mason jar. All it needs is a quick shake to mix the ingredients again and you're good to go.
This is one refreshing salad you'll return to all spring!
Head over to the Recipe.com What's Cooking blog for the recipe
For more tasty inspiration, check out my Chicken board on Pinterest!