Tortellini pasta salad is a summer classic. Skip the boxed mixes and make it your own!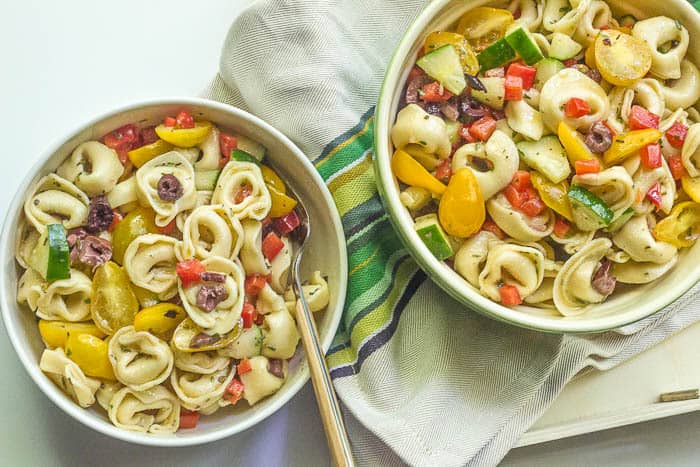 Do you remember Suddenly Salad? It's actually still on store shelves today, but for some reason this boxed pasta mix achieved almost obsessive levels of success in the early 1990's. I know because we ate it constantly in my house, as a go-to lunch for my mother and me over many weekends and summers.
The product was a hit because it promised ease as well as supposed health (hello, salad was right in the name!) and the commercials always featured a happy cookout. Apple pie and the Fourth of July, right?
The secret about Suddenly Salad, though, is that pasta salad is crazy easy to makewithout a box of fancy packaging. Pasta salads like my creamy balsamic chicken pasta salad are my go-to for potlucks, summery side dishes, and sharing meals with new moms.
One of my favorite pasta salads to make, tortellini pasta salad, is even easier than its non-cheesy cohorts because tortellini cooks faster. Why use a boring box of dried elbows when there is tortellini to be had?
I make tortellini pasta salad using the "classic" ingredients: bell pepper, cucumber, tomato, and black olives, tossed in an herby dressing. The dressing is incredibly simple to make, using a few ingredients you probably already have on hand, like red wine vinegar, olive oil, and mustard. Don't worry if you don't have the red wine vinegar — practically any vinegar will do, though I don't recommend distilled white. White wine vinegar, champagne vinegar, and apple cider vinegar are all great options.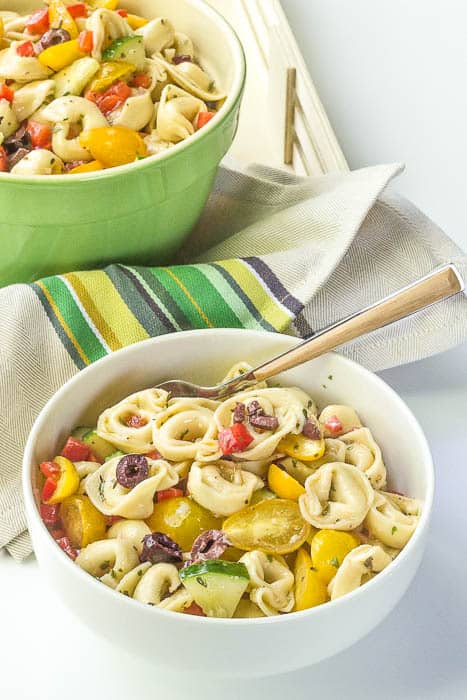 The tortellini for this recipe is the variety found in your freezer case. You can use any flavor you like, though I prefer to keep the salad vegetarian and go for the classic cheese flavor. My kids enjoy it with an extra smattering of grated cheese, but if you choose to add it, be sure to do so only just before serving, or the cheese will absorb the dressing and not be evenly distributed.
Because tortellini pasta salad is meant to be served chilled, it's the perfect recipe to make ahead for summer entertaining or enjoying over the week for lunch. Have a batch ready for this weekend's cookout!
For more meatless inspiration, check out my Vegetarian board on Pinterest!
Follow Megan Myers | Stetted's board Vegetarian on Pinterest.