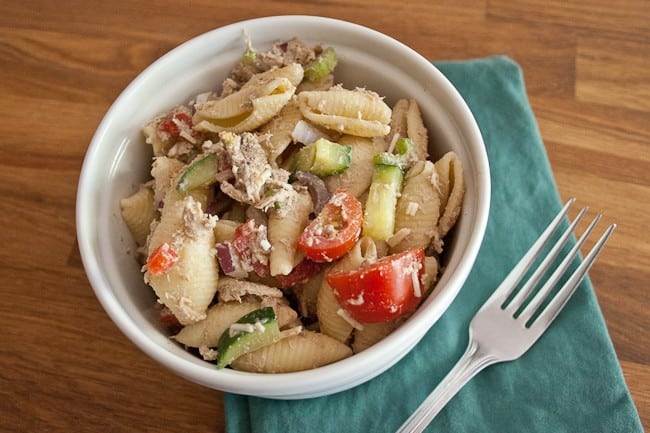 Working from home somehow means that I often forget to eat lunch. It's not just that I'm distracted by my work in addition to social media – when it comes time for eating, I have to scrounge around in the fridge for something that resembles a meal. Chips and salsa are not appropriate, no matter how tasty they are.
For all my dinner meal planning, I just seem to plain forget that I need to eat lunch as well. It certainly doesn't help that meal planning takes at least twice as long as it used to, and any trip to the farmers' market or grocery store has me wandering the rows looking like a lost puppy. I still adore food; I just apparently don't care about cooking it anymore.
That's one of the reasons I love dinners that can be extended for multiple meals. This chicken pasta salad started out as a whole chicken, spatchcocked and grilled. Whole chicken is one of our favorite things to cook all year long. Oven-roasted in the colder months, the leftovers are transformed into soup. Warm months? Pasta salad of course! Not only is it utterly customizable depending on what veggies are in season, you can make a huge batch of it and eat for days, which has been solving my pregnancy-brain lunches lately.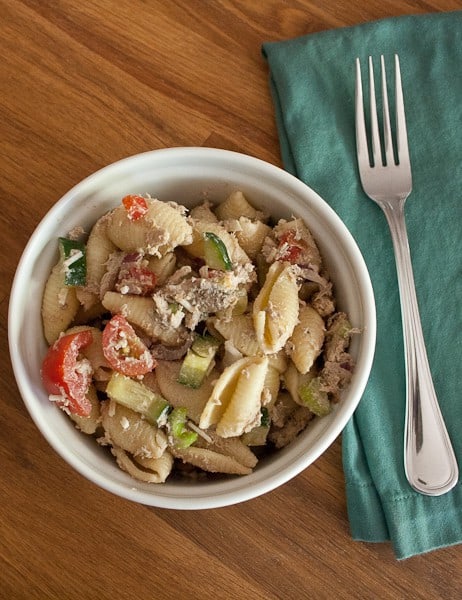 If you're pressed for time (or energy like me) you can shred the chicken in a mixer using the paddle attachment. Magic!
Creamy Balsamic Chicken Pasta Salad
Prep Time: 10 minutes
Cook Time: 10 minutes
Total Time: 20 minutes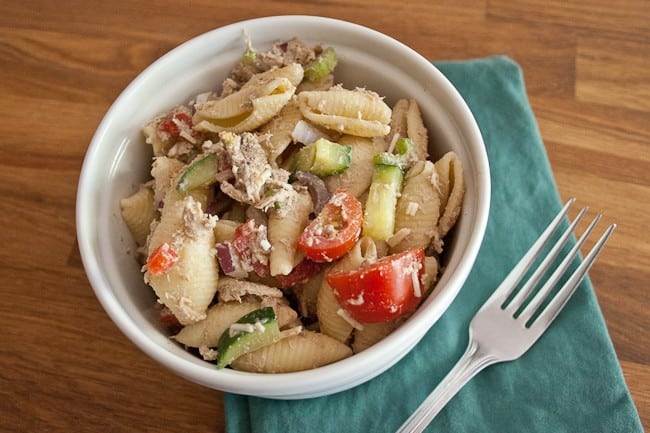 Ingredients
1 pound pasta
3/4 cup Greek yogurt , such as Chobani 2%
2 tablespoons balsamic vinegar
1 1/2 tablespoons olive oil
1 teaspoon salt
1/4 teaspoon fresh cracked pepper
2 cups shredded or diced cooked chicken
1 pint grape or cherry tomatoes , quartered
1/2 cup diced red onion
1/2 cup diced red bell pepper
1 cup diced cucumber
1/2 cup diced celery
1/3 cup shredded Parmesan
Instructions
Cook pasta according to package directions.

While it is cooking, in a large bowl whisk together yogurt, vinegar, olive oil, salt and pepper. Stir in chicken.

When pasta is done, drain and rinse under cold water. Add pasta and remaining ingredients to the bowl and mix well.

Serve with additional Parmesan, if desired.
More chicken recipes you might like:
Caprese Chicken Flatbread – Stetted
Chicken Couscous Quesadillas – Jelly Toast
Maple Bourbon Chicken with Bacon – Creative Culinary
Slow Cooker Maple Jalapeno Chicken Sliders – Fake Food Free
Sundried Tomato and Chicken Ravioli – Stetted
For more tasty inspiration, check out my Chicken board on Pinterest!