This post contains affiliate links. As an Amazon Associate, I earn from qualifying purchases.
Learn how to dry basil using four different methods. Lock in the flavor of fresh basil to use all your favorite recipes for months to come!
One thing I always, always grow in my garden each year is basil. Whether I'm looking to make a batch of pesto or just want to garnish a pasta salad, for me basil is synonymous with summer.
I do what I can to keep the summer vibes going (shout out to peach jam and pickled green beans) so I've taken to drying my excess basil.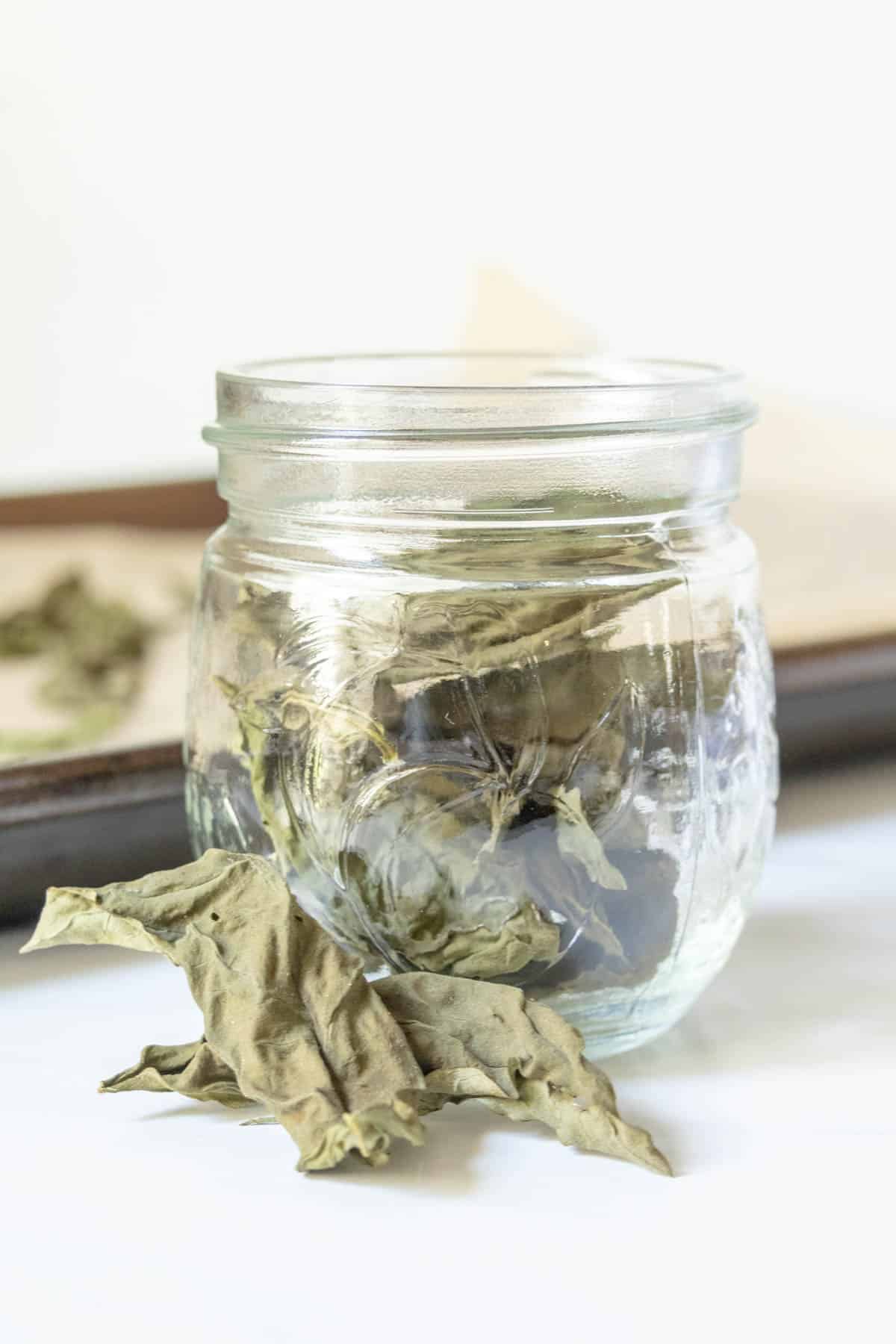 Drying basil is just as easy as drying oregano or drying thyme, so there's no excuse not to do it! 
Plus, drying basil at home is so much cheaper than buying a jar of the stuff at the grocery store. Even if you aren't growing your own basil and pick up the fresh bunches at the store or farmers market, you'll save money and reduce waste with this simple preservation.
It's a great way to preserve basil's wonderful flavor to enjoy for months to come!
How to harvest fresh basil
Herbs are best harvested early in the morning before the heat of the day sets in. Because basil grows in the summer, you want to harvest as early as you can!
You can pick as much or as little basil as you need. If you are gathering the basil for drying or for pesto, you'll want to make sure you can leave enough on the plant so that it continues to grow and produce more leaves.
Make sure to harvest the leaves after the plant is at least 6 inches tall, but before flower buds start to form. Once the basil flowers, it will devote its energy to the flower instead of the leaves, which can make the leaves bitter.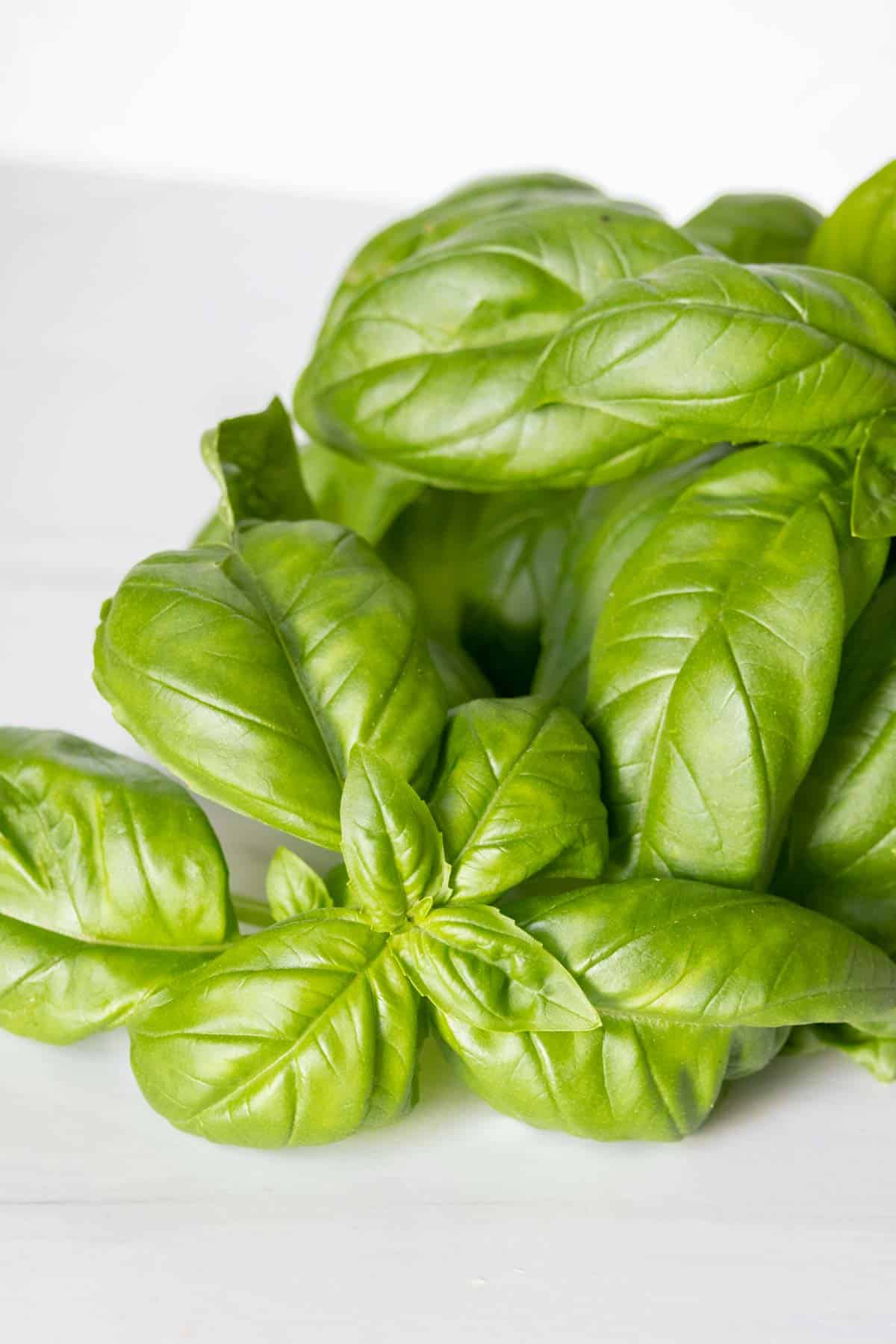 To harvest, pinch off the stem of the basil just above a set of leaves. You can also use a small herb scissors to make a precise cut. Do not pull or yank off the leaves, as you can tear the stem and damage it.
Pick from the top of the plant so it can continue to grow out and become more bushy. If you pick from the bottom, the plant will get tall and scrawny.
Leave the leaves on the stems if air drying. Pinch leaves off stems if using the other methods.
Wash off dirt or bugs and pat the basil dry between two kitchen towels, or spin leaves in a salad spinner.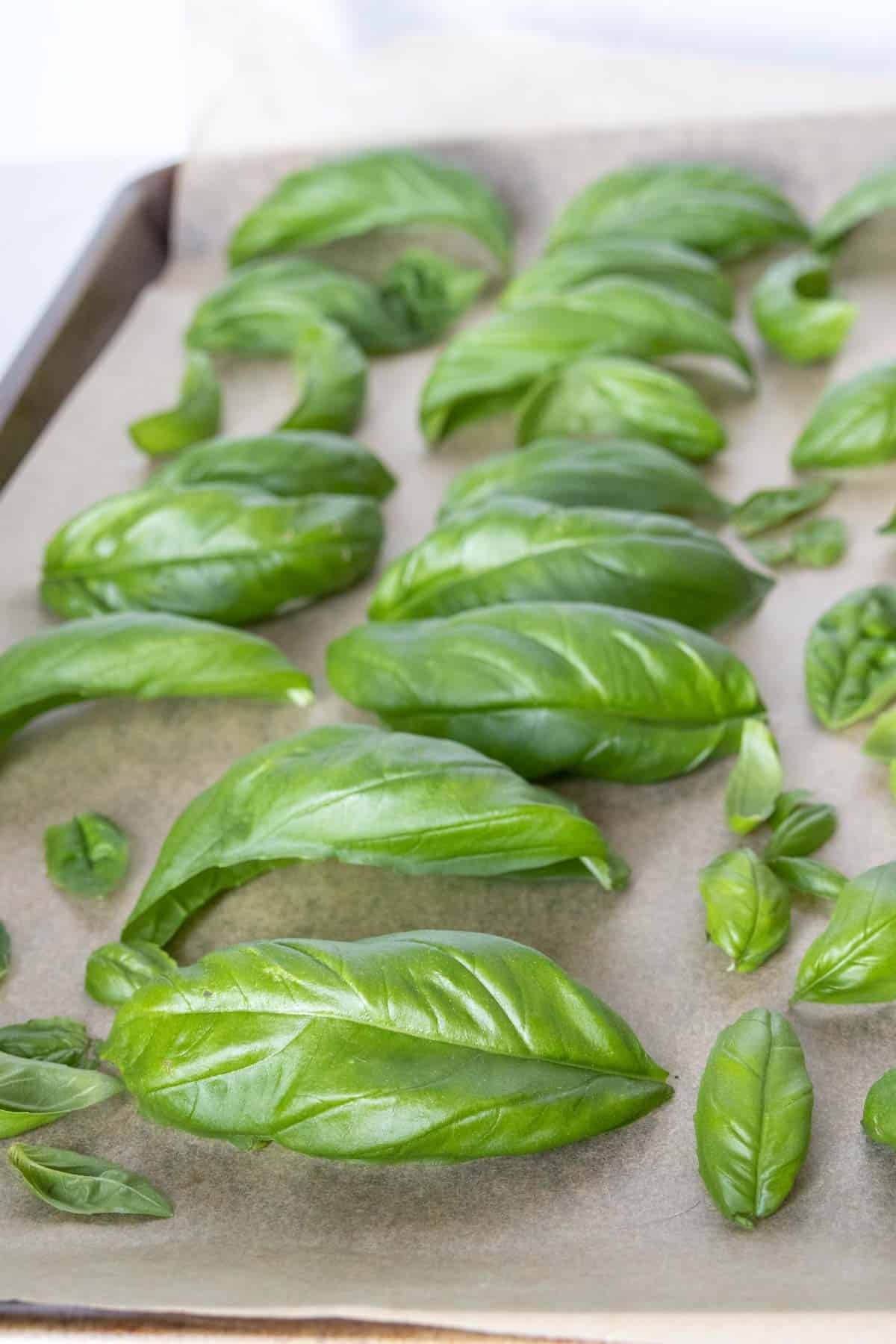 How to air dry basil
One of the easiest ways to dry basil is to let it air dry.
However, because basil leaves are larger than other herbs, they do contain more water. In order to prevent molding, you will need to make sure the basil is in smaller bundles and placed in a well-ventilated area.
Gather your basil in to bundles (a few stems on each, depending on how many leaves are on each stem) and tie with kitchen string. You can tie another loop in the end to hang from a hook, or simply use a clothespin to clip onto a wire.
Hang in a cool, dry place, such as a pantry, away from too much light and heat. A window is not a good place to hang them! If you have a hanging pot rack, this is a great option.
You can also hang the bundles on the wall, making sure to turn them every other day or so they dry evenly.
It will take about 2 to 3 weeks for the basil to dry completely.
Once dried, remove the leaves from the stems and store in an airtight container.
How to dry basil in the oven
I usually dry herbs in the oven at my house. It's incredibly easy and great for drying a lot of herbs at once. Plus, it adds a wonderful aroma to your kitchen!
Set your oven to the lowest temperature it can go. On my oven, this is 170°F.
Line 1 or 2 baking sheets (depending on how much you are drying) with parchment paper. This will prevent any possible sticking or discoloration from the pan.
Place the basil leaves on the baking sheets in a single layer.
Put the baking sheets in the oven and leave the oven door slightly ajar.
Bake for 1 hour to 90 minutes, until the basil is completely dry and crispy. Start checking the basil at the 1 hour mark, and then every 15 minutes after that.
Let the basil cool completely before storing.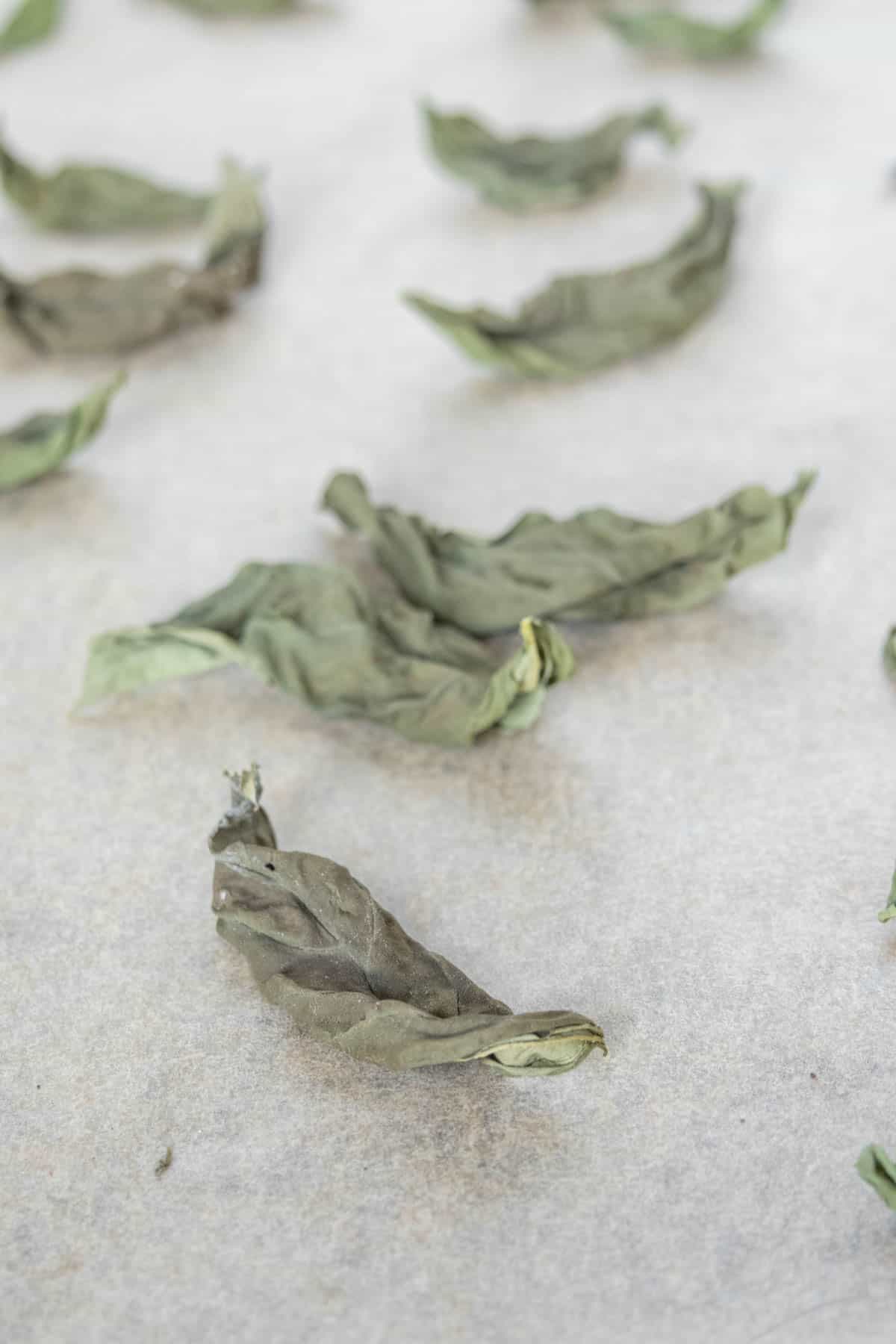 How to dry basil in a food dehydrator
Arrange the basil in a single layer on your dehydrator trays.
Dehydrators have different settings depending on the model, so you'll want to use the lowest temperature to dry herbs. Some models have an "herb" button, which works great!
Dry at 95°F-110°F for 4-10 hours, until completely dry and crisp.
Make sure to check the basil every hour after the first 2 hours, as the drying time can vary.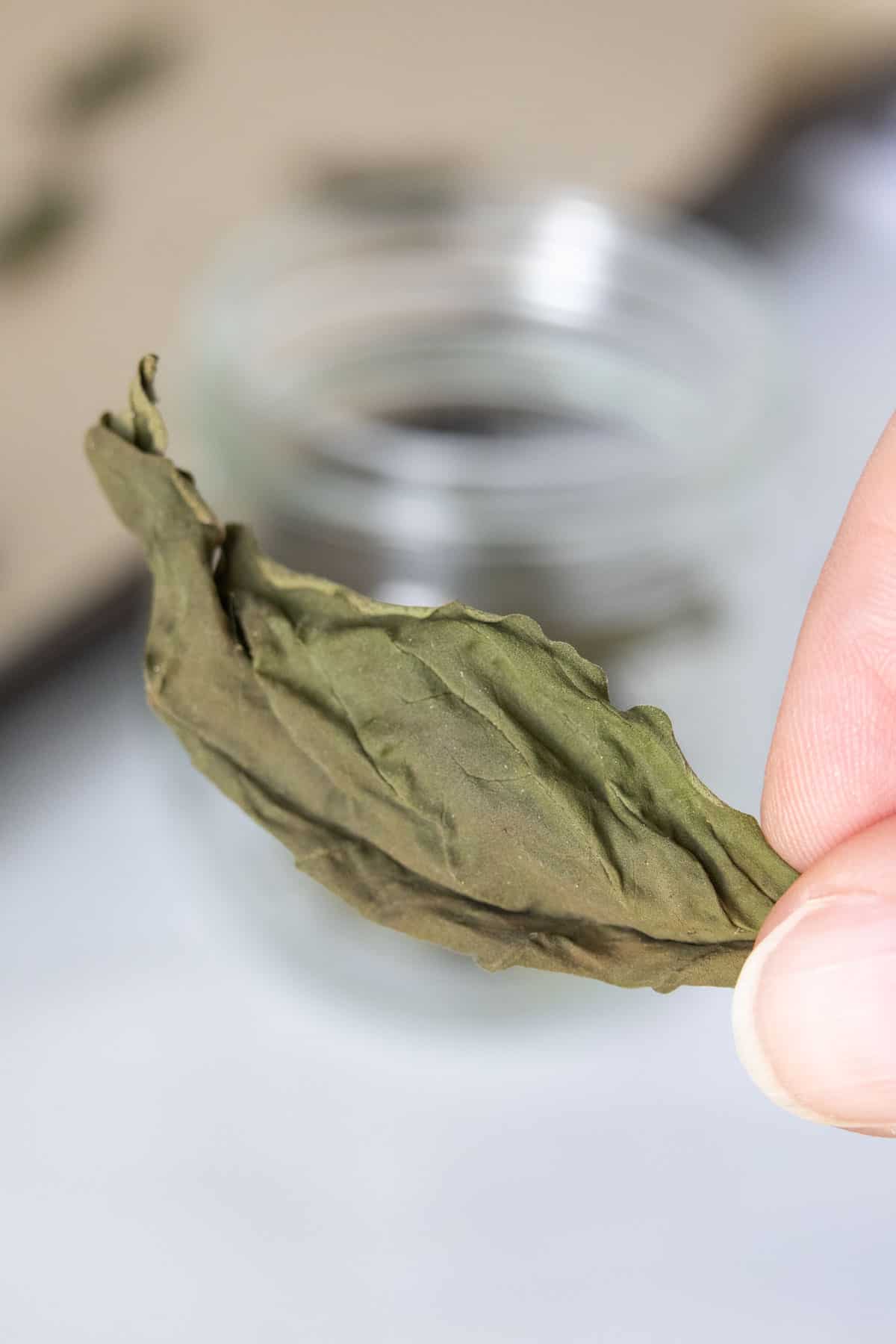 How to dry basil in the microwave
If you want to dry a small amount of basil or want a quick and easy method, try drying basil in the microwave!
Place a paper towel on a microwave-save plate. Lay the basil leaves in a single layer on the paper towel, then cover with another paper towel.
Microwave in 30-second increments, checking the basil after each burst. It should only take 90 seconds or less for the basil to be shriveled and dry.
Let cool before storing.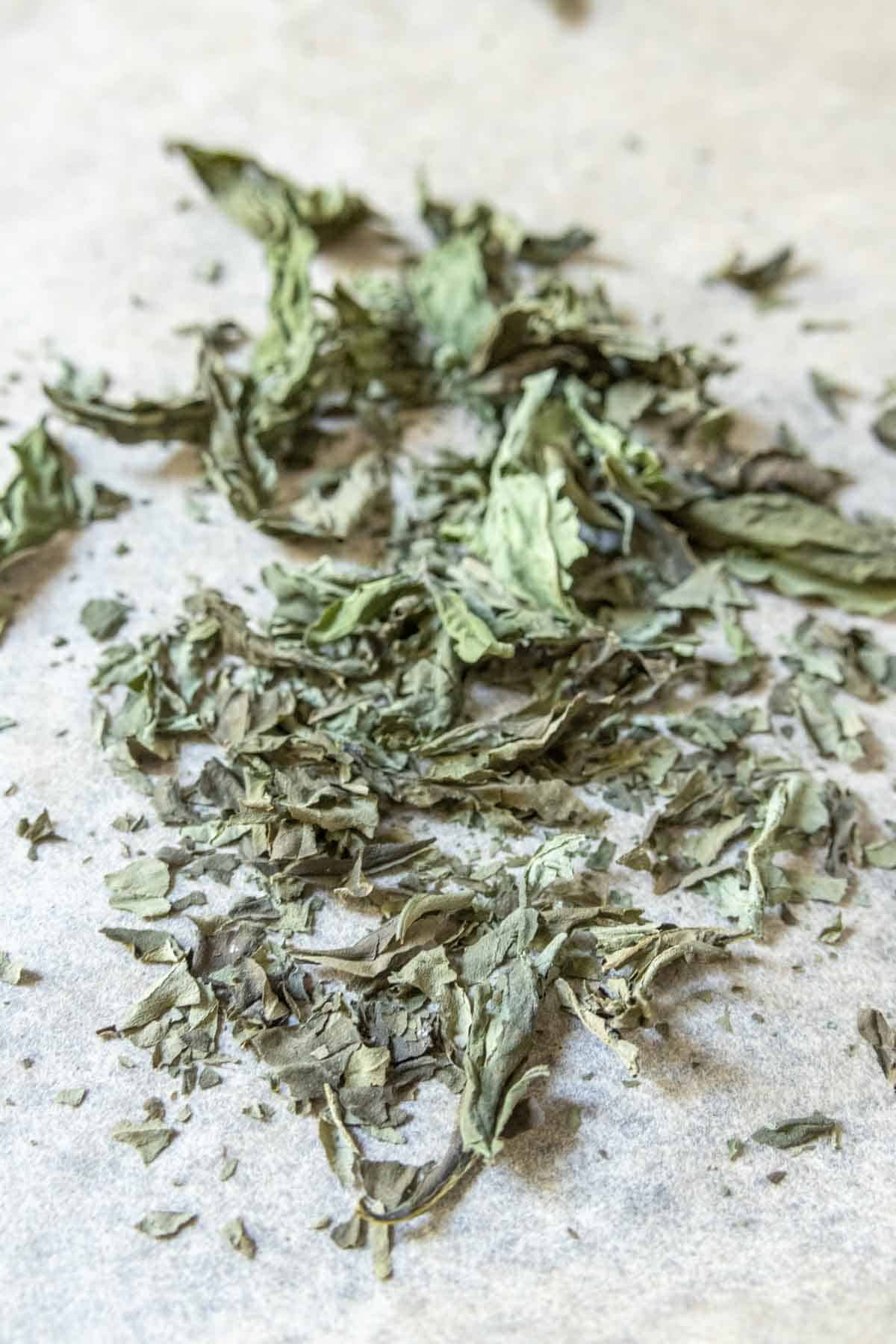 How to store dried basil
Dried basil can be stored either as whole leaves or crushed.
Whole leaves preserve the basil's flavor better, but means it's not as quick and easy to use when cooking.
Stack the leaves carefully in a jar or other airtight container. Do not stuff them in, or they can get crushed.
For crushed basil leaves, simply crumble them as you add to a jar. You can also crumble on top of a sheet of parchment, then curl the parchment into a funnel to easily transfer the crushed leaves.
Whole dried basil leaves will keep for 6-12 months. Crushed basil leaves will keep for 3-6 months. Always be sure to store the jars in a cool, dry place.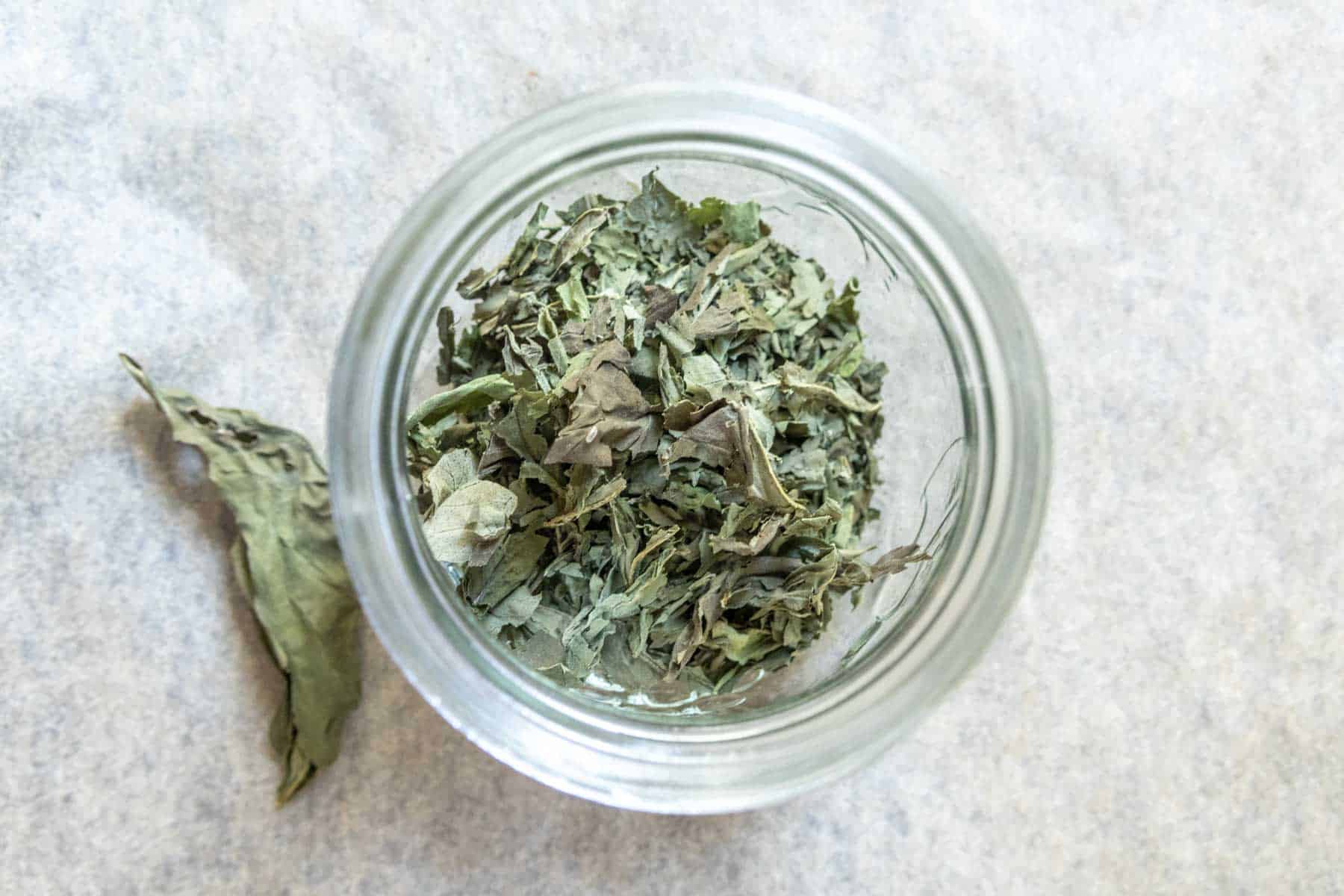 Ways to use dried basil
Dried basil is a versatile ingredient that can be used in many different recipes.
You can substitute dried basil for fresh in most recipes. Remember that 1 tablespoon of fresh herb = 1 teaspoon of dried herb.
Dried basil is a classic ingredient in slow simmered marinara sauce or sprinkled on top of your favorite pizza.
Love homemade cocktails, spritzers, or flavored lemonades? Swap in dried basil for fresh in a batch of basil simple syrup.
Sprinkle dried basil over soups like my Instant Pot tortellini soup or white bean sausage soup.
With just a little bit of preparation, you'll be enjoying your garden basil all throughout the fall and winter months!
Love this recipe? Please leave a 5-star review below! It means so much when you enjoy my recipes, so let me know how it goes and leave a comment if you have any questions.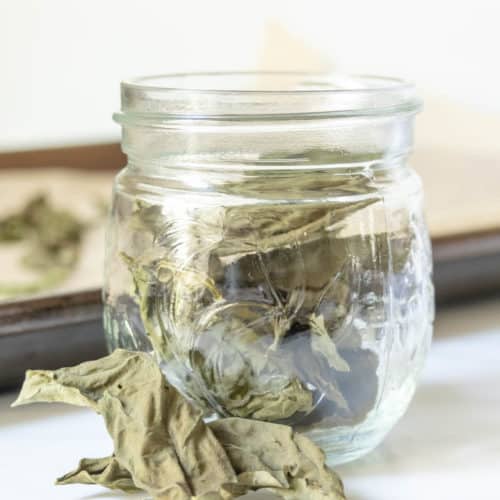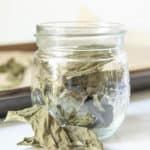 How to Dry Basil
Learn how to dry basil at home for use in all your favorite recipes. Choose from one of four easy methods.
Print
Pin
Save
Saved!
Instructions
Rinse basil gently, removing any dirt or slimy leaves. Pat dry with a towel or spin in a salad spinner.
To hang dry
Gather the basil together into a few small bundles. Cut a length of kitchen twine and tie a knot around one end of the basil. Tie a loop around the other end and hang in a cool, dry place.

It will take 2-3 weeks for the basil to fully dry.
To oven dry
Turn your oven as low as it can go. (For my oven this is 170°F.)

Spread the basil in a single layer on a parchment-lined baking sheet. Place in the oven and leave the door ajar.

Bake for 1 to 2 hours. Start checking the leaves at the 1 hour mark, then every 15 minutes for dryness, pinching a leaf or two between your fingers to see if it crumbles. Smaller leaves will dry faster than larger leaves, so consider two batches if your leaves vary wildly.
To dry in a dehydrator
Turn your dehydrator to the lowest setting (95°F-110°F) or press the "herb" button if available.

Arrange the basil leaves in a single layer on the dehydrator trays and place in side. It will take 4-10 hours for the basil to fully dry.
To dry in a microwave
Place a paper towel on a microwave-safe plate. Arrange the basil in a single layer and place another paper towel on top.

Microwave in 30 second increments, checking after each burst for dryness. The basil should be dry within 90 seconds.
Once dry
When basil is dry, store leaves whole or crushed in a glass jar. Label and store in a cool, dry place. Whole leaves will last for about 1 year, crushed leaves will last for 6 months. Once the basil loses its aroma, it's time for a new batch.
Nutrition
Nutrition information is provided as a courtesy and is an estimate based on online calculators. Any nutritional information found on Stetted should be used as a general guideline only.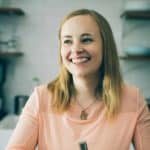 About Megan
I focus on fresh ingredients and easy methods, with spins that keep meals interesting. Dinnertime shouldn't be stressful or complicated, and I'm here to help you enjoy the time spent in the kitchen. Read more…