This whole grain kale, beet, and goat cheese pizza is topped with vibrant vegetables for a wonderful lunch option.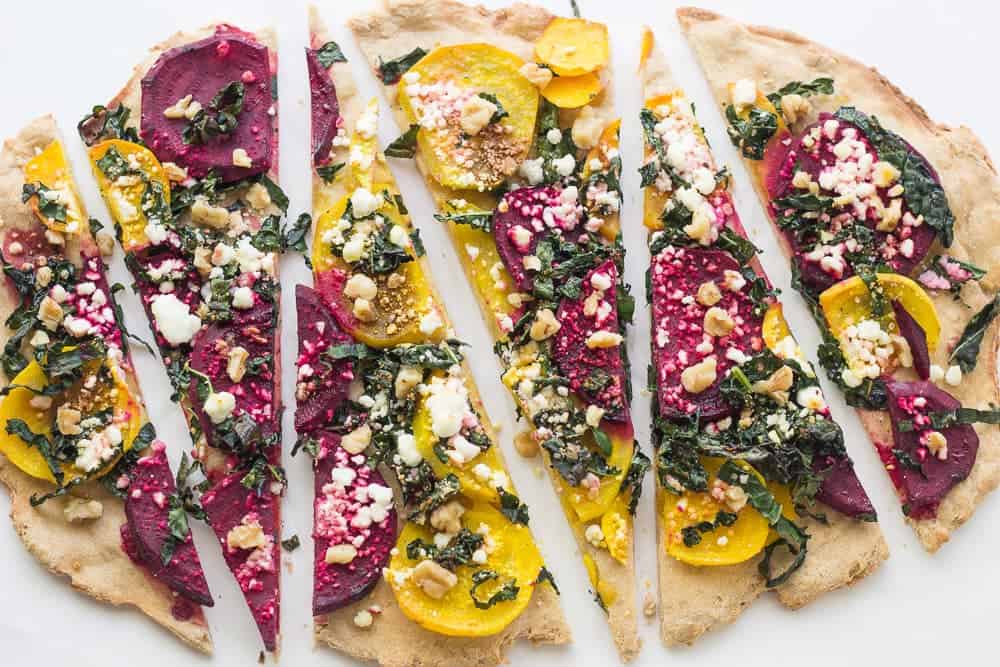 Traditionally us bloggers start off the year by posting health food after a barrage of sweets in December, right? I figured I would ease y'all into January a little bit by making a pizza instead of a straight-up salad like I did last year with my broccoli white bean salad. After all, pizza is the common unifier of our time. Or something.
We have pizza weekly at my house, and while I love my routine for other things, having the same meal over and over is just not my bag. So while I will make the standard cheese-and-pepperoni pizza (or calzone) for the kids, I try different things with the grown-up pizzas.
I've done all sorts of combinations, but lately I've been veering toward sauceless pizzas. Without tomato sauce in the mix, you can do so much more ingredient experimentation, especially when it comes to vegetables and cheeses. Goat cheese (chevre) is probably my favorite cheese of all time so I usually have a big tub of chevre crumbles from Costco in the fridge, and add a bit to almost everything. I've found that it's especially a great pairing for walnuts.
Thinly sliced beets in two colors (or three if you get your hands on gorgeous Chiogga beets, which are candy-cane striped) are the main ingredient in this pizza, with sliced lacinato (dinosaur) kale on top getting just softened enough to remove the tough chew, but preserve the flavor.
I'm a nut for balsamic and so of course drizzle it on the pizza after baking. My favorite variety is fig balsamic, but any good balsamic will work.
This pizza is great for lunch, and if you use premade dough or flatbread, there's even less work!
Get the recipe for this kale, beet, and goat cheese pizza over on my post for Recipe.com!
For more meatless inspiration, check out my Vegetarian board on Pinterest!
Follow Megan Myers | Stetted's board Vegetarian on Pinterest.