The other day I was contacted by the California Fig Advisory Board, wanting to know if I'd like to try some California figs. This is the year I discovered how incredibly delicious figs are, to the point of pouncing in the figs at the market each week, no matter whether I knew what to do with them. So, of course I was very excited about getting to try some California figs, hoping I would get a couple different varieties.
I was completely shocked when I received two giant boxes filled with figs! I unpacked more and more and more figs. All told I received 3 dozen each of 5 varieties of fresh figs, plus two 4-pound bags of dried figs! I freaked out for a moment wondering just what to do with so many and then thanked my lucky stars we have an extra fridge in the garage.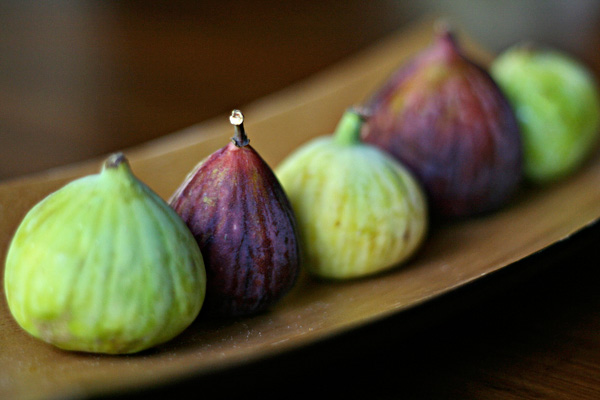 Here in Texas we can grow figs (many people have their own trees) but I had never heard of four of the varieties I was sent. In the grocery stores I've only seen Black Mission figs, and at the farmers' market I've only come across Brown Turkey and Strawberry figs, even though there are over 100 different varieties of fig. The California figs are also larger than most I've seen here – I'm guessing our intense summers have something to do with that.
Since I've started growing my own food I've been amazed to learn all the little tidbits about produce, and I was surprised to learn that figs are actually flowers inverted into themselves. Despite them not actually being a fruit, figs are packed full of nutrients. They have tons of fiber and are a good source of potassium, which is great news for people like me who have odd reactions to bananas!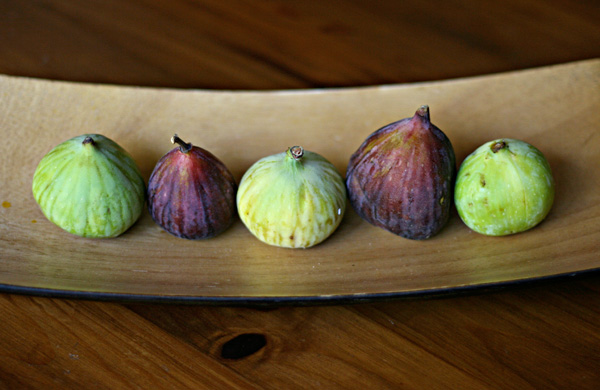 From left to right, the figs are Sierra, Brown Turkey, Calimyrna, Black Mission, and Kadota. I took some in to work and my friends and I tasted each one, trying to determine the difference between them all. All four of us decided that the Calimyrna was the best of them all, and I'm very pleased that one of the bags of dried figs is indeed of Calimyrna.
Since I have so many figs I of course have been experimenting, and my first thought as I was falling asleep the other night was to make a pizza.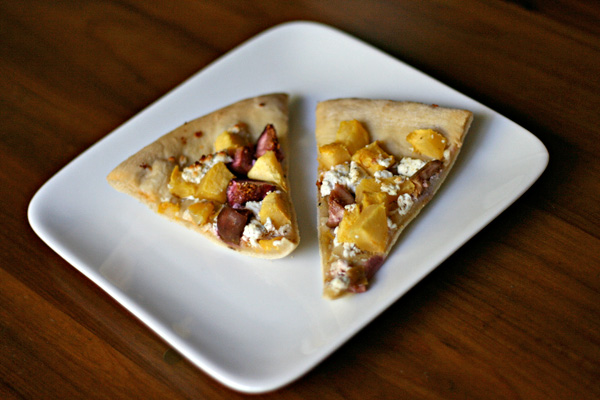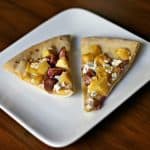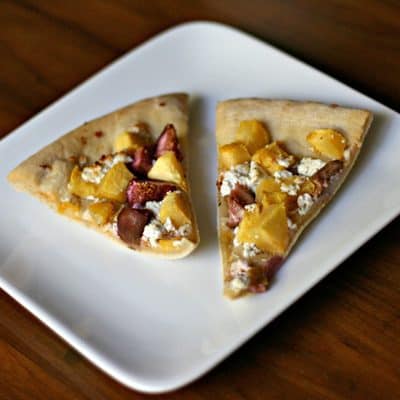 Fig, Acorn Squash and Goat Cheese Pizza
Ingredients
1

small acorn squash

2-3

figs

diced

1/2

cup

crumbled goat cheese

I used an herbed variety

Fresh pizza dough

Olive oil
Instructions
Preheat oven to 400. Halve acorn squash, de-seed, and slice into crescents. Rub each slice with olive oil and set on a foil-lined baking sheet. Bake until easily pierced with a fork, about 20 minutes. Let cool, then diced into 1-inch chunks.

Turn oven up to 475.

Roll out pizza dough. Drizzle olive oil across dough, then scatter squash, figs, and goat cheese on top. Cook for about 12 minutes, until dough is browned and cheese has softened.
=========
I'll be posting more recipes on how I used the figs, so be sure to come back and check them out! And hey, right about now I bet you're starting to think of all the ways you'd use these figs. You're in luck, because the California Fig Advisory board has offered to send one lucky reader a giant box of figs for their very own!
A couple caveats: Really, this is a lot of figs. If you don't think you will be able to use them (or share with your friends) please reconsider entering! I wouldn't want to poor figs to waste away in your fridge! Secondly, you'll need to be either at home for the delivery, or give them an address at which you'll be there for delivery. Even though it's late August it's still quite hot in many parts of the country, and you won't want the figs sitting out in the heat!
To enter just leave a comment on this post letting me know what you'd do with the figs! I'll keep entries open until Friday, August 27 at 7 am CST. Because this is fresh fruit, the giveaway is for US addresses only!
For extra entries
Follow @stetted on Twitter and Tweet about the giveaway, then come back here and leave a new comment letting me know you've done so.
Become a fan on Facebook, then come back here and leave a new comment letting me know you've done so.The fig giveaway is now CLOSED! Thanks everyone for entering, and congrats to Jayme, who won!=========Want more figgy recipes? Check out fellow bloggers who are also posting their fig creations!
Disclaimer: The California Fig Advisory Board provided me with fresh and dried figs. I was under no obligation to write about figs or hold a giveaway.
For more pizza inspiration, check out my Pizza Night board on Pinterest!
Follow Megan Myers | Stetted's board Pizza Night on Pinterest.