I know. Fall just started, and you're already sick of pumpkin recipes. But I bet secretly you buy thick slices of pumpkin loaf and wolf it down at your desk when no one is looking. It's OK, really. We're meant to like pumpkin, especially when the colored leaves start dropping.
Now, I know "persimmon" might seem like a scary thing, even if you live in a place where they grow. It's hard to know what to do with them if you're unfamiliar, especially if you don't have the brain-bursting soft variety. But these little hard ones, the fuyu persimmons, are darn sweet as well. In fact, they're a good stand-in for apples, if you happen to like baking with apples. I find they are easiest to prepare for baking by slicing off the top, quartering, and then peeling each quarter with a paring knife before dicing.
Some like to put icing on tea breads, but to me that's just taking things a little too far. Most tea (or "quick") breads are already quite sweet, and I prefer to let the natural ingredients shine rather than pure sweetness. Walnuts are an excellent alternative, as the crunchy-yet-creamy nut is a nice contrast to the pumpkin and persimmon. I added nuts to both the batter and the top, resulting in a bread that is studded with hearty flavor, but you can just put the nuts on top or omit them altogether. Pepitas, pumpkin seeds, are a nice alternative if you don't like nuts but still want some crunch.
I'm addicted to self-rising flour lately, but if you don't have it, you can swap in regular flour, and be sure to add 1 1/2 teaspoons baking powder and 3/4 teaspoon salt to your dry ingredients.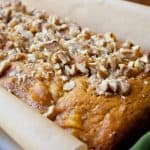 Pumpkin Persimmon Walnut Bread
Ingredients
1 1/2

cups

self-rising flour

3/4

teaspoon

ground cinnamon

1/4

teaspoon

ground nutmeg

1/4

teaspoon

ground ginger

1

cup

pumpkin purée

1/4

cup

neutral oil

such as grapeseed

2/3

cup

sugar

2

large eggs

1

cup

diced fuyu persimmons

about 3-4

1

cup

walnuts

about 3.5 ounces
Instructions
Preheat oven to 350°F and prepare a loaf pan. I like to use baking paper laid across in two perpendicular strips, as it doesn't require extra oil and makes cleanup easy.

In a small bowl, mix together flour and spices. In a larger bowl, beat together pumpkin, oil, sugar, and eggs. Add flour mixture, a little at a time, until just mixed. Stir in persimmons.

Chop the walnuts and reserve about 1/4. Fold 3/4 of the walnuts into the batter.

Pour batter in the prepared pan and scatter the remaining walnut pieces on top.

Bake for about 60 minutes, or until a toothpick inserted in the center comes out clean.

More pumpkin recipes you might like: Chocolate Pumpkin Bundt Cake – Stetted Pumpkin Gnocchi – Stetted Pumpkin Sage Baked Ziti – Oh My Veggies Pumpkin Snickerdoodles – Dessert for Two S'Mores Pumpkin Pie – Love & Olive Oil
For more tasty inspiration, check out my Breads board on Pinterest!