Pumpkin bread pudding is a great fall dessert. Leftover bread combines with a pumpkin custard for a luscious way to end a meal!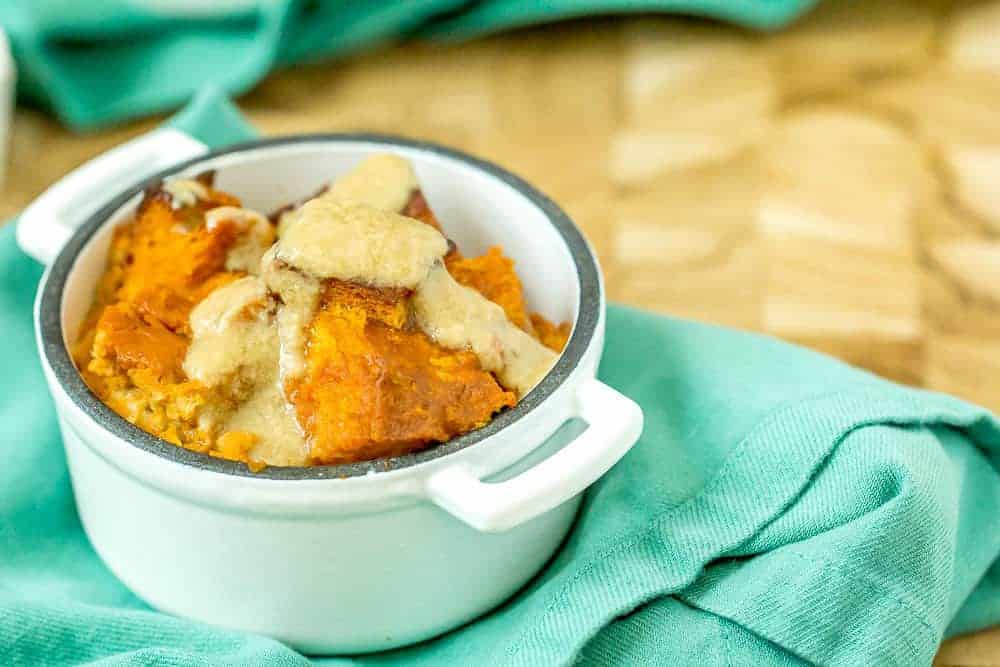 I'm excited to be sharing another pumpkin recipe with you! If you saw my pumpkin charlotte recipe you already know I'm a huge fan of pumpkin, and have been since before those PSLs came around.
I always keep some pumpkin on hand in the pantry, just in case I get a craving. (Pro tip: Target always has pumpkin on clearance after Thanksgiving, and it has a long shelf life!)
But while I might be craving a nice slice of pie, I don't generally crave making a pie crust. Pie crust and I have a history. Pie crust has made me cry.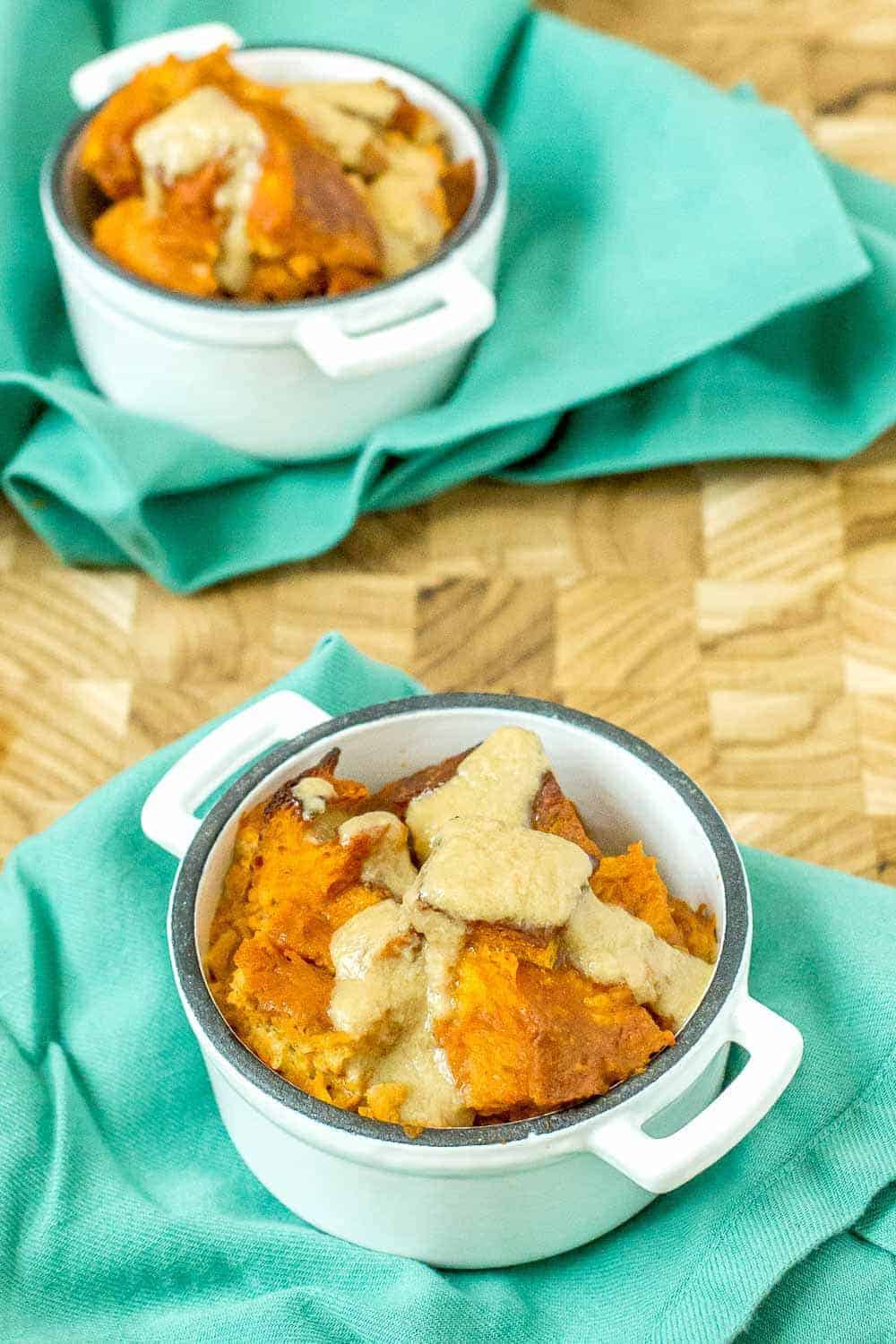 So, I allow pie crust into my life every once in while, but I like to look for alternatives to get that pumpkin fix. This time, I knew just what to do, thanks to the leftover loaf of bread on the counter.
Pumpkin bread pudding comes together really easily, and because you have that creaminess already coming from the pumpkin to add to the custard, you don't need to add as much milk or eggs as you would in a regular bread pudding. I'm not going to call this dessert healthy, but it's healthy-er? Healthy-ish? Let's just go with the fact it's delicious.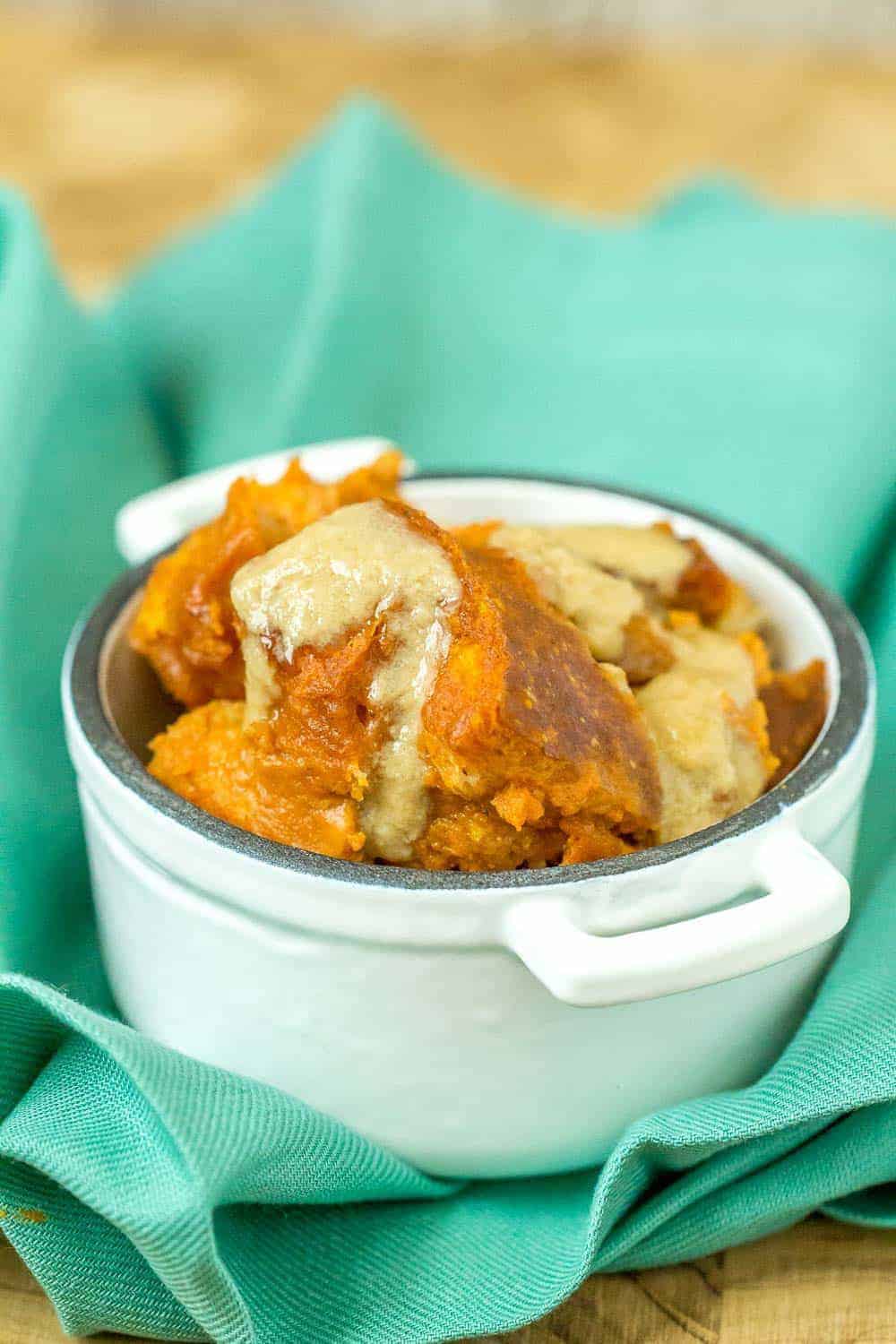 You can use any bread you like. I used an artisan loaf from Costco, but this would be especially good with challah or even a brioche. Just don't use sliced sandwich bread, please! You need a loaf from the bakery section for this.
Cut the bread as evenly as possible into 1-inch cubes, and make sure you don't leave any pieces uncoated with the custard mixture. The longer you let it rest, the more the bread will soak up the liquid, so this is a perfect dessert to make ahead and leave in the fridge before baking.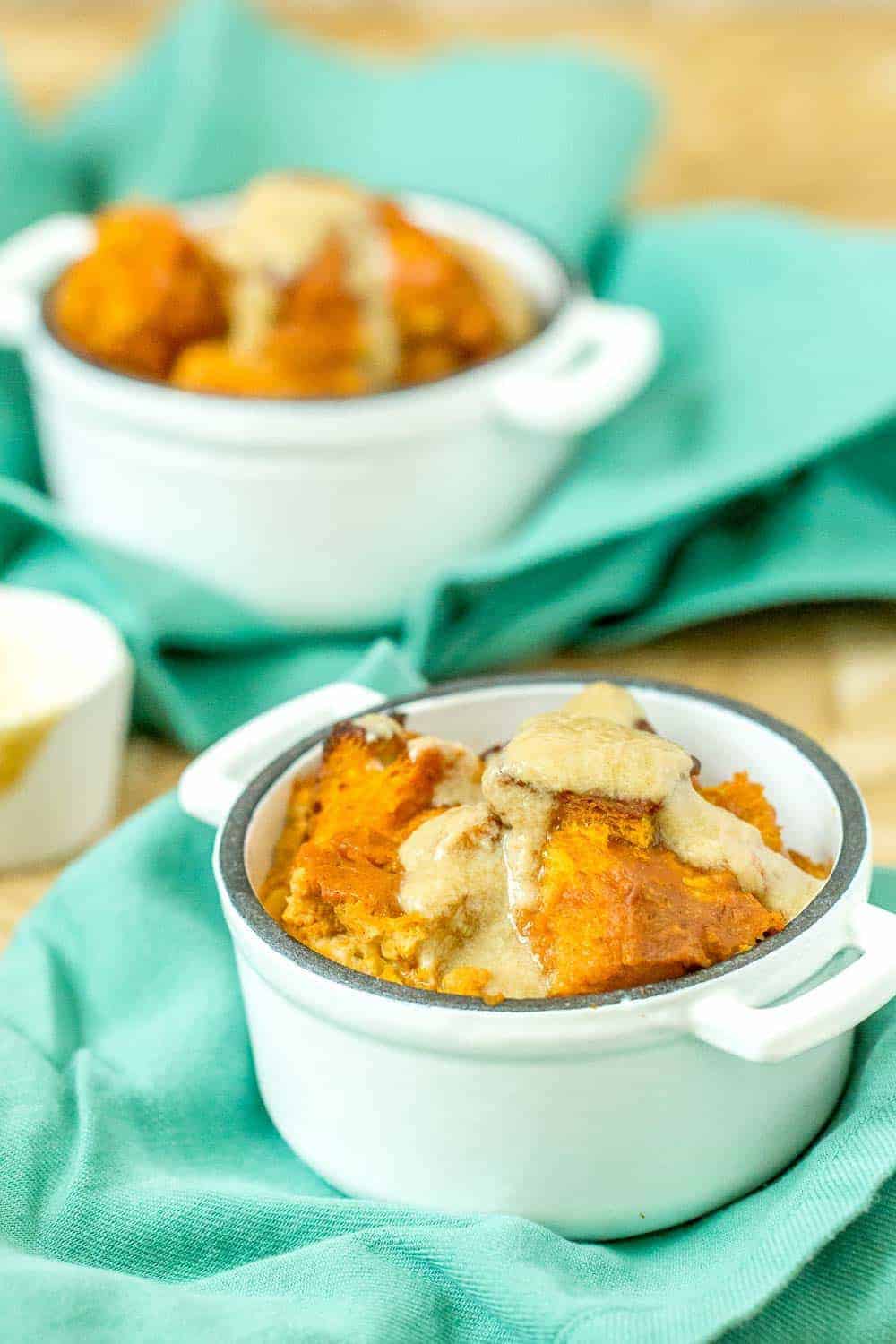 If you like, you can top it with a tasty whiskey butter sauce that I like to use for waffles. Or just stick with ice cream or whipped cream!
And, just so you know, pumpkin bread pudding is just as good cold as it is warm. Putting that out there just in case there are leftovers.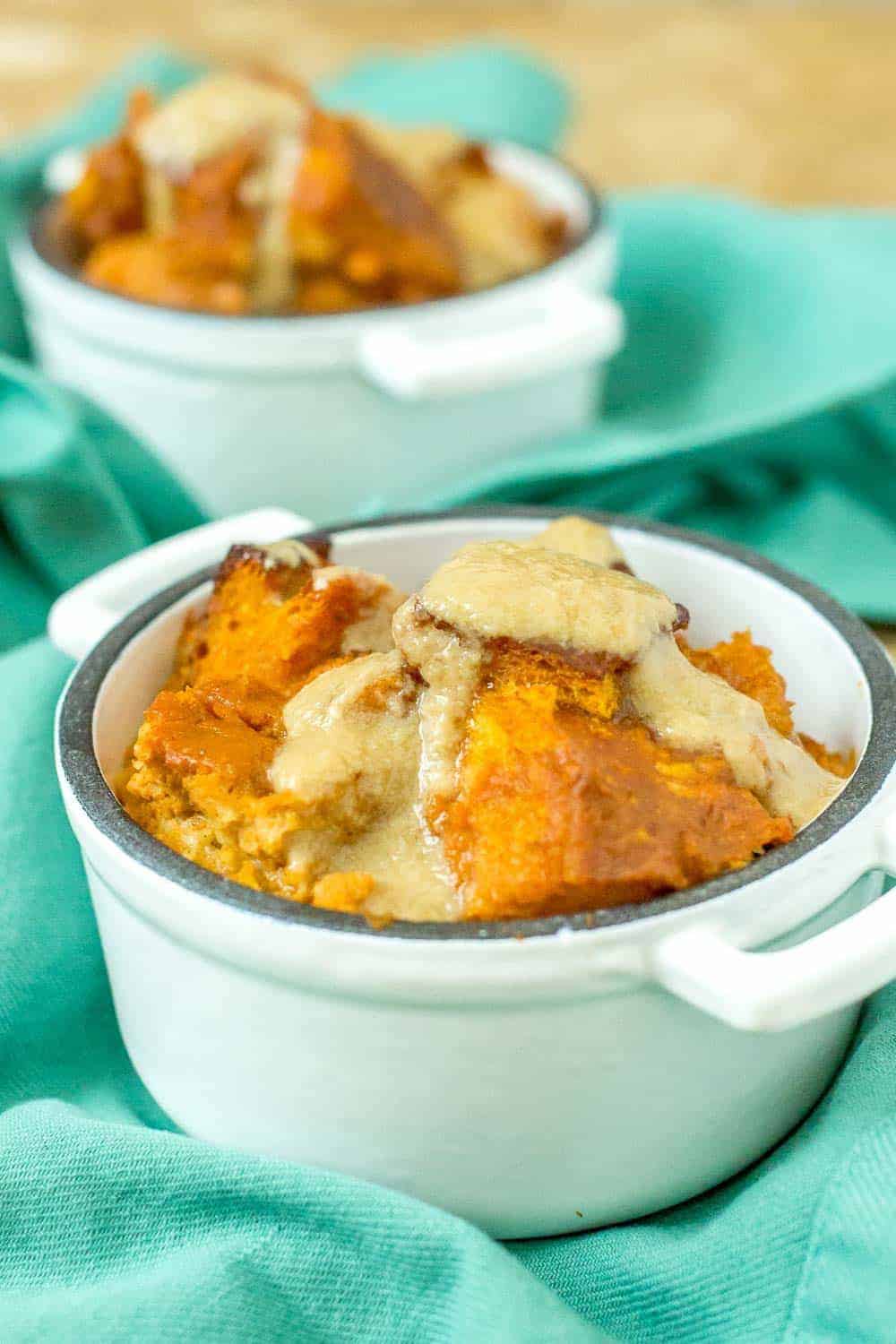 Looking for more pumpkin ideas? Try my chocolate pumpkin bundt cake, pumpkin scones with white chocolate chips, or My Baking Addiction's Pumpkin Roll, Pumpkin Cheesecake, and Pumpkin Bread.
Pumpkin Bread Pudding
Pumpkin bread pudding is a great fall dessert. Leftover bread combines with a pumpkin custard for a luscious way to end a meal!
Prep Time: 50 minutes
Cook Time: 40 minutes
Total Time: 1 hour 30 minutes
Course: Dessert
Servings: 8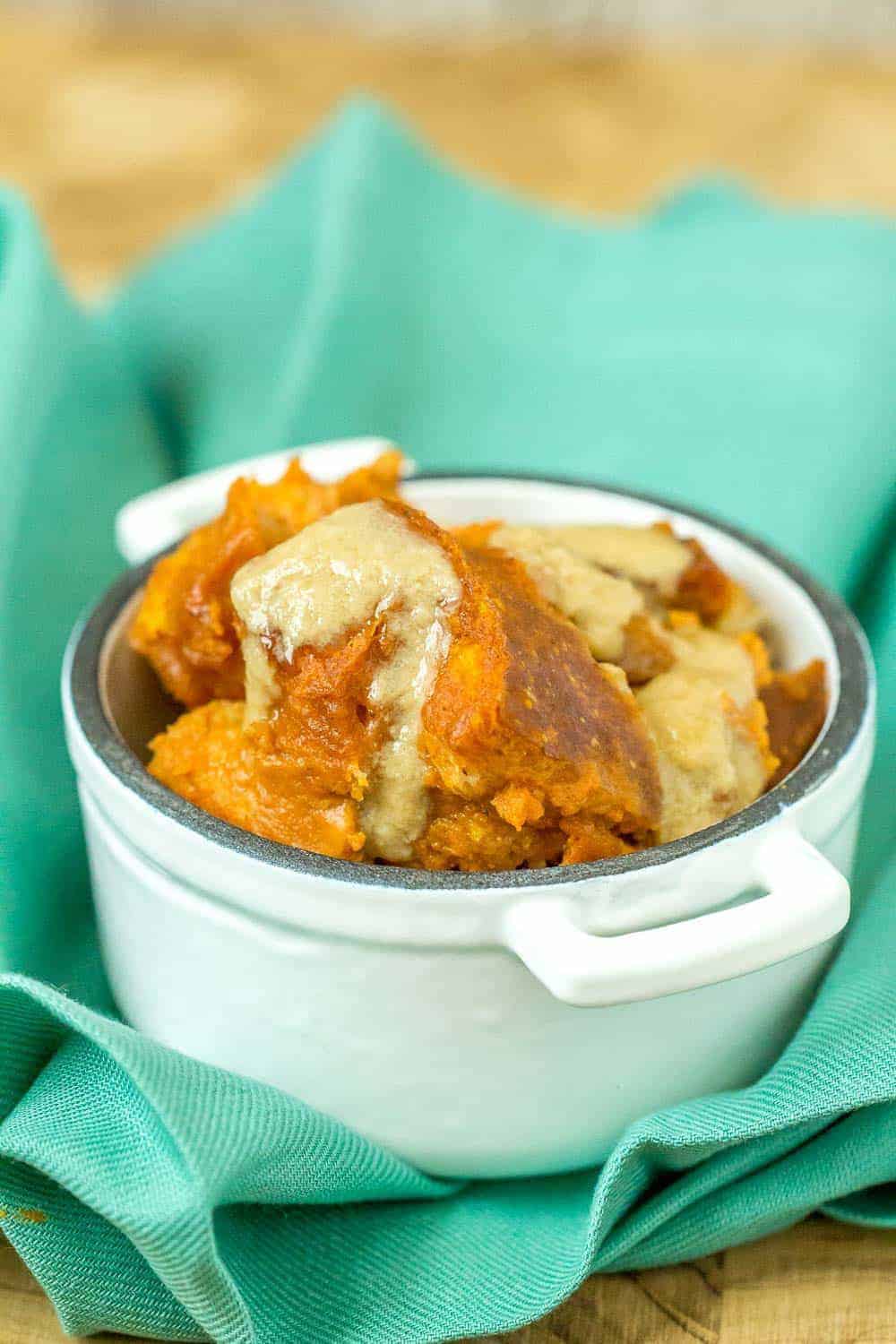 Ingredients
1 1/4 cups milk
1/4 cup brown sugar
1/4 cup pure maple syrup
4 eggs
1 can pumpkin puree 15 ounces
1 teaspoon ground cinnamon
1/2 teaspoon ground ginger
1/2 teaspoon ground cardamom
1/4 teaspoon grated nutmeg
1/4 teaspoon fine sea salt
1/2 pound artisan loaf, challah, or sourdough cubed (7-8 cups)
Optional for serving: ice cream, whipped cream, whiskey butter sauce, caramel sauce
Instructions
In a large bowl, whisk together milk, brown sugar, maple syrup, eggs, pumpkin, cinnamon, ginger, cardamom, nutmeg, and salt until well blended.

Add bread and stir carefully to combine, making sure there are no dry pieces remaining.

Lightly coat an 8x8 square baking dish with nonstick spray. Pour the bread into the dish, arranging evenly in the pan. Pour any leftover custard over the top.

Cover with plastic wrap and let sit at room temperature for 30 minutes, or in the refrigerator overnight.

When ready to bake, preheat oven to 350°F. Remove plastic wrap and bake for 35-40 minutes.

Let cool slightly and serve with your favorite topping.
Nutrition facts per serving
Calories: 228kcal
Fat: 8g
Saturated fat: 2g
Cholesterol: 121mg
Sodium: 470mg
Potassium: 221mg
Carbohydrates: 32g
Fiber: 2g
Sugar: 19g
Protein: 6g
Vitamin A: 169%
Vitamin C: 2.7%
Calcium: 12.9%
Iron: 10.7%