Just because tomato season is over doesn't mean you can't have fresh salsa. If you love fruit salsa, you need to try this persimmon salsa!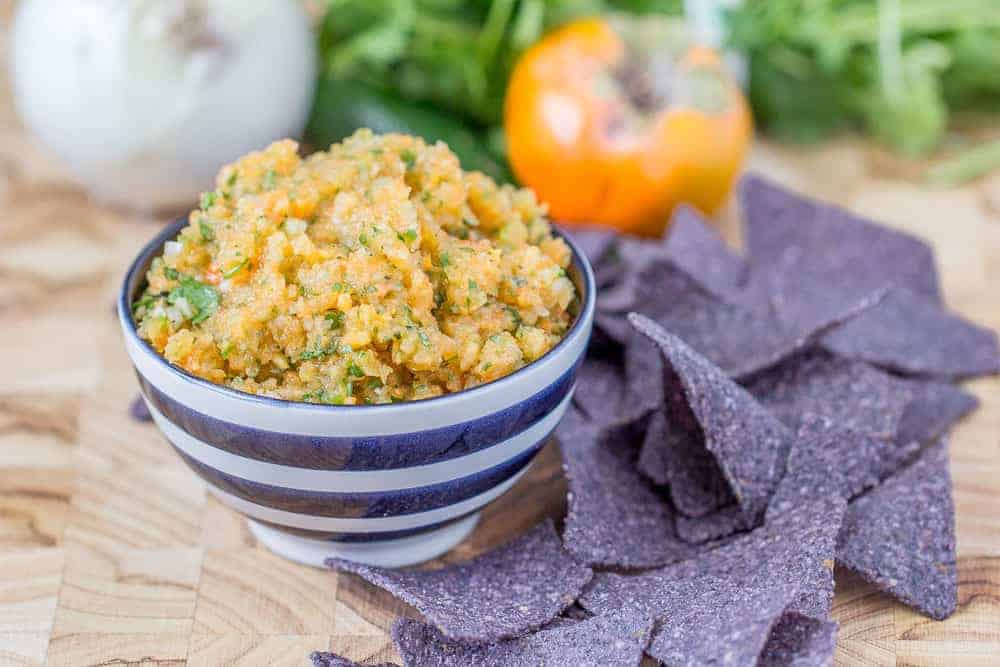 This recipe was originally posted October 30, 2013 and updated October 10, 2017.

We eat a lot of salsa down here. I mean, a lot. In the land of the breakfast taco (and lunch and dinner taco), it's actually hard to avoid salsa.
As if you'd want to.
In past years I canned salsa, even though I haven't quite yet hit upon that perfect recipe for my tastes. This year I didn't get around to any canning, but it doesn't mean I can't have fresh, local salsa. All that's needed is an adjustment of ingredients. Enter the persimmon.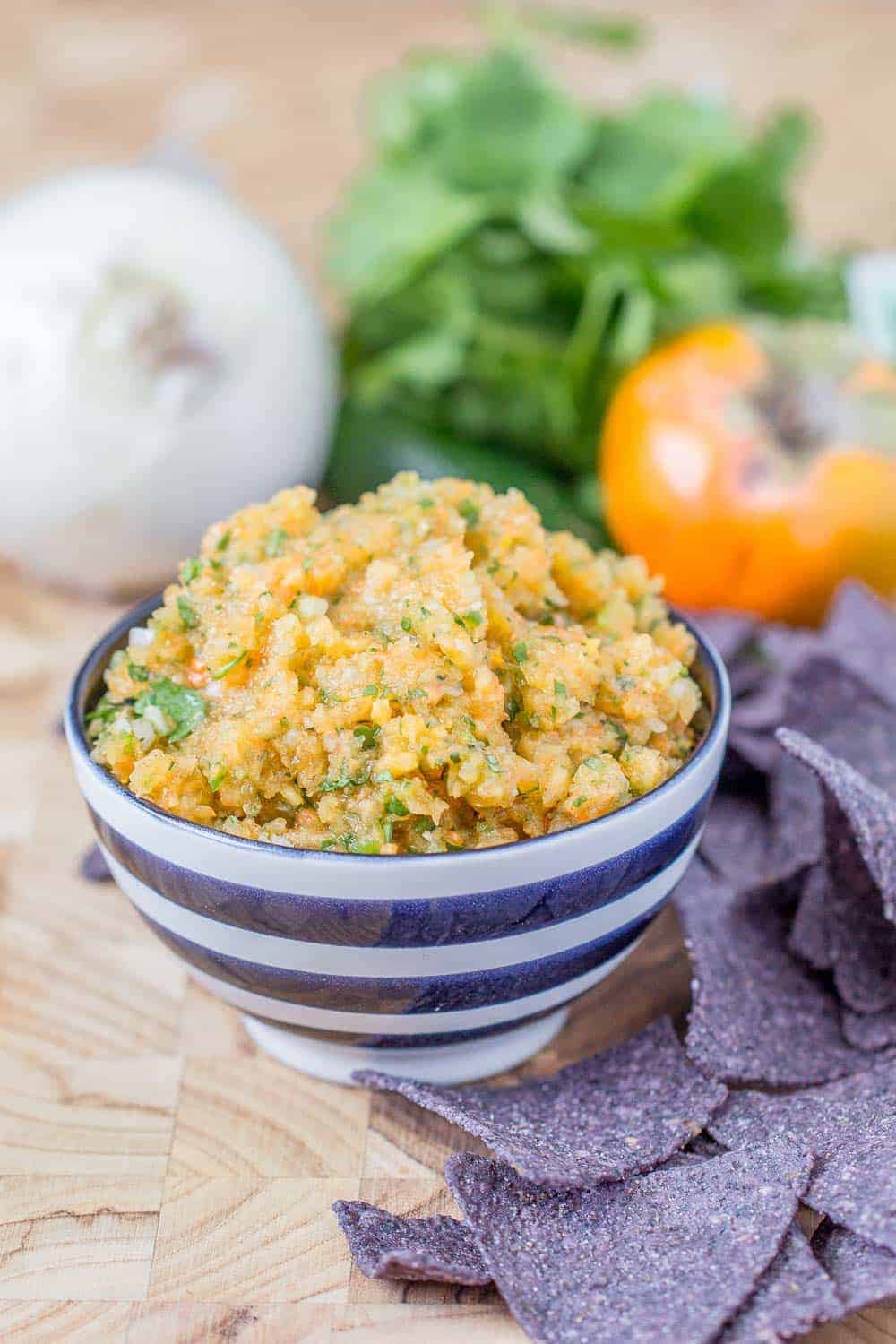 Persimmons are squat, sweet orange fruits that come into their own in fall. While everyone else around here is on pins and needles waiting for the Rio Grande Valley citrus to ripen, I'm getting excited about persimmons. I've made Pumpkin Persimmon Walnut Bread, Persimmon Sweet Potato Soup, and Persimmon Chocolate Cake with them. They're versatile little fruits — I liken them to apples or peaches in their usefulness.
The salsa comes together in a flash, with the hardest part being getting the flesh out of the persimmons. If they are firm, you can slice off the tops and peel them like an apple, then dice.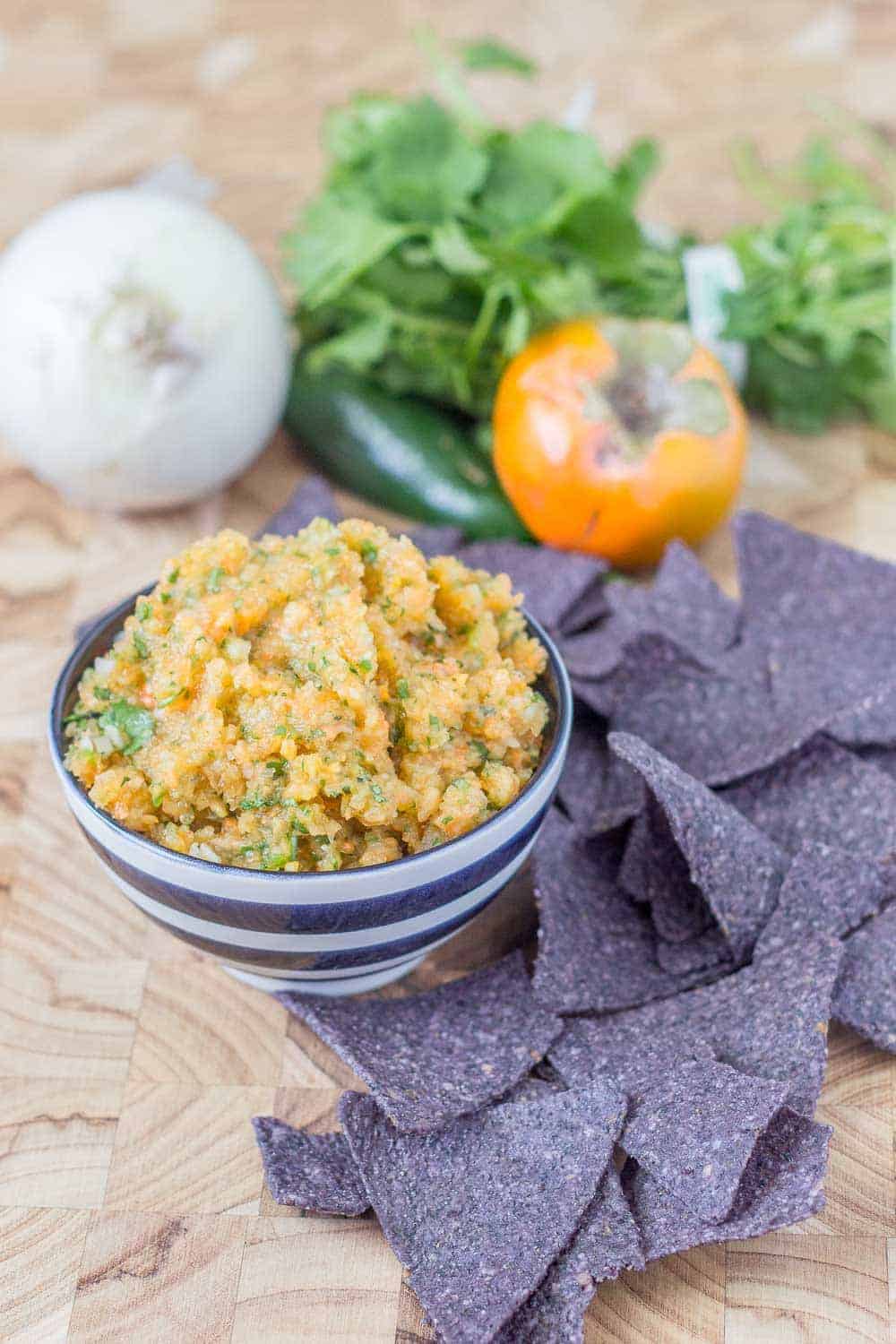 If your persimmons are super ripe, you can easily scoop the flesh out with a spoon. (Be sure to remove any seeds.) A melon baller is also a great tool for this, because then you don't need to worry about peeling! My persimmons are different every time I make this recipe. Sometimes the salsa has more liquid, and sometimes it's more like a pico de gallo. Both ways are perfectly delicious.
When you're preparing the persimmons, don't worry about any dark flecks you see in the fruit, as in the photo below. It's completely normal! The only thing you do need to worry about is choosing your persimmons — this recipe calls for the squat fuyu variety, which can be eaten while hard.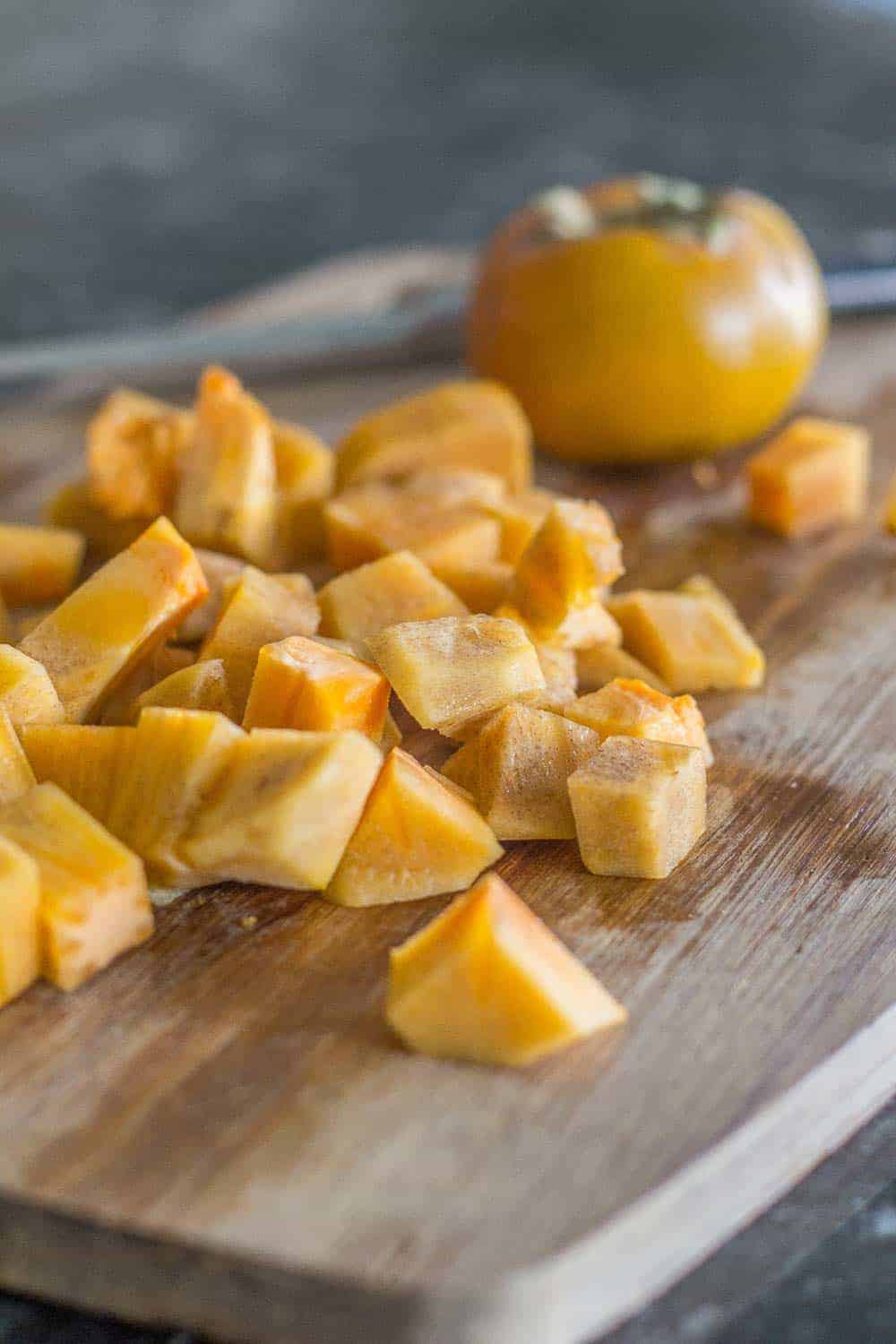 Increase or decrease the amount of jalapeño depending on your tastes. The one I used was about two inches long, and it provided plenty of heat for this batch. The sweetness of persimmons varies as well, so be sure to taste the final product before serving. I used 6 small persimmons, but you might need more.
We enjoyed the persimmon salsa over a pair of gorgeous coppa pork chops from my local butcher, so if tacos aren't your bag, keep the recipe in your pocket for grilled meats, or just serve with chips.
Check out how easy it is to make persimmon salsa in the video below!
Persimmon Salsa
Persimmon salsa is a simple autumn salsa for all your snacking needs. If you like fruit salsa, you definitely need to try it!
Prep Time: 5 minutes
Total Time: 5 minutes
Servings: 4 makes 2 cups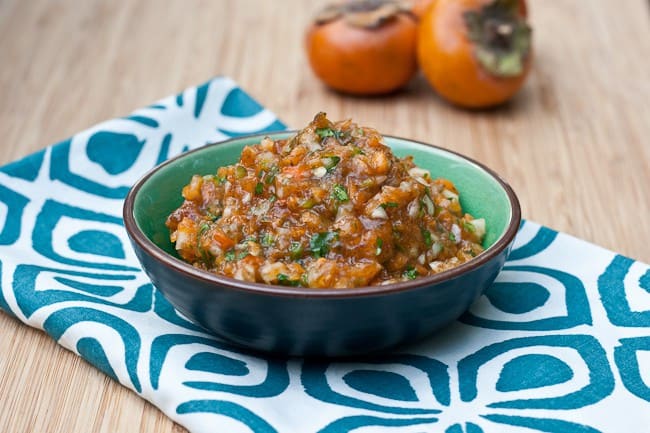 Ingredients
2 cups peeled and diced fuyu persimmon
1/2 cup chopped onion
1 jalapeño , seeded and cut into chunks
1/3 cup cilantro
1 tablespoon fresh lime juice
1/2 teaspoon salt
Instructions
Place all ingredients in a food processor and pulse until desired consistency. Store in the fridge for up to a week.
Nutrition facts per serving
Calories: 160kcal
Sodium: 293mg
Potassium: 395mg
Carbohydrates: 42g
Sugar: 1g
Protein: 1g
Vitamin A: 2.6%
Vitamin C: 103.3%
Calcium: 3.7%
Iron: 16.4%