A recipe for a spiced goat stew to warm up your cold nights.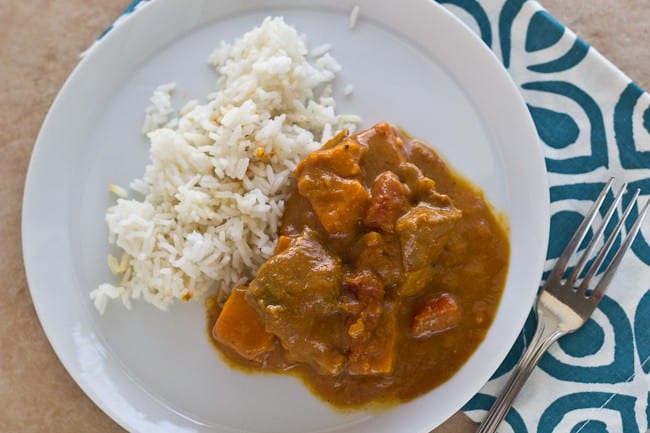 If you live in Austin (or you follow me on Twitter), you know about cedar. Or more specifically, the troubles it causes at least half the population each winter. While we are blessed with gorgeous blue skies and balmy temperatures, they can't really be enjoyed, unless you love your eyes swelling shut and have stock in tissues.
I've tried lots of things to help me combat "cedar fever," all with limited success. It seems that as soon as something starts to work, the wind changes and the pollen knows how to ruin the good thing I have going. These days, I've decided to clear my sinuses with fragrantly spicy foods, like this goat curry.
Goat is one of the most popular meats in the world, yet it is still rather hard to find in the United States. We're lucky in Austin in that we can easily get a variety of cuts from a local farm. It's more expensive than beef, but I try to buy it every few months to not only support the farm, but to hopefully encourage more goat meat into the marketplace.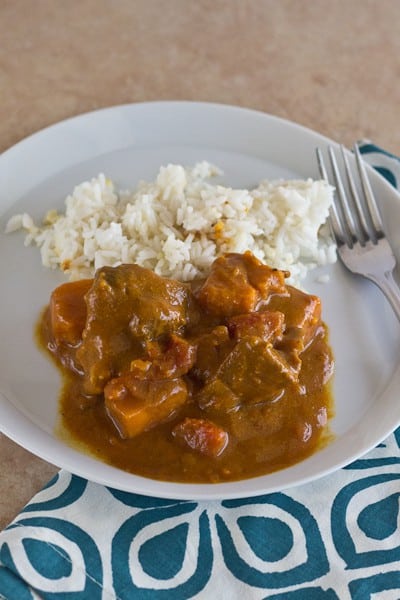 If you don't have goat in your area, lamb is a fairly good substitute here. Make sure your spices are fresh — they should still be very pungent! If not, toss them and get a fresh batch. I buy them in small quantities from the bulk section of the store to save money.
Goat Curry
Prep Time: 10 minutes
Cook Time: 2 hours 30 minutes
Total Time: 2 hours 40 minutes
Servings: 4 -6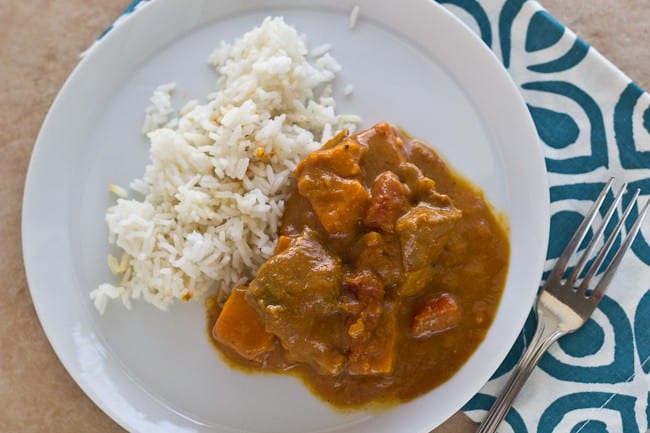 Ingredients
2 tablespoons butter
2 tablespoons curry powder , I used Madras Curry from Penzey's
1 tablespoon ground coriander
1/2 teaspoon ground cardamom
1 teaspoon ground black pepper
1 teaspoon ground ginger
2 teaspoons salt
1/2 teaspoon turmeric
1 pound goat stew meat
1 medium onion , diced
1 pound sweet potato , diced
1 can coconut milk
1 can diced or crushed tomatoes
2 tablespoons tomato paste
1 cup chicken stock
Instructions
In a dutch oven or stock pot, melt the butter over medium heat.

Combine the spices together in a small bowl, then stir into the butter and cook until fragrant.

Add the goat meat and cook until browned. Add onion and cook until almost translucent.

Stir in remaining ingredients and bring to a boil, then reduce heat and let simmer for at least two hours. Serve with rice or couscous and naan.
More goat recipes you might like:
Caribbean Goat Stew – Love and Duck Fat
Get Your Goat Tacos – Stetted
Grilled Goat Chops with Garlic, Oregano and Lemon – The Splendid Table
Scott Conant's Moist-Roast Capretto – Wall Street Journal
For more tasty inspiration, check out my Recipes from Stetted board on Pinterest!
Follow Megan Myers | Stetted's board Recipes from Stetted on Pinterest.