Fend off the chilly evenings with this slow cooked meal.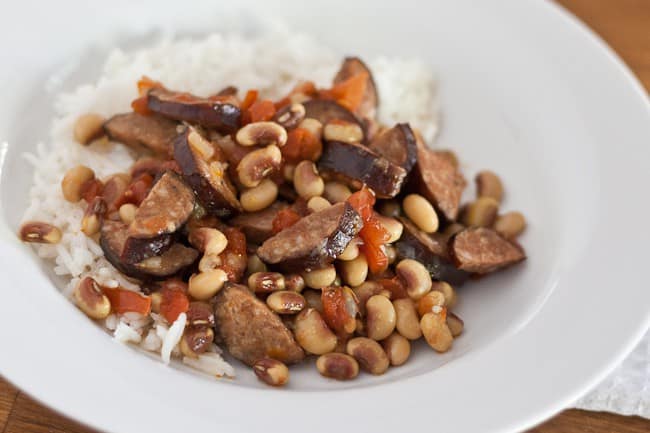 Being a parent is a lot about changing your expectations. Rolling with the punches. Trying to figure out what this week's rejected food is. Planning a Halloween costume in this era of the short attention span. Most of the time the only thing you can do is shrug your shoulders and say, Kids, man.
We were surprised recently by the appearance of purple hull peas in our Local Box. Normally these fresh peas are abundant in the summertime, but our growing season has been whack, yo. Short peach season, practically no apple season, fewer summer squash and tomatoes. Halfway through October, now the summery things are popping up. Eggplant, peas, okra. My basil is thriving. Plants, man.
Purple hull peas kind of throw me for a loop, since I'm neither a native Southerner nor a lover of beans. (Purple hull peas are beans similar to black-eyed peas, except they have a purplish dot, and gorgeous pods.) Since it has been so rainy lately, I knew the best thing to do: Throw 'em in the slow cooker.
Add some kielbasa and a few other ingredients, and you're ready to go. If you don't have hull peas, you can use canned black-eyed peas.
Slow Cooker Peas and Smoked Sausage
Prep Time: 10 minutes
Cook Time: 8 hours
Total Time: 8 hours 10 minutes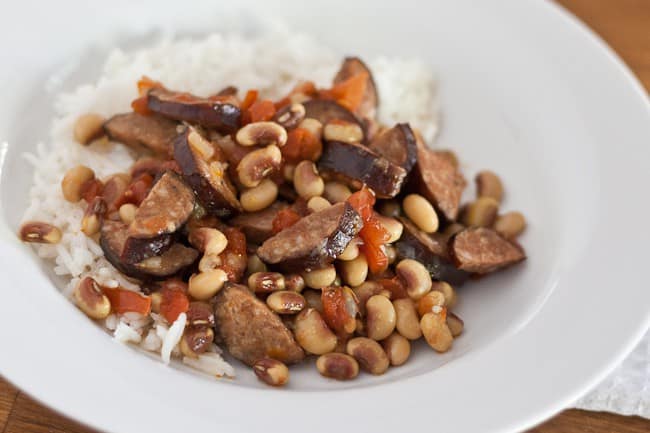 Ingredients
2 cups fresh purple hull peas
2 1/2 cups vegetable or chicken stock
12 ounces smoked sausage or kielbasa , sliced
1 large tomato , diced (about 8 ounces)
1/2 cup diced onion
2 cloves garlic , minced
Salt and pepper
Instructions
Add all ingredients to slow cooker and cook on low for 8 hours. Season to taste before serving (depending on what kind of broth and sausage you use, the amount of salt and pepper needed will vary). Serve over rice, if desired.
More slow cooker recipes you might like:
Slow Cooker Asian Short Ribs – Healthy Green Kitchen
Slow Cooker Chicken Tacos – Stetted
Slow Cooker Curried Chicken – Stetted
Slow Cooker Italian Pot Roast – The Lemon Bowl
Slow Cooker Lasagna with Ground Pork and Spinach – Stephie Cooks
For more tasty inspiration, check out my Pork board on Pinterest!
Follow Megan Myers | Stetted's board Pork Recipes on Pinterest.