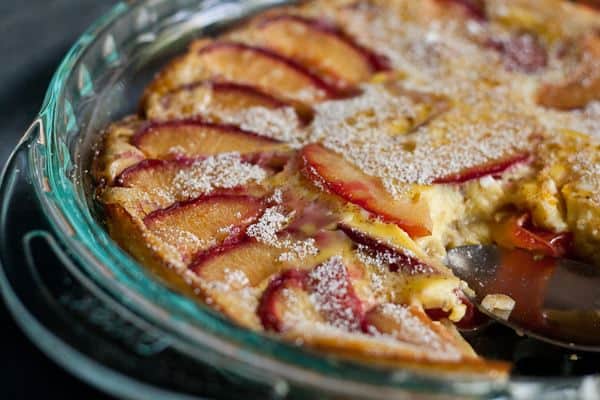 Before I had my baby this summer, I was basically ALL THE FRUIT for my diet. We were buying massive amounts of fruit, and my fruitatarian son and I plowed through them. It was out of control. Or at least as out of control things can be when you're talking about fruit consumption.
Eventually I had a frantic plea to a friend, who works next to the flagship Whole Foods, for more fruit, and she came through like a champ, bringing me big bags of grapes, cartons of blackberries and raspberries, and a handful of plums.
The juicy plums turned into clafouti, and I made it twice since then. I maybe ate half of this last pan after I had the photos taken. Maybe.
More fruity breakfast recipes that you might like:
Blueberry Lemon Curd Coffee Cake – Good Life Eats
Blueberry Waffles – Stetted
Cranberry Pecan Streusel Coffee Cake – Stetted
Lemon Ginger Crepes with Blackberry Whipped Cream – Pineapple and Coconut
Mixed Berry Mascarpone Scones – Bluebonnet Baker
For more tasty inspiration, check out my Recipes from Stetted board on Pinterest!
Follow Megan Myers | Stetted's board Recipes from Stetted on Pinterest.