Hey.
You look pretty today. Have you been working out? No? Well, good, because these potatoes will totally kill your diet.
I'd apologize for them, but they're really, really good, and honestly? I don't do stuff like this very often.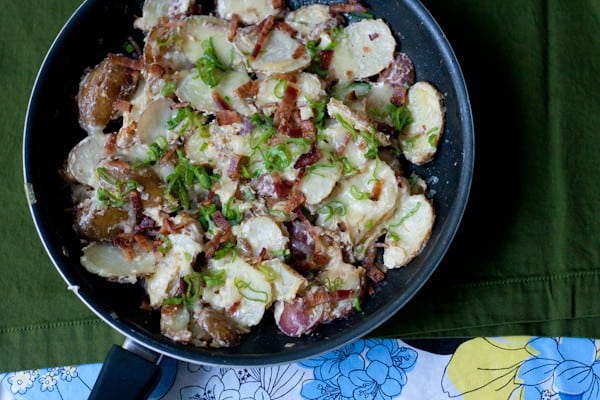 Potatoes. Onions. Cheese. Bacon fat. And look, it totally has green stuff right there.
I'll look away if you decide you don't want to share.
Also? You'll be seeing that tablecloth all summer long. It's from HomeGoods. You're welcome.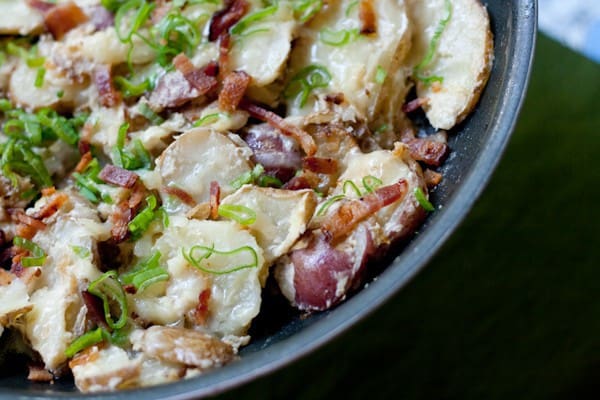 Loaded Skillet Potatoes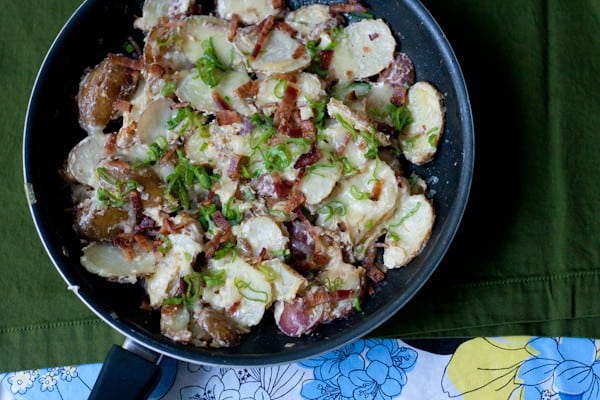 Ingredients
1-2 slices thick cut bacon
3/4 pound new potatoes
1 clove garlic
1 small white onion
2 tablespoons cream cheese
1/2 cup shredded cheddar cheese
2 tablespoons chopped fresh chives
Salt and pepper
Instructions
In a large skillet, cook the bacon until crisp. Set aside on a paper towel. Do not drain the skillet.

Slice the potatoes into rounds and add them to the hot skillet with the bacon drippings. Mince the garlic, and dice onion. Add the garlic and onion to the skillet. Cook over medium until potatoes are tender but not mushy.

Stir in cream cheese and cover briefly to help the cheese melt. Once the cream cheese is fully incorporated, season to taste. Scatter on the cheddar cheese. Crumble the cooked bacon and sprinkle it, along with the chives, onto the potatoes. Do not stir. Remove from heat, and let potatoes rest about 5 minutes before serving.
More skillet recipes you might like:
Chorizo Chickpea Skillet – Nutmeg Nanny
Hoe Cakes with Jalapeno Blueberry Sauce – Stetted
Lamb, Eggplant and Fig Skillet – Stetted
Skillet Chicken Tortilla Pie – Pinch of Yum
Skillet Peach Cobbler – Savory Simple
Disclaimer: I would have blogged this anyway, but it's also over at Greenling.com as part of our partnership.
For more tasty inspiration, check out my Recipes from Stetted board on Pinterest!
Follow Megan Myers | Stetted's board Recipes from Stetted on Pinterest.