Southern-style hoe cakes with blueberry jalapeño sauce give your breakfast a little oomph!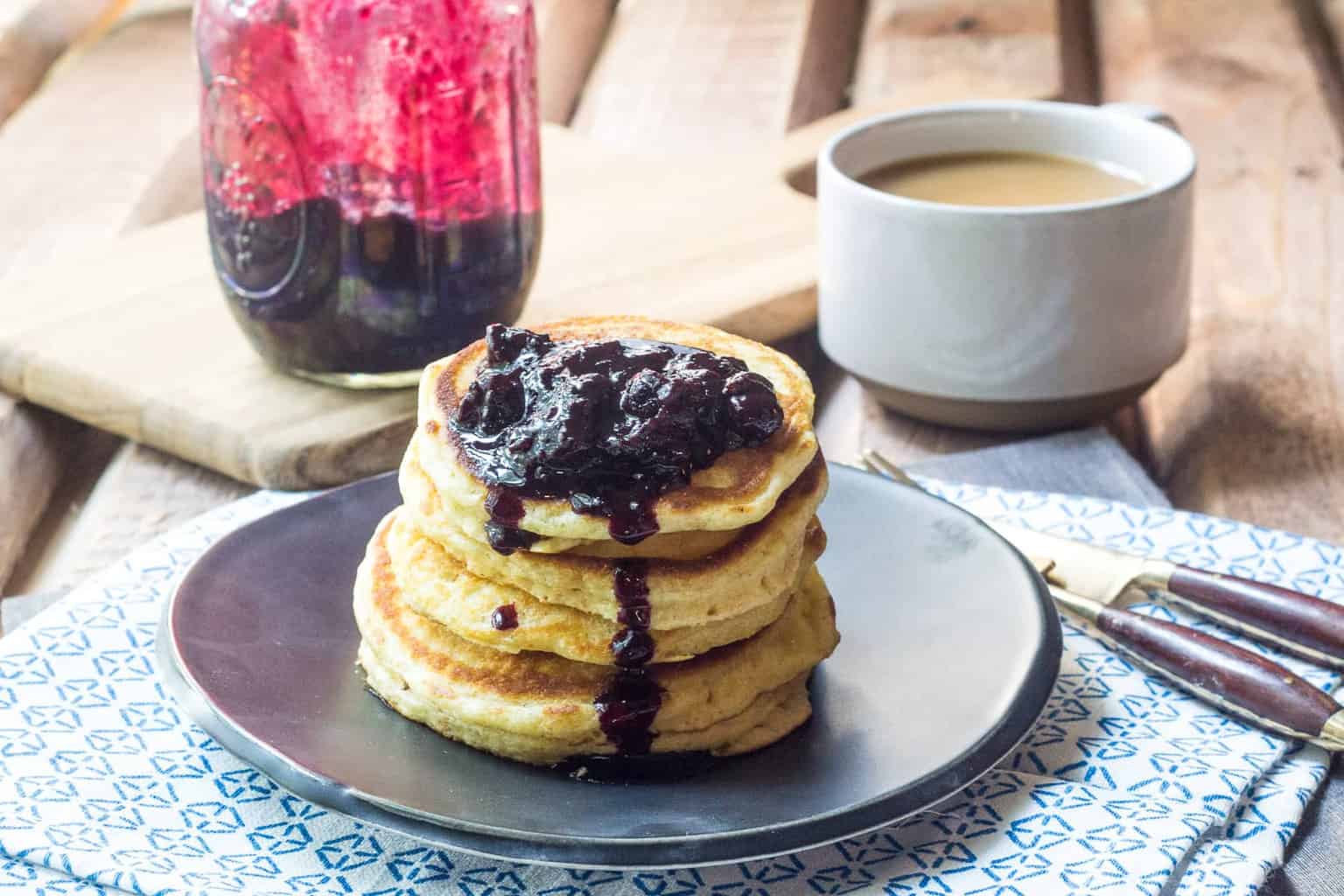 When you have children, it just seems like pancakes become a part of your weekly routine. This isn't really a bad thing — after all, pancakes are pretty fantastic — but the taste buds of my kids haven't quite caught on to the myriad ways to prepare pancakes. While they're perfectly happy with the plain-and-maple-syrup combination, I often find myself looking for alternative ways to enjoy pancakes.
Lately I've been getting into using cornmeal more in my cooking, so it makes sense that batches and batches of hoe cakes weren't too far down the road. Hoe cakes are a staple of Southern cooking, though here in Texas we don't seem to see them as much. (I'll let someone else argue whether Texas is part of the South.) These hearty little cakes are crisp on the outside but tender on the inside, making them perfect for people who want some substance to their breakfast.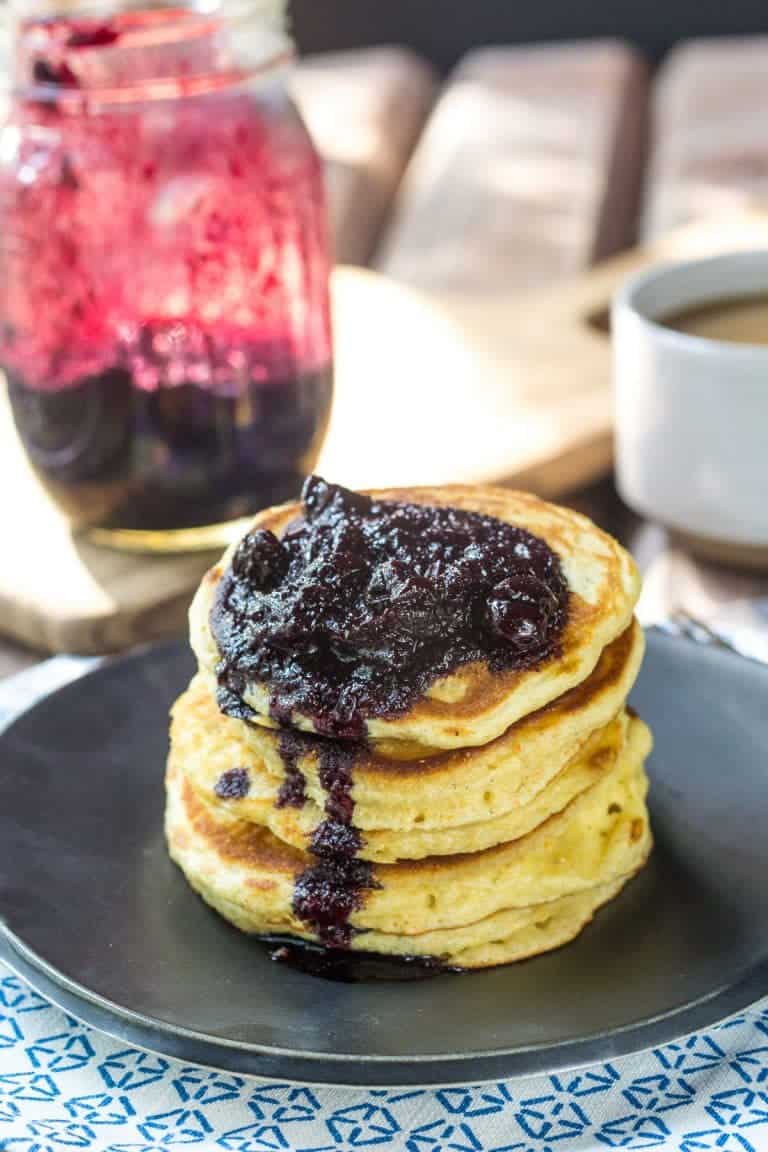 Hoe cakes are excellent drizzled with sorghum syrup or molasses, or even plain if you happen to cook them in bacon fat on a cast iron skillet. For this batch, however, I decided to make these a bit of a last blast of summer and use the very last of the season's blueberries and fresh jalapeños.
The blueberry jalapeño sauce comes together quite easily, requiring minimal hands-on cooking. If you've made jam before, you've basically already made a sauce, just cooked longer! Feel free to adjust the sauce to your tastes, adding more or less sugar or jalapeño. Make sure to mash the blueberries enough to have the juices extracted, which will help it get nice and saucy. If you want a smoother sauce, you can always purée the sauce in a blender or put it through a food mill. I prefer the pieces of blueberry and unexpected bite from a sudden jalapeño.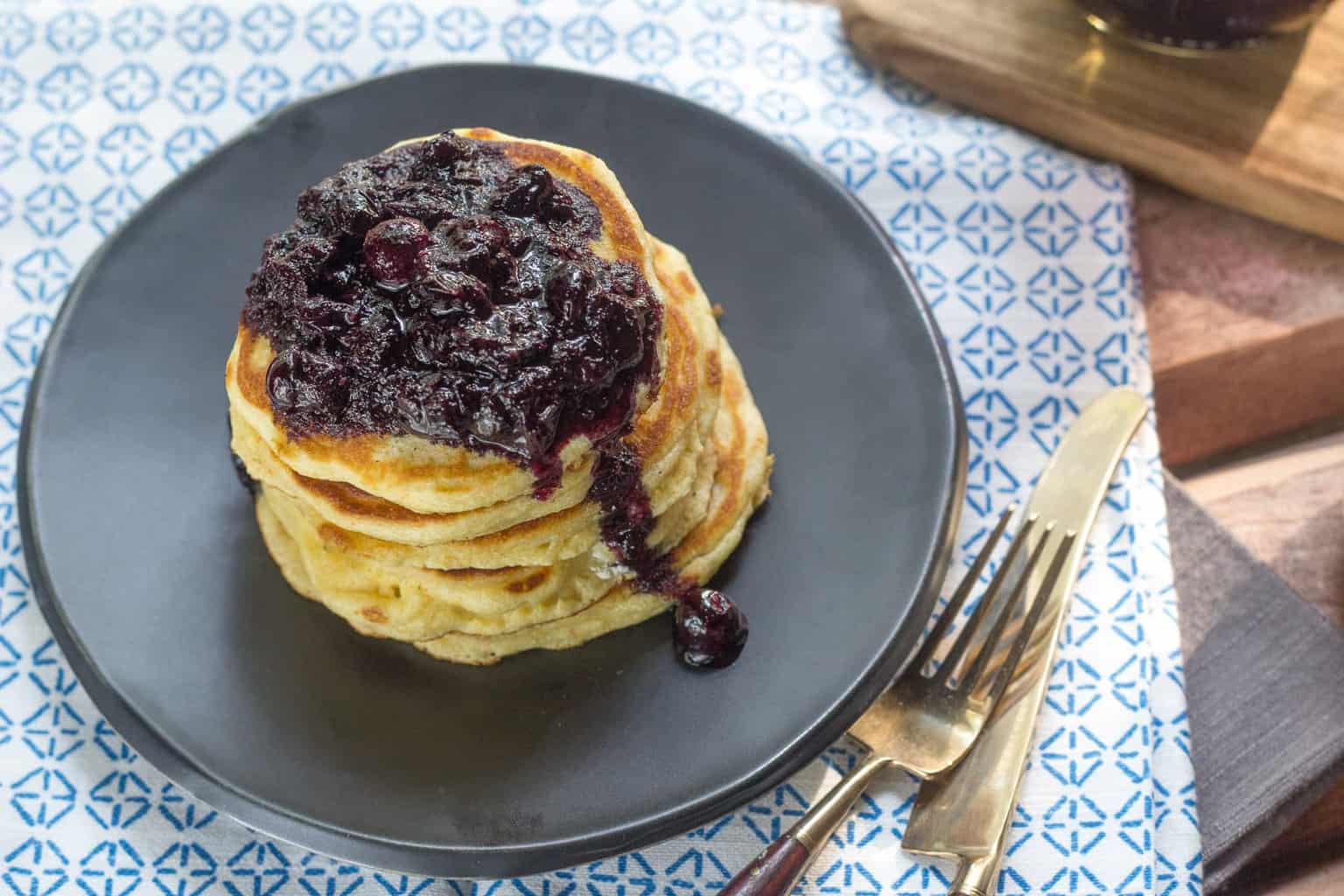 While you might be tempted, don't skimp on the buttermilk or butter for this recipe. The flavor just won't be the same, and you won't get the nice crisp exterior if you decide to use a canola spray instead of butter.
You'll love these hoe cakes with blueberry jalapeño sauce for breakfast or brunch! You can even add whole corn kernels to make them a bit more savory and add them to your dinner repertoire. Go for it!
For more morning inspiration, check out my Breakfast board on Pinterest!
Follow Megan Myers | Stetted's board Breakfast on Pinterest.