Kitchen Play: Naughty & Nice
This post contains affiliate links. As an Amazon Associate, I earn from qualifying purchases.
It's December, and we all know that means holiday entertaining. And holiday entertaining means holiday drinks.
When Casey contacted me about preparing a course for the Kitchen Play Progressive Party, I was more than excited. When she revealed that I would be working to create a cocktail using spices from MySpiceSage.com, I was immediately inspired.
What's MySpiceSage.com? This online spice store has quickly moved to the top of my list for ingredient sourcing. Not only do they offer more than 400 different products, but they also organize them in a way that makes it easy for a cook to be inspired. Categories like fruity, nutty, warm, and sweet help to sort out the bevy of spices, and each spice has its own notes about the best way to prepare it. Free samples are offered with each order, providing a great way to try things you might otherwise pass by. Plus, because everything is sold in bulk, you're not paying that premium for the tiny jar most spices are sold in at grocery stores – you're only paying for high-quality spices.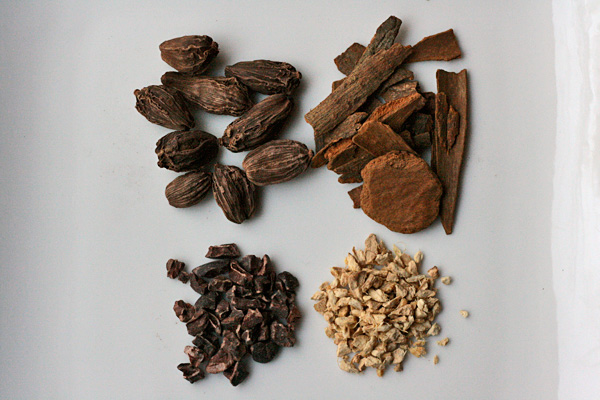 When I think of winter flavors I think of warm aromas and nose-tingling spices. I knew I wanted to work with cinnamon and black cardamom, and I thought it would also be fun to experiment with cracked ginger and cacao nibs. And I couldn't back down from the temptation of bhut jolokia – the ghost chile.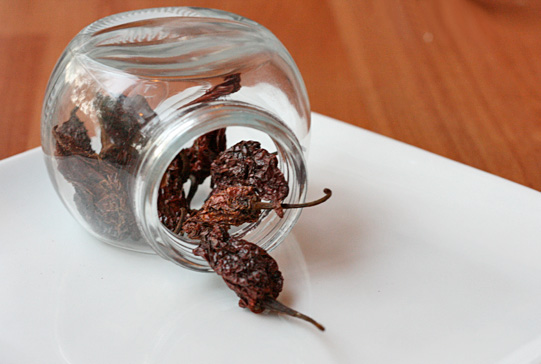 Bhut jolokia (also known as naga jolokia) is the hottest known pepper on record, with a Scoville rating of about 1 million units. The Red Savina habanero comes in at a measly 500,000 units. We're working with some pretty powerful stuff, here, and the trick to utilizing it in a recipe is making sure you still get the flavor of the pepper without either choking from the heat or diluting it too much.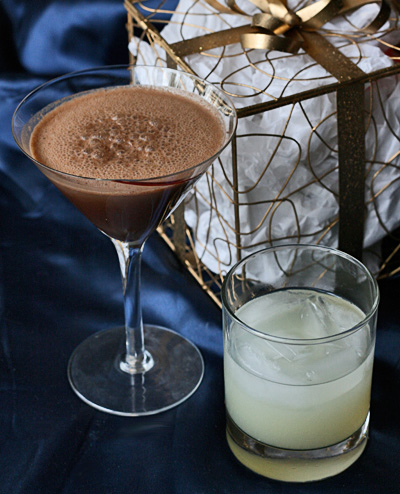 For the Progressive Party, I've created two cocktails: Naughty and Nice. No matter which list you're on, you should be able to enjoy the flavors of these drinks. Both make use of infused simple syrup, which in my opinion is one of the best ways to add flavoring to drinks.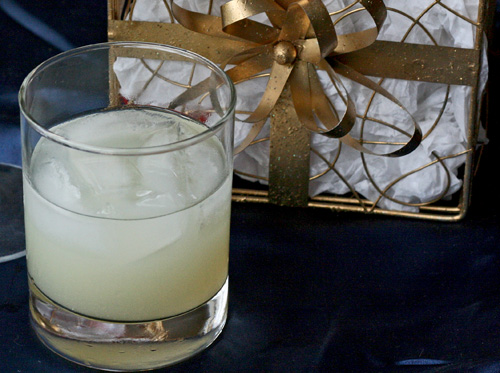 Kitchen Plays Naughty Cocktail
For the simple syrup:
1 cup water
1 cup sugar
1 bhut jolokia pepper*
1 ounce bhut jolokia simple syrup
2 ounces vodka
1 ounce lemon juice
In a small saucepan, heat water to boiling. Add sugar, reduce heat to low, and stir until dissolved. Add pepper and cover. Remove from heat and let stand 20 minutes and strain into a jar. Let cool completely before using.
In a tall glass, stir together syrup, vodka, and lemon juice. Serve over ice in a highball glass.
*Note: It is very important that you use caution when handling the pepper. Avoid handling it directly and only touch through a plastic glove or baggie.
---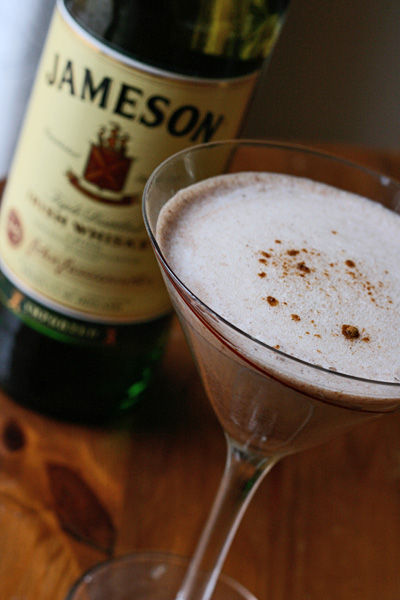 Kitchen Plays Nice Cocktail
For the simple syrup:
1 cup sugar
1 cup water
4 black cardamom pods, crushed
1 tablespoon cinnamon stick pieces
½ teaspoon cracked ginger
1/8 cup cacao nibs
1 ounce Irish whiskey
3 ounces milk
1.5 teaspoons hot chocolate powder
1.5 tablespoons spiced simple syrup
Put everything in a cocktail shaker and shake vigorously. Strain into martini glasses, and add a sprinkling of cinnamon or cocoa powder.
---
Now it's time for you to get creative! MySpiceSage.com is sponsoring a giveaway on Kitchen Play. All you need to do is recreate any of the recipes from this month's Progressive Party, create a blog post that describes your experience and creation, and provide a link to the post on Kitchen Play! All qualifying bloggers in each course will be entered to win $100 (6 prizes total)! This contest is open to U.S. residents only through December 31, 2010. Please review the complete contest rules before entering. Good luck and happy holidays!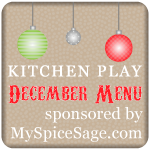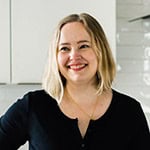 About Megan
I focus on fresh ingredients and easy methods, with spins that keep meals interesting. Dinnertime shouldn't be stressful or complicated, and I'm here to help you enjoy the time spent in the kitchen. Read more…