Cranberry apple crumble is perfectly tart and sweet, for breakfast or dessert.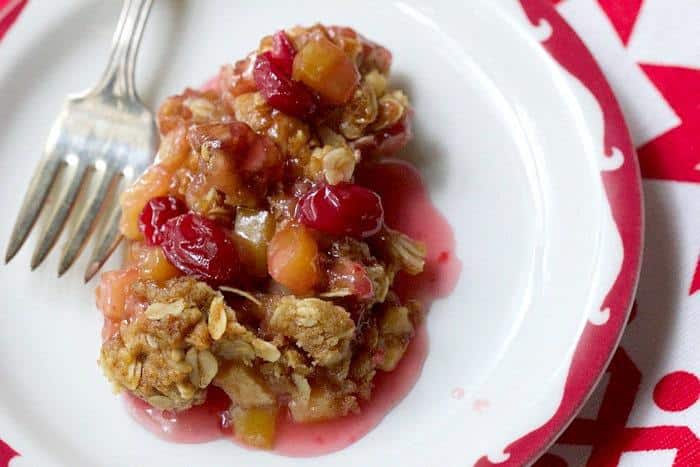 The great debate continues – is crumble for breakfast or dessert? I can see where people get confused. Oats, breakfast. Fruit could go either way. Buttery topping and sweet sauce are usually associated with things like pie. It's a toss up, really.
Although in all fairness, does it really matter which one you choose? You don't have to choose, and can double dip on this dish both in the morning and at night. In the morning, it's wonderful fuel for a day of leaf gathering, gift shopping, or canned food-drive organizing. At night, top it with some ice cream for a sweet spoonful while you snuggle in for a movie.
This crumble uses plump cranberries and crisp apples to make a seasonally focused dish. If you don't have any fresh cranberries left over after Thanksgiving, you can use frozen cranberries just as easily, or even swap in some prepared cranberry sauce. You can use whichever apples you like for this, though the crisper pie varieties will hold up best. I used Honeycrisp, which are my favorite (and not just because they were created at my alma mater, I swear), but Jonagolds and Golden Delicious work well.
The sweetness is cut a bit with the addition of creamy walnuts. I love adding walnuts to recipes these days, as they provide a wonderful layer of flavor as well as texture within a dish. Pecans would work as well, as they are also a nice meaty nut.
The other great thing about crumbles and crisps is that they make a lot at once, leaving you with a dish that is fit for entertaining or one that has you set for breakfast and dessert all week long. Really, no matter how you look at it, it's a winning proposition.