This post contains affiliate links. As an Amazon Associate, I earn from qualifying purchases.
I am an insane busy person. For some reason I keep piling on the projects until I have days where I just implode and lie on the sofa all night watching Dexter because sometimes he seems pretty reasonable.
Anyway. I've got this blog, and another blog, and I'm supposed to be writing for the Examiner, and then I'm working on an iPhone app, and I'm trying to write this book, and I have a 9-5 job, and it's almost National Novel Writing Month and I decided to sign on as a co-municipal liaison because I love NaNo so much (and apparently hate myself). There's also that whole issue of the family and how I need to be there for them.
And I signed up for half-marathon training.
I'm not a runner but I've always had a secret desire to be one. I posted about the Couch to 5k program earlier in the year but as it turns out it is pretty hard to do when you don't have the accountability of other people around. At least for me. So I signed up with a local group and it has been going pretty well. I am s-l-o-w but I've been noticing my runs get better, so I'm hoping my speed improves too.
But now that I'm running 4x a week I am finding I am starved the second I get home. And that means I have to make something.
In Austin breakfast tacos are king, but I'm not always excited about eating tortillas. So when Foodbuzz told us they were once again teaming up with Nature's Pride for the Foodbuzz Festival, I was well on my way to recipe planning.
I'll be honest – normally we buy our bread at the farmers' market, or I make it. But with a kid who is addicted to peanut butter and a husband who loves sandwiches, we often run out before the market. And even though I've tried multiple times, my sandwich bread just doesn't work well for sandwiches. So, from time to time I end up trying to find the healthiest bread at the grocery store. Many brands are now promising no HFCS, but the loaves still have that odd squish factor that weirds me out after eating real bread for so long. When I went to check out the Nature's Pride bread I looked at all the different kinds for quite a while. I'm pretty sure the worker at Super Target thought I was nuts.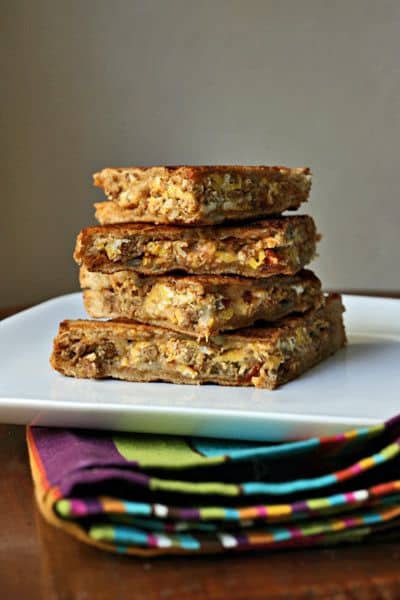 Finally I selected the 12-grain, which sounded like it would be a strong bread to hold its own against my creation. It's really tasty on its own – nutty and toasts nicely. Really yummy with some Irish butter. It is slightly sweet as it has both honey and sugar in it, but I don't necessarily think bread cannot have sugar in it. My homemade olive oil bread has sugar, and I'm a sucker for challah. All I'm saying is, I'll be buying this bread again the next time the need arises.
Everything else I used for this recipe came from my farmers' market. I love that I can get fresh, delicious chorizo in addition to eggs, produce, and cheese.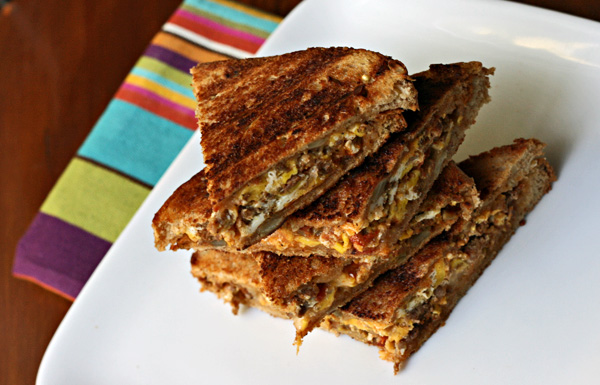 Love this recipe? Please leave a 5-star review below! It means so much when you enjoy my recipes, so let me know how it goes and leave a comment if you have any questions.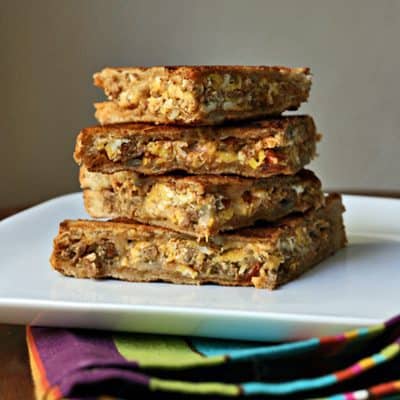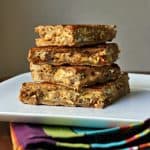 Ingredients
2

slices

Nature's Pride 12 Grain bread

2

ounces

Mexican chorizo

1

egg

1/4

cup

shredded cheese

2

tablespoons

chopped tomato

1

tablespoon

chopped jalapeño

2

tablespoons

salsa of choice

,

instead of the tomato and jalapeño, if you like
Instructions
Heat panini pan and press over medium (or turn on automatic press).

In a small frying pan, crumble the chorizo and cook over medium until just browned. Crack in egg and scramble together. When egg is just about cooked, add tomato and jalapeno (or salsa) and stir while cooking to mix. If possible, scoot mixture into a rectangle shape and cook a little longer to help with moving it to the bread.

Lightly coat one side of each piece of bread with nonstick spray. Place one slice bread on panini pan and put half the cheese on. Top with the chorizo-egg mixture and then then rest of the cheese. Place the other slice of bread on top.

Cover bread with panini press and press down slightly, then let cook. Flip over after a couple of minutes if your press isn't grooved. As you are just crisping the bread and melting the cheese, cooking time should only be about 5 minutes.
Nutrition
Calories:
1411
kcal
Carbohydrates:
183
g
Protein:
59
g
Fat:
48
g
Saturated Fat:
18
g
Cholesterol:
264
mg
Sodium:
2908
mg
Fiber:
12
g
Sugar:
26
g
Nutrition information is provided as a courtesy and is an estimate based on online calculators. Any nutritional information found on Stetted should be used as a general guideline only.
Disclaimer: Foodbuzz provided a coupon for a free loaf of bread for this project. I also purchased some bread on my own.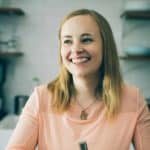 About Megan
I focus on fresh ingredients and easy methods, with spins that keep meals interesting. Dinnertime shouldn't be stressful or complicated, and I'm here to help you enjoy the time spent in the kitchen. Read more…