Make breakfast for a crowd with this tortilla breakfast casserole.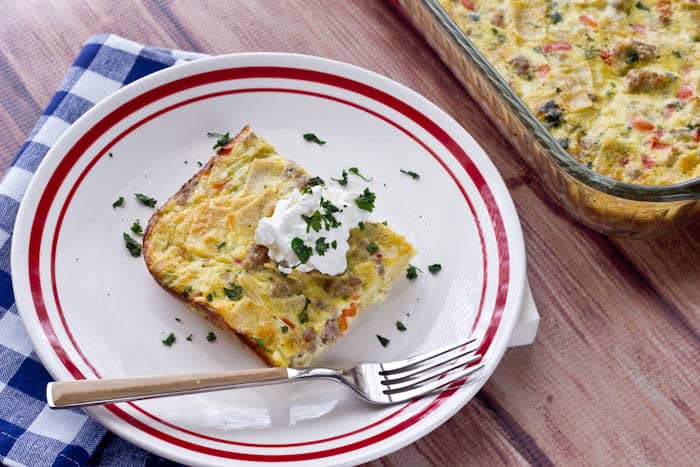 The weeks are moving faster and faster these days. I'm not blaming it on getting older (because I'm not that old, thank you very much) but on the ever-growing list of things we have going on. Meetings, food events, work projects, house projects, homework, actually eating together as a family… it all adds up so that by the time we hit Friday we collapse on the sofa, look at each other, and ask, What happened?
Not that there is any time for slowing down on the weekend, because the weekend is the best time to get all of those projects done, not to mention visit with friends, go to the park, attend more food events. What I'm saying is, we need a good breakfast to pull us through the day.
I've found that breakfast casseroles are the best way to ensure everyone has something good in their bellies. They're big enough for everyone in the family to have some for multiple meals, reheat quickly, and are full of protein to give a good start to the day.
This tortilla breakfast casserole recipe has all our favorite breakfast taco flavors: peppers, tortillas, cheese, and sausage. You can customize it if you like — I love chorizo and it would be great in place of the pork sausage (if you don't have any spice-haters in the house) and diced cooked potato would be wonderful as well.
While I make mine in a big pan, you can make them in muffin tins for individual portions, making them great for taking to work or school. No matter how you bake it, serve it up with sour cream, avocado, and your favorite salsa for a breakfast that will warm you up and help you tackle that looming to-do list.
For more morning inspiration, check out my Breakfast board on Pinterest!
Follow Megan Myers | Stetted's board Breakfast on Pinterest.