This post contains affiliate links. As an Amazon Associate, I earn from qualifying purchases.
Spinach lasagna rolls are a great way to serve up dinner, and get the kids involved.
In kindergarten I would read to the other children, and subsequently in first grade I was placed in the advanced reading class.
This consisted of sitting at a table in the front of the room with four boys and having special lessons while the other kids were supposed to be doing their own reading, but were probably staring at us or zoning off.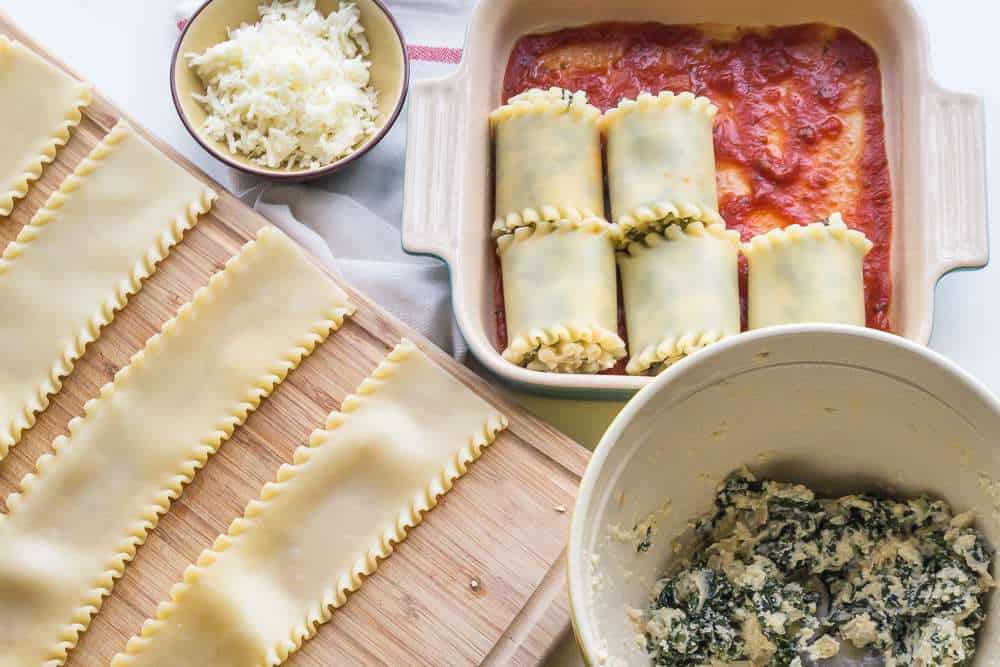 I didn't particularly like my first grade teacher. We'll call her Mrs. F for the sake of this post. There are three instances in which I decided Mrs. F had it in for me.
One: Our room previously held the kindergarten class, which meant we had our own private bathroom adjacent to the desk area. You had to ask to use the bathroom, of course.
One morning I was not feeling well, and as sometimes happens when you're not feeling well, I knew I was going to throw up my doughnut breakfast. Let me tell you, it's hard for a 6-year-old on the verge of having a very messy problem to get the courage to ask to use the restroom.
Sadly for all of us, I was denied the request, and what I had for breakfast was no longer a secret. Mrs. F was pretty mad as she ushered the rest of the kids out of the room, but come on, it's not like I didn't try to prevent it.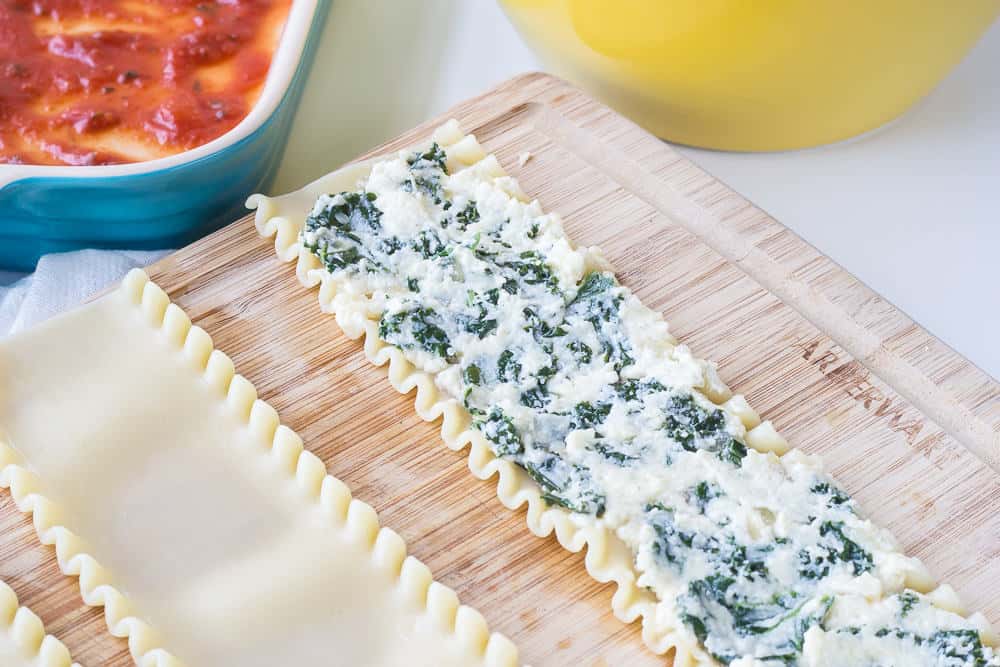 Two: One of my best friends was in class with me, K. As we lined up to go to gym or recess or art , I grabbed her hand so we could get in line together.
Mrs. F proclaimed loudly that they would be sure we would be separated in second grade, because apparently having friends is bad.
Three: We were practicing writing at the front reading table. Mrs. F took one look at my paper, where I had lovingly written an S just how my mom wrote it, with a little curlicue, and decided that was it.
She chastised me and declared that I would never amount to anything if I insisted on not following directions.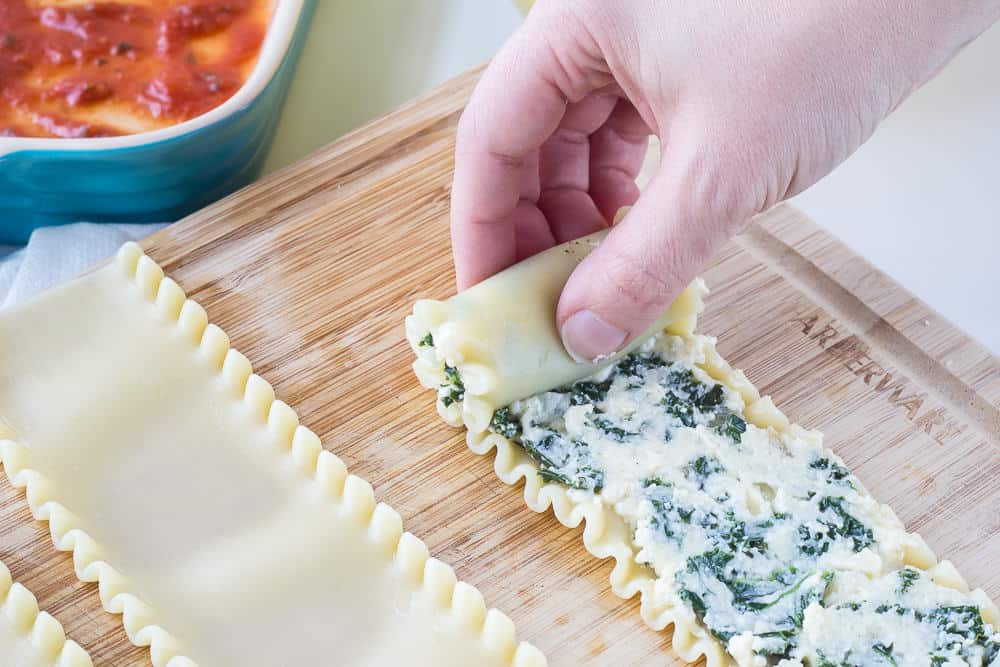 Good thing that doesn't apply to food blogging. Can you imagine how boring food would be if we had all continued using the same cookbook from the 1800s or even Betty Crocker?
One thing I hate about lasagna is how it all turns into a big mess when you serve it. Also, how I always have some noodles left over in the box, no matter how much I think I plan ahead.
I'm starting to think the lasagna noodle makers have some sort of conspiracy going, like how there used to be with the hot dogs and hot dog buns.
But, because I have such a hard time with directions, I think I've found my solution.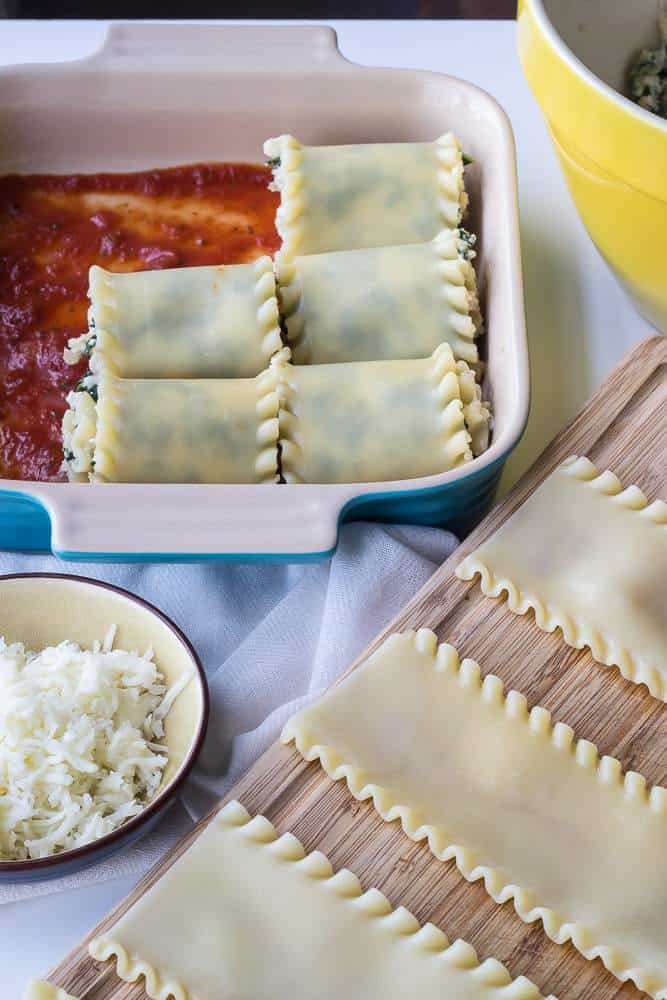 spinach lasagna rolls recipe
Spinach lasagna rolls have the flavors of lasagna but less mess. Plus I love how nice they look all rolled up, cozily tucked into the casserole dish and awaiting their blanket of sauce and cheese.
And they still look nice when you serve them.
Spinach lasagna rolls are made even better with the use of DIY ricotta. You can make the cheese the day before to save time, if you want. It's definitely worth the extra effort.
And while these spinach lasagna rolls might seem like a bit more work than the standard stacked lasagna, I find the flavors to be more intermingled.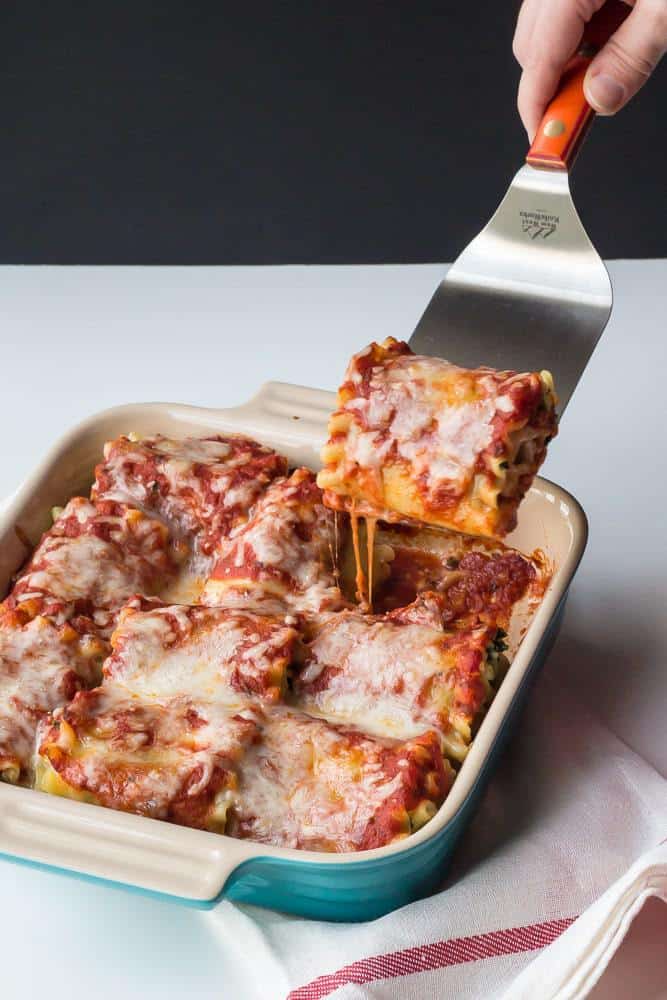 vegetarian lasagna rolls
I filled my lasagna rolls with a vegetarian filling using spinach (you could also use kale or chard) and ricotta, but you could easily use a meat sauce or whatever you're used to putting in lasagna.
Because Spinach Lasagna Rolls are a way to use up those leftover noodles, you might as well toss in any other thing lingering in your fridge or pantry. An errant zucchini. A knob of pepperoni. Whatev.
Make up your own ingredients and lasagna roll method. I'm not going to hold you to a life of curlicue-less S's.
Love this recipe? Please leave a 5-star review below! It means so much when you enjoy my recipes, so let me know how it goes and leave a comment if you have any questions.
Spinach Lasagna Rolls
Spinach lasagna rolls are a fun way to get kids to eat lasagna's classic flavors.
Print
Pin
Save
Saved!
Ingredients
9

lasagna noodles

1

tablespoon

olive oil

1/4

cup

chopped onion

1

clove

garlic

,

minced

1

bunch spinach

,

chard, or kale, chopped

1

cup

ricotta cheese

2/3

cup

shredded mozzarella cheese

1

egg

Salt and pepper

1 1/4

cup

pasta sauce
Instructions
Preheat the oven to 375°F.

Cook lasagna noodles according to package directions. Drain and lay noodles on a plate in order to keep them from sticking together.

While the pasta is cooking, heat the olive oil over medium. Add onions and cook until softened, 3 minutes. Add garlic and cook an additional minute. Add the greens and cook until wilted, 5-10 minutes, depending on variety of green used. Let cool slightly.

In a medium bowl, mix together the ricotta, half the mozzarella, egg, salt, and pepper. Stir in the greens mixture.

Spread a spoonful of pasta sauce in the bottom of a casserole pan. Assemble the rolls by spreading a spoonful of cheese mixture, leaving an inch at the end. Roll up pasta, ending with the uncovered edge.

Place each roll in the casserole pan with the seam on the bottom. Continue until all noodles are rolled.

Pour remaining pasta sauce over rolls, then sprinkle with remaining mozzarella.

Bake for 25-35 minutes, until cheese is melted and bubbly.
Nutrition
Calories:
456
kcal
Carbohydrates:
57
g
Protein:
24
g
Fat:
15
g
Saturated Fat:
6
g
Cholesterol:
77
mg
Sodium:
731
mg
Fiber:
7
g
Sugar:
7
g
Nutrition information is provided as a courtesy and is an estimate based on online calculators. Any nutritional information found on Stetted should be used as a general guideline only.
Updated February 17, 2016.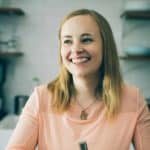 About Megan
I focus on fresh ingredients and easy methods, with spins that keep meals interesting. Dinnertime shouldn't be stressful or complicated, and I'm here to help you enjoy the time spent in the kitchen. Read more…