Kale & Butternut Squash Saute
This post contains affiliate links. As an Amazon Associate, I earn from qualifying purchases.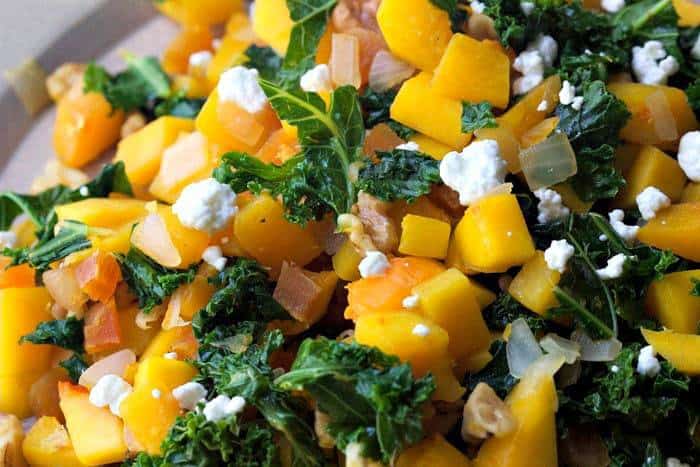 We've been cooking with kale a long time in our house, so it's easy for me to forget that outside of the food blogger bubble, the rest of the country is only just warming up to kale. It's not too surprising — growing up, iceberg lettuce was the only kind of leafy green we ate, and that's pretty well stretching the definition.
Kale can sometimes be a hard sell even for people who are familiar with it, so I like to pair it with ingredients that are a little more familiar, like mild butternut squash. I've done that before with wonderful results in roasted butternut squash lasagna, however, this recipe is a bit more accessible for a weeknight.
You only need one large sauté pan to prep this, and it all comes together quickly. Toasted walnuts add a nice crunch to the dish, while diced dried apricots bring sweetness. Goat cheese crumbles are brought in for tang, and a dash of lemon juice brightens it all up. You can use any kind of kale you like for this, but take care to wash it well, as kale's crevices easily hide dirt and sand. You can swap out the apricots too; the original recipe calls for dried cranberries, which add lovely color.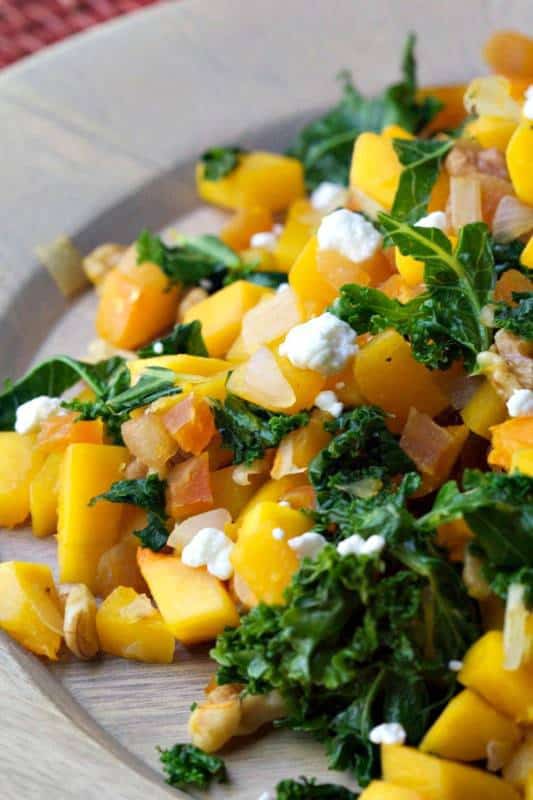 These are the kinds of dishes I love: simple, savory, and satisfying. You can either use it as a main dish or as a side for a roast tenderloin, or perhaps for Thanksgiving dinner. It reheats well, too, and if you only have a little bit left, you can either mix it into a quiche or serve it over pasta. All in all, it's quite the versatile little dish that's a hit with the family. After I shot the photos for this recipe my husband ate pretty much the entire batch. I'd say that's a winner, don't you think?
Head over to Recipe.com for my post and the recipe!
For more meatless inspiration, check out my Vegetarian board on Pinterest!
Follow Megan Myers | Stetted's board Vegetarian on Pinterest.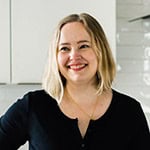 About Megan
I focus on fresh ingredients and easy methods, with spins that keep meals interesting. Dinnertime shouldn't be stressful or complicated, and I'm here to help you enjoy the time spent in the kitchen. Read more…