Roasted sweet potato salad with chickpeas and kale is an excellent light dinner or lunch. The warm vinaigrette dressing adds just a bit of tang to balance the sweet potatoes.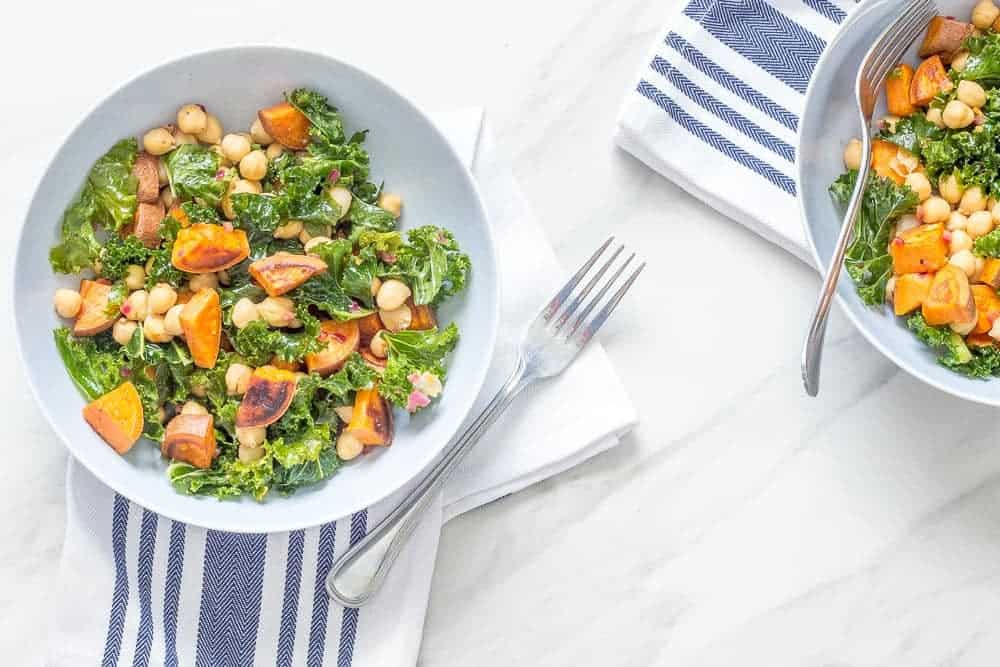 I've been in a rut lately. That rut could be classified as "Megan acts like a bump on a log and eats a lot of Fritos" but that's only half of it. True, my seasonal allergies are making things quite difficult, but I've also needed a surprisingly long amount of time to adjust to our new routines.
Of course, I hate excuses more than most people, so I gave myself the weekend to get in all the cake (which is what you do when your kid turns 9, holy cow) and then put myself on notice.
When you're a food lover, going on notice means actually making the things you should be eating, rather than the things you want to eat. (Hello, pecan coffee donut holes and chocolate cinnamon rolls. Call me.) Thankfully, I've found a few easy meals to make sure this gets checked off the list.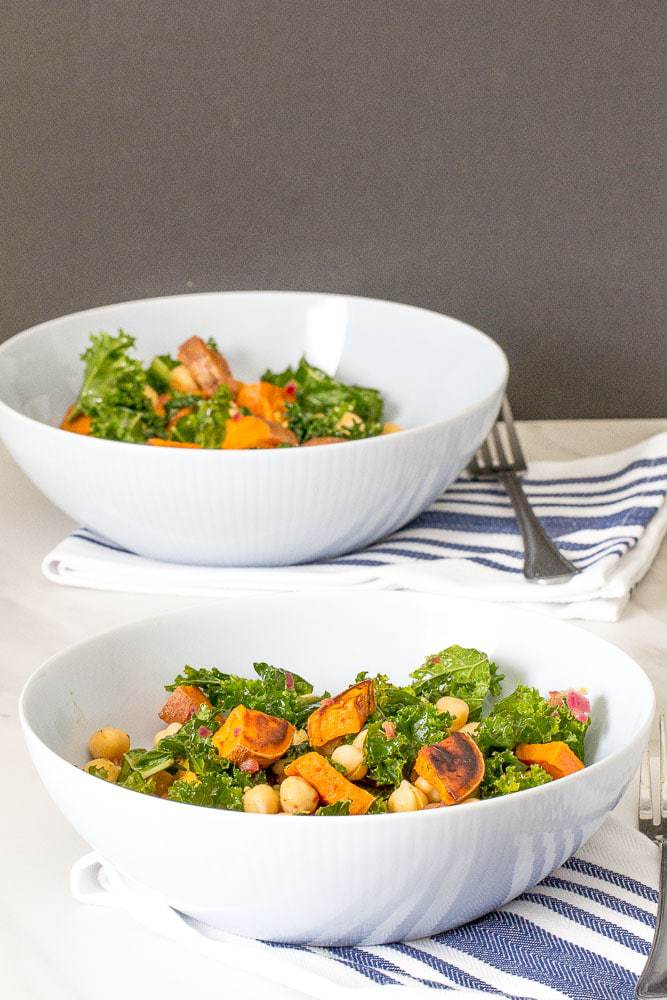 Sweet potatoes are one of my favorite foods. Not the uber-sweet casserole everyone makes at Thanksgiving, but the actual sweet potato itself, simply cooked. I like to roast them like I do with butternut squash, and because I like kale and butternut squash saute so much, I knew I could use a few different ingredients for a tasty lunch salad.
This roasted sweet potato salad comes together really quickly. While the potatoes cook, you take care of the kale and chickpeas, then whisk up the warm vinaigrette.
Speaking of chickpeas, you should always have some on hand. They're cheap and go with so many things, and are simply a must if you're addicted to hummus like I am.
Making a warm vinaigrette helps ensure the kale becomes more tender. Raw kale is not that fun to chew on, but softens when warmed. I pile the cooked potatoes on top of the kale and then add the vinaigrette before mixing it all together. You could also cover the bowl briefly to steam the kale slightly.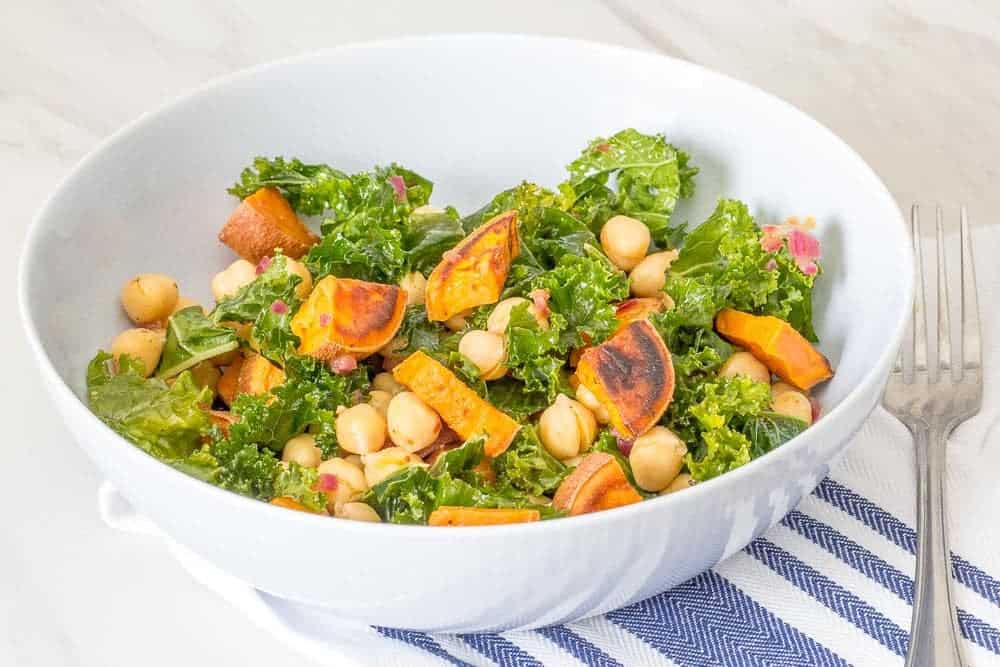 This is a salad I keep coming back to in the fall and winter because we always have the ingredients on hand. Give it a try!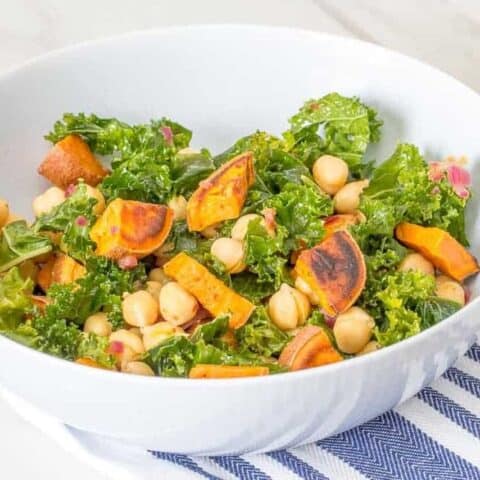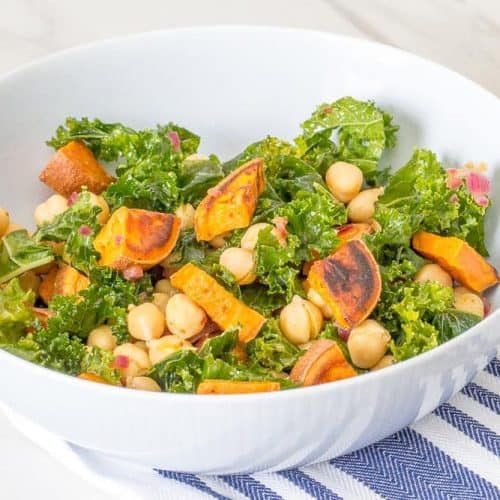 Roasted Sweet Potato Salad with Chickpeas and Kale
Yield: 2 servings
Prep Time: 10 minutes
Cook Time: 18 minutes
Total Time: 28 minutes
Roasted sweet potato salad with chickpeas and kale is an excellent light dinner or lunch. The warm vinaigrette dressing adds just a bit of tang to balance the sweet potatoes.
Ingredients
2 medium sweet potatoes, diced
2 tablespoons plus 1 teaspoon olive oil
1/4 teaspoon salt, divided
1/8 teaspoon paprika
1 15-ounce can chickpeas
2 cups packed torn kale
2 tablespoons minced red onion
2 teaspoons champagne vinegar or white wine vinegar
2 teaspoons lemon juice
1 teaspoon coarse mustard
1 teaspoon honey
1/8 teaspoon ground black pepper
Instructions
Preheat oven to 400°F.
Toss diced sweet potatoes in 1 teaspoon olive oil, then spread on a rimmed baking sheet. Sprinkle with 1/8 teaspoon salt and paprika. Roast for 18 minutes, stirring halfway through.
Meanwhile, pour chickpeas into a colander set over the sink, rinse, and let drain. Put the kale into a large bowl and set aside.
In a small saucepan, combine red onion, vinegar, lemon juice, mustard, honey, black pepper, and remaining 1/8 teaspoon salt and heat over low. Once warmed, slowly whisk in olive oil until dressing is emulsified. Keep over very low heat until potatoes are done.
Pour cooked potatoes on top of kale, then add drained chickpeas. Whisk dressing one more time, then pour over the top of the chickpeas.
Stir salad to coat evenly, taking care to not mash the sweet potato. Once the kale has softened a bit, serve.
Notes
Nutritional values are approximate, and sodium content will be reduced by rinsing chickpeas.
Recommended Products
As an Amazon Associate and member of other affiliate programs, I earn from qualifying purchases.
Nutrition Information:
Yield: 2
Serving Size: 2 servings
Amount Per Serving:
Calories: 487
Saturated Fat: 2g
Sodium: 1047mg
Carbohydrates: 67g
Fiber: 14g
Sugar: 8g
Protein: 16g