Peanut Butter Chocolate Blondies
This post contains affiliate links. As an Amazon Associate, I earn from qualifying purchases.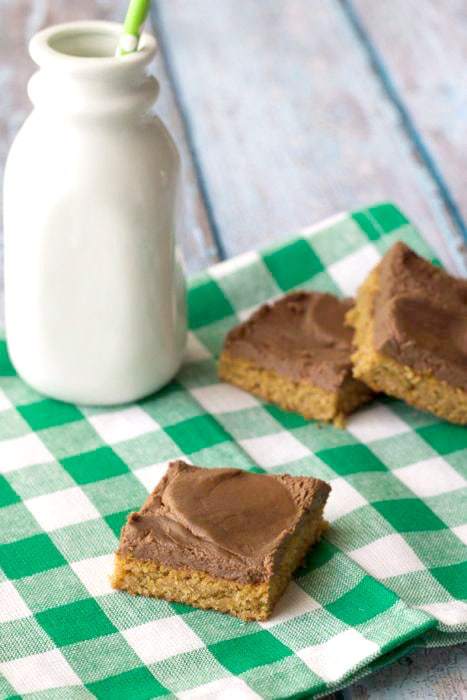 Lately I've been in need of a lot of comfort food. It's not just the sudden chill in the air and gray skies; it's more internal than that. While my jobs afford me lots of down time, I am working in some fashion every single day, and my brain is having a hard time flipping the switch back and forth between work and leisure, especially when it comes to fun projects that need to be done on the computer. As a result, I'm exhausted, and my soul is in need of a hug.
Usually when I get this way I bake. Blame 25 years of living in the Midwest and its long winters, I suppose, but pulling a warm pan of cookies or brownies from the oven and basking in the aroma is instantly relaxing. That's probably why those scented candles have turned into a billion-dollar industry, though I'd rather have my scent fix with the edible option.
While I love the classic brownie, I was looking for something different to make and remembered how great blondies can be. Blondies are called such because there's no cocoa powder and thus, the resulting cake often resembles blond hair. This peanut butter version makes them a lovely golden shade, and topped with chocolate frosting might make them the best of both bar-dessert worlds.
The original recipe calls for shortening, which I don't often use for baking. Butter substitutes easily in both the batter and the frosting. Be sure to not overbeat the frosting in either application, because it will get a bit tough and harder to spread. If that happens, you can always add a little bit of warmed milk to loosen it up again.
These peanut butter chocolate blondies are ideal for after-school snacking, potlucks, or tailgating. The recipe makes a ton, so be sure to halve it if you don't need so many – or slice, wrap, and freeze them for a quick peanut butter fix.
Go check out my post for Peanut Butter Chocolate Blondies over at Recipe.com
For more sweet inspiration, check out my Chocolate Desserts board on Pinterest!
Follow Megan Myers | Stetted's board Chocolate Desserts on Pinterest.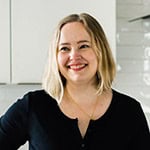 About Megan
I focus on fresh ingredients and easy methods, with spins that keep meals interesting. Dinnertime shouldn't be stressful or complicated, and I'm here to help you enjoy the time spent in the kitchen. Read more…