Yesterday I went to a large cookie swap in Austin, but it wasn't my first swap of the season. True, I swap jam and other preserves all year long through ATX Swappers, and just last weekend I went to my first-ever soup swap. But cookie swaps are the quintessential food gathering of the holiday season, and I was excited to be able to participate in not just the local swap, but the Great Food Blogger Cookie Swap hosted by Julie of The Little Kitchen and Lindsay of Love & Olive Oil.
They did an amazing job wrangling hundreds of bloggers all over the world, matching us with care. Because I have a food allergy (bananas; big bummer) I was paired with a couple of other people who are in a similar situation. It's always fun to exchange food with new people, and for me the fun isn't over yet – because one of my swap partners is in Alaska, the final box of cookies should be arriving any day now.
Interested in signing up for the next Great Food Blogger Cookie Swap? Head over here to get added to the mailing list for updates.
I made a twist on the ubiquitous chocolate crinkles – OK, not that big of a deal, but I added peanut butter. Can't go wrong with that!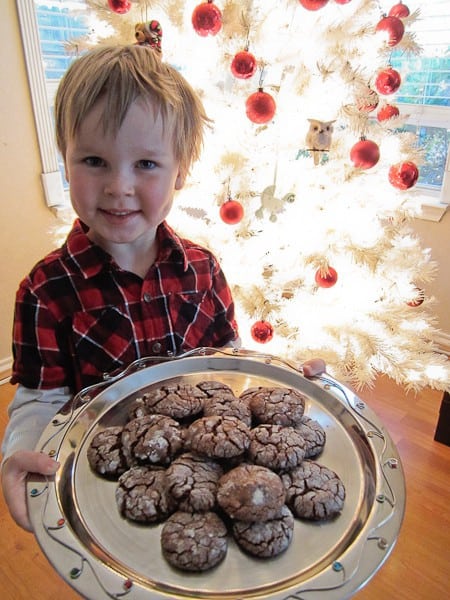 Muddy Snowdrops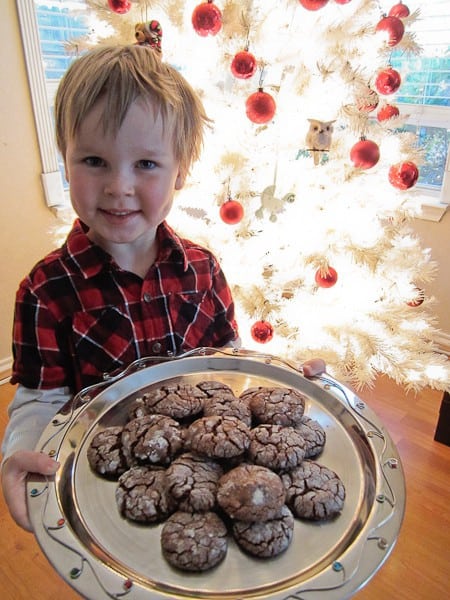 Ingredients
1 cup flour
1/4 cup cocoa powder
1/2 teaspoon baking soda
1/2 teaspoon baking powder
1/4 teaspoon salt
2 ounces unsweetened baking chocolate , melted and cooled
1/2 cup unsalted butter , softened
1/2 cup packed brown sugar
1/2 cup white sugar
1/2 cup peanut butter
1 teaspoon pure vanilla extract
1 egg
3/4 cup powdered sugar
Instructions
Mix together flour, cocoa powder, baking soda, baking powder, and salt, and set aside

In a large bowl, cream together chocolate, butter, sugars, and peanut butter. Beat in egg and vanilla. Stir in flour mixture in batches.

Refrigerate dough for 20 minutes. Meanwhile, preheat oven to 350 and line baking sheets with parchment paper.

Form dough into small balls, then roll each ball in powdered sugar. Bake for 10-12 minutes and let cool slightly before removing to a wire rack.
For more sweet inspiration, check out my Cookies board on Pinterest!
Follow Megan Myers | Stetted's board Cookies on Pinterest.