Everyone knows December means cookies, and lots of them. It's almost impossible to not be inspired by the season or the quadrillions of recipes floating around out there. Try as you might to ignore cookie season, sometimes an idea gets stuck in your head, and you just have to do it no matter what. Thanks to the generosity of MySpiceSage.com, I have a lot of spices leftover from my cocktail experimentations, and the cacao nibs were staring at me.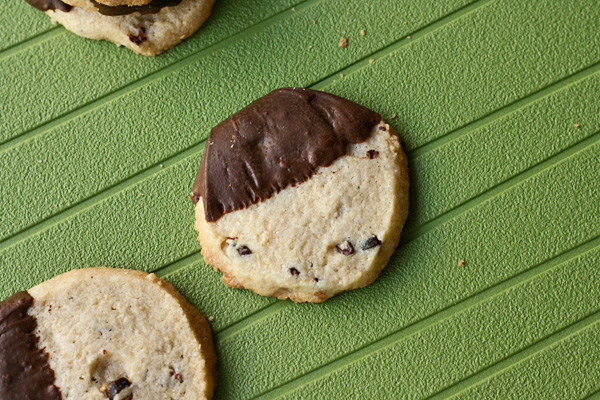 Whenever I make a treat and don't want to be tempted by it at home, I bring the lot in to the office with me. My department happens to have the nickname of "Hungry Hungry Editorial" as we flock to offers of food like moths to a flame. When I brought these cookies on Thursday it was witnessing swarming at its finest. I sent out the cookie notification e-mail, and 20 seconds after setting them on the counter the people were diving in. Thank-you e-mails came, and then I negotiated my first cookie sale since I wore a green sash and sold on cuteness.
This was my first time baking with cacao nibs and I have to say it was a success. OK, it was a success in the second batch when I had the correct ratio of butter and flour and the cookies held their shape – but still! Even though I love a good melty chocolate chip, I love that cacao nibs stay crunchy after baking, making them the perfect addition to shortbread cookies.
And because I can't leave well enough alone, I couldn't resist dipping these little guys in some peppermint semi-sweet chocolate. Double dose of chocolate power, with just the right amount of peppermint for a burst of freshness at the end.
The only question is – do you eat the chocolate covered side first, or save it for last?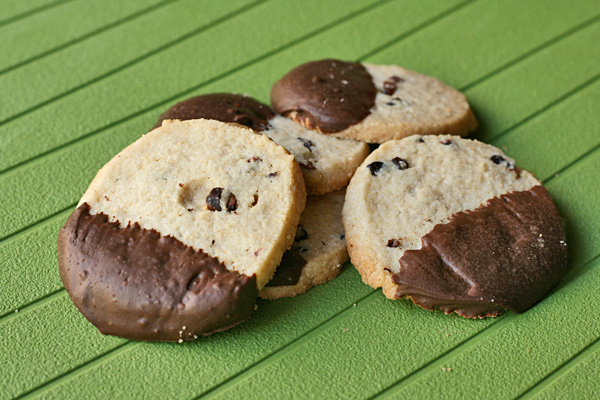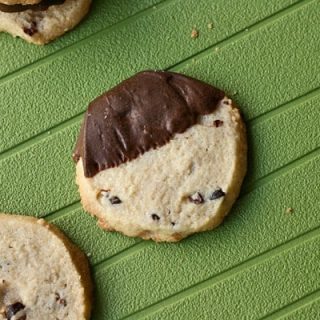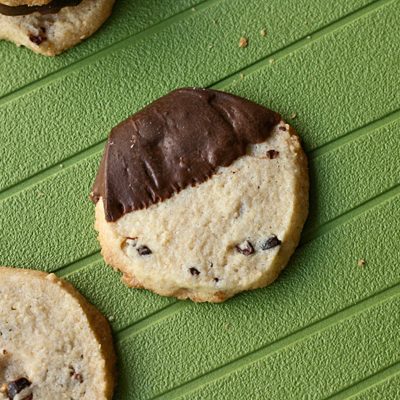 Cacao Nib Shortbread with Peppermint Chocolate
Yield: 36 cookies
Prep Time: 20 minutes
Cook Time: 15 minutes
Chill Time: 30 minutes
Total Time: 1 hour 5 minutes
Ingredients
2 sticks unsalted butter, softened
3/4 cup sugar
1 egg yolk
1/8 cup cornstarch
1/4 cup cacao nibs
4 cups semi-sweet chocolate chips
Instructions
Mix butter and sugar together until sugar is well incorporated. Beat in egg, then flour and cornstarch until dough comes together. Mix in cacao nibs.
Turn dough out onto a sheet of plastic wrap and form into a long log, about 2 inches in diameter.
Wrap in plastic and put in the refrigerator to firm up for at least 30 minutes.
Preheat oven to 350.
Remove dough from fridge and slice into cookies approximately 1/4-inch thick. Arrange on ungreased cookie sheets.
Bake for 10-12 minutes until just starting to get firm but not browned. Let cool on cookie sheets before removing to racks.
Once cookies are cooled, melt chocolate slowly either over a double boiler or in the microwave. If using the microwave, be sure to check after every 30 seconds or so and stop once chips are almost completely melted. Stir until chocolate is smooth, then add in peppermint oil and stir to smooth again.
Dip half the cookie into the chocolate, gently shake off excess, and set on wax paper to cool. Alternately, you can fill a pastry bag fitted with a round tip with the chocolate and pipe designs on the tops of the cookies.
Notes
Adapted from Mark Bittman
Recommended Products
As an Amazon Associate and member of other affiliate programs, I earn from qualifying purchases.
Nutrition Information:
Yield: 36
Amount Per Serving:
Calories: 223
Total Fat: 13g
Saturated Fat: 7g
Trans Fat: 0g
Unsaturated Fat: 5g
Cholesterol: 20mg
Sodium: 12mg
Carbohydrates: 28g
Fiber: 3g
Sugar: 15g
Protein: 3g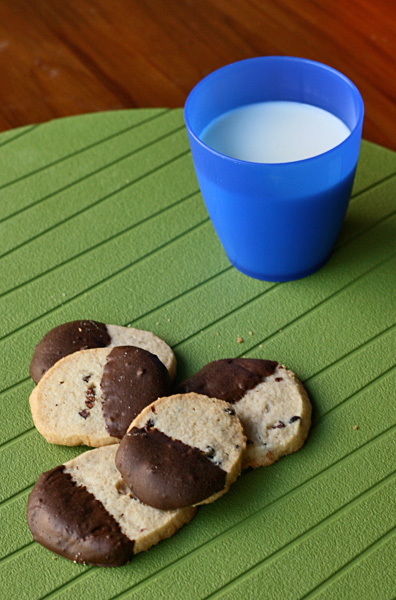 Hey! I've entered this post in the Holiday Recipe Swap. Come join the fun at the My Baking Addiction and GoodLife Eats Holiday Recipe Swap sponsored by Scharffen Berger!