Make DIY ricotta and never buy the goopy store brand again!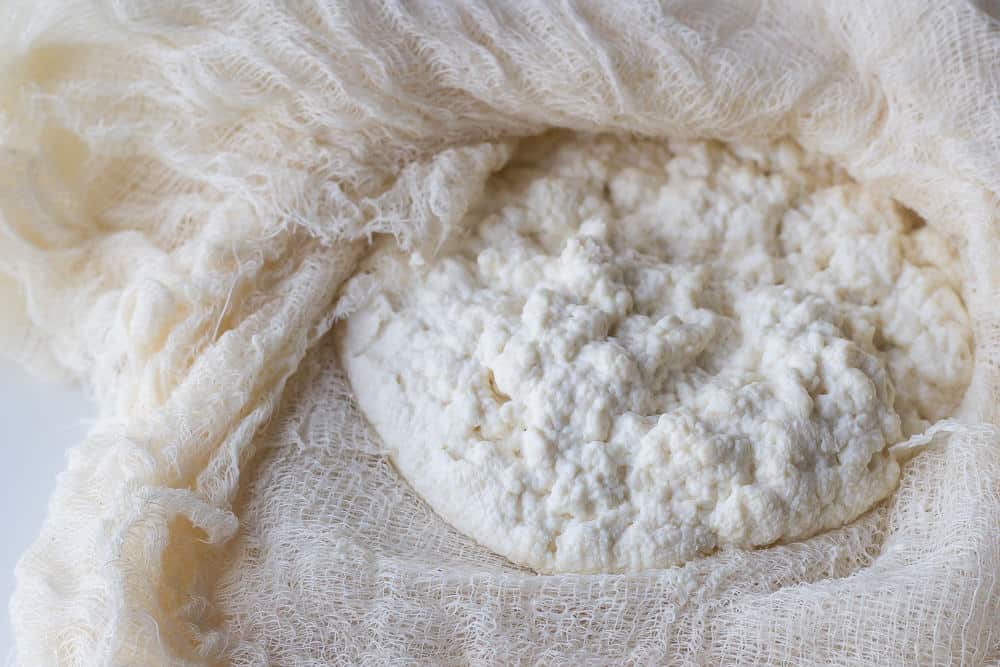 While I love Italian food, I never really warmed up to lasagna. It always seemed so messy, and the cheese inside was wet and lacked any sort of flavor. As a kid I begrudgingly ate lasagna, but always wished for something else.
When I grew up and began cooking, I realized that this dislike was because of store-bought ricotta. In general it's mushy and kind of slimy, because it has to be packed in water to make it last on the shelves. And it pretty much tastes like nothing. Once I learned how to make cheese at home, lasagna and lasagna rolls became dishes I enjoyed, not shunned.
I've posted before about homemade cheese, including mascarpone, but this time I wanted to go extremely basic and give you the method on how to make DIY ricotta.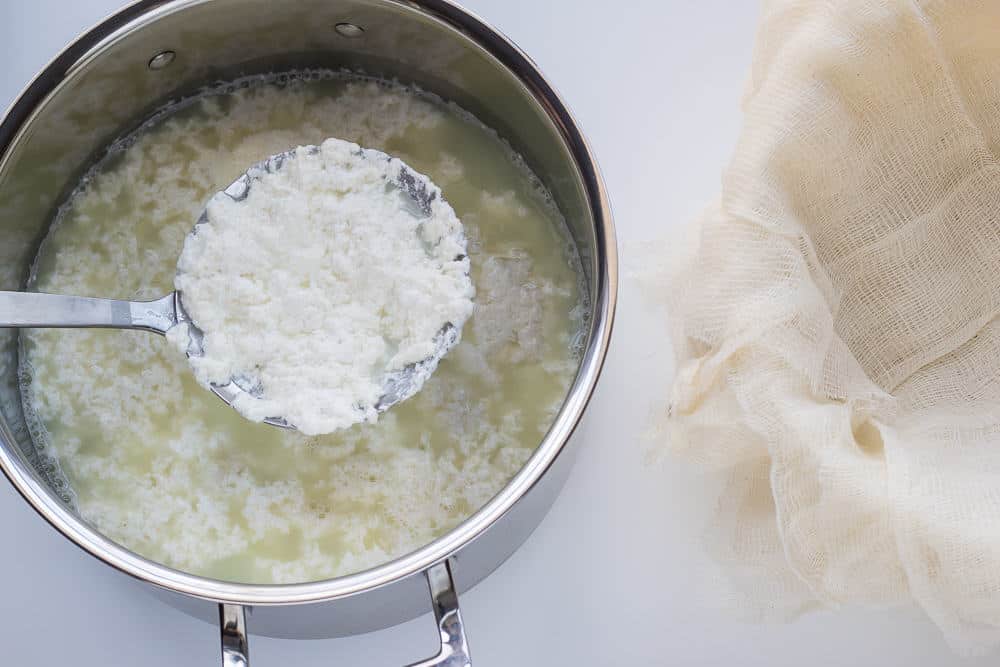 There are a few key things you need when making ricotta. One, cheesecloth for draining. Make sure you pick up a good brand that won't fall apart when you pour in the hot curds and whey — it does happen!
You also need a large nonreactive stainless pot, such as one you use to make soup or cook pasta in. This particular recipe uses a half gallon of milk, so you won't need a huge pot. A handheld strainer is also useful, but you can use any large spoon if you prefer, as you will be straining the entire pot anyway.
The final key tool is a candy thermometer. Making cheese involves heating the milk to just the right temperature, and without that thermometer you can easily overheat the milk.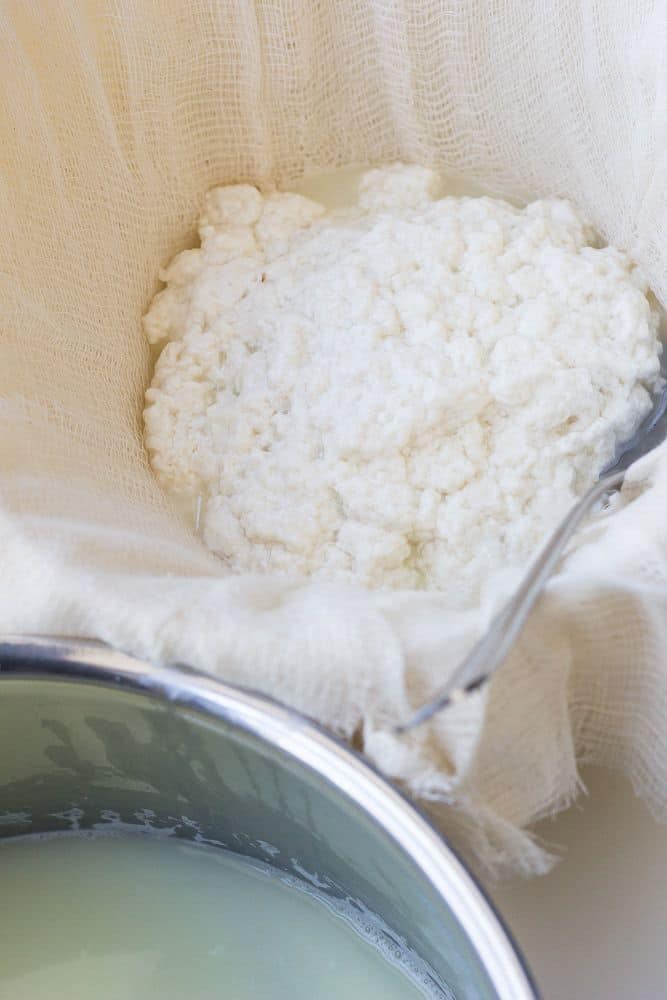 The best milk for making cheese is raw milk, but that is often hard to find. For this batch, I used low-temperature pasteurized, non-homogenated milk. You can use whole milk from the grocery store, but the process will likely take longer and will yield a smaller amount of cheese. From a half gallon of the milk I used, I was able to get about a cup and a half of ricotta.
After you heat the milk, vinegar is added. I used apple cider vinegar, but white vinegar works as well. For my batch, the milk began creating curds almost immediately, and as you stir it will create more. After you drain the mixture, you'll be left with a lovely pile of DIY ricotta and a bowlful of whey.
You can re-use the whey to create another batch of cheese (traditionally ricotta is made from the whey used to make mozzarella) or keep it on hand to use for soaking grains, lacto-fermentation, adding to smoothies, and more.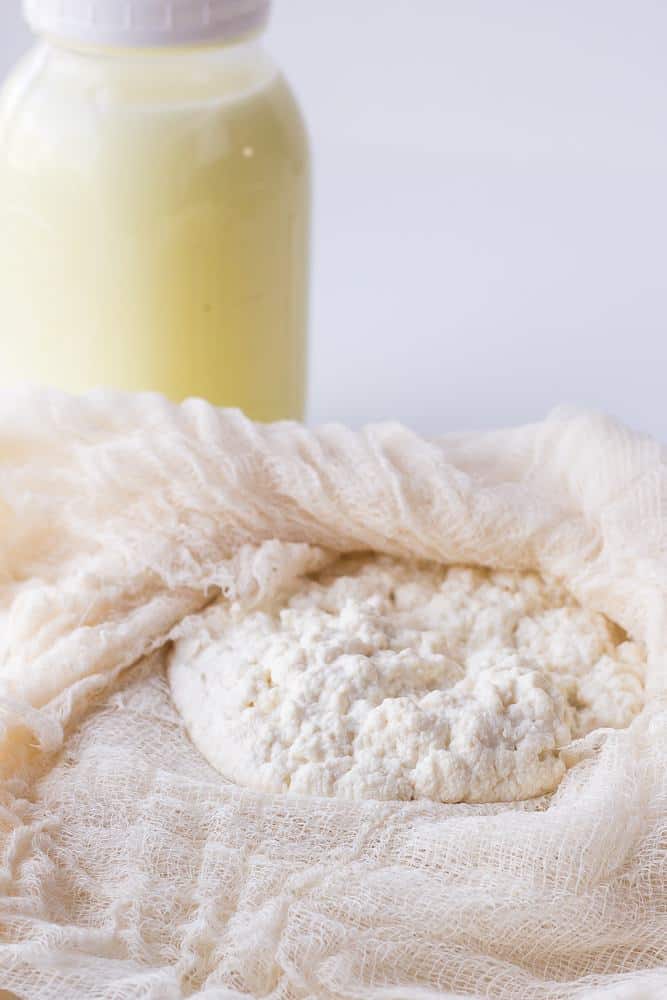 Use your DIY ricotta right away, or you can store it in the refrigerator for a few days. I like to add a bit of the whey back to the ricotta to keep it from getting too dry.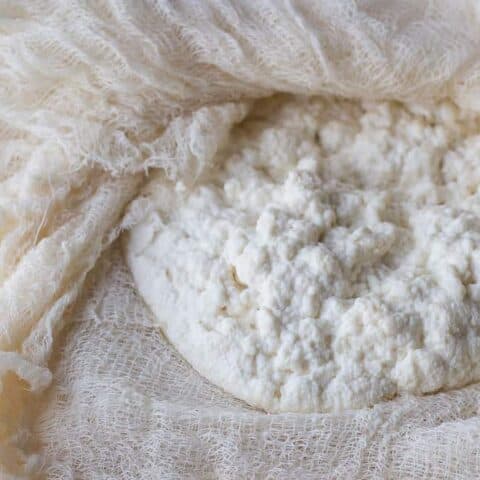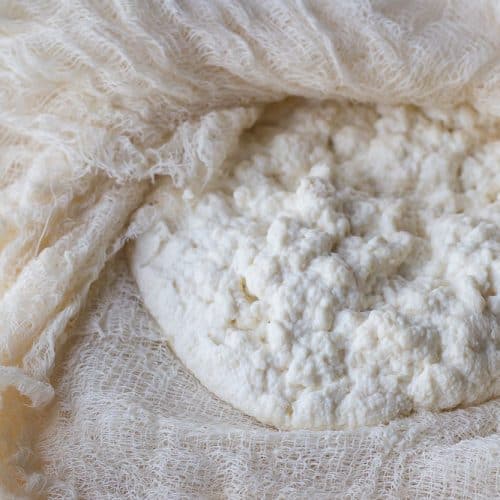 DIY Ricotta
Yield: Makes about 1 1/2 cups
Prep Time: 10 minutes
Cook Time: 15 minutes
Total Time: 25 minutes
Make DIY ricotta and never buy the goopy store brand again!
Ingredients
1/2 gallon low-temperature pasteurized or raw whole milk
1/4 cup apple cider vinegar
Salt to taste
Instructions
Line a colander with cheesecloth and set over a large bowl.
Pour milk in a large nonreactive pot, clip a candy thermometer to the pot, and heat milk to 175°F.
Remove from heat.
Pour in the apple cider vinegar and stir. The milk will separate into curds and whey.
Let sit for about five minutes, then drain mixture into prepared colander.
Allow ricotta to drain for about 5 minutes, or longer if you prefer a firmer cheese.
Use immediately or store in an airtight container in the refrigerator. Store whey in refrigerator for another use.
Recommended Products
As an Amazon Associate and member of other affiliate programs, I earn from qualifying purchases.
Nutrition Information:
Yield: 12
Serving Size: 1
Amount Per Serving:
Calories: 199
Total Fat: 11g
Saturated Fat: 6g
Trans Fat: 0g
Unsaturated Fat: 3g
Cholesterol: 32mg
Sodium: 188mg
Carbohydrates: 16g
Fiber: 0g
Sugar: 16g
Protein: 10g