This post contains affiliate links. As an Amazon Associate, I earn from qualifying purchases.
You'll love how easy it is to make DIY ricotta at home. Use it in all your favorite recipes!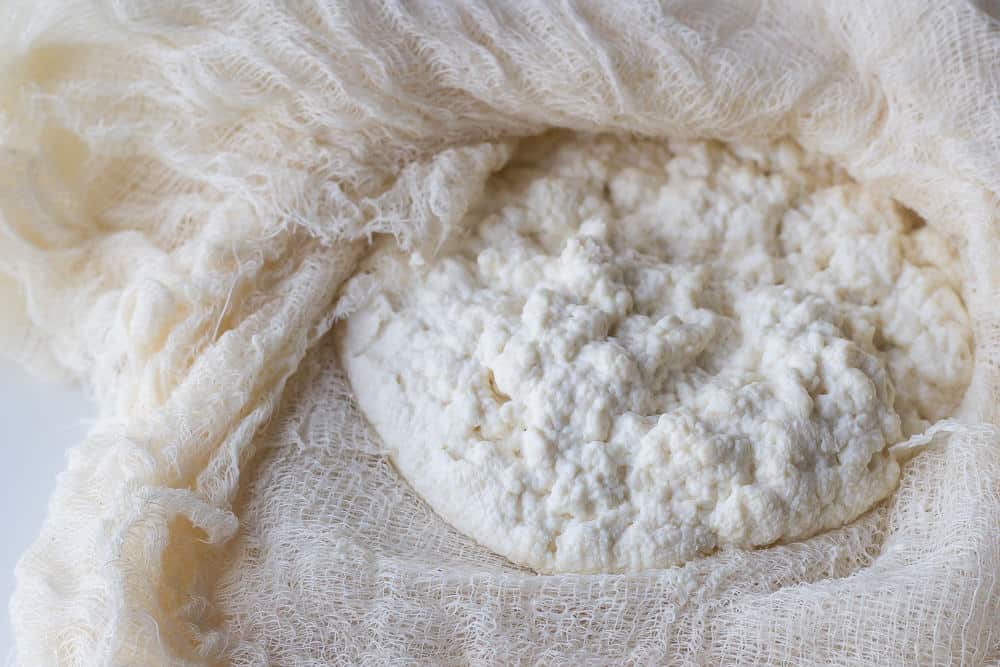 While I love Italian food, I never really warmed up to lasagna. It always seemed so messy, and the cheese inside was wet and lacked any sort of flavor. As a kid I begrudgingly ate lasagna, but always wished for something else.
When I grew up and began cooking, I realized that this dislike was because of store-bought ricotta. In general it's mushy and kind of slimy, because it has to be packed in water to make it last on the shelves. And it pretty much tastes like nothing. Once I learned how to make cheese at home, lasagna and lasagna rolls became dishes I enjoyed, not shunned.
I've posted before about homemade cheese, including mascarpone, but this time I wanted to go extremely basic and give you the method on how to make DIY ricotta.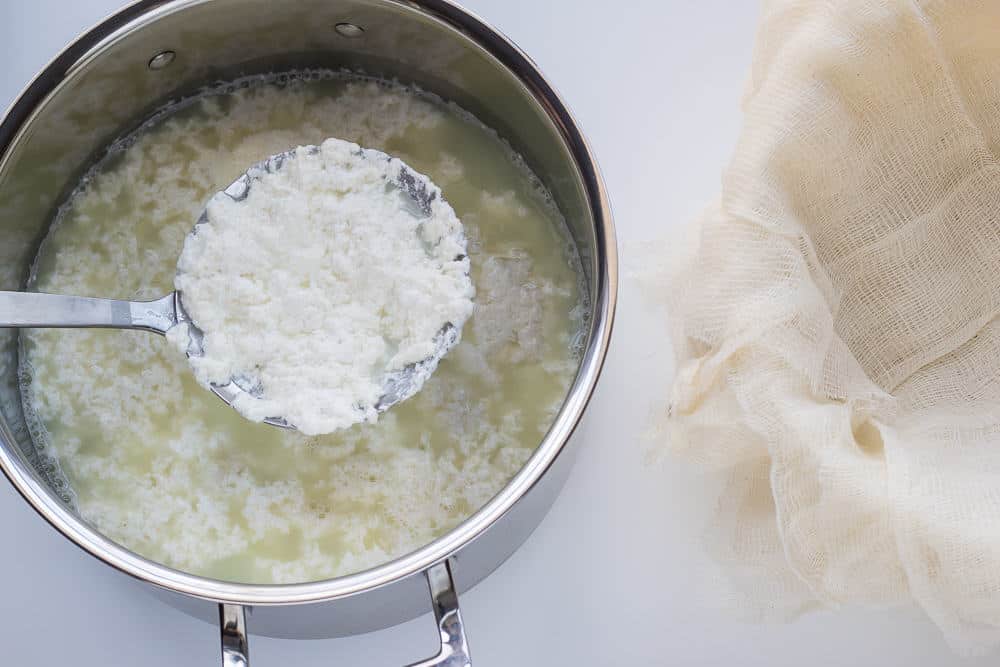 There are a few key things you need when making ricotta. One, cheesecloth for draining. Make sure you pick up a good brand that won't fall apart when you pour in the hot curds and whey — it does happen!
You also need a large nonreactive stainless pot, such as one you use to make soup or cook pasta in. This particular recipe uses a half gallon of milk, so you won't need a huge pot. A handheld strainer is also useful, but you can use any large spoon if you prefer, as you will be straining the entire pot anyway.
The final key tool is a candy thermometer. Making cheese involves heating the milk to just the right temperature, and without that thermometer you can easily overheat the milk.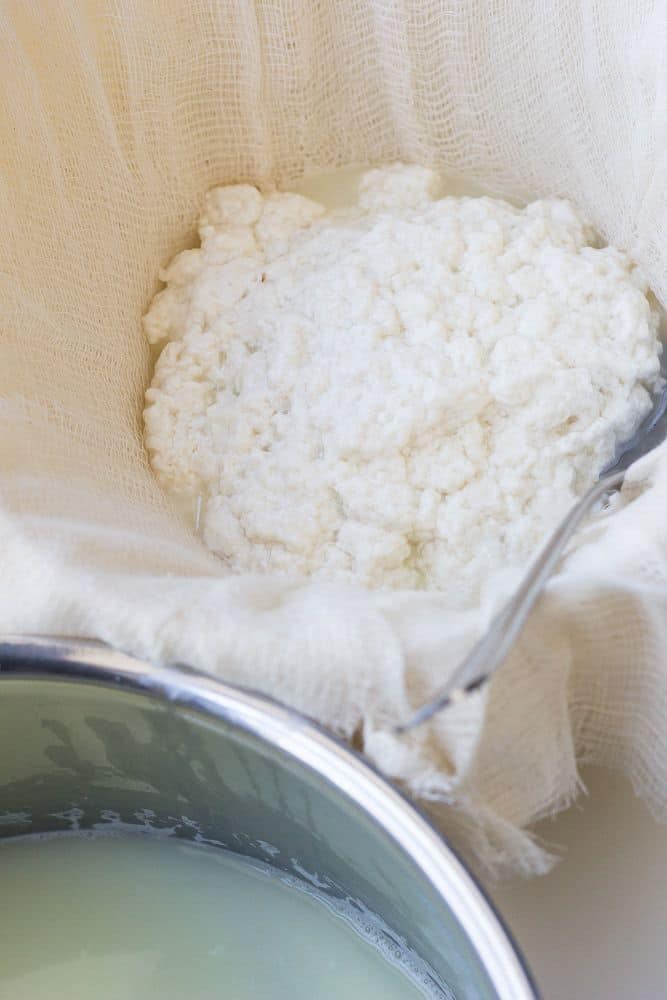 What kind of milk do I need for homemade ricotta?
The best milk for making cheese is raw milk, but that is often hard to find.
For this batch, I used low-temperature pasteurized, non-homogenated milk.
You can use whole milk from the grocery store, but the process will likely take longer and will yield a smaller amount of cheese.
From a half gallon of the milk I used, I was able to get about a cup and a half of ricotta.
After you heat the milk, vinegar is added. I used apple cider vinegar, but white vinegar works as well. For my batch, the milk began creating curds almost immediately, and as you stir it will create more. After you drain the mixture, you'll be left with a lovely pile of DIY ricotta and a bowlful of whey.
What can I do with leftover whey?
You can re-use the whey to create another batch of cheese (traditionally ricotta is made from the whey used to make mozzarella) or keep it on hand to use for soaking or cooking grains, lacto-fermentation for vegetables, or adding to smoothies.
Whey can also be used for making pancakes, baking bread, watering plants, or using as a hair conditioner.
In short, the possibilities are endless, so don't throw it out!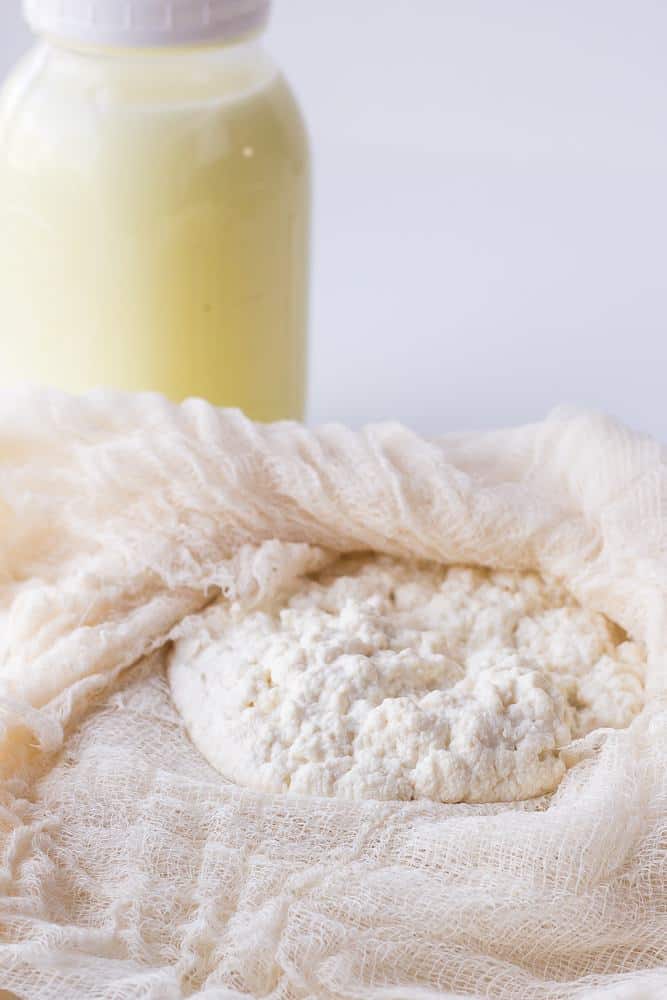 What can I do with homemade ricotta?
Use your DIY ricotta right away, or you can store it in the refrigerator for a few days. I like to add a bit of the whey back to the ricotta to keep it from getting too dry in the refrigerator.
You can use this just like you would any other ricotta, as in spinach lasagna rolls, stuffed shells with chicken, or ricotta cake.
Or, simply spread it on sourdough toast and top with roasted tomatoes.
Love this recipe? Please leave a 5-star review below! It means so much when you enjoy my recipes, so let me know how it goes and leave a comment if you have any questions.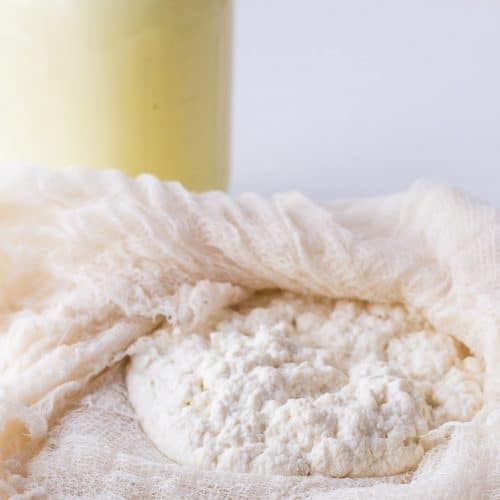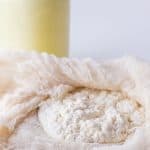 Ingredients
1/2

gallon

low-temperature pasteurized or raw whole milk

1/4

cup

apple cider vinegar

Salt to taste
Instructions
Line a colander with cheesecloth and set over a large bowl.

Pour milk in a large nonreactive pot, clip a candy thermometer to the pot, and heat milk to 175°F.

Remove from heat.

Pour in the apple cider vinegar and stir. The milk will separate into curds and whey.

Let sit for about five minutes, then drain mixture into prepared colander.

Allow ricotta to drain for about 5 minutes, or longer if you prefer a firmer cheese.

Use immediately or store in an airtight container in the refrigerator. Store whey in refrigerator for another use.
Nutrition
Calories:
191
kcal
Carbohydrates:
15
g
Protein:
10
g
Fat:
10
g
Saturated Fat:
6
g
Cholesterol:
38
mg
Sodium:
120
mg
Potassium:
480
mg
Sugar:
15
g
Iron:
0.02
mg
Nutrition information is provided as a courtesy and is an estimate based on online calculators. Any nutritional information found on Stetted should be used as a general guideline only.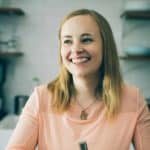 About Megan
I focus on fresh ingredients and easy methods, with spins that keep meals interesting. Dinnertime shouldn't be stressful or complicated, and I'm here to help you enjoy the time spent in the kitchen. Read more…