Ditch the boxed mix and whip up this simple freezer-ready cake mix.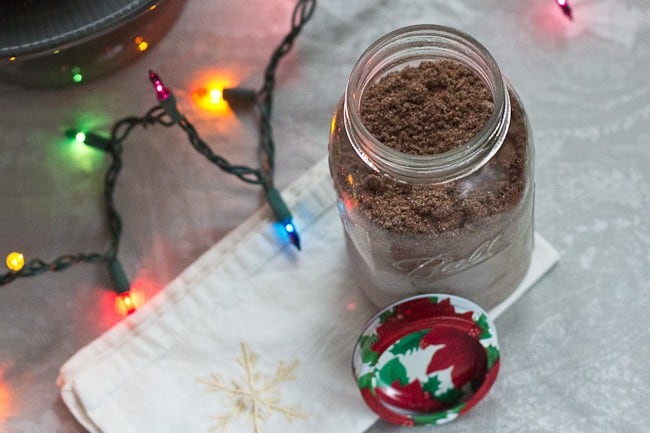 There's a certain point in your baking life when you become ashamed to use a boxed cake mix. It's not just about the possibly questionable ingredients that show up in shelf-stable mixes. Bakers as well as cooks strive to impress with our creations, from a simple yet flavorful salsa, to the most delicate and crumbly scone. Making something from a mix? Well, that's just buying your way to praise.
I don't think this way all the time. After all, I have two kids, two diabetic cats (which take up a surprising amount of time for care), multiple freelance jobs, and a garden that is doing extremely well cultivating weeds and fire ant hills. But I still like cake. And I like cake more when it comes to me faster.
Granted, cake doesn't take that much time to mix up to begin with, but if you can make a shortcut, why not do it? This Homemade Devil's Food Cake Mix only requires a blitzing in the food processor and a home in the freezer. When you're ready to bake, just mix in eggs and water and you'll look like a kitchen genius.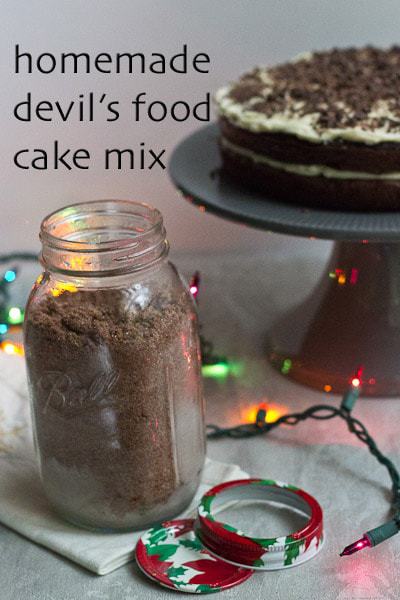 I store mine in a glass jar, but you can use a freezer-proof plastic bag. The jars are easy to dress up for gift-giving, however!
Note that this is best suited for 8-inch cake or cupcakes. While it works perfectly fine in 9-inch pans, you won't really get the height many expect from layer cakes.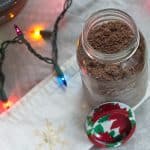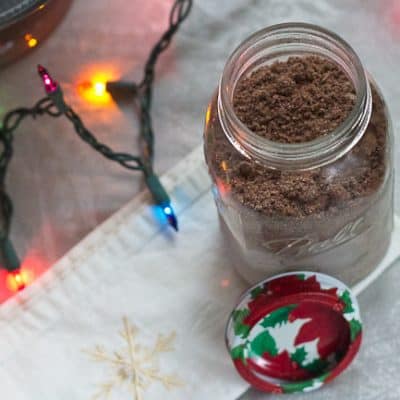 Homemade Devil's Food Cake Mix
Homemade chocolate cake mix, adapted from Food Fanatic
Ingredients
2

cups

granulated sugar

2

cups

all-purpose flour

3/4

cup

unsweetened cocoa powder

1

tablespoon

instant coffee

1/2

cup

nonfat dry milk

1

tablespoon

baking soda

2

teaspoons

baking powder

1

teaspoon

salt

8

ounces

unsalted butter

cut into chunks

1

tablespoon

vanilla extract
Instructions
In a large food processor, mix together dry ingredients until well-blended.

Add butter and vanilla and pulse until mixture resembles coarse crumbs.

Divide mixture in half (about 3 1/2 cups) and pour into two large Mason jars or freezer bags.

Store in the freezer for up to 2 months.
Recipe Notes
To make the cake
1 jar cake mix
1 1/4 cup warm water
2 large eggs
Preheat oven to 350°F. Grease two 8-inch cake pans and line the bottom with parchment paper.
Beat mix, water, and eggs together until few lumps remain. Divide between cake pans.
Bake for about 25 minutes, until a toothpick inserted in the center comes out clean.
More homemade food gift ideas you might like:
Aquavit – Stetted
Bacon Salt – Honestly Yum
Candied Orange Slices – Savvy Eats
Lavender Sugar – Stetted
Moroccan Spiced Pepitas – Snixy Kitchen
Come back tomorrow for a delicious way to bake up this mix, inspired by a favorite seasonal beverage!
For more giftable inspiration, check out my DIY Gifts board on Pinterest!
Follow Megan Myers | Stetted's board DIY Gifts on Pinterest.