Homemade Devil's Food Cake Mix
This post contains affiliate links. As an Amazon Associate, I earn from qualifying purchases.
Homemade Devil's Food Cake Mix is quick and easy to make. Ditch the boxed mix and whip up this simple freezer-ready cake mix recipe.
Read on to find out how to make and store Homemade Devil's Food Cake Mix and learn how you can make it into some easy but delicious recipes.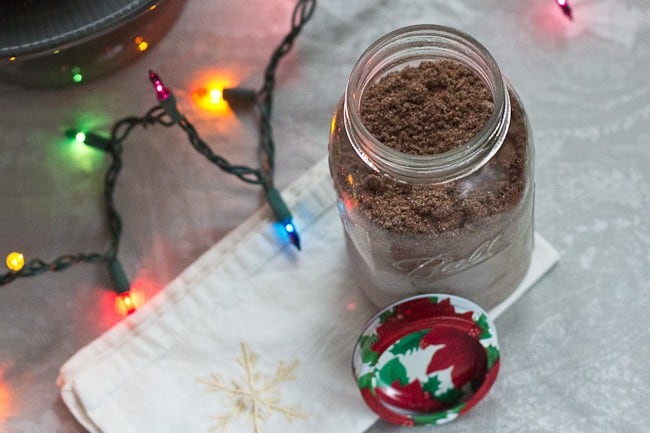 There's a certain point in your baking life when you become ashamed to use a boxed cake mix.
It's not just about the possibly questionable ingredients that show up in shelf-stable mixes. Bakers as well as cooks strive to impress with our creations, from a simple yet flavorful salsa, to the most delicate and crumbly scone.
Making something from a mix? Well, that's just buying your way to praise.
I don't think this way all the time. After all, I have two kids, two diabetic cats (which take up a surprising amount of time for care), multiple freelance jobs, and a garden that is doing extremely well cultivating weeds and fire ant hills.
But I still like cake. And I like cake more when it comes to me faster.
How to make homemade cake mix
Granted, cake doesn't take that much time to mix up to begin with, but if you can make a shortcut, why not do it?
It'll also mean there's less dishes and measuring cups you have to wash, which I always enjoy. (Even if my husband does most of the dishes.)
This Homemade Devil's Food Cake Mix is just as easy as running to the store to buy your favorite boxed mix. And because the recipe actually makes enough for two cake mixes, so you could say it's really half as easy.
To make it, just add all of the ingredients to the bowl of your food processor. Give them a good blitzing in the food processor and you're done!
How to store homemade cake mix
Storing your Devil's Food Cake Mix is just as easy as making it. Instead of setting aside room in the pantry, you need to set aside a little room in your freezer.
Divide the cake mix into two airtight containers, with about 3 ½ cups of mix in each and freeze for up to two months.
I store mine in a quart glass jar, but you can use a freezer-proof plastic bag. The jars are easy to dress up for gift-giving, however
Devil's food cake mix recipes
When you're ready to bake using Homemade Devils Food Cake Mix, just mix in eggs and water and you'll look like a kitchen genius.
Note that this is best suited for 8-inch cake or cupcakes. While it works perfectly fine in [amazon_textlink asin='B06ZZFN9GC' text='9-inch cake pans' template='ProductLink' store='stetted-20′ marketplace='US' link_id='bfbe86e6-a7f9-11e8-bc14-f166867553e3′], you won't really get the height many expect from layer cakes.
I'll let you in on a little secret — those box mixes don't achieve lofty heights when made using the printed instructions. You need two boxes to make the cake shown on their packaging!
This mix is the equivalent of two boxes, so if you want a tall cake, just use the entire batch.
I enjoy using Devil's Food Cake Mix in my Peppermint Mocha Cupcakes recipe. They're the perfect easy seasonal cupcake recipe for all your holiday parties.
You could also make my Black Forest Cake recipe quicker and easier by using this mix for the cake layers. Spend your time focusing on the cherry filling and frosting instead. No one would even guess that you started with a cake mix.
If you'd like to top your Devil's Food Cake or cupcakes with a simple chocolate frosting, try the frosting from Reese's Peanut Butter Cake.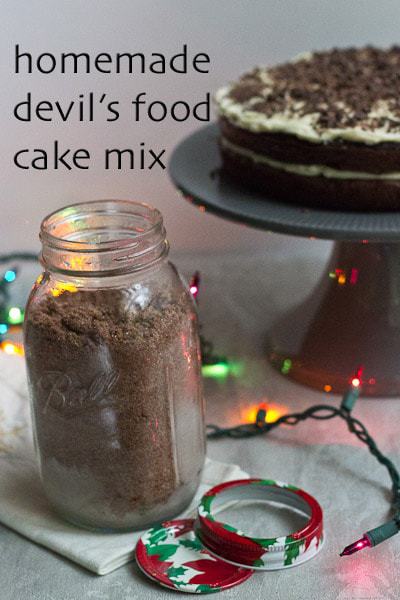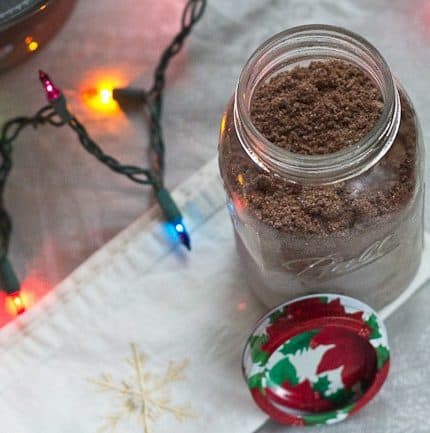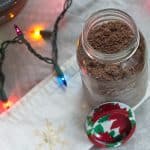 Homemade Devil's Food Cake Mix
Homemade chocolate cake mix, adapted from Food Fanatic
Print
Pin
Save
Saved!
Ingredients
2

cups

granulated sugar

2

cups

all-purpose flour

3/4

cup

unsweetened cocoa powder

1

tablespoon

instant coffee

1/2

cup

nonfat dry milk

1

tablespoon

baking soda

2

teaspoons

baking powder

1

teaspoon

salt

8

ounces

unsalted butter

,

cut into chunks

1

tablespoon

pure vanilla extract
Instructions
In a large food processor, mix together dry ingredients until well-blended.

Add butter and vanilla and pulse until mixture resembles coarse crumbs.

Divide mixture in half (about 3 1/2 cups) and pour into two large Mason jars or freezer bags.

Store in the freezer for up to 2 months.
Notes
To make the cake
1 jar cake mix
1 1/4 cup warm water
2 large eggs
Preheat oven to 350°F. Grease two 8-inch cake pans and line the bottom with parchment paper.
Beat mix, water, and eggs together until few lumps remain. Divide between cake pans.
Bake for about 25 minutes, until a toothpick inserted in the center comes out clean.
Nutrition
Calories:
281
kcal
Carbohydrates:
41
g
Protein:
3
g
Fat:
12
g
Saturated Fat:
7
g
Cholesterol:
31
mg
Sodium:
443
mg
Fiber:
1
g
Sugar:
26
g