Reese's Peanut Butter Cake
This post contains affiliate links. As an Amazon Associate, I earn from qualifying purchases.
This moist peanut butter cake is a great way to celebrate any birthday or special occasion. Top it with a sweet chocolate frosting.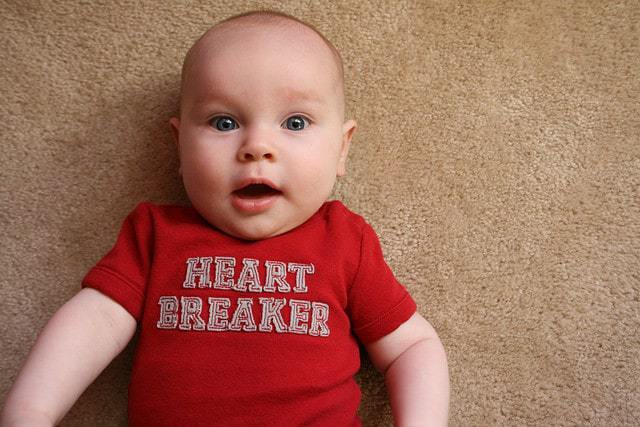 This.
It's hard for me to look at this photo and not tear up. As any parent knows, time becomes a whirling vortex. This was so long ago, and also yesterday. But today, for real, he is five.
Five is one of those special numbers. Even though he won't start kindergarten until next fall thanks to Texas rules, he is in all other ways a kindergartner. He is a Boy, not a baby. Running and shouting and making guns out of anything, but also tending to his stuffed animals and making sure to share anything he thinks I or his father need. Every other day a huge new word pops out and more often than not he is using it correctly. He eats more than I do.
Luckily, thankfully, I can still wrap my arms around him. I still get sneak-attack kisses. I still can teach him all that I can, before he forsakes me and gardening and the kitchen for cafeteria food and whatever teenagers will be doing in 2022.
Right now that means baking.
I began cooking by learning how to bake, so I have been working on getting Reese acquainted with it as well. It seemed only fitting that he should help make his birthday cake.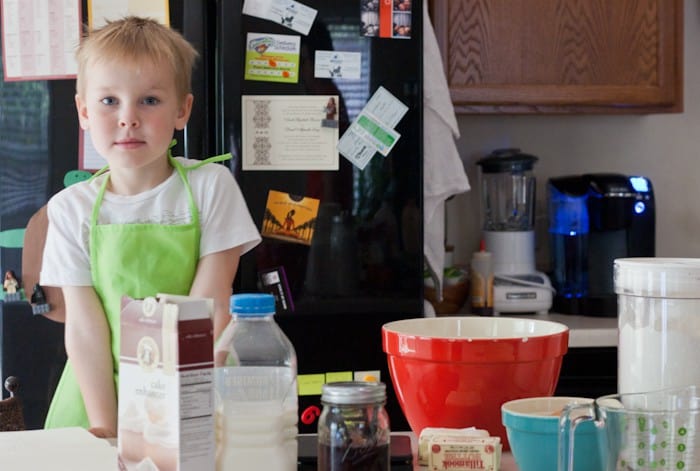 Now, I am one of those people who must keep everything neat and tidy while cooking. I put things away as I use them, and wipe up spills immediately.
This doesn't quite work when you invite a kid into the kitchen. Things get spilled. Actually, lots of things get spilled. But eventually you'll have a great partner and possible sous chef. We just start slow, with mixing and measuring. For us what works best is using a kitchen scale for the measuring – kids don't exactly have the hang of "proper" cup measure. We have done a few batches of cookies and muffins together before, so our next step was egg cracking. I guided his hands on the first egg, but he was doing it by himself completely by the third egg.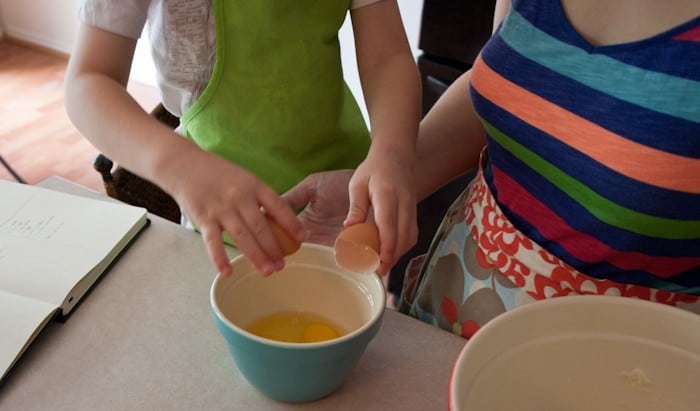 I think he's already better at it than I am. Not even one tiny bit of shell in the whole batch!
(You might be wondering where the stand mixer is, and to that I say, feh! I mean, I do love my stand mixer, but I also enjoy mixing a cake by hand. When it comes to teaching, you can't quite replicate the same experience with "dump ingredient in and turn on".)
Cupcakes are great for kids' parties of course, so we made both a small layer cake and cupcakes. Scooping out the batter is a good job for kids, although if you are using the spring-loaded cookie scoops, you might need to help. We watched the cakes rise while we ate lunch, and it's hard to beat the pride that came every time he excitedly exclaimed that we needed to look again because now they were taller.
Of course, being a kid with lots of things on his mind, he lost interest when it came time to decorate. Which made for the perfect opportunity to carry out the plan.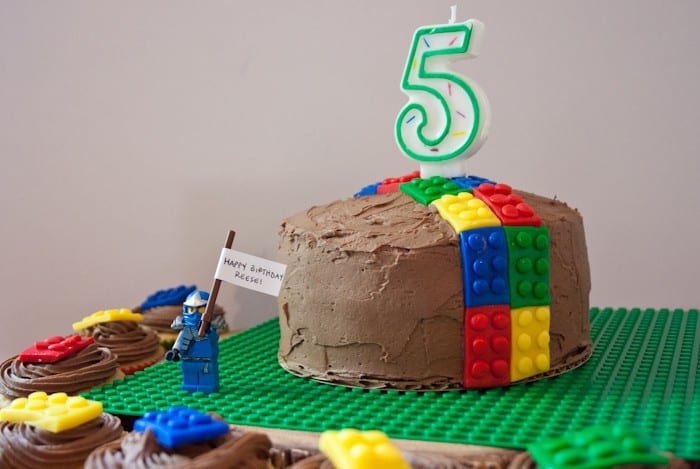 Did you know perfection is one of those words that works in different ways? I'm hardly a cake-decorating expert, but when I see this picture, all I think about is the love that went into it. Not how long it took to cut out the fondant circles for the bricks, but how my son's eyes lit up when he saw the finished cake. Can we bottle that emotion? Because that is perfection.
I have become obsessed with self-rising flour lately, so I'm really happy to be able to spread the love to you. I've used it for everything, from biscuits to pancakes to quick bread to cake. Anything that requires less work on my part is great!
If you've never used cake enhancer, it makes cakes extra soft and moist, and the chocolate extract adds another kick of chocolate to cake and frosting without adding more cocoa powder or melted chocolate. Just use it in place of vanilla!
Love this recipe? Please leave a 5-star review below! It means so much when you enjoy my recipes, so let me know how it goes and leave a comment if you have any questions.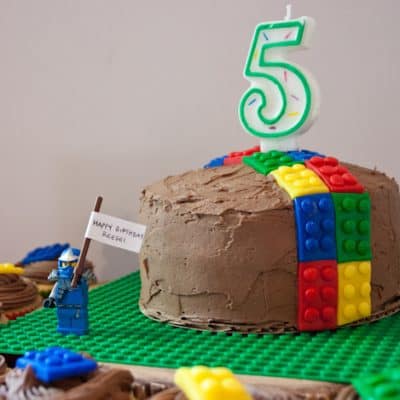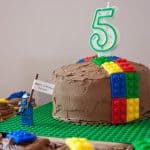 Ingredients
For the frosting
1

cup

unsalted butter

,

softened

3 1/2

cups

powdered sugar

1/2

cup

cocoa powder

2

tablespoons

chocolate extract

4

tablespoons

milk
Instructions
Preheat oven to 350°F. Prepare cake pans: grease pans, lay a circle of parchment on the bottom, grease the parchment, and then flour pans. If making cupcakes just line tin with cupcake papers.

In a large bowl cream together peanut butter, butter, and sugar until fluffy. Beat in eggs. In a small bowl mix flour and cake enhancer.

Alternate stirring in flour and milk into butter mixture, starting and ending with flour, until batter is smooth.

Pour into prepared pans and bake for 25-35 minutes, depending on size of pan, until a toothpick inserted in the center comes out clean. Let cool on a rack for five minutes, then remove from pans and finish cooling. (If you're in a hurry, tightly wrap the cakes in plastic wrap, then place in the freezer. The resulting steam will help keep them moist, and the freezer jaunt will make frosting easier.)

To make the frosting, beat together butter, powdered sugar, and cocoa powder until well-mixed and fluffy. Beat in chocolate extract, and the milk a little bit at a time, until you get desired consistency. (You might not use all the milk, or you might need more.) Frost cakes, and store any extra in an airtight container in the fridge.
Notes
Makes 6-inch cake and 12 cupcakes (or 1 9-inch cake, or 24 cupcakes)
Nutrition
Calories:
300
kcal
Carbohydrates:
31
g
Protein:
5
g
Fat:
19
g
Saturated Fat:
9
g
Cholesterol:
65
mg
Sodium:
82
mg
Fiber:
1
g
Sugar:
26
g
Nutrition information is provided as a courtesy and is an estimate based on online calculators. Any nutritional information found on Stetted should be used as a general guideline only.
In case you were wondering: No, we did not bring a peanut butter-laden cake to his party. We made two cakes.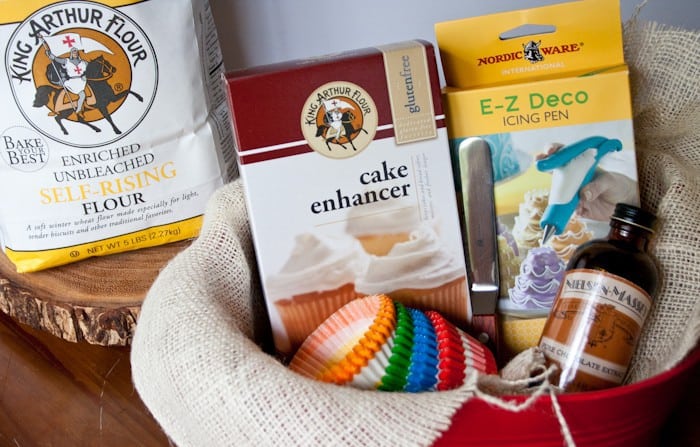 Disclaimer: I was provided with the same products as the giveaway for the purpose of review. I was not otherwise compensated for this post.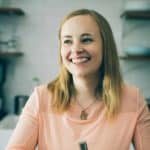 About Megan
I focus on fresh ingredients and easy methods, with spins that keep meals interesting. Dinnertime shouldn't be stressful or complicated, and I'm here to help you enjoy the time spent in the kitchen. Read more…