Gingerbread waffles are a delightful breakfast to wake up to during the holidays.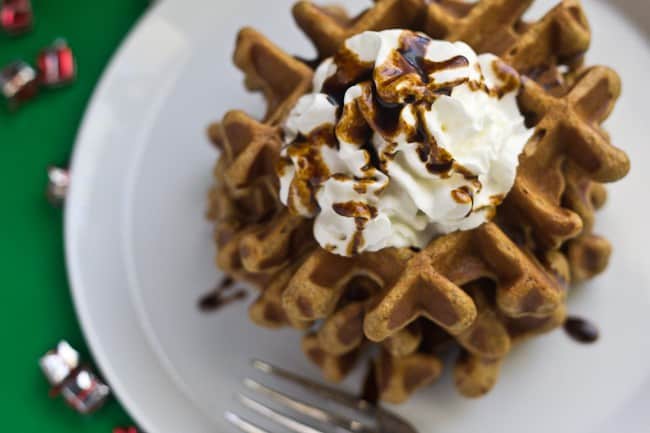 One of the things I look forward to every Christmas is making a special breakfast to enjoy after unwrapping presents (because with kids, you know you're opening gifts at 6 a.m. …). We've done cinnamon rolls, strata, pancakes, and loaded breakfast tacos.
Last Christmas I received a double waffle iron, so it's only fitting that this year we make waffles for breakfast, right? I've been obsessed with coming up with waffle recipes ever since (like these Beer Cheddar Waffles) and these Gingerbread Waffles are a perfect seasonal breakfast.
I know most people think of gingerbread as a dessert-only option, but I don't think it needs to be limited to that. After all, the predominant flavors of gingerbread are just molasses and ginger, along with a few other nose-tingling spices like cinnamon and cloves. In the cold air of winter, we need all the warming we can get, and gingerbread helps us feel cozy from the inside out.
If you want to save time in the morning, you can mix up this batter the night before and let it rest in the fridge. Letting pancake and waffle batter rest only helps it get better, because the gluten gets more fully developed, letting air get "trapped" in the batter. This means you'll get a lighter, crispier waffle — the ultimate waffle goal, right? It does well enough if you let it sit the 30 minutes prescribed in the recipe, but if you can spare the fridge space, I highly recommend the overnight rest.
Waffles are great for freezing as well, in case you have leftovers. Simply let them cool, then lay them in a single layer on a cookie sheet and freeze until solid. Once frozen, transfer them to a freezer bag for storage. Now you have your own toaster waffles!
Pair these gingerbread waffles with extra molasses, or try sorghum syrup for a special treat, and don't forget plenty of whipped cream on top.
Every breakfast needs whipped cream, right?
More waffle recipes you might like:
Blueberry Waffles – Stetted
Cranberry Cornmeal Waffles – Dessert for Two
Eggnog Waffles – Brooklyn Supper
Orange Yogurt Waffles – Savvy Eats
Peanut Butter and Jelly Waffles – Stetted
For more morning inspiration, check out my Breakfast board on Pinterest!
Follow Megan Myers | Stetted's board Breakfast on Pinterest.