This post contains affiliate links. As an Amazon Associate, I earn from qualifying purchases.
No pumpkin? No problem! Butternut squash is the perfect pie stand-in.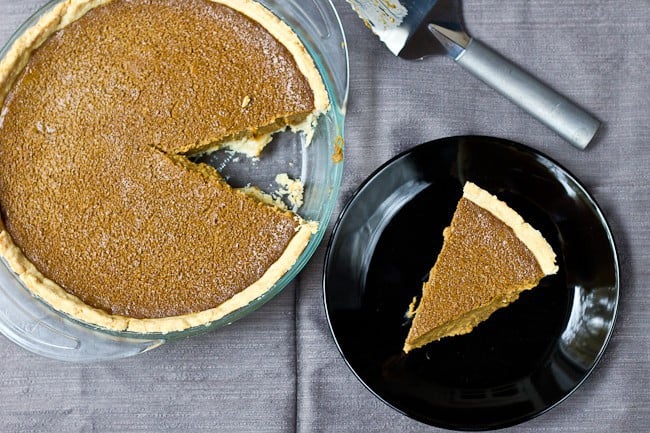 When I was a kid, we'd spend most Thanksgivings loading up the car and heading to my grandparents' house in Madison. My dad would insist that we hit the bathroom because there would be no stopping, and nearly every time we stopped 30 miles into the trip for him, not us.
Though we only lived about two hours away, sometimes the trip would take longer because we'd forget something, or my motion-sickness brother would need a pit stop, or very likely my parents just needed a break because two kids and two (later three) dogs in one car is a bit of a sanity check.
Forgetting things is common when you're dealing with traveling with kids. A few years ago we drove to Minnesota and brought a portable DVD player, and I conveniently left the DVD travel case sitting on top of the trash can in our garage.
When it came to Thanksgiving, we'd somehow often forget the food we were contributing, luckily remembering as we passed the Burger King two blocks away. We'd turn back and rescue the pies from the countertop, where they were awaiting their fate in a house of cats left to their own devices.
We always had lots of pie at Thanksgiving. Pumpkin was a given, and my favorite. My mom liked pecan, and my dad enjoyed cherry, though he always said he got the pit in the pit-free pie. My brother played Little League and then football, so he was eating everything, and I suspect the apple pie was meant as a back-up in case he got to all the others first.
These days we just do one pie, since that's more than enough to split between two adults and one kid. Anything more and I'm a pig in mud, shoveling pumpkin pie into my maw morning, noon, and night. Sometimes it's hard for my brain to differentiate between what I should and shouldn't be eating, especially when it comes to pie.
Each year I try a different recipe for my Thanksgiving pie, as part of my attempt to build up our menu tradition. This time, I decided to tackle our butternut squash stash.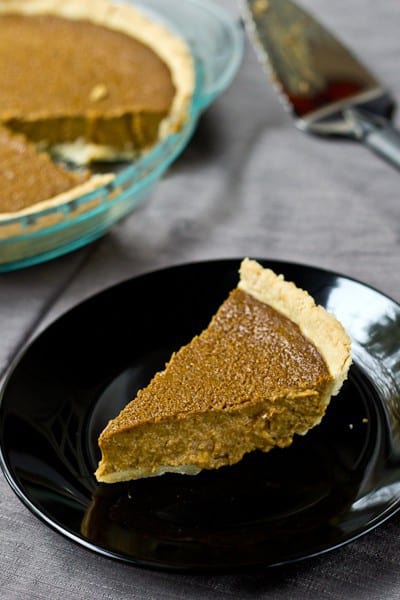 Why butternut? Well, fresh squash is meant for Thanksgiving, and butternut is a zillion times easier to work with than a pie pumpkin. Plus, in my opinion (and expert Melissa Clark agrees) pie pumpkin just doesn't taste as good as butternut.
This version uses coconut sugar, which tastes great and bakes up really well. It's pricey, so if you don't already have it on hand or aren't keen to buy it, just use brown sugar. Also, make sure your spices are fresh, or the flavor will be flat. I used a mix from my local spice shop, but you can use whichever pie blend you prefer.
For the squash puree, halve a couple of butternut squashes, scoop out the seeds, and roast in the oven until tender, then scoop flesh from peel. Or you can peel, dice, and boil like potatoes. (Roasting will give better flavor.) With either method, puree in a food processor or blender until completely smooth. If you have extra puree, just save it for another recipe!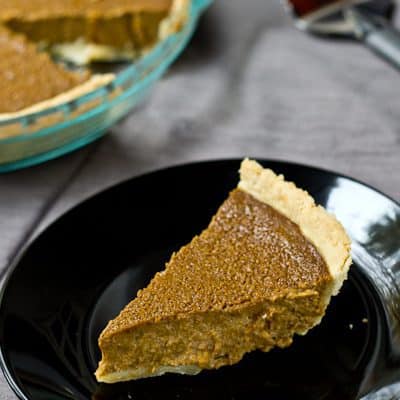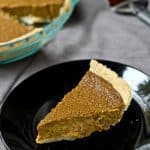 Butternut Squash Pie
Butternut squash is the perfect stand-in for a more traditional pumpkin pie.
Print
Pin
Save
Saved!
Ingredients
1

prepared pie crust

1 1/2

cups

butternut squash puree

3/4

cup

coconut palm sugar

1

cup

heavy whipping cream

3

large eggs

1

tablespoon

pumpkin pie spice

1

teaspoon

fine sea salt

1

teaspoon

ground vanilla bean

,

or vanilla extract
Instructions
Preheat oven to 350°F and put pie crust in pie pan. Prick crust all over, add parchment paper or foil pressed to the shape of the crust and pie weights (I use dried beans) and bake for 20 minutes.

Mix remaining ingredients together in a large bowl and whisk until smooth.

Set pie pan on a rimmed baking sheet (in case of spillage) and pour filling into crust. Cover edges with a pie shield or strips of foil, if desired. Carefully slide the baking sheet into oven and bake the pie for about 45 minutes, until filling is set but still slightly wobbly.
Nutrition
Calories:
316
kcal
Carbohydrates:
34
g
Protein:
5
g
Fat:
18
g
Saturated Fat:
9
g
Cholesterol:
103
mg
Sodium:
391
mg
Fiber:
2
g
Sugar:
21
g
More pie recipes that you might like: